Free Way to Play 4K Blu-ray Movies on Your Windows and Mac Computer
Can you play 4K movies on a standard Blu-ray player? Unfortunately, the answer is No. The regular Blu-ray player can play Blu-ray discs in BD25 and BD50 only. A BD50 project should be under 48GB. This is the maximum capability of common Blu-ray players. The normal Blu-ray disc resolution is in 1920x1080 pixels. However, 4K UHD Blu-ray is in 3840x2160 pixels. Obviously, the 4K Blu-ray disc size is twice larger than the regular 1080P Blu-ray disc.
Another reason why you cannot play ultra 4K Blu-ray disc with normal Blu-ray player is the non-compatible video codecs. Unless you downgrade 4K Blu-ray movies to the normal Blu-ray format can you play 4K Blu-ray movies with the common Blu-ray player. Sadly, the Blu-ray video quality will be downgraded at the same time.
But don't worry about that. From this article, you can use a new 4K HD Blu-ray player to play 4K movies. It is still possible to enjoy movies in UHD quality without changing anything. Ready to get something new? It won't take you long time to look through the whole article.
Part 1: What You Can Get from the 4K HD Blu-ray Player
To play 4K UHD Blu-ray disc, you need to prepare the 4K UHD Blu-ray disc, ultra HD TV and physical 4K UHD Blu-ray player product. This is the traditional way to watch 4K movies at home. If you are short on the budget, you can use Free Blu-ray Player to play 4K movies and 4K UHD Blu-ray discs on your computer as well.
Just as its name shows, it is free to play Blu-ray discs within the program, as well as 4K UHD Blu-ray/DVD movies, 4K videos, general videos and audios. Being the professional Blu-ray player, you can play many Blu-ray discs while keeping 100% image quality. It is also supported to take a snapshot while watching 4K Blu-ray movies on your computer. The flexible screen modes can bring you a lot of pleasure while watching movies in the ultra HD Blu-ray format.
Here're the main features of Free Blu-ray Player. You can also download the 4K HD Blu-ray player to get more interesting features.
1. Play standard, 4K, UHD Blu-ray discs and movies for free.
2. Play almost all popular video formats and HD video formats with high quality.
3. Watch 4K UHD Blu-ray movies in full, half, normal and double screen modes.
4. Screenshot your favorite moment of the Blu-ray movie.
5. Adjust and preview the video effects, including hue, brightness, contrast, saturation and gamma.
6. Work with Windows 10/8/7/Vista/XP and Mac OS X 10.5 or above.
7. Safe, clean and easy to use.
Note: If you want to play any Blu-ray disc and the latest Blu-ray movie, you need to upgrade to Blu-ray Player Pro. Its outstanding Blu-ray playing effect and high-definition resolution will shock you. Moreover, you can get the better Blu-ray audiovisual playback with the newest playing technology and most advanced kernel.
Here you may like: How to Copy Blu ray Full Disc?
Part 2: How to Play 4K UHD Blu-ray Movies and 4K Videos
Is Free Blu-ray Player good to use just as the above mentioned? If you are not sure, you can download the Blu-ray player freeware on your computer to have a try immediately. The followings are the detailed steps to play 4K Blu-ray movies. Just read and follow.
Step 1
Free download, install and launch Free Blu-ray Player. Insert the 4K UHD disc into the BD drive. If there is no Blu-ray optical drive in your computer, you need to use an external Blu-ray drive to load 4K ultra HD Blu-ray disc.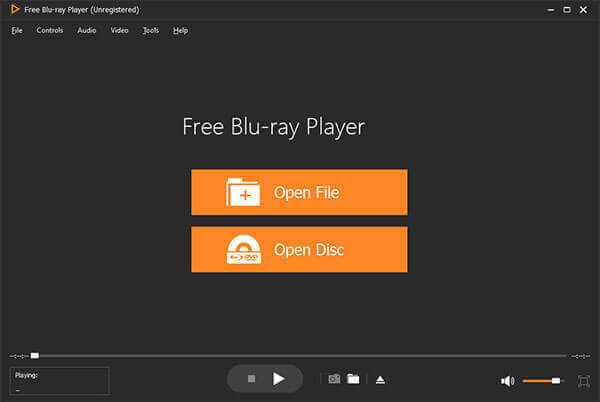 Step 2
Click Open Disc and choose the name of your 4K UHD Blu-ray disc. Click OK to confirm. You can see all Blu-ray content in the main interface. Choose the Blu-ray main movie and click Play to watch 4K Blu-ray movies.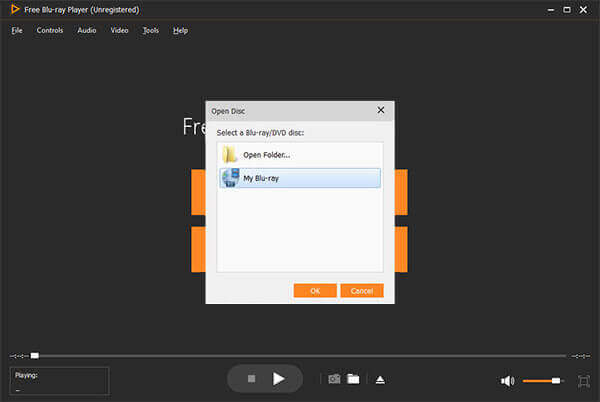 Note: If you want to play 4K movies on PC or Mac, you can click Open File directly. Just browse and import the 4K video to Free Blu-ray Player to get smooth playback.
Step 3
Click the Screenshot icon below to take a snapshot while playing 4K movies. You can get the captured picture by clicking Folder quickly. Meanwhile, you can backward, pause, stop, play and forward the movie freely.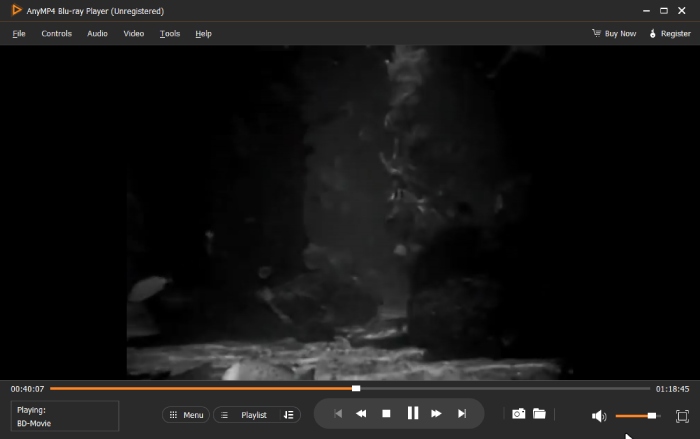 Step 4
You can click Audio and Video from the top toolbar to access the certain audio and video effects. For instance, you can adjust audio/video track, change screen size and specify other details. In addition, you can unfold Tools and select Effects to adjust the video effects with the real-time preview window.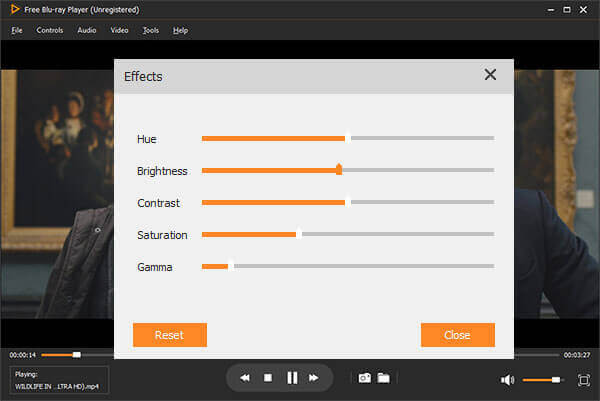 There is no need to watch 4K Blu-ray movies on the UHD TV with the HDMI 2.0 support. Using Free Blu-ray Player is a good way to get full Blu-ray enjoyment too. Furthermore, the program can work as your media player to play DVD, common video and audio files for free too. Almost all Blu-ray disc decryption technology and disc types are supported. Thus, you can feel free to play 4K ultra HD Blu-ray movies on Free Blu-ray Player.
Part 3. FAQs of Playing 4K Blu-ray Movies on Blu-ray Player
Can you play 4k movies on DVD player?
No. Generally speaking a DVD player hardware can only play DVD movies, instead of digital videos. However, some DVD player software (e.g. Free Blu-ray Player) can play both DVD movies and 4K videos.
Can you play 4k movies on a 4k upscaling Blu-ray player?
Like DVD player, a 4K upscaling Blu-ray player hardware can only open the Blu-ray movies and DVD videos, not the digital videos. However, Free Blu-ray Player can play 4K movies on this Blu-ray Player with your 4K display.
Can a PS4 play 4K Blu-ray?
No. PS4 Pro can play 4K movies, video games, regular HD files, DVD videos, and 3D Blu-ray. However, it does not support 4K Blu-ray movie playback.
Please share this article if this free ultra HD Blu-ray DVD player works. If you encounter any questions while running this program, you can leave messages below or email us. We are glad to help you whenever you need. By the way, you can share your favorite 4K ultra HD Blu-ray movies with us here.
More Reading
How to Use PlayStation 4 as a Blu-ray Player
If you have some Blu-ray discs, you can just use PlayStation 4 as the Blu-ray Player. Find more detail about how to play Blu-ray files with PS4 in the article.
It might not be a difficult choice to choose between Blu-ray and DVD. But How to have the free Blu-ray file for all devices? The article provides the detail about Blu-ray versus DVD.
How to play Blu-ray movies on Wii?
Blu-ray Ripper makes it possible for Wii users to play Blu-ray DVD movies on Wii easily. This article teaches you how to fulfill this step by step.
How to convert Blu-ray to WMV?
How to convert Blu-ray to WMV? Blu-ray to WMV Ripper can convert Blu-ray to WMV with unmatchable speed and incredible quality.