Xbox One MKV – How to Play MKV Videos on Xbox One and Xbox 360
Is it possible to play MKV files on Xbox One? If you have downloaded some MKV videos, you should know how to watch the movies with the game console. Xbox One is more than a comprehensive entertainment center. It also enables you to watch movies of high quality. Just learn more about the best ways to play MKV video on Xbox One or Xbox 360, you can choose the desired way according to your requirement.

Part 1: Can I Play MKV on Xbox One Directly
Yes. MKV is a video container that stores video, audio, subtitle, and more data on individual tracks. According to Microsoft, When an MKV has a compatible video codec and audio codec with Xbox One; you can play the MKV on Xbox One directly.
Since an MKV video may contain various codecs at the same time. Xbox One and Xbox 360 only support MKV videos with the following video codecs. If your MKV videos use other video codecs, Xbox One cannot play them without converting.
Video codecs: H.264, MPEG-2, MPEG-1, Microsoft MPEG 4 codec version 3, MPEG-4 part 2. Audio codec: MPEG-3, WAV, AAC, 3GP audio, and more other audio codecs. (Get MKV codec for Windows Media Player here.)
Part 2: Best Ways to Convert MKV for Playing on Xbox One
Method 1: The Ultimate Way to Convert MKV to Xbox One
When you want to play some large MKV files, enhance the video quality, or choose the optimal video formats for Xbox One, Video Converter Ultimate is the best way to play MKV on Xbox One. Moreover, It enables you to choose the desired subtitle, enhance the video quality, compress the video size, and even cut out the desired part.
1. Convert MKV to the optimal file format that compatible with Xbox One.
2. Choose the desired subtitle, audio track, video clip, and video codec.
3. Batch process to convert multiple MKV videos to Xbox One easily.
4. Provide more advanced features, such as editing, cropping, and more.
Step 1Launch Video Converter Ultimate after you install the program on your computer. Click the Add Files menu and follow the instructions to add MKV files. Alternatively, drag and drop the MKV files to play on Xbox One into the home interface to add them.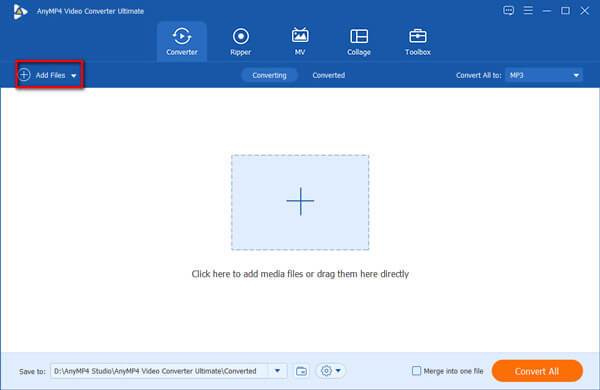 Step 2Once you have imported the videos, you can click the Format icon on the right side, go to the Device tab, and the select Games tab. Then choose the Xbox One option as the output format. You can also change the parameters, such as the frame rate by clicking the Gear icon.
Step 3Go to the bottom area and set a location folder in the Save to field. Once you are ready, click on the Convert All button to begin converting MKV to Xbox One. When it is done, transfer the video to a USB flash and play MKV on Xbox One easily.
Method 2: How to Convert MKV for Xbox One Online
If you only have some small MKV files, which you do not have to tweak the different parameters, Free Online Video Converter is another free way to convert MKV for Xbox One. It also provides the different parameters that you can choose the desired output video format within clicks. There are also other free MKV to MP4 converter here.
Step 1Open your browser and go to the online video converter. Click the Launch Free Converter button and follow the instructions to download the launcher on your computer.
Step 2After downloading, the launcher will pop up automatically. Click the Add File button on the upper left side and upload the MKV files you want to play on Xbox One.
Step 3Locate the bottom area and select a video output format that Xbox One supports, such as MP4. Finally, click on the Convert button to initiate the conversion process.
Part 3: FAQs about Playing MKV on Xbox One
1. Why Some MKV files Play on Xbox One but Others Not?
Just as mentioned above, the video codec and audio codec determine whether an MKV file works with Xbox One or not. You can simply choose the H.264 and AAC codec to play MKV on Xbox One. If the MKV videos are encoded by other codecs, your game console cannot decode them or play the videos.
2. What are the Supported Video Formats of Xbox One?
The video formats supported by Xbox One include, 3GP, 3GP2, ASF, AVI, DivX, H.264, MOV, MPEG-2, MPEG-4 SP/AVC, WMV HD and MKV. The supported audio formats include AAC, ADTS, MP3, WAV, and WMA. If you cannot play MKV on Xbox One directly, it should relate to the video codec and audio codec of the MKV file.
3. Can Xbox 360 Play MKV Files Directly?
Xbox 360 has strict requirements for the input formats and only WMV, AVI, H.264 and MPEG-4 are supported. In other words, it's impossible to directly play MKV on Xbox 360. Alternatively, you have to convert MKV to supported formats and play on Xbox 360.
Conclusion
Based on the guide above, you should understand how to play any MKV file on Xbox One or Xbox 360 without any trouble. You might encounter that the MKV cannot play videos on the console, which is because of the compatibility issue. Just learn more about the best ways to convert and play MKV to Xbox and free download the program to have another try.