How Can You Play Background Music on Xbox One When Playing Game
This guide will tell you how to play MP3 music on Xbox One in the background. There are a lot of video games available to Xbox One users. That may be one reason that the game console attracted so many users. However, only playing game is not enough for modern users. Background music and audio playback is an important way to stay immersed when playing games on Xbox One. That is why you should learn this guide carefully.
Part 1: How to Play Background Music on Xbox One
Thanks to the console update released for the eighth-generation devices, users are able to play background music or audio on Xbox One. No matter you wish to listen to a new episode of podcast or play your favorite album, here are the steps to listen to them on your Xbox One, even in the background while playing games.
Step 1Firstly, power on your Xbox One console, press the glowing middle button on your controller, select and press A button to open it. Then search for and download an app that provides the music or audio playback feature.
Step 2Next, open the downloaded music player app in My Games & Apps and follow the instructions to play the desired music or audio episode.
Step 3Now, you can open your game on Xbox One and play it when listening to music.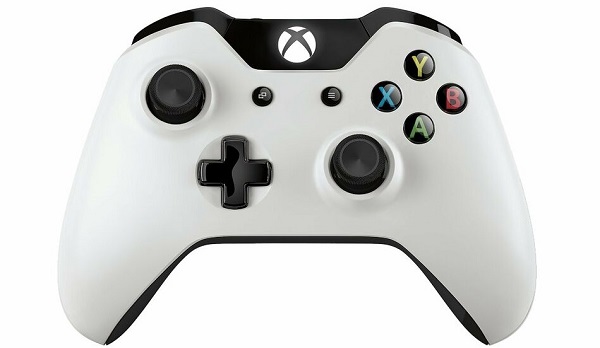 Step 4To adjust the volume of the background music playback on Xbox One, press the Xbox button on the center of controller. Find the music player app at the top of the Home tab in Xbox Guide. Here you can modify the volume easily.
Note: Whether you can play music in the background on Xbox One is determined by the music player app. If it supports background playback, you can run a game or other apps while the music continues playing. If you need to record Xbox One gameplay, read on How to Record Gameplay on Xbox One.
Part 2: Top 5 Music Players for Xbox One
As mentioned previously, a proper music player app is very important for playing music on Xbox One. Therefore, we identify a top list below to help you get the right music player quickly.
Top 1: Spotify
Spotify is one of the most popular music stream platform. It has released an app for Xbox One. More importantly, this music player for Xbox One includes a large collection of music and albums.
Pros
1. Offer both free and premium subscriptions.
2. Update music library frequently.
3. Include a podcast channel.
Cons
1. The free version cannot play music offline.
2. It does not support local music.
Top 2: SoundCloud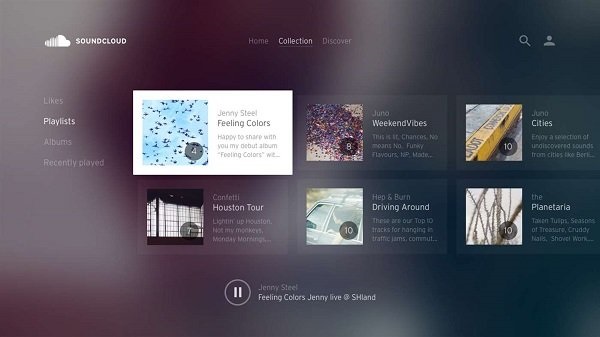 SoundCloud is another music player for Xbox One similar to Spotify. It offers a database with more than 150 million tracks. If you have a good internet connection, SoundCloud is a nice choice.
Pros
1. Optimize an app for Xbox.
2. Play music in background on Xbox.
3. Upload your songs for listening to.
Cons
1. It requires an internet connection.
2. The library is not as large as Spotify.
Top 3: Pandora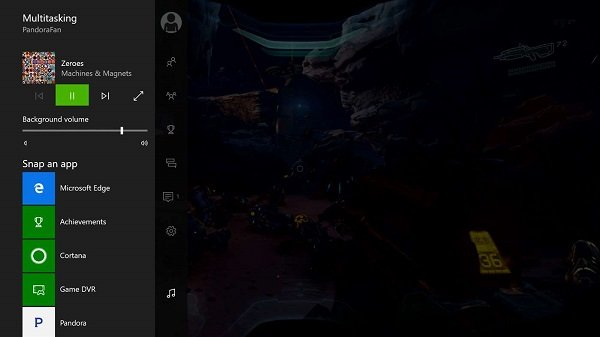 Pandora is a music stream service available to Xbox One too. If you prefer to play music stream online smoothly while playing games on your console, it can meet your need efficiently.
Pros
1. Stream music on Xbox One online.
2. Browse music by genres.
3. Exchange free music by viewing ads.
Cons
1. Then unlimited music playing is only available with subscription.
Top 4: Simple Background Music Player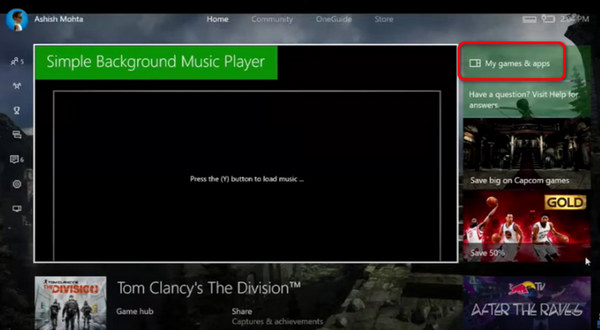 Unlike Spotify or SoundCloud, Simple Background Music Player is just a music player for Xbox One users to listen to local music in the background. It supports USB drive with FAT32 and NTFS file systems.
Pros
1. Play local music in background.
2. Support USB drive.
3. Control playback with controller.
Cons
1. There is no music stream.
Top 5: iHeartRadio
iHeartRadio is the best choice for Xbox One users who prefer to listen to radio stations. It offers both live radio stations and custom stations around the world. You can download the audio player for free.
Pros
1. Include a variety of radio stations.
2. Offer high quality contents.
3. Free to play radio on Xbox
Cons
1. It cannot play local songs.
Recommend: Free Blu-ray Player
Blu-ray Master Free Blu-ray Player is one of the best multimedia player software for PCs. It helps you to play high quality music and gets the best listening experiences when you are playing games on Xbox One. It is also able to play DVD and Blu-ray movies while keeping the original quality.
Main Features of the Best Music Player
1. Support almost all audio and music file formats.
2. Optimize audio and video quality automatically.
3. Use hardware and software acceleration to improve performance.
In short, it is the best way to play music and movies on your computer.
Part 3: FAQs about Playing Music on Xbox One
Can you play music on Xbox One from your phone?
Yes, Microsoft has released an Xbox One app for smartphone and tablet. It can help you to stream music from your phone to the game console via Bluetooth and network.
How do I cast music to my Xbox One from PC?
Step 1: Enable PlayTo on your Xbox One.
Step 2: Turn to PC, go to Settings, select Devices and choose ConnectedDevices. Click Add a Device and choose your Xbox One on the list.
Step 3: Now play music on your PC and you can listen to it on Xbox One.
Does Xbox One have Google Play Music?
No, Google Play Music is not available to Xbox One since Google did not release an app for Microsoft Store.
Conlusion
This guide has told you how to play background music on Xbox One while you are playing video games. To get the immersed experience, you may want to listen to some music or radio. Though the quality is not perfect, Xbox One does allow you to control music playback. Plus, we also shared the best music players for you to listen to online music, local songs and radio stations. If you have a PC, Blu-ray Master Free Blu-ray Player is an easy way to play music.