Easy Way to Rip Jurassic World Dominion Blu-ray to Digital Videos
Nowadays, the convenience of watching movies in digital form has become a demand. Do you have a copy of Jurassic World Dominion at hand and want to enjoy it on various devices? Ripping it into a digital format provides you with a practical solution. To meet this, a Blu-ray ripping program is a must! A tool that will extract physical media content and convert to a compatible format. This guide will teach you how to rip Jurassic World Dominion Blu-ray. Continue reading to gain a deeper understanding.
Part 1. What is Jurassic World Dominion Blu-ray?
Jurassic World Dominion (2022) is an adventure Sci-Fi film directed by Colin Trevorrow. This movie is the sequel to Jurassic World: Fallen Kingdom (2018). Then concludes the Jurassic World trilogy. It's also the sixth installment in the larger Jurassic Park film series.
After a few months of release in cinemas, the Blu-ray versions of the movie became available. On the Blu-ray format, Jurassic World Dominion maintains its expected impressive visual appeal. The film's picture quality matches its reputation as a high-powered production. Indeed, it presents a clear and detailed image that excels during scenes. It also features both practical components and digital effects. Besides, the presentation immediately captivates the audience. It showcased a remarkable balance between large yet controlled bass. As a result, it aligns with the film's expectations. This is because the movie is on a Blu-ray version accompanied by a DTS:X audio soundtrack.
Part 2. Jurassic World Dominion Blu-ray Review
Now that you have an overview of Jurassic World Dominion Blu-ray let's dig deeper into its details as you read this review part.
Video of Jurassic World Dominion Blu-ray
The Blu-ray version of Jurassic World Dominion features an MPEG-4 AVC codec with a bitrate of 22.82 Mbps. It presents a resolution of 1080p and an aspect ratio of 2.00:1, maintaining the original aspect ratio of 2.00:1. It also offers excellent image quality with sharpness, rich details, and strong textures. While some CGI appears more evident than in theaters, it remains effective. It is also available if you want the Jurassic World Dominion 4K Blu-ray version. The film showcases strong depth, smooth motion, and deep blacks. As well as providing a good shadow detail. Colors are vivid, skin tones are natural, and no noise or artifacts.
Audio of Jurassic World Dominion Blu-ray
The Jurassic World Dominion Blu-ray audio options include English in DTS:X and DTS-HD Master Audio 7.1 (48kHz, 24-bit). Finally, French and Spanish in DTS-HD HR 7.1. And so, the subtitles are available in English SDH, Spanish, and French. The DTS:X audio fills the room with immersive sound, enhancing the movie's impact. Height effects add depth with flying objects and natural sounds. While the subwoofer delivers impactful lows. The surround sound is rich, covering quiet moments and intense chases, and the dialogue is clear and crisp.
Discs
Blu-ray Disc
Two-disc set (1 BD-50, 1 DVD)
DVD copy
Playback
2K Blu-ray: Region free
Universal's Blu-ray release provides outstanding video and audio quality. Not only that, but also a selection of extra content. Definitely worth considering. Additionally, the release of Jurassic World Domination on Blu-ray ratings scored 4.5 out of 5.
Part 3. Jurassic World Dominion Blu-ray Release Date
Jurassic World Domination released in Mexico City on May 23, 2022, and June 10, 2022, in the United States. The release of the Blu-ray version was on August 16, 2022. The Blu-ray version of the movie is still available from online retailers like Amazon.
Part 4. Best Way to Rip Jurassic World Dominion Blu-ray
If you're looking for a way to rip Jurassic World Dominion Blu-ray, we recommend Free Blu-ray Ripper. As the name implies, it's a free Blu-ray ripper that lets you turn optical discs into a compatible format. And so watching on your desired device will become convenient. It supports various formats to rip your 4K and 1080p HD videos or movies, including MP4, MOV, MKV, and more. Further, it supports almost all portable devices, such as iPhone, iPad, Samsung, Huawei, and so on. Wherever you are, you enjoy watching your favorite movie.
What's more interesting is that you can also personalize the output settings as you rip your Blu-ray disc! You have full control to adjust video and audio settings, like resolution, encoder, channels, and more. Meanwhile, editing tools like clipping, cropping, applying effects, etc., are also available. With Free Blu-ray Ripper, enjoy Jurassic World Dominion Blu-ray in digital format. To provide you with a new way to watch this fantastic movie, follow the steps below:
Step 1
Download the Free Blu-ray Ripper on your computer. Follow the on-screen guide to install the tool.
Step 2
Then, insert the Jurassic World Dominion Blu-ray disc into your computer's disc drive. In the tool's main interface, navigate to the Load Disc button and select the disc from the pop-up window. And hit the OK button.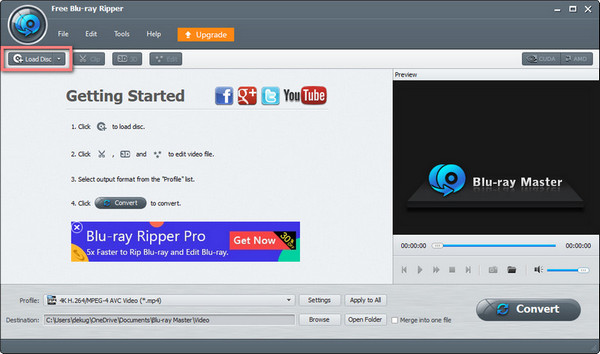 Step 3
Find your desired format output and preferred device on the Profile menu. Then, head to the Destination menu and click Browse to select where to save the ripped Blu-ray disc.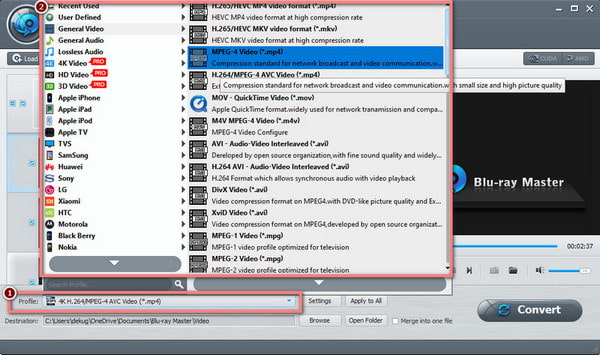 Step 4
Once everything is ready, start ripping by hitting the Convert button. Wait until the procedure is complete. Next, check its folder. Finally, watch the digital version of Jurassic World Domination on your device. That's it!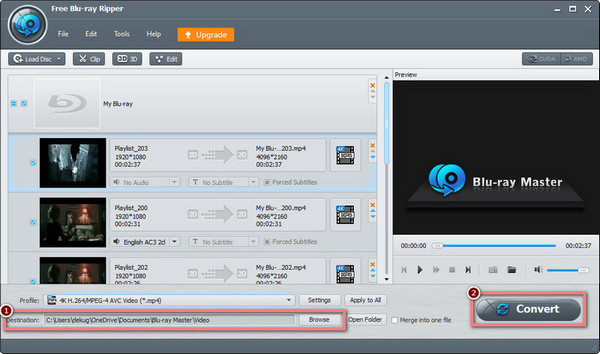 Further Reading
Aftersun Blu-ray: Digitize the Movie to Other Video Formats
Feasible Way to Rip Avatar 2 Blu-ray Using an OfflineTool
Part 5. FAQs About Jurassic World Dominion Blu-ray
Is there a secret ending to Jurassic World Dominion?
Unfortunately, the answer is none. Jurassic World Dominion does not include any post-credits scenes.
Why does Biosyn want the girl?
The reason behind this is the significant value of Maisie Lockwood's DNA. It holds the solution to problems originating from Biosyn's own actions. So, she's abducted by Biosyn due to being a clone produced by her mother.
How did Blue have a baby?
Through the influence of tracking lizard DNA within her genetic composition. Blue has achieved a form of asexual reproduction, resulting in the birth of her daughter, Beta.
Who was Maisie Lockwood's mother?
Maise Lockwood's mother is the geneticist Charlotte Lockwood.
What happens to Rexy at the end of Jurassic World Dominion?
At the end of Jurassic World Dominion, T-Rex spends the rest of her life at the Biosyn.
Conclusion
Opting for the best ripper to extract content from your Jurassic World Dominion Blu-ray is essential. By selecting a reliable tool, enthusiasts can ensure a high-quality digital copy. The best example of that type of software is Free Blu-ray Ripper. With it, you can rip any Blu-ray discs into a compatible format and devices with ease!