What You Can Do to Fix VLC Won't Play DVD on Windows 10/Mac Quickly
VLC is one of the most popular open source multimedia player software in the market. You can use VLC to play DVDs, CDs and general video/audio files on Windows, Mac, Linux, iOS and Android. However, there are still many complaints about VLC not playing or working, especially for DVDs.

* VLC cannot read DVDs. Users cannot open DVD and VIDEO_TS folder.
* The DVD video and audio playback in VLC are choppy. Sometimes the yellow warning notification appears.
* VLC plays DVD for a few seconds, then it just stops automatically.
* VLC won't play DVD after Windows 10 or Mac OS X/11 update.
These are common symptoms of VLC Media Player won't play DVD on Windows 10 or Mac. But do not worry about that. You can still watch the DVD with VLC or its alternatives for free. Here're the most possible ways to fix VLC won't play DVD movie step by step.
Method 1: Reset VLC Preferences to Fix VLC Won't Play DVD on Windows 10
There are many reasons that may cause VLC not playing DVD issues. The main reason is that VLC Media Player is not associated with files in the .vob extension. Your VLC player lacks the certain codec for VLC DVD playback problems. If VLC cannot play DVD after restarting, you can try the following solutions.
Method 1.1: Reinstall the Latest VLC
Step 1
Click "Help" on the top toolbar of VLC.
Step 2
Choose "Check for Updates…" from the list.
Step 3
Follow the on-screen wizard to update VLC to the latest version.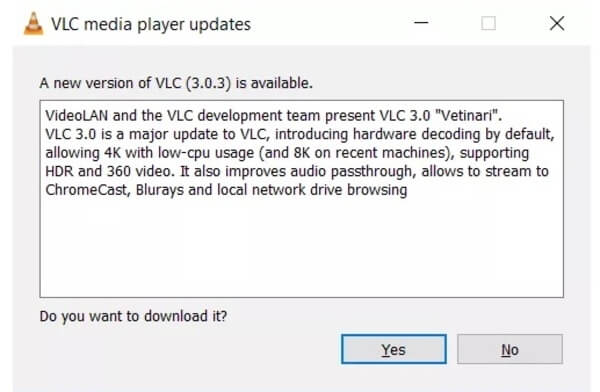 Method 1.2: Set VLC Preferences
By setting advanced preferences, you can get VLC back to the normal state. It is also a good way to make VLC play a DVD again.
Step 1
Choose "Preferences" from the "Tools" list.
Step 2
Mark before "All" on the lower left corner of VLC "Advanced Preferences" window.
Step 3
Click "Video" > "Filters" > "Deinterlace" in the left pane.
Step 4
Select "Deinterlacing video filter" to process the video stream.
Step 5
Choose the Yadif mode. Then click "Save" to save changes.
Step 6
Restart VLC DVD player to check if the DVD is playable or not.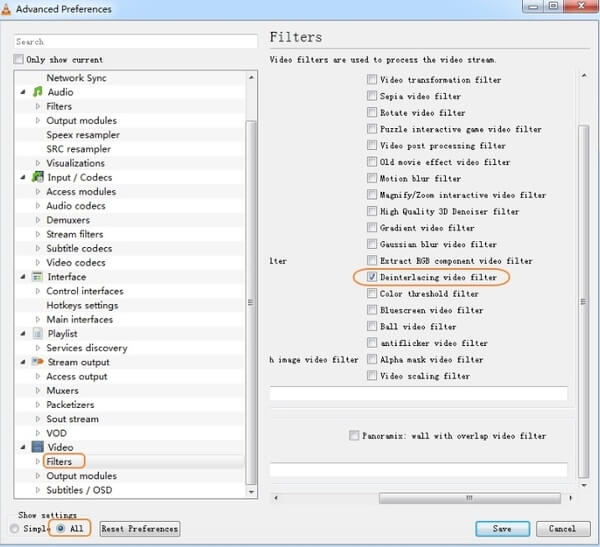 Method 1.3: Install Libdvdread
In common cases, you cannot play commercial DVDs with VLC. Considering the wide range of DVD encryption, you need to install libdvdread, libdvdnav and libdvdcss to fix VLC won't play DVD with copy projection. You can visit https://www.videolan.org/developers/libdvdnav.html and https://www.videolan.org/developers/libdvdcss.html to download and install VLC decryption codecs.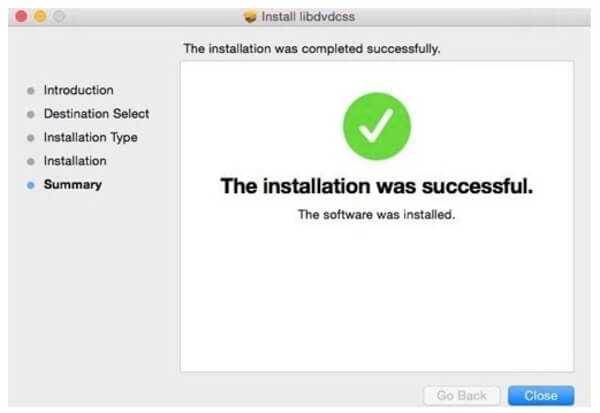 Method 2: Play DVD with the Best VLC DVD Player Alternative
If the VLC won't play DVD problem still exist, you can try another free DVD player to replace VLC Media Player. Fortunately, you can play any DVD/Blu-ray discs with copy protection via Blu-ray Master Free DVD Player on Windows and Mac for free.
The VLC alternative has the capability to play over 200 video and audio formats with high quality. Compared with VLC, the free VLC DVD player alternative offers an intuitive interface. You can watch DVD movies with easy-to-use playback features quickly and easily.
* Play the latest DVD/Blu-ray disc in 100% image quality.
* Open offline video and audio files with over 200 formats.
* Watch DVD movies with any subtitle, audio/video track, audio channel, screen size and more.
* Clean, safe and intuitive interface.
* The VLC DVD player alternative works with Windows 10/8/7/Vista/XP and Mac OS X 10.5 or above.
Step 1
Download and install Free VLC DVD player alternative. Insert a DVD disc into the internal or external DVD drive. Then launch the VLC alternative.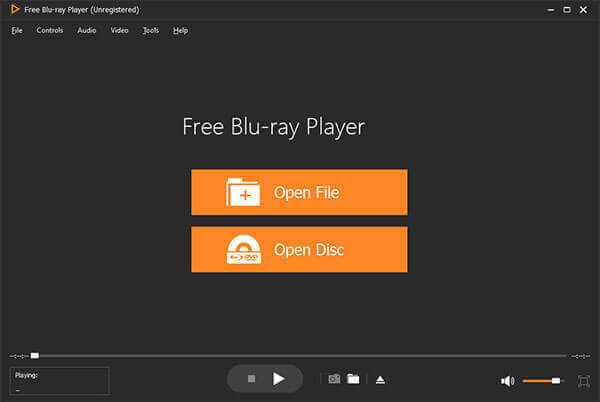 Step 2
Click "Open Disc" to load all DVD content. Sooner, the DVD movie will start to play automatically. You can click "Fast forward" or "Fast backward" to skip the unwanted part quickly. In addition, you can unfold the "Audio" or "Video" list to access more tools.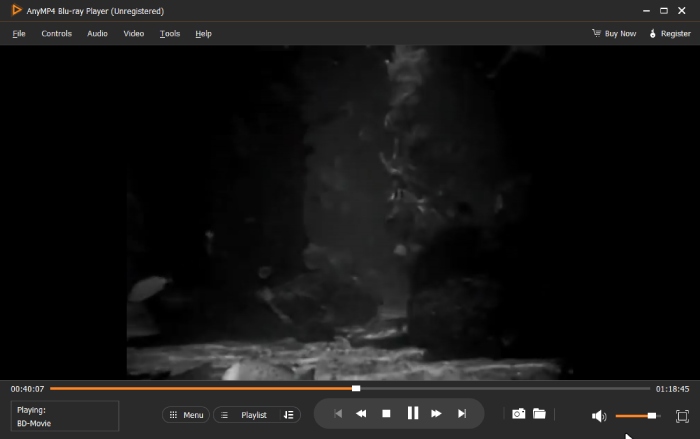 Step 3
Choose "Effects" from the "Tools" list. You can adjust hue, brightness, contrast, saturation and gamma of the DVD video instantly.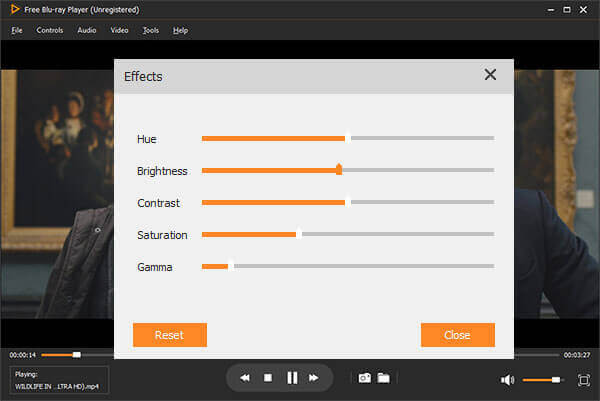 Method 3: Convert DVD to VLC Compatible Format for Free
Furthermore, you can convert DVD to MP4 and other digital formats to troubleshoot VLC won't play DVD, VLC plays DVD with no audio or other similar problems. Blu-ray Master Free DVD Ripper is a totally free program that can rip DVD to any video and audio format.
You can rip and commercial DVD to VLC compatible format with super-fast speed and high quality. The DVD ripper freeware supports the latest technology. Therefore, you can fix VLC won't play Disney DVD via this method too.
* Convert protected/DVD to MP4, MKV, AVI and other VLC playable formats without any quality loss.
* Play the ripped DVD video on iPhone/iPad/iPod, Android and other portable devices directly.
* Crop video, add watermark, regulate the sound level, adjust the display effect and customize profile settings before ripping DVD to VLC formats.
* The free DVD ripping software is compatible with Windows 10/8/7/Vista/XP.
Step 1
Download and install free DVD to VLC converter. Launch the program and insert DVD disc into the DVD drive on PC.
Step 2
Click "Load Disc" to load the DVD disc or folder. Mark before the DVD video you want to convert to the VLC compatible format. Choose the output format from the "Profile" list.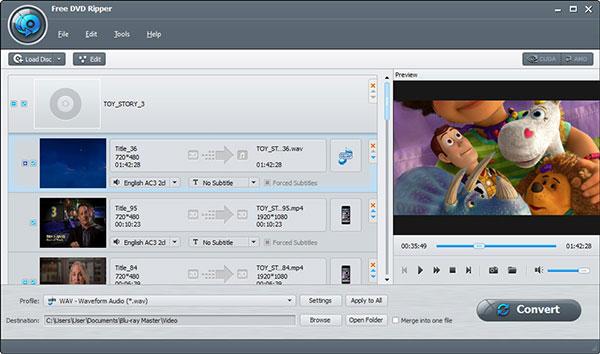 Step 3
Click "Edit" to access the built-in video editor. You can edit and preview any video file in details. Choose "Apply" or "Apply to All" to save changes.
Step 4
Click "Settings" near the bottom of the DVD to VLC free converter. You can adjust the output video and audio settings if necessary. At last, click "Convert" to convert DVD to VLC format.
These are quick ways to solve VLC won't play DVD problems on Windows 10 and other platforms. It would be great if you can fix VLC back to the normal state. If you cannot figure out what's wrong with VLC, you can try above two VLC DVD player free alternatives. Thus, you can get rid of the VLC not playing issue effortlessly with no cost.
FAQs of Fixing VLC Won't Play DVD on Windows 10/Mac
1. Are there VLC alternatives?
Yes, here are top 5 VLC media player alternatives you have to take into consideration: Blu-ray Master Free Blu-ray Player, SMPlayer, MX Player, BS Player and Media Player Classic – Home Cinema.
2. Can VLV play Blu-ray movies?
Yes. VLC Media Player is a popular media player for a wide range of multimedia formats. It includes the Blu-ray playback with some extra operations in version 2.0 or later.
3. What causes VLC to crash?
There are many multiple reasons including crashing problem including corrupted program components, compatibility issues with your system and more.
4. Why is VLC lagging?
If the VLC appears skipping and lagging playback, it might be caused by the high definition video on your local hard drive. High-res videos always have large file size, high bitrate, high frame rate, big resolution, and etc. The higher/bigger they are, the more difficult it is for VLC Media Player to decode and playback the video file.