How to Fix Video/Game Not Playing on Chrome
Google Chrome, with no doubt, is the most popular web browser in the world. However, you can still run into unexpected problems. What a bummer!
To help you fix videos not playing on Chrome, this guide will analyze possible reasons for this issue and share with you all the practical solutions we have found.

Part 1. Why Are Videos Not Playing on Google Chrome
When you play a YouTube video, an online game, or other media on your Google Chrome, you may encounter some tricky problems, such as loading failure, blank image, gray box, and program freeze/crash. These can be caused by multiple reasons, and the following are the typical ones.
1. Poor Internet Connection
2. Outdated Chrome
3. Disabled Adobe Flash Player
4. Lack of JavaScript Permission
5. Chrome Settings Error
Besides, if you run too many processes on your Chrome or computer, that could affect the speed of loading the video. Also, there may be something wrong with the website you are visiting itself.
Part 2. How to Fix Videos Not Playing on Chrome
Now that you have known the possible reasons why you are unable to play videos on Chrome, it's time to learn how to fix the issue.
Method 1. Enable Adobe Flash Player
If you get a message asking you to enable Adobe Flash Player or download Flash, you need to allow Flash on this website.
Step 1
Open the website with the video on your Chrome. Then click on the Lock icon or the Info icon next to the website address. Select Site settings.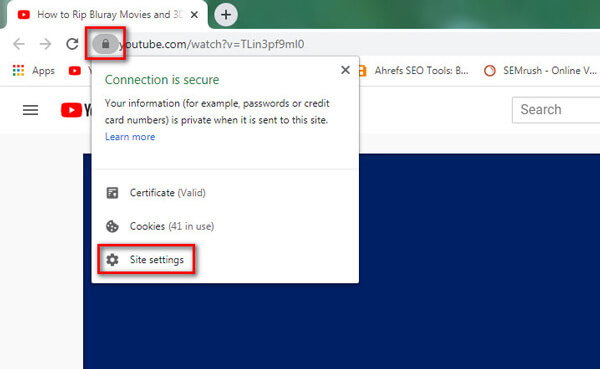 Step 2
In the Permission list, find the Flash option and choose Allow. Then go back to the website and reload it.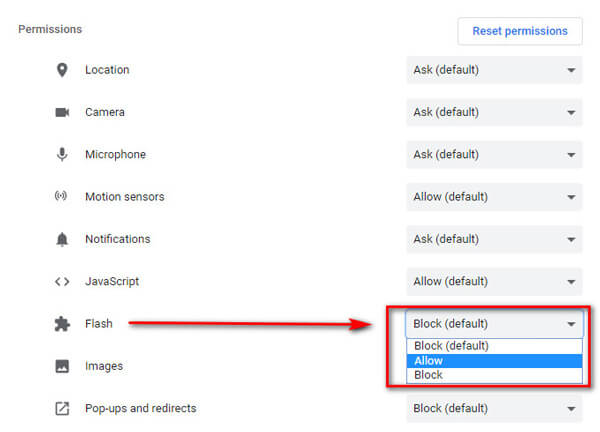 Method 2. Allow JavaScript
When you watch videos on YouTube, you have to enable the JavaScript permission. To turn on JavaScript, you need to go to the Site settings page again. Here's another way to open Site settings.
Step 1
Click on the More (three-dot) icon in the top right corner and find Settings. After entering the Settings page, go to the Privacy and security tab. Then choose Site settings on the right.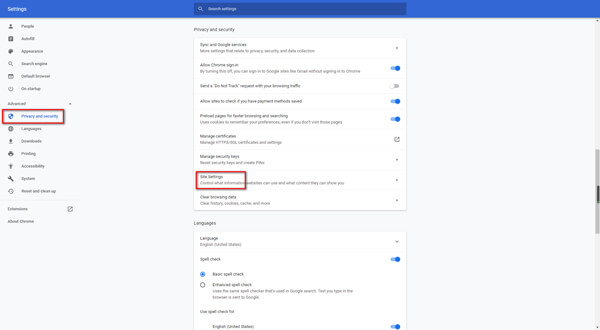 Step 2
Click JavaScript and make sure that Allowed (recommended) is on.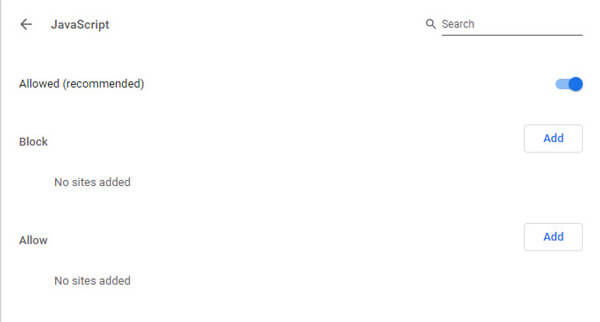 Method 3. Restart Chrome Browser
To make sure you have completely closed your browser, you can restart your Chrome by inputting the following address in the address bar: chrome://restart. Then press the Enter key on your keyboard.

Method 4. Update Your Chrome
Sometimes if your Chrome is out of date, you cannot play certain videos that require the latest version of Chrome. In this situation, you should update your browser.
Step 1
Click More at the top right. Select Help and choose About Google Chrome. If your Chrome is not the latest version, then this application should update Google Chrome automatically.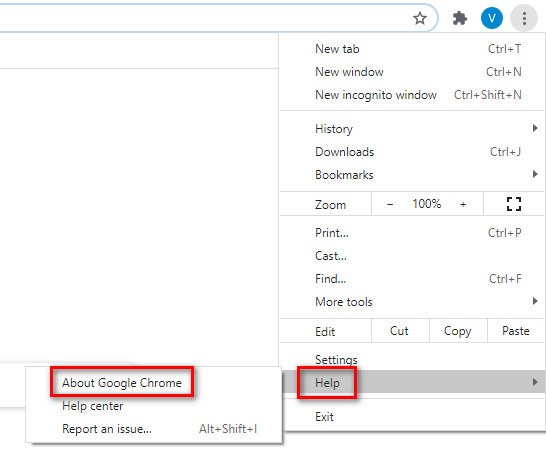 Step 2
After the download, you need to click the Relaunch button to finish updating.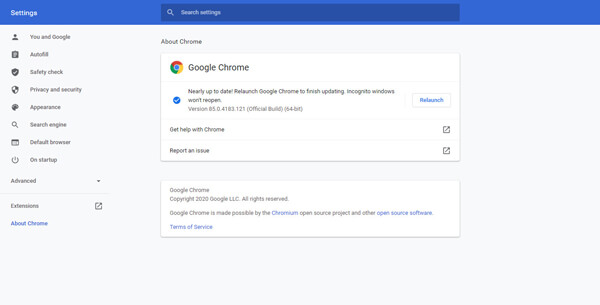 Method 5. Remove Extension & Clear Browsing Data
If you can play the video with an incognito window, the problem may be caused by the extensions, plugins, cache, or cookies. You should check them carefully.
Step 1
Click on the More (three-dot) icon and look for More tools. Select Extensions. Then disable all your extensions. Go back to the website and reload it. If the video works, then you should test each extension individually.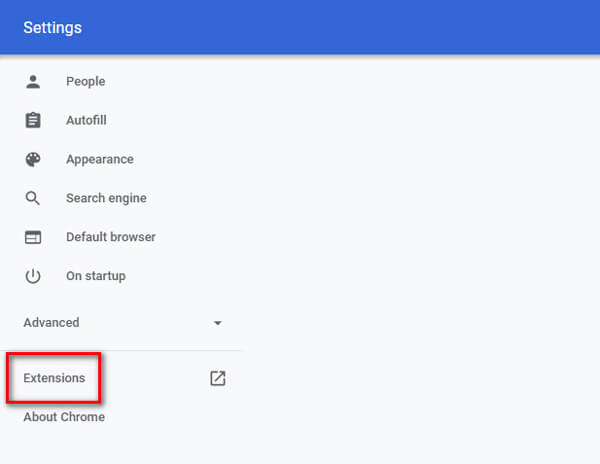 Step 2
Enable one extension at a time. Reload the site to see if Chrome can play the video normally. Then turn off this extension and try the next one. When you find the extension that causes the problem, remove it.

Step 3
If turning off all extensions doesn't work, you'd better clear your browsing data. Go to More and then More tools. Choose Clear browsing data. In the on-screen window, you can pick a time range and clear everything.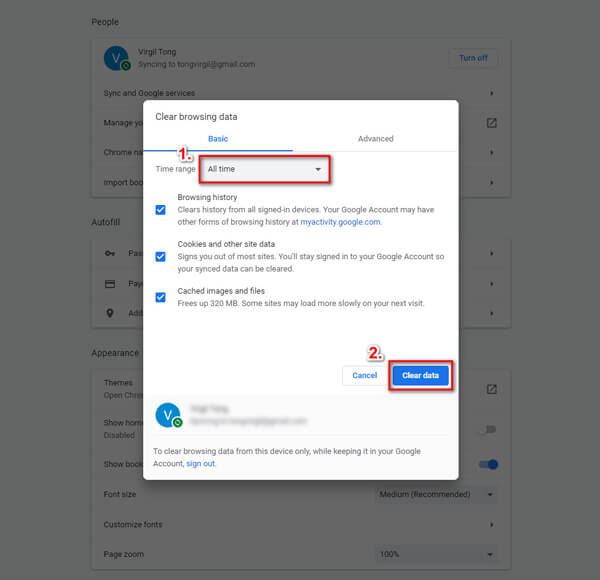 Method 6. Reset All Settings
Besides clearing browsing data, you can also try to reset your Chrome settings to make them back to normal.
Step 1
Click More and find Settings. Under the Advanced section, please select the Reset and clean up option. Then click Restore settings to their original defaults.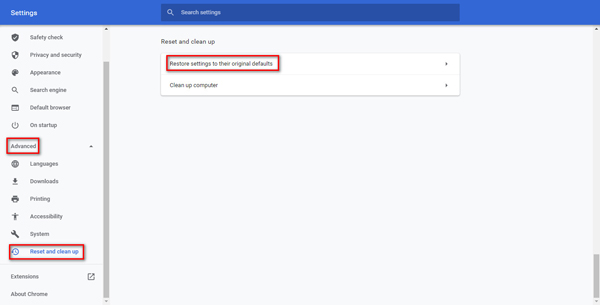 Step 2
Confirm your decision by clicking on the Reset settings button.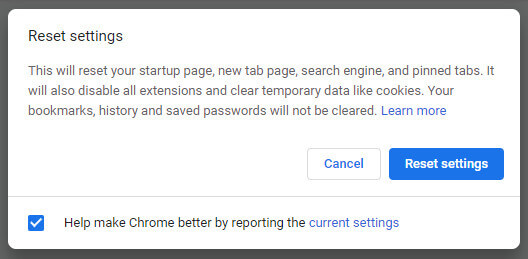 Method 7. Download Videos to Your Computer
When you want to watch videos. but find them hard to play, you actually can download them to your computer. But you may notice that not all videos are available for download. So, you can use a reliable downloader, like IDM, to do the job for you.
Step 1
Download and install IDM on your computer. Then add the IDM Integration Module extension to your Chrome.
Step 2
Open the website with the video you want to download. You can find a Download this video button on the top. Click it and select the video quality.
Step 3
Then you will enter the Download File Info window. Just click Start Download. The video will be downloaded to your computer in seconds. You can use a professional video player to watch the video with the original quality.
Bonus Tip: How to Play Videos with Best Quality?
Since IDM doesn't offer a built-in player to play the downloaded video, we highly recommend you to use Blu-ray Master Free Blu-ray Player to play the high-quality videos. Besides playing 1080p HD videos and Blu-ray/DVD movies, it also supports almost all popular video formats, including MP4, AVI, WMV, MTS, TS, FLV, MTS, M2TS, WKV, TRP, MXF, MPEG, etc.
1. Play video formats up to 4K UHD and Blu-ray/DVD movies.
2. Provide advanced hardware acceleration to play HD video with no lag.
3. Integrate a wide range of custom options and practical tools.
4. Play the video in full, half, normal, and many other screen modes.
5. Take screenshots of your favorite scene during the playback process.
Step 1
Download this player from the official site of Blu-ray Master Free Blu-ray Player. Then install it on your computer and open it.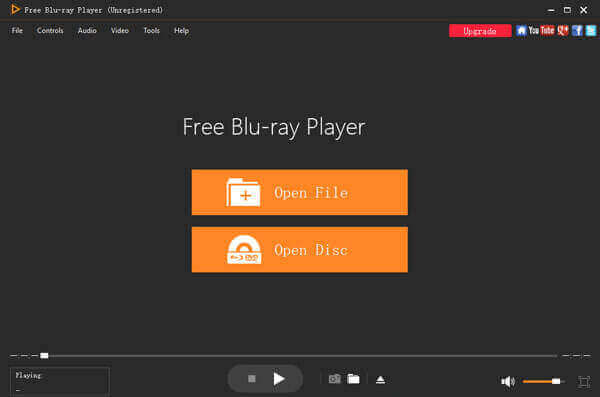 Step 2
Open the video file you want to play. While playing, you can adjust the video effect by clicking Tools in the top menu. Then select Effects to modify the hue, brightness, contrast, and more as you like.
Part 3. FAQs of Videos Not Playing on Chrome
1. How to fix videos not playing on Android/iOS Chrome?
You can fix your Android/iOS Chrome by updating your Chrome, turning on JavaScript, resetting your Internet connection, clearing your cache and cookies, etc.
2. Can I use VLC to download videos?
Even though VLC media player and some of its alternatives do support downloading videos from the Internet, it is still hard for you to download videos due to its strict policy.
3. How do I play video files in Chrome?
If you want to play local video files in Chrome, then you can drag and drop the file into the browser window. But you should be aware that not all file types are supported.
Conclusion
Now that you have learned how to fix video not playing on Chrome, you can try the methods above yourself. If you like this post and find it useful, you can share it with your friends.