How to Merge Two and More Audio Tracks in Audacity
There are cases when you need to combine more than one audio files into a single track. For instance, you intend to make a background music or narration for a movie or add speech into a digital presentation. As an open-source audio solution, Audacity is able to meet your need, but many users complained about the complex workflow. This guide will show you how to merge audio tracks in Audacity properly.

Part 1: How to Merge Tracks in Audacity
In Audacity, merging two audio tracks requires several steps. You need to import the audio files, place each of them to the right position, and then export them as a single track.
Step 1
Open the first audio file. Go to the File menu in Audacity, choose Open, find the first audio file in the popup dialog and click Open. Then it will be put on the first track.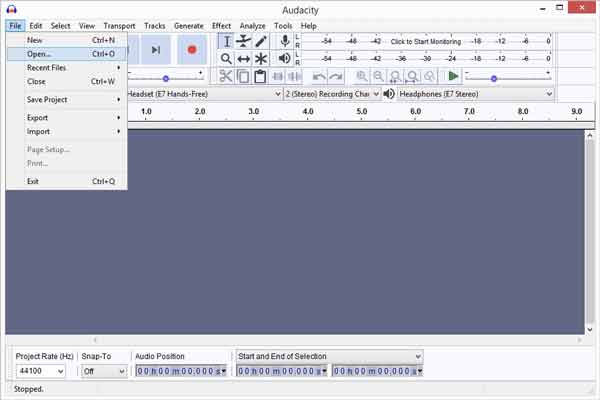 Step 2
Next, open the second audio file and Audacity will put it on the second track. You can import the audio file by drag-and-drop too.
Step 3
Be default, the two audio tracks all start playing at the same time. In most cases, you have to change the audio track location, so that the second track won't overlay with the first one. Click the Time Shift tool on the top toolbar, and drag the second track to the left.
Tip: If you want to create fade in and out effect, overlay the two audio tracks a little by dragging and dropping.
Step 4
Now, play the audio from the beginning. If you are satisfied, go to the File menu and choose Export as MP3 or other audio format.
Note: Once you export the audio tracks, they will turn into a single track and you cannot change it anymore. Audacity only supports MP3, OGG and WAV as output format.
Part 2: Best Alternatives to Audacity to Merge Audio Tracks
How to Merge Audio Tracks with Desktop Alternative to Audacity
Although Audacity is free of charge, it has several downsides, like limited input and output formats. Blu-ray Master Video Converter Ultimate, on the other hand, is not only easy to use, but also works on almost all multimedia formats.
Main Features of the Best Alternative to Audacity
* Merge two or more audio tracks together easily.
* Convert audio files to any audio format while merging.
* Protect audio quality using advanced technology.
* Easy to use and not require technical skills.
Here are the steps to merge audio tracks with Audacity alternative:
Step 1
Open audio tracks
Launch the best audio editor once you install it on your PC. There is another version for Mac. Head to the Add Files menu at upper left corner and choose Add Files or Add Folder to open all audio tracks that you want to combine. There is no limit on audio length or number.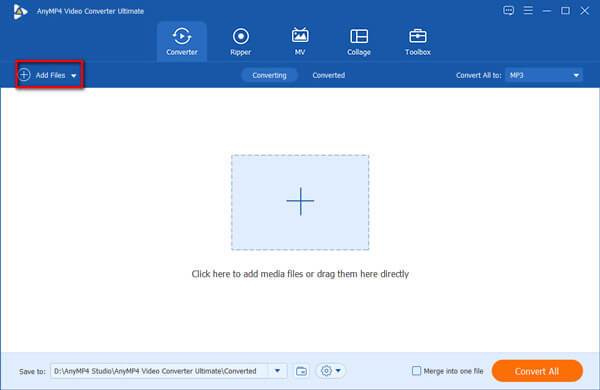 Step 2
Edit audio
After loading, the audio tracks will appear in the library pane. Here you can pre-listen to the tracks and edit them, such as cut unwanted clips. Before merging, rearrange the tracks with the upward and downward icons. Then check the box next to Merge into one file.
Step 3
Merge audio tracks
To set the output format, click the Convert All to option at upper right side. Go to the Audio tab on the profile dialog and select MP3 or any audio format. Go back to the main interface and click the Folder icon to set a specific folder for saving the output. At last, click on the Convert All button to begin merging audio tracks in Audacity alternative.
Also Read:
How to Merge Audio Tracks with Online Alternative to Audacity
The web-based audio editor app is a convenient way to merge audio tracks without Audacity. Unlike desktop software, you do not need to install any software on your disk. Plus, most web apps are free of charge, such as Blu-ray Master Free Video Merger. It is as powerful as Audacity and easier to use.
Step 1
Open a browser when you need to merge two audio tracks without Audacity. Put https://www.bluraycopys.com/free-online-video-merger/ into the address bar, and hit Enter key on your keyboard. That will open the web page directly.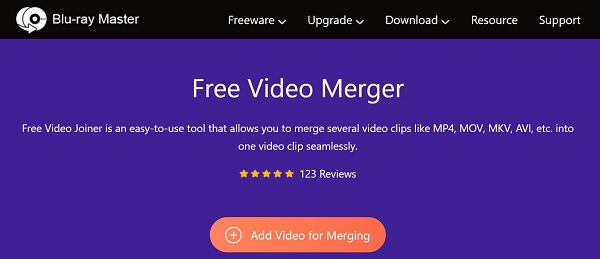 Step 2
Click the Add Video to Merge button and download the launcher. After downloading, it will pop up automatically. Click the + icon to upload an audio track. Then hit + icon to upload another track the proper position.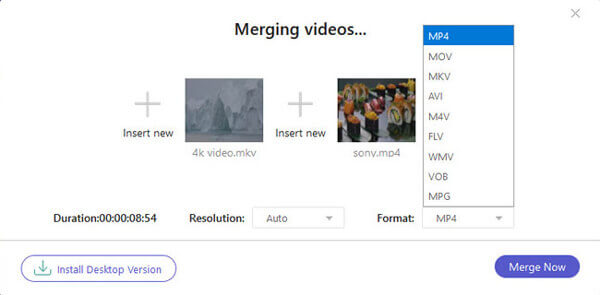 Step 3
Pull down the Format option and select your favorite output format. Hit the Merge Now button to initiate merging audio tracks with online alternative to Audacity. When it is done, download audio file to your hard drive.
Part 3: FAQs about Audacity Merge Tracks
How many tracks can you have in Audacity?
According to our research, Audacity can open as many audio tracks as your computer can handle. As you approach the limit, you will notice that Audacity starts to become sluggish. Unfortunately, it won't notify you shortage of storage.
Can you merge tracks in GarageBand?
Yes. When you open multiple tracks in GarageBand, you will get the Merge feature at the upper right side of your screen. It allows you to merge all tracks into a single one at any time.
Can Audacity record multiple tracks at once?
Audacity will record 16 tracks from one sound device. Most devices provide two tracks of audio and then appear like a second device to get the next two. Audacity will not handle more than one device and operating systems will not handle more than one of any single version of Audacity.
Conclusion
This guide has talked about how to merge two and more audio tracks in Audacity. It is a popular audio solution among vloggers. Audacity is free and open source. Plus, it is able to record and edit audio tracks with the correct procedure. Of course, it is not the only way to merge your audio tracks, so we shared alternative solutions, like Blu-ray Master Video Converter Ultimate. More questions? Please feel free to leave your message below this post.