Top 3 Ways to Compress GoPro Videos
GoPro is one of the most popular versatile cameras for sports. It is predominantly used for capturing activities like biking, running, skateboarding, climbing, and more. GoPro offers a convenient and effective way to capture more unique points of view. It can capture high resolution videos even up to 5760 x 2880p and shoot 360 videos in 5.6K resolution (actually 6K footage) at 30fps.
However, in many cases, these captured GoPro videos need to be compressed for later viewing, editing, uploading, or sharing. The question is, how to compress GoPro videos?

This post shares 3 effective methods to help you compress GoPro video. You can check the detail guide below and then select your preferred GoPro video compressor to shrink the captured GoPro video file.
Part 1. Best Way to Compress GoPro Video
First, we like to show you the best video compressor, Video Converter Ultimate to help you compress GoPro videos from 6K/5K/4K to 1080p/720p HD or a lower resolution. It has the capability to edit and convert videos in 8K, 6K, 5K, 4K, 1080p/720p HD and common SD. All popular video formats are supported. It has a specific Video Compressor feature for you to compress a GoPro video without much quality loss.
1. Edit and compress any captured GoPro videos in 8K, 6K, 5K, 4K or 1080p/720p HD.
2. Support all GoPro cameras including GoPro Max, GoPro Hero 9/8/7, and more.
3. Cut/rotate/crop video, add filters and watermark, custom effect, and enhance quality.
4. Offer toolbox of Video Compressor, GIF Maker, 3D Maker, Video Enhancer, and more.
Step 1
This video compressing software enables you to compress a GoPro video on both Windows 10/8/7 PC and Mac. You can pick a right version based on your operating system and free install it on your computer.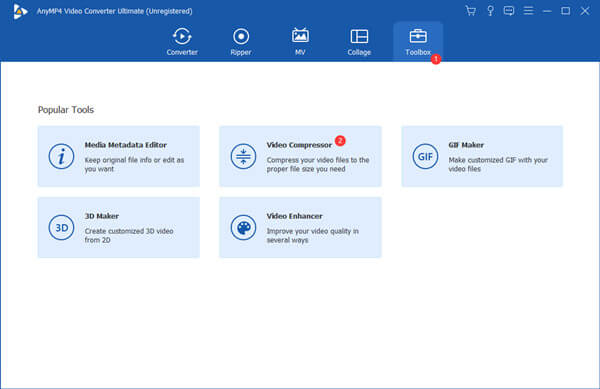 Step 2
Launch this GoPro video compressor and choose the Toolbox option. When you enter it, use the Video Compressor feature to compress your GoPro videos. Now you can click on the big plus icon to import your GoPro video. You are allowed to compress one or more GoPro videos according to your need.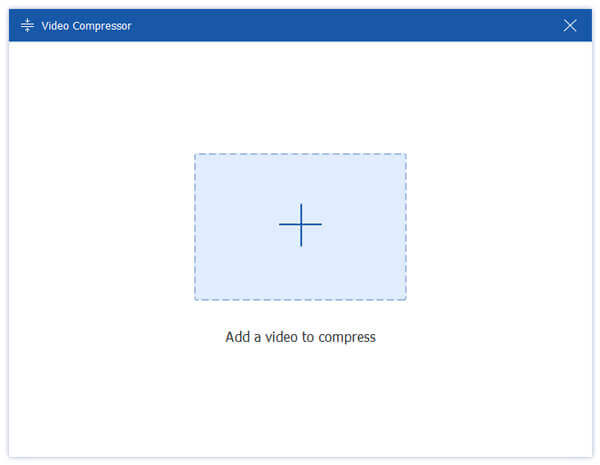 Step 3
Drag and more the compressing bar on the right side of Size option to freely compress GoPro video. This GoPro video compressor will display the source video size and output file size.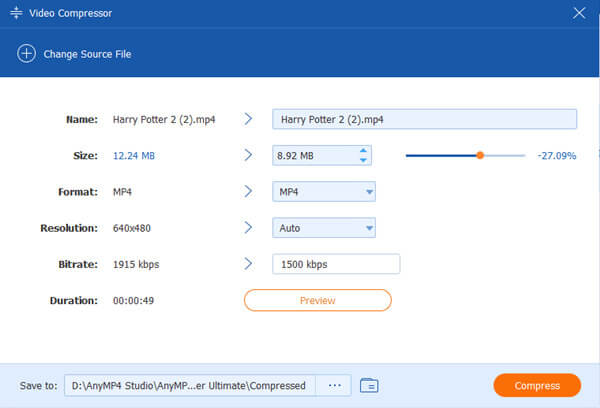 Moreover, you can custom the video resolution, bitrate, and more options to shrink the file size of your GoPro video. During this step, you are also allowed to select output video format and rename this GoPro file.
Step 4
This GoPro video compressor is equipped with a Preview feature for you to view the compressed video effects before you confirm the compressing operation. If you are satisfied with it, you can simply click on Compress button to start compressing GoPro video to a smaller file size.
Part 2. Compress GoPro Video Online Free
To compress a video that captured by an old GoPro camera, you can also rely on some free online video compressor. Here we sincerely recommend the popular Free Video Compressor for you. It supports all commonly-used video formats like MP4, MOV, FLV, AVI, and more.
It is able to compress GoPro videos for email, uploading and sharing. This free GoPro video compressor has no limit to the uploaded file size. What's more, it requires no program or plugin downloading, and account sign up/in.
Step 1
Open your web browser and go to this Free Video Compressor site. Click the Add Files to Compress button to upload your GoPro file. Note that, almost all online video editors don't support 4K or higher resolution, including this one. It only allows you to compress a video in 1080p HD or lower.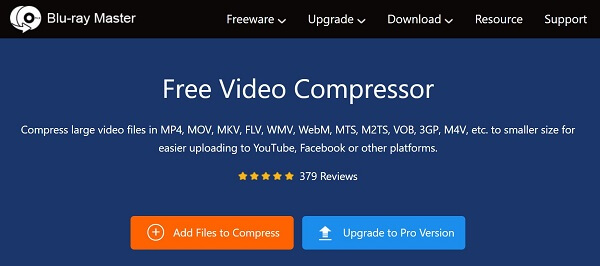 Step 2
Move the compressing bar to control the GoPro video compression. Or you can adjust video resolution, format, or bitrate to compress GoPro video from GB or MB to a lower file size.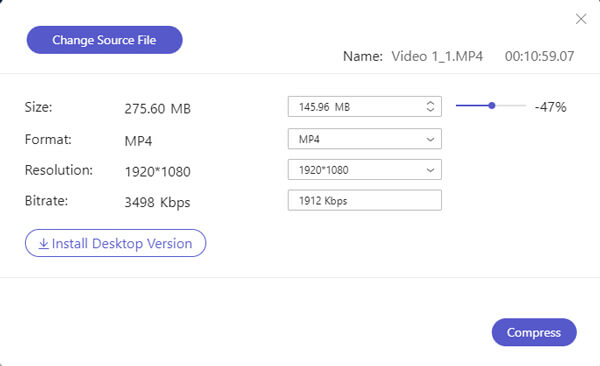 Step 3
After all your operations, click on the Compress button to initiate the GoPro video compressing online.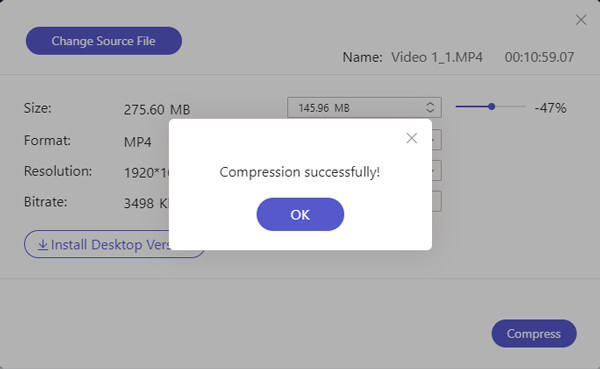 Part 3. Compress GoPro Video Using VLC
If you get VLC Media Player installed on your computer, you can also rely on it to edit the GoPro video you shot and compress video to a smaller file size. This part will guide you to compress a GoPro video with VLC.
Step 1
Run VLC Media Player, click Media menu and the select Convert/Save option from the drop-down list.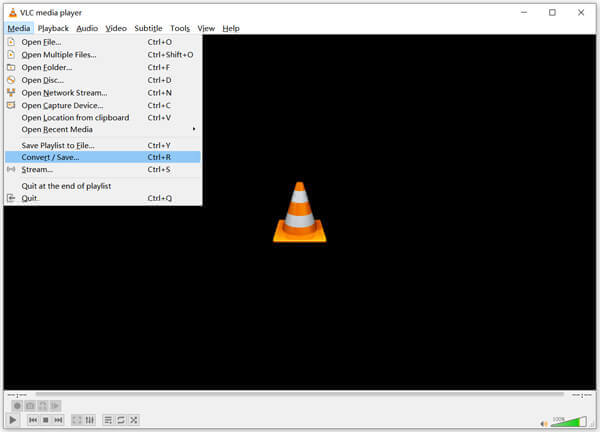 Step 2
There will be pop-up Open Media window appears on the screen for you to import your GoPro video. Click Add button to browse and add your file. Click on the Convert/Save button and choose the Convert option.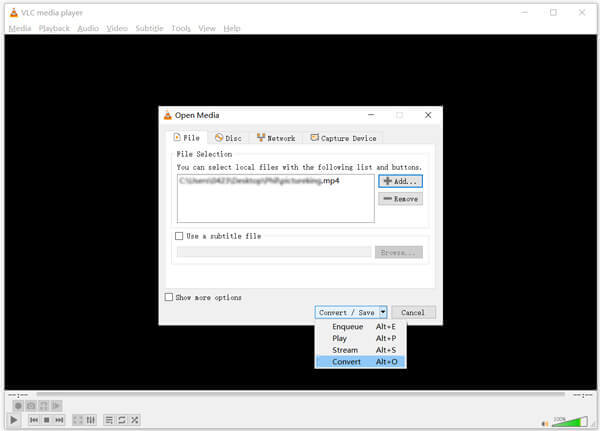 Step 3
Now you will be taken to the Convert window. Here you can select a lower video resolution from Profile to compress GoPro video. Also, you can click on the Edit profile icon to adjust more options. Click Browse button to select a suitable destination file folder for compressed GoPro video. Then click Start button to compress this GoPro video in VLC.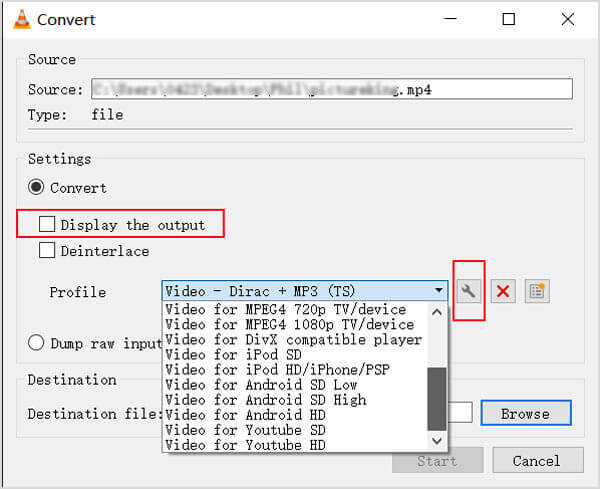 Ensure you have ticked the box ahead of the Display the output option. By doing so, you can easily locate the GoPro video you just compressed.
Part 4. FAQs of How to Compress GoPro Videos
What video formats that GoPro cameras use?
The captured GoPro videos are mainly saved in two file formats, MP4 and HEVC. The specific output format is decided by the type of GoPro camera you use. Now a majority of GoPro HERO cameras shoot with the H 264 video codec in Advanced Video Coding (AVC) format.
Is a GoPro better than a camera?
You can't simply say GoPro is better than a camera, or a digital camera is better. For various activities in sports, GoPro can give you a better video capturing experience. GoPro camera is compact and convenient. But a professional camera can always capture better pictures. Even though GoPro can shoot 6K and 4K videos, comparing with some professional digital camera, it may output a lower video quality.
How to send GoPro video via email?
Email allows you to send various files including video. But when you choose to send a GoPro video through email, you should know the maximum attachment size limit of each email tool. In general, the maximum attachment file size of Gmail is 25MB, 25MB for Yahoo Mail, and 20MB for Outlook.
Conclusion
For different needs, you want to compress GoPro video. Here in this post, you can learn 3 methods to help you compress a GoPro video and reduce video file size. You can choose your preferred video compressor to make GoPro video smaller for you.