How to Crop Video in Windows Media Player and the Alternative Cropping Tools to Utilize
Many users widely use Windows Media Player for a variety of purposes, including entertainment and leisure, instructional viewing, presenting, and other activities. Yet, the question is whether or not we can utilize Windows Media Player as an editing tool, particularly as a cropping tool. Sadly, video rotation is not supported by Windows Media Player at this time. It should not come as a surprise to anyone. All over the years, new features and capabilities have been added, resulting in a significantly improved media player experience overall. When it comes to playing back media files, Windows Media Player can do so, including those encoded in the HD/Blu-ray format. However, there are no cropping or editing options available with this program. As a result, you'll need to crop your video with the help of a third-party tool. We will learn about the numerous methods of cropping video in Windows Media Player utilizing the finest alternatives in today's post. Let's get started!

Part 1. A Simple Tutorial of Cropping a Video in Windows Media Player
As previously stated, the Windows Media Player is not a video editor and cannot be used straight to trim or crop your films unless you utilize plug-ins. If you're seeking full-fledged video editing software, a short online search may provide results, or you may download and use the Windows Video Editor. It is a tool filled with a capabilities suite of video production and editing tools that use filters, effects, motion, and sound. Video Editor is Windows 10's replacement for Movie Maker, focusing on straightforward creative devices that allow you to convey your story. Nevertheless, the steps below explain how to crop video using Windows Video Editor.
Step 1
Launch the Windows Photos application. Select the Video Editor by locating it and clicking on it. Next, click the New Project icon and import the video for cropping.

Step 2
Select the Add button to unload the file. Drag the newly imported clips into the storyboard at the bottom. If you want to crop one video, drag it to the first storyboard.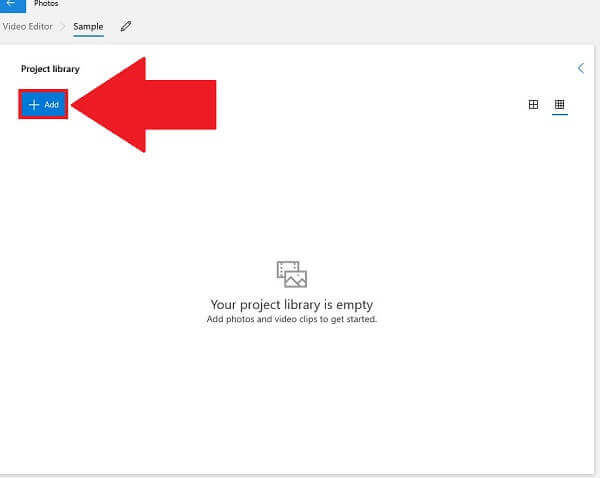 Step 3
Crop the video by selecting the three-dot icon in the top right-hand corner and changing the aspect ratio. You may even create a vertical landscape film using the same options.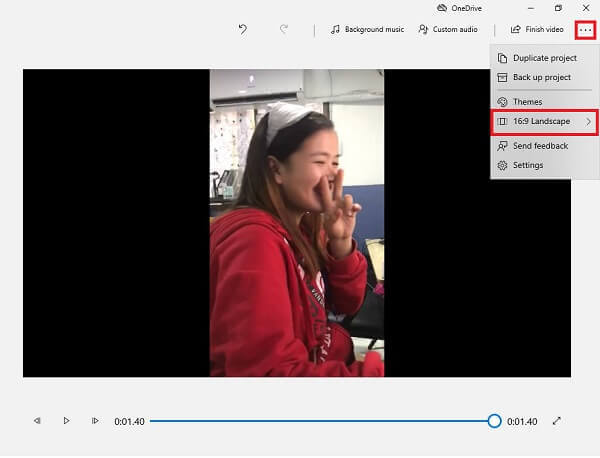 Step 4
Finally, select the Finish Video button to save the freshly cropped video.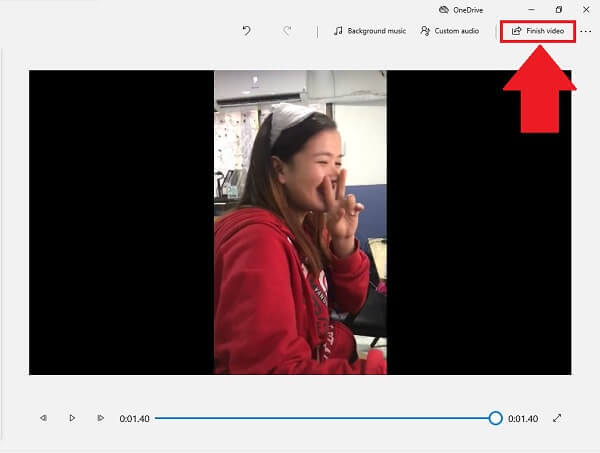 Part 2. Bonus Tip: How to Resize Videos with VLC
VLC is a free and downloadable media player, excels at playing even the most uncommon media types. Yet, that is not all it is capable of. It makes it simple to transfer videos from one format to another. Transforming videos with a VLC media player is relatively quick and, in terms of quality, on par with most high-quality video converters. It may also be utilized to resize video from one size to another, which helps resize videos to fit on mobile screens, televisions, laptops, or iPad. It can also be used as a fast video cutter and editor, and you can rotate videos in VLC. Let us look at the steps on how to resize video using VLC.
Step 1
The first step, visit the website of VLC and launch the tool.
Step 2
Next, click the View button and hit Advanced Controls from the menu bar.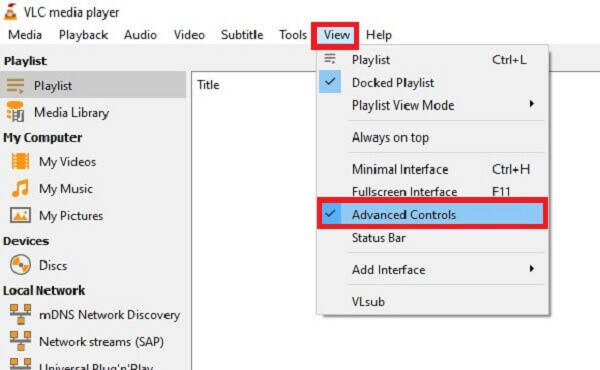 Step 3
After clicking, play the video you wish to crop and press the Record button on the desired scene. Then, click on the Stop button on the scene you want to crop.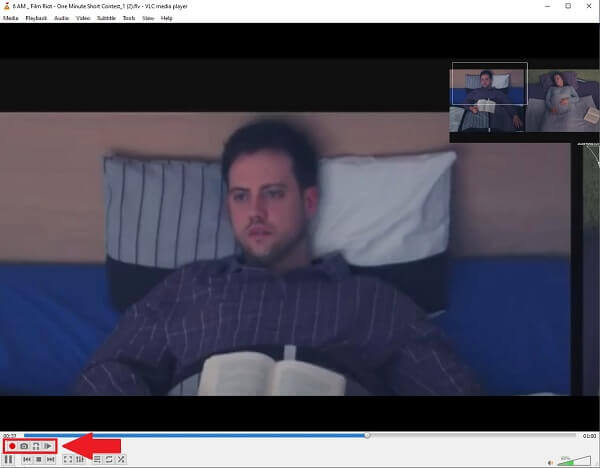 Step 4
Once completed, the video will be instantly saved to your collection.
Part 3. Best Solutions on Cropping Videos to Windows Media Player
Windows Media Player is, in fact, one of the greatest free video players available. Nonetheless, it is not the finest video reduction because it uses only a few basic options rather than advanced ones to compress videos. As an alternative, we propose Video Converter Ultimate, an all-in-one video toolkit capable of video editing, converting, downloading, ripping, and recording.
Key Features
1. Combine your favorite movies, images, and music to create amazing films.
2. ID3 tags should be edited, an animated GIF should be created, and the video file should be compressed.
3. Converts data 70 times faster while maintaining high-quality output.
4. Rip DVDs into a variety of video formats, including MOV, AVI, WMV, MKV, MP4, and FLV.
5. Video resolutions of 8K/5K/4K/1080p are available.
6. Supports more than 500 video and audio formats.
Step 1
Run the program on your desktop
To begin, download and install Video Converter Ultimate from the official website. Alternatively, you can select one of the downloads mentioned above.
Step 2
Import the video you wish to crop
After that, two methods for uploading your video into the main interface are available. Click and drag your file into the interface's center to get started. Alternatively, you can select the Add Files option to begin the import process.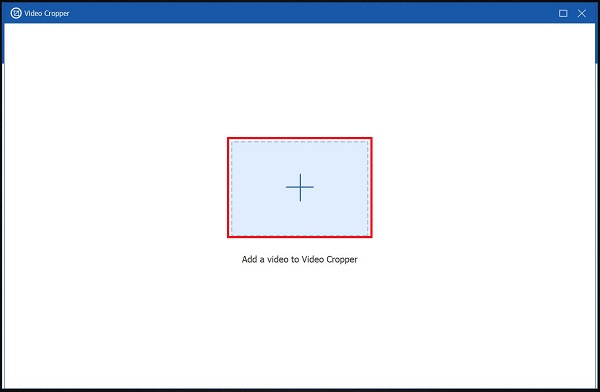 Step 3
Prepare to edit the video clip
Once the video clip has been appropriately imported, click the Edit button to the right of the newly inserted clip.
Step 4
Time to crop the video now
After selecting the edit function, a new window will open. Select Rotate and Crop and directly crop the film by dragging the handlebar, or select the crop area of the clip automatically. Once the video is configured, click the OK button.
Step 5
Convert the cropped video
Ultimately, hit the Convert All button to export the freshly trimmed video to your computer.
Part 4. FAQs of Cropping a Video in Windows Media Player
Is Windows Media Player still widely used today?
While it is no longer officially maintained or widely used, Windows Media Player is still accessible on Windows and may be found under the Windows Accessories folder in the Start menu.
In Windows, how can I resize a video?
Right-click the empty spot beside the Now Playing menu > View > Video Size. And either select a percentage size or select Fit video to the player on resizing. When Fit video to the player on resize is selected, the video is instantly resized to fit the Windows Media Player window.
How can I compress an MP4 file in Windows Media Player?
Access the presentation in which the audio or video files are contained. Click Info on the File tab, and then Compress Media under the Media Size and Performance section. Then you can compress the MP4 file in Windows Media Player.
Conclusion
To end, now you can experiment with the methods for editing videos on Windows Media Player and the program's alternative to cropping and resizing videos. Windows Media Player may not be available if you attempt to crop videos. So, in such instances, how do you crop video in Windows Media Player? There are three effective techniques you can utilize Windows Video Editor, VLC, or Video Converter Ultimate.
Install Video Converter Ultimate for Mac if you want to crop video on Mac quickly and intuitively. One factor contributing to its widespread use among Mac users is its adaptability. Simple video editing, conversion of video and audio files, downloading of videos, and ripping of DVDs are all possible with it. Now you may get it for free and check out all its advantages!