How to Join Two or More GoPro Video Clips into a Single Movie
"I just bought a GoPro Hero 8, but the video I captured last week was split into segments, how to join GoPro videos together?" Many GoPro users have encountered or are suffering the same problem. According to research, GoPro does split video file in high frame rate or resolution into clips. If you capture video in 4K, each segment might be only 6 to 8 minutes long. Fortunately, you can join the clips into an entire story following our guide.
Part 1: Ultimate Way to Join GoPro Videos on Desktop
GoPro is both a professional and customer camera. Therefore, you may need a flexible way to join GoPro videos. The biggest advantage of GoPro is to capture motion in high quality. Blu-ray Master Video Converter Ultimate can meet your need.
Main Features of the Best GoPro Video Joiner
1. Join dozens of GoPro video clips into a single movie easily.
2. Support a wide range of video formats including GoPro videos.
3. Protect and optimize video quality automatically.
4. Include a variety of bonus tools, like video converting.
How to Join GoPro Video Clips Together
Step 1
Add video
Launch the best video joiner after you install it on your computer. It is compatible with Windows 10/8/7 and Mac OS X. Click and unfold the Add Files menu at upper left side, and choose Add Files or Add Folder to open the GoPro video segments. The former allows you to open a specific video from hard drive and the latter opens all video in a single folder. If they are on camera, transfer them to your computer before editing.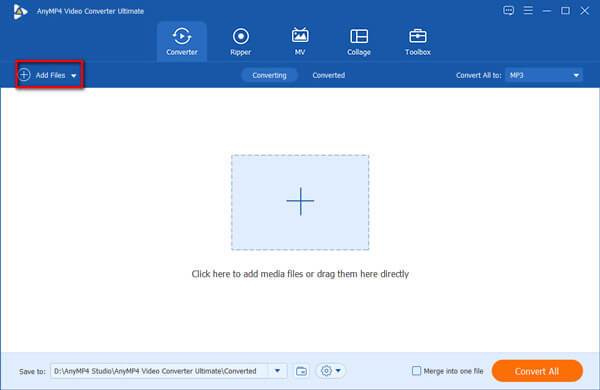 Step 2
Join GoPro Videos
After loading, you will see the video clips in the library pane. Arrange the segments with the forward and backward icons on each item. You can also preview and edit each segment with the onscreen buttons. Next, check the box next to Merge into one file at the bottom area.
Step 3
Export movie
If you intend to change the GoPro video format, click the Convert All to option and select a proper format on the profile dialog. Next, click the Folder button and set a destination folder in the Save to box. At last, click on the Convert All button to begin joining GoPro video clips together.
Part 2: How to Join GoPro Videos Online
Some people does not like to install software on their disk. Web-based video joiner app is a portable alternative solution. Blu-ray Master Free Video Merger, for example, is able to join several GoPro video clips into a movie online without installing anything. Plus, it is completely free of charge without signup, watermark or other limit. It provides the custom options too, such as change the video format.
Step 1
Visit https://www.bluraycopys.com/free-online-video-merger/ in a browser when you need to join GoPro video segments online. Click the Add Video for Merging button to download the launcher.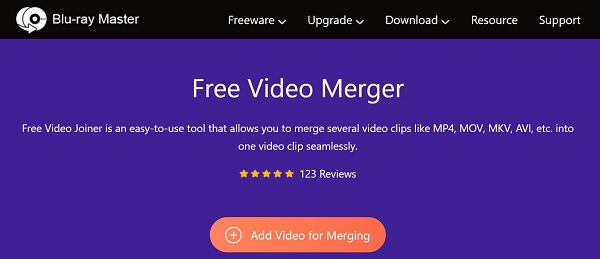 Step 2
When prompted, upload a video clip. Then click the Insert new icons before and after the video to add other segments. Next, pull down the Format list and select a proper video format.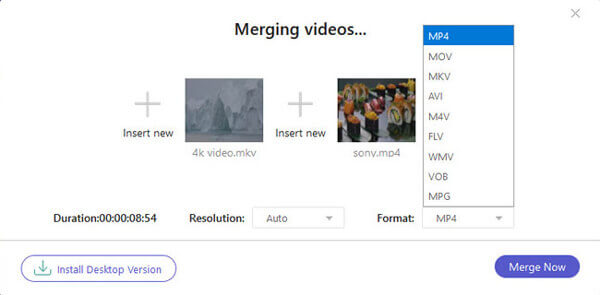 Step 3
Click the Merge Now button to begin joining the GoPro videos online. Finally, download the video output to your computer.
Part 3: How to Join GoPro Videos on Mobile
There are many video editor apps on iPhone and Android phone, but most of them require some kind of payment or subscription. In fact, GoPro has released a video joiner app for both iPhone and Android users, Quik. If you have synced your video segments to your handset, it is the easiest way to join GoPro videos. Moreover, the Quik app is completely free to use the basic features no matter you are GoPro user or not. Now, the app is available to iOS 13 and later or Android 6.0 and later.
Step 1
Install Quik app from App Store or Play Store for free and run it.
Step 2
Create a new project or open an existing project. Tap and unfold the All Photos dropdown from the top of the screen and select Videos. For the first time, permit the app to access your Camera Roll or Gallery.
Step 3
Select the GoPro video clips that you intend to merge and tap ADD to app all of them in the project screen. Next, add background music, effect, transition and more.
Step 4
Preview the video output and tap the Save button if you are satisfied. The Quik app also allows you to share the movie to social media, like Facebook, YouTube, etc.
Note: Quick offers 25 filters and 18 royalty-free music tracks. To access all features without limit, you have to pay for $9.99 per year.
Part 4: FAQs about Joining GoPro Videos
Why does GoPro separate videos?
The main reason why GoPro camera split up the video into segments just under 4GB is that some file systems have a 4GB limit as the maximum size supported for a single file. If you still think the file is too large, you can use a video compressor tool to compress GoPro videos.
How long a video can a GoPro record?
The video length is determined by your settings. For instance, you record a video up to 5K full HD to 30 frames per second, it is able to record for 180 minutes. The newer models of GoPro use chapters of a maximum size of 4GB.
Why won't my GoPro video saved to my phone?
GoPro videos cannot be loaded to iPhone partly because of unsupported video. For example, if you download 4K videos from Hero 5/3 into iPhone via Capture app, you might encounter the Failed: Video not supported error.
Conclusion
Following our guide above, you will find that it is not difficult to join GoPro video segments together on computer, online or on mobile devices. The official Quik app is the easiest way to do it on your handset. Of course, Blu-ray Master Video Converter Ultimate is the best choice if you are using a computer. If you have other questions, please feel free to leave a message below this post.