How to Play Split Screen on Fortnite with Full Steps on Xbox and PS4
Fortnite is one of the most-played online video games developed by Epic Games, which you can delight in on both Xbox and PS4. Many of its users enjoy the three distinct versions that Fortnite offers, Fortnite Battle Royal, Fortnite: Save the World, and Fortnite Creative. All of these game mode versions lead you to play with various players, and that scenario is what makes Fornite interesting. Hence, if you want to play with your squad, you can play on a split screen that lets you play with your friends on the same screen. With this being said, this article will provide you with a complete tutorial on how to play split screen on Fortnite. Therefore, prepare yourself as we unleash the exciting lesson that will make you enjoy playing your favorite game on your favorite console with your favorite friends.
Part 1. Steps on How to Play Split Screen on Fortnite with Xbox
Xbox is one of the most favorable gaming consoles worldwide. And luckily, its users can enjoy playing Fortnite. In addition, Epic Games has enabled the split screen on Xbox, allowing two players to enjoy the game with their controllers. So, the question is how to play split-screen Fortnite Xbox. For this matter, we have prepared the steps that you can follow below. However, before reviewing the steps, you must make sure that you enable a second account on Xbox for the second player; otherwise, the steps won't work.
Step 1:
On your Xbox, begin by signing into your Fortnite account using the first controller. After signing in, you must create a squad or duo lobby.
Step 2:
Once the duo lobby is ready, you can turn on the second Xbox controller. On this second controller, press and hold the Xbox button until you see the side menu on the screen.
Step 3:
After that, using the first controller, go to the Switch Profile and sign in with a separate account. Once you're done with the login process, you need to hold down the A button to allow the second player to log in.
Step 4:
Finally, you can join the lobby and click the button on your screen, allowing the second player to join the lobby. When both controllers are in, then you can start playing. And that is how to split screen in Fortnite on Xbox.
Part 2. How to Play Fortnite with Split Screen on PS4
PS4 is another most used gaming console worldwide. Like, it is one that almost all young people like to have for themselves. And if you are one of those who still enjoy playing on their PS4, then this time, you can revel in playing Fortnite with it along with a companion on your side. Thus, to make this happen, you must really know how to have a split screen when playing this game. Therefore, here are the steps to follow in splitting screen games.
Step 1:
Open your PS4, and launch Fortnite with it. Begin by creating a lobby with a squad or duo mode.
Step 2:
You can now connect your second controller. And on the screen, choose an additional Playstation Network Account when the system shows the Who's using this controller question.
Step 3:
After that, you will see a popped-up menu at the bottom-right corner of the screen. Now, press and hold the X button to activate player two.
Step 4:
If player two already has an account, he just needs to log in and start playing along with player one.
Part 3. Bonus: How to Make the Fortnite Game Videos in Split Screen on Computer
Can you play split screen on Fortnite? Yes, you definitely can. But how about the recorded games you have in your folder? Can we compile them and play them simultaneously on a split screen? That is also definitely when you use the Video Converter Ultimate. It is an amazing software with robust tools and makers, including creating split screens of your existing videos. Furthermore, it provides various types of templates, dividers, borders, and filters that can turn your video output into its most stunning look. Not just that, it can adjust the low quality of the video you got from the video game screen recording and turn it up to 4K. In addition, you don't need to be anxious about the type of video you have because this software supports almost all popular video formats for its input and output process. Hence, you might want to see and follow the procedure on how to split screen the Fortnite recorded gameplays using this robust tool.
Features
1. Various creative screen dividers for splitting screens.
2. GPU acceleration, Ultrafast conversion, and AI-powered technologies.
3. Optimize your output's quality, framerate, resolution, and format easily.
4. Multiple astonishing filters to freely apply on the outputs.
Step 1:
Launch this robust software once you have installed it on your computer. Then, click the Collage menu in the middle of the MV and Toolbox options.
Step 2:
After clicking the said menu, the tool will bring you to the next window. Now, select among the templates the one you want to use. After picking, click the Plus tabs from the left of the preview section to upload the gameplay videos you want to make split screen videos.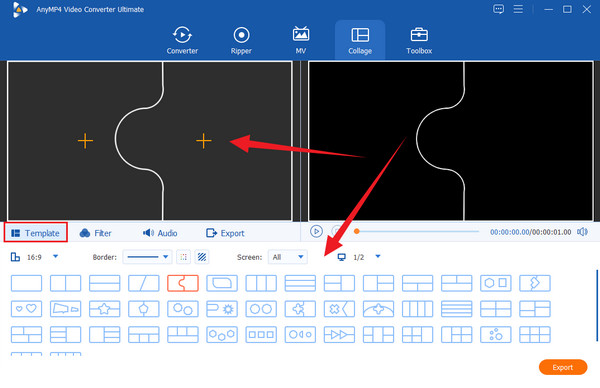 Step 3:
This time, go to the Export menu and customize the presets you want to navigate there. If you want to make your output in 4K, go to the Resolution selection and select the 3840x2160 (4K) option.
Step 4:
After that, you can proceed by clicking the Start Export button to save your output. But take note to tick the box that says Turn on GPU Acceleration to have a swift exportation process.
Part 4. FAQs about How to Play Split Screen on Fortnite
Can you play split screen on Fortnite Survival?
Yes. You can have a split-screen mode on all the game versions of Fortnite when you play with your gaming console.
Can I split the screen on the Nintendo Switch on Fortnite?
No. Unfortunately, the split-screen mode of Fortnite is not yet available on Nintendo Switch and mobile devices.
Why couldn't I use the split screen on Fornite before?
You could've tried using it while it was disabled. Yes, the split screen mode was temporarily disabled before. It is due to stability issues, but it was enabled again after a while.
Conclusion
Now that you know how to play split screen on Fortnite on your favorite gaming console, you can freely play your favorite game with your friends. Thus, for your previous Fortnite gameplays, you don't need to worry, for you can still play them on a split screen with the help of Video Converter Ultimate.