Are you the type of person who loves to collect old movies? Are there videos you recorded years ago that you love to watch over and over again? Well, don't just settle on the old quality they have, for with the technology we have today, you can use tons of different tools to make your videos look new. However, not all tools out there can give you the same results you expect because most of them do not give such good outcomes when restoring old videos. On the other hand, this is quite a given expected by most editors, for it takes competitive and professional, costly software for this toil. Little did they know that these three programs contain an unbelievable procedure to enhance videos, which we will present below.
Part 1.

How to Restore Old Videos in Three Most Efficient Yet Practical Ways
1. Video Converter Ultimate
Video Converter Ultimate is on top if you're looking for the best software for restoring videos. It is an excellent video editing tool that allows you to refurbish your important aged videos in the simplest yet professional way. What's amazing is that it works the restoration efficiently with substantially high-quality output. This efficiency is due to the advanced AI that this Video Converter Ultimate has, which makes the procedure a few clicks method. In the same way, this AI-powered tool upscales low-resolution videos ripped from old CDs and transforms their quality to the same as what the Blu-ray discs have.
Overall, this amazing tool is developed for conversion, enhancement, and video restoration in various ways. Hence, with its intuitive interface, you may transfigure from 480p videos to 1080p and from 1080p to 4K. On top of that, you can assure that this enhancement will be free from visible objects, film grains, or distortions. Learn more about it below.
Main Features:
Great capability to restore multiple videos simultaneously.
Free download to multiple platforms such as Windows, Mac, and Linux.
Hundred of great functionalities due to its excellent features and tools.
Hardware and GPU accelerations, along with advanced AI technology.
A few clicks procedure to seamlessly high-quality output.
How to Restore Old Video Quality
Step 1.Hit the Download buttons above and quickly install the tool on your device. Then, launch it to begin restoring your clip. Once launched, click the Toolbox menu and select the Video Enhancer tool. Then, import your media file by clicking the Plus button from the popped-up window.
Step 2.You can restore your videos by ticking all the Upscale Resolution, Remove Video Noise, Optimize Brightness and Contrast, and Reduce Video Shaking options from the editing window.
Step 3.This time, you must hit the arrow drop-down button of the Resolution section and choose your desired option. We highly recommend you choose the highest resolution, 4096x2160, to restore video quality more. Also, you can change the video Format by choosing your desired option when you click its arrow.
Step 4.After that, set the destination file of your video by clicking the Save To section. After clicking, select the Browse and Select Folder selection, and choose the folder you want. If everything is settled, you can click the Enhance button to finish.
2.DVDFab Video Enhancer AI
Another tool that you can use as an alternative to the previous one is the DVDFab Video Enhancer. Like the previous tool, DVDFab Video Enhancer can intuitively restore your video and processes smoothly to produce unexpected high-video-quality output. Furthermore, it allows you to freely restore the quality of videos. How? Using its free trial lasts for 30 days but will require you to pay high to continue. Thus, during this trial version, you will enjoy upscaling your old videos up to 4K resolution, which you will learn how to do when you read the instructions below.
Step 1.After installing the software, you can already proceed to upload your old video. To do so, you must click the Add Video button or drop your file at the center of the tool's interface.
Step 2.When the video is already in, navigate the restoration options, such as fixing blurry videos, remove video noise, upscaling video resolution, and others. Now, if you want to know how to restore old videos with higher quality on the tool, you may also adjust the clip's saturation, color, and brightness.
Step 3.After that, you can finally hit the Start button at the bottom right corner of the interface. Wait for the processing time to finish, and check your video output afterward.
3. AVCLabs Video Enhancer AI
Lastly, as written in its name, we have this AVCLabs Enhancer AI, another powerful software with Artificial Intelligence technology. With this advanced technology and the tool's Super-Resolution Upscaling and Multi-Frame enhancement, you can refurbish your old videos easily and quickly. On top of that, AVCLabs Enhancer AI has a deinterlacing feature that will help you convert the interlaced videos from the analog TV into progressive forms and deliver them high quality without display flickering. However, unlike the other tools, AVCLabs usually focuses on enhancement and lacks other essential tools. Meanwhile, if you want to learn how to restore the quality of videos using AVCLabs Video Enhancer AI, see the instructions below.
Step 1.Open the software after the successful installation, and import the video file by dropping it or clicking the Browse button.
Step 2.Once you see the video in the interface, you may begin to set Upscale for AI Model. Then, hover over the Output Settings and customize it according to your desire.
Step 3.Finally, click the Start Processing button to begin the restoration process. Wait for the process to finish, and then check the output.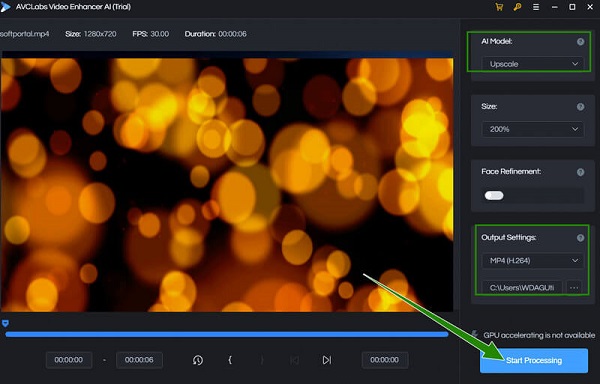 Part 2.

A Comparison Table of Tools
Tool Name
Video Converter Ultimate
DVDFab Video Enhancer AI
AVCLabs Enhancer AI
Price
1-Month License- $29.96.
Lifetime License- $59.96.
Business License- $119.96.
1-Month- $59.99.
1-Year- $79.99.
Lifetime- $99.99.
1-Month Plan- $39.95.
Lifetime Plan- $189.90.
1-Year Plan- $99.95.
With AI Power
Yes
Yes
Yes
With Money Cashback Guarantee
Yes
Yes
Yes
Extra Essential Functions
Video converter, DVD Ripper, movie maker, 3D maker, GIF maker, Watermark remover, and many more.
Video converter, DVD Ripper, Blu-ray converter.
Photo and Video enhancer.
Part 3.

FAQs About Restoring Old Videos
How to restore old long movies?

Restoring long old movies is as simple as restoring old short clips. It is just that you need to be sure that your tool is able to work on long-duration videos.

What is the best resolution for restoring old clips?

The recommended resolution for your old videos is 1080p.

Does old video or movie restoration add to the video size?

Yes. Since restoring means enhancing the video, you should expect that there are elements that will also add up.
Wrapping up
This article presents the three best approaches to restoring old videos. We guarantee the efficiency of these tools as they are all AI automotive tools. However, two of them focus only on video enhancement, while Video Converter Ultimate focuses on video editing, making it more practical.