Best 15 Split-screen Games on PS4, Xbox, and PC You Will Love
Even though online multiplayer gaming is on the rise, gamers still prefer to play local multiplayer games with their friends and family. While split-screen and couch co-op games are becoming extinct, there are still some fantastic games that anyone interested in local multiplayer games should try. Thus, if you are looking for similar games, you have come to the right place. Join us in this article as we reminisce and feel nostalgic about the incredible split-screen PC games. Let us see their overview as we get to know them better.

Part 1: Best Split Screen PC Games
Rocket League
Rocket League is a one-of-a-kind split-screen game that combines arcade racing games with a soccer simulation; it's a soccer game with rocket-powered cars instead of players. As a result, the game is enjoyable and can be played for hours without tiring. Play with a friend to increase the excitement and investment through the split screen feature.
Portal 2
Another amazing split-screen for PC games category is the fantastic Portal 2. This PC game is an outstanding puzzle game and one of Valve's best. It pits players against a homicidal AI, and the puzzles vary greatly. It also has a lot of sarcasm and humor, which makes the characters memorable.
If you want to record gameplay on PC, check the details here.
Blur
It would be this if Mario Kart had real cars instead of karts. Blur combines the exciting racing action of games like Need for Speed and Project Gotham Racing with explosive weaponry typically reserved for kart games. Due to its graphic and exciting journey, users consider it the best split-screen game for PC.
Gears of War 6
Gears of War 4 is an incredible third-person shooter and one of the series' best. The COG has become the new villain twenty-five years after the Locusts were finally wiped out. This game allows users to create assumptions about the villains. Fortunately, this game is an awesome split-screen game for your computer.
Lego Batman 2
Split-screen multiplayer is available in almost every LEGO game. However, LEGO Batman 2 stands out because it is an excellent game. For starters, it's designed for the whole family, so younger players can enjoy it just as much as older ones, if not more. It also uses humor, contrasting with Batman's seriousness in other media.
Part 2: Best PS4 Split Screen Games
A Way Out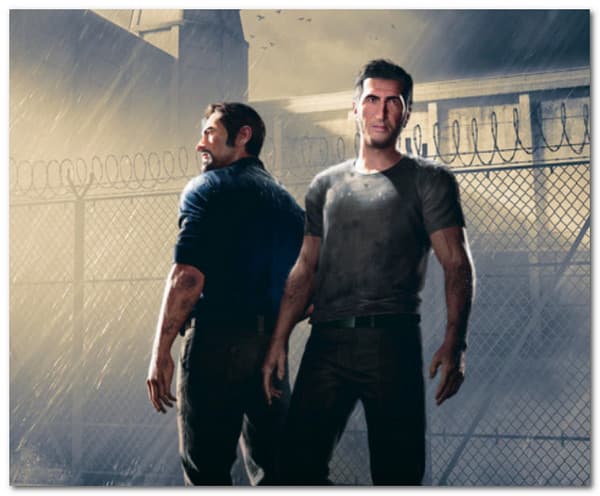 A Way Out was created to be played in groups. It can only be played cooperatively and is best enjoyed while sitting on the couch with a friend or loved one. A Way Out stars Leo and Vincent, two convicts who work together to escape from prison and avoid capture. With its exciting plot and gameplay, users will say it is one of the best split-screen games for PS4.
Call of Duty: Black Ops Cold War
The latest installment in the long-running first-person shooter franchise, Call of Duty: Black Ops Cold War, includes split-screen multiplayer for its Zombies and competitive modes. We're primarily recommending it for Zombies, designed with co-op in mind. Indeed, an excellent game for split-screen on PS4.
To capture the gameplay on PS4, you should read this post.
Don't Starve Together
Don't Starve, the survival game from Klei Entertainment, has always felt like a game that would be ideal for playing with friends, but it took a while for that emotion to be confirmed. Don't Starve Together, the standalone multiplayer expansion, was released in 2016, and it is still one of the great tactical games you can play split-screen with a friend recently.
It Takes Two
Another great PS4 split-screen game is It Takes Two. It is Hazelight Studios' sophomore game and is also co-op only, following in A Way Out's footsteps. Rose consults a love book after learning that her parents are divorcing and travels her parents' imaginations into the dolls she created for them.
Part 3: Best Xbox Split Screen Games
The Ascent
First on the list of amazon Xbox split-screen games is The Ascent. The game is pure cyberpunk with corporate overlords, alien planets, cybernetic augmentations, and the inevitable street-level strife between gangs and factions. The plot provides an excellent excuse to go around planet Veles shooting people who try to seize control of your home district for their greedy ambitions.
Tiny Tina's Wonderland
To create an explosively entertaining game, tiny Tina's Wonderlands combines Borderlands fondness for guns and wacky humor with fantasy elements. It is also a great Xbox One split-screen game because it can support two players locally, but the Xbox Series supports an entire party of four players.
Samurai Warriors 5
The third on the list of great Xbox split-screen games is the Samurai Warriors 5. It is a worthy successor to this tradition, and as the title suggests, it puts you in command of a slew of Sengoku period historical figures. You can record the Xbox 360 gameplay and share it with more players online.
Stub the Zombie Remaster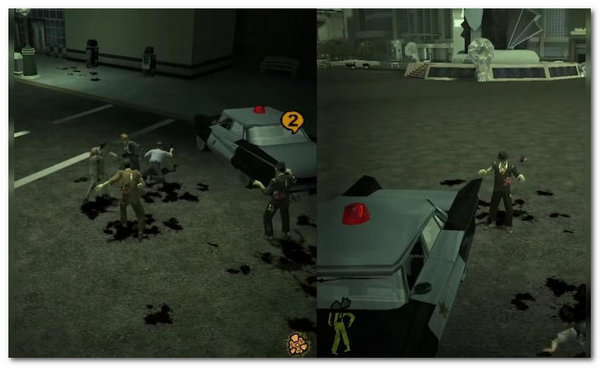 Stubbs the Zombie includes a co-op mode that allows the second player to play Scrubbs' pal Grubbs for the first time. You'll be able to cause havoc that you wouldn't be able to create on your own. Punchbowl, a 1950s town, has no chance of survival. You can try it on your Xbox for split-screen gameplay.
Gang Beasts
It is one of the funniest and least malicious fighting games in recent memory. The fighters are clumsy, floppy humanoid blobs who can not only punch but also grab opponents or the environment - a great game to play on your Xbox for split-screen gameplay.
Part 4: How to Make Split Screen Videos After Recording Game
Suppose you are a content creator for gaming content. In that case, having Blu-ray Master picked Video Converter Ultimate can help you edit your gameplay and modify it into a split-screen video before you post it on Facebook or YouTube. This tool possesses outstanding features, including the collage maker we can use for your gameplay.
Step 1
Launch the tool and access the Collage from the interface.
Step 2
Please click the Two Cells template or other templates from the options.
Step 3
Now, please select the two gameplay clips and place which will be on the right and left.
Step 4
Finally, click the Export button to save your output.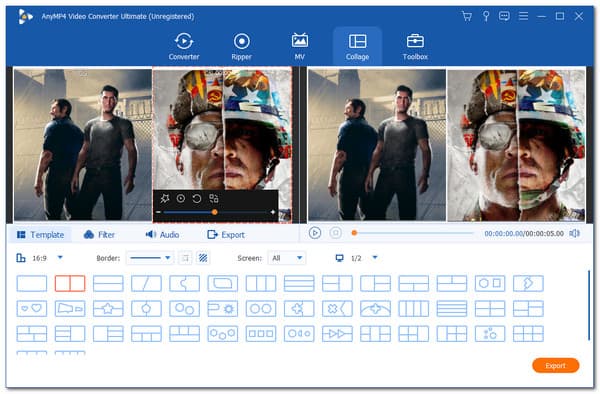 Part 5: FAQs about Best Split Screen Games
Are there split-screen games on mobile?
Yes. Some of these games are BandLand, Pocket tanks, and Player Reactor. These incredible mobile games can give you an immersive gameplay experience.
Can I play Minecraft as a PS4 split-screen game?
Yes. Minecraft on PlayStation 4 allows you to build with friends in split-screen mode. You can also play cross-platform with other Minecraft-powered devices.
Can I split screen Zombies Cold War on PC?
Cold War: Zombies can be played in split-screen mode. The party leader can now select the multiplayer mode in which he wishes to participate.
Conclusion
You can play those incredible games for split-screen gameplay on different mediums such as PC, PS4, and Xbox. Now share this article and list with a friend and invite them to play some fun on the list.