Why My File Isn't Compatible With QuickTime Player?
I purchased a new Mac last week and am upset that the file isn't compatible with QuickTime Player. Can anyone tell me why?
This is a roundabout question that we often see in online communities nowadays. It had been a cause for the frustrations of some Mac users. It is why we have come up with this article, which will show you the reason along with the best solutions to deal with this matter. Undeniably, QuickTime is the companion of Mac users when it comes to playing and sometimes editing media files. However, Apple did not promise that it is perfect, for it also has flaws, such as errors in some files. Below are the contents that will explain why the file isn't compatible with QuickTime Player.

Part 1. Why This File Isn't Compatible with QuickTime Player
There could be various reasons why QuickTime Player cannot play files. If the files are corrupted, there is a big chance of playback failure. Corrupted files may show surprising behavior when you play them. Other reasons to watch out for are issues in the codec, outdated QuickTime version, system incompatibility, and the most cause of this error is the unsupported file format. That said, it is best to know what files QuickTime Player can open to at least refrain from having some playback issues. On the other hand, the other possible reasons are provided to give you some of the benefit of the doubt just in case your MOV files also encounter the same error.
Part 2. What Formats are Compatible with QuickTime Player
Moving forward, QuickTime Player is more expensive in supporting various types of videos and audio. As a matter of fact, it is known to support enough formats that we listed below to answer your question about what is compatible with QuickTime Player.
● MOV, MP4, M4V, AVI, 3GP, MPEG, M2V, and DV for the video files.
● AIFF, WAV, AAC, MP3, AU, WMA, and DLS for the audio files.
The list of formats above is QuickTime Player's commonly supported audio and video formats. However, the exact scope of the supported formats may vary on the OS you are using and the player's version. If your files do not match the formats above, you must convert them to make them compatible to play on QuickTime.
Part 3. How to Convert Files to QuickTime Compatible Formats
If you are caught in a state where either MOV, MP4, or AVI is not compatible with QuickTime, then converting it is the best solution. But we will not recommend you use any converting tool you see on the web. Instead, we will encourage you to use the Video Converter Ultimate, which ultimately works to manifest its name. It is an amazing converting software that you can get for your Mac harmlessly. Instead, it lets your device indulge with the hardware and GPU acceleration technologies it offers. Furthermore, you can use it on your bulk files that need to undergo conversion but in one procedure. Yes, you read it right. This Video Converter Ultimate can convert multiple files in a 70 times faster conversion process.
Moreover, it lets you choose among the over 500 various formats, including the QuickTime file formats for your outputs. Aside from its remarkable conversion features, it also exhibits extra powerful attributes and tools such as makers of movies, collage, 3D videos, GIFs, and a Toolbox that consist of all the editing tools you need.
How to Convert Files on Video Converter Ultimate
Step 1
Obtain the software on your Mac by simply clicking the Download buttons below.
Step 2
Open your newly installed program, and import all the files you need to convert when you hit the Plus symbol at the center of the interface.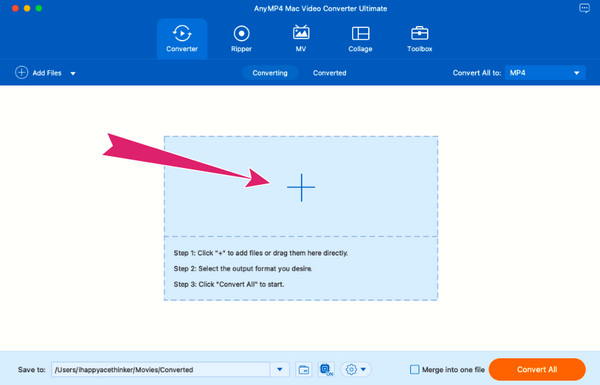 Step 3
When all the video files are loaded, click the Arrow tab in the Convert All To section. Then, choose your desired Apple QuickTime format from the window that will prompt.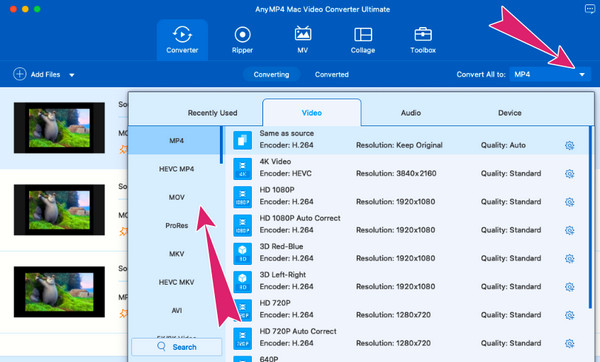 Step 4
As simple as that, you can immediately proceed to hit the Convert All button. This will begin the rapid conversion that will give you high-quality outputs.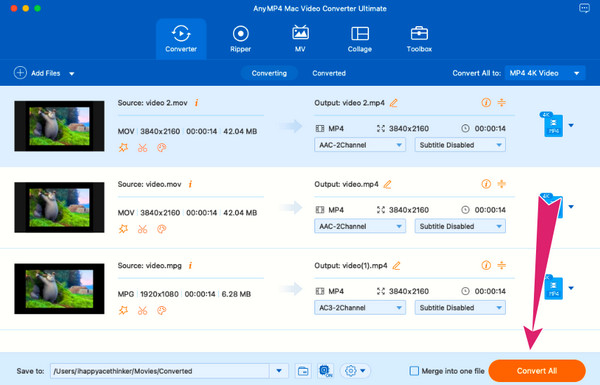 Part 4. Best QuickTime Player Alternative
After converting the files, you can now play them on your default media player. However, if the video you turned to MP4 or MOV file still isn't compatible with QuickTime, Blu-ray Player is the best alternative. It is a flexible player of Blu-rays that excellently displays digital videos too. As a matter of fact, it can play almost all video formats you have on your device. It is why you will never experience a playback failure with it, unlike what you encounter with QuickTime. Another thing that will push you to like this player is its snapshot tool which enables you to capture the remarkable events or parts of your video file. Thus, move on to the content below to bring you the steps on using this Blu-ray Player.
Step 1
Click the presented Download buttons below and grab the best alternative to QuickTime Player for your Mac
Step 2
Run the player and hit the Open File button on the interface in front of you. This tab will enable you to upload the file you cannot play MOV, AVI, or even MPEG 4 that is not compatible with QuickTime.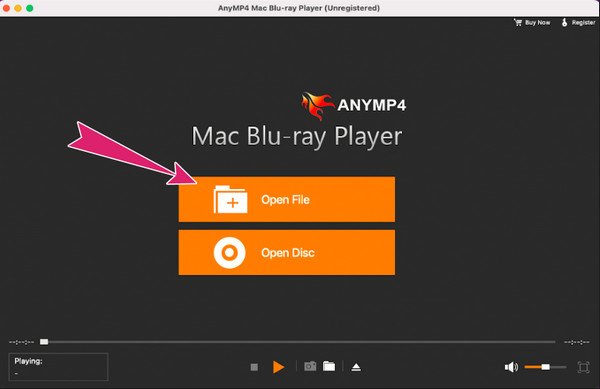 Step 3
As simple as that, you can now enjoy watching your file.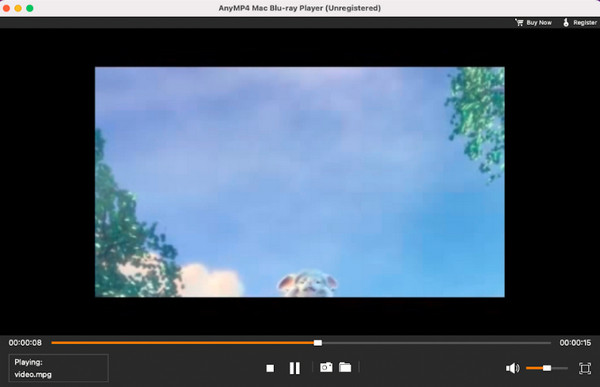 Part 5. FAQs Relating to Files on QuickTime Player
Is the iMovie not compatible with QuickTime?
Both iMovie and QuickTime are Apple's aces when it comes to media-related matters. Although iMovie is for editing and QuickTime is a player, they are still compatible with each other.
Does the After Effects export MOV that is not compatible with QuickTime?
It depends. If you cannot play the MOV output from After Effects with QuickTime, then try to check if it is not corrupted. Otherwise, convert the MOV to other formats.
QuickTime format vs. MP4, which is better?
MP4 is better than MOV when it comes to popularity and compatibility. But in terms of quality, MOV is better.
Conclusion
Overall, QuickTime is a reliable player to play on most used formats. However, as a Mac user, it is okay to anticipate having a file that isn't compatible with the QuickTime player. Fortunately, since you met this post, you already know why this circumstance occurs. In addition, you also have the best solutions to solve it, like transforming the files to another QuickTime-compatible format. In that case, remember to use Video Converter Ultimate to achieve an excellent conversion process.