Quick Tutorial in Making a Fantastic Slideshow on TikTok
TikTok is a social media app where you can create and post videos freely. Users can capture, edit, and share 15 to 60 seconds of videos with filters, music, special effects, and more. You have the freedom to release your creativity on this platform. Aside from that, you can also make slideshows on TikTok. First time hearing it? Making a slideshow on TikTok is similar to what you do when creating video content. This is a better way to showcase your pictures from your last vacation trip, family occasions, and with your friends. And in this post, we will teach you how to make a slideshow on TikTok and tips you should never forget that can help you create awesome content. With no further delay, let's get right into it.

Part 1: How to Make a Slideshow Using TikTok
Here's a very useful guide for you to follow on how to make a slideshow on TikTok. This will benefit those who are not familiar with the feature of the app.
Step 1
Download the TikTok app on your device on Google Play Store for Android and Apple App Store for iPhone. Log in to your TikTok account or create one if you are a first-time user.
Step 2
After logging in, tap the Plus icon below the app's interface to create TikTok content. Click Upload to import photos and videos from your phone's media library.
Step 3
You can begin editing the slideshow after importing the files. Tap the Music icon above to select a song suitable for your slideshow. Press the Adjust Clip to adjust the duration of each image. Swipe left to apply filter effects. Click Save to apply the recent changes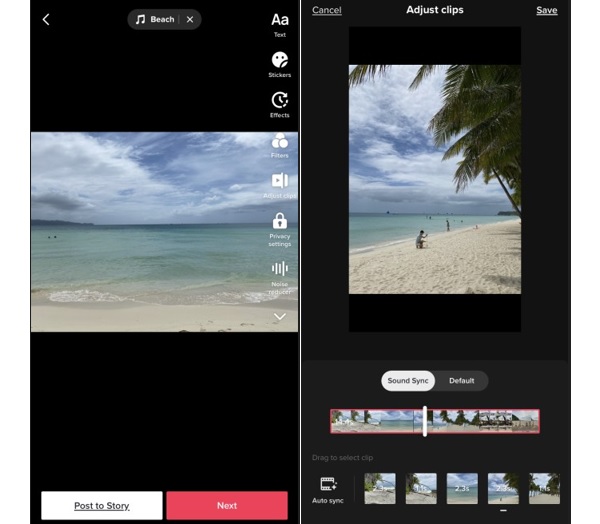 Step 4
Tap Next to proceed in posting the slideshow. Do not forget to add hashtags, as this may help your content to be visible to other users.
Part 2: How to Make a Slideshow on Computer for TikTok
There is a better way for you to create slideshows for TikTok aside from using the app itself. You can use a desktop program capable of creating amazing slideshows, like this tool, Video Converter Ultimate. This free-to-download software is mainly a file conversion program, but it doesn't mean it cannot make slideshows effectively. With the MV feature, you can add multiple images and videos, add soundtracks for background music, add text and subtitles, and many more. This is perfect for any kind of slideshow for tutorials, lectures, promotional material, and other purposes. Furthermore, first-time users won't be confused while using this tool since it has a straightforward interface. You can get this program on both Windows and Mac.
Key Features:
1. It supports video output in 4K UHD quality.
2. You can add media files without restrictions
3. Plenty of templates with different themes available for free
Refer to the step-by-step tutorial on creating a slideshow for your TikTok content using this highly capable desktop program.
Step 1
Click Free Download above to download the program on your desktop or laptop. Run the executable file on your device to start the installation process. After you finish the process, the tool opens automatically. Use the MV function to start creating a slideshow for TikTok.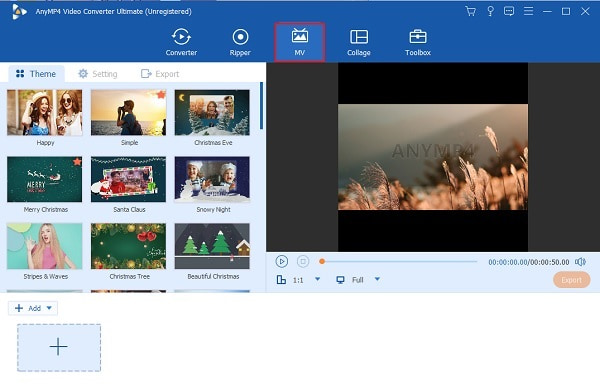 Step 2
Choose any template on your slideshow that is suitable for your content. Tap +Add to import images and video clips that you will use on your slideshow. You can rearrange them on the timeline in the sequence you need.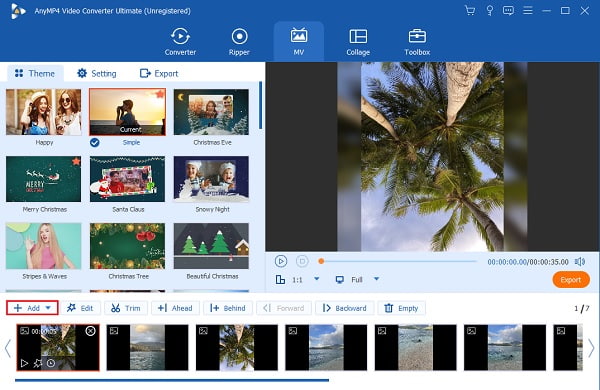 Step 3
Move to Setting to change the slideshow's background music. Click the Plus sign to import songs from your device. You can skip this step if you are satisfied with the background music included in the template you are using.
Step 4
Go to Export to store the slideshow from this slideshow maker on your computer or laptop. On the drop-down list of Resolution, select 1080p as this is the max resolution TikTok supports. Hit Start Export to start saving the slideshow.
Step 5
Go to Converter to change the format of the slideshow to a format compatible with TikTok. Drag the file to the program and click the Format icon to see the different formats. Select TikTok and choose the highest resolution available for the best quality.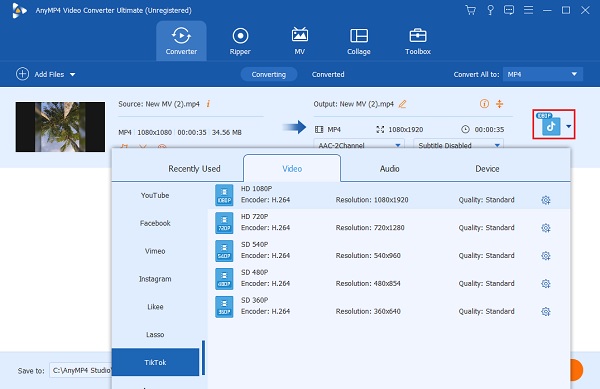 Step 6
Click Convert All to start converting the slideshow. Wait for the conversion process to end. Your slideshow will be saved automatically and is now ready to be viewed. Enjoy!
Part 3: Tips on Making a Popular TikTok Slideshow
Here are some useful tips for making slideshows on TikTok that will surely trend. Following these tips will help you avoid making mistakes every time you use TikTok.
1. Make sure you add all the photos you need for your photo slideshow, or else you may not be able to show everything to your viewers.
2. Make sure that you use music appropriate to the slideshow you are doing. There are plenty of soundtracks on TikTok that you can use for free.
3. Do not forget to edit your slideshows by applying filters on your photos, transition effects, and texts. Adjust the brightness of the images as well, as this may affect the overall viewing experience of your slideshow.
4. Make sure that the content you create aligns with what is trending on TikTok. You will have a higher chance of viewing your video by other users.
Part 4: FAQs about TikTok Slideshow
How many pictures can you include in a TikTok slideshow?
Tiktok allows users to add photos for the slideshow of up to 35 items. The number remains the same even if it is a mix of pictures and videos. Make sure to choose the media files in the sequence you want on your slideshow.
Are there free templates you can use on TikTok?
Yes, there is. You can choose between the 35 free templates for your slideshow. Each has a different maximum number. The templates already include effects and background music.
What's the maximum time duration of a TikTok slideshow?
The maximum time duration of the slideshow you can create on TikTok is three minutes, the same duration as the videos you post.
Conclusion
You now have learned how to make a slideshow on TikTok. Not only will you benefit from this, but you can also teach your friends the steps that must be taken. Moreover, there is another method you can rely on when you make a slideshow for TikTok using a desktop program, like Video Converter Ultimate. There is less restriction regarding the maximum image number you can add, more templates and effects to choose from, freedom to use any music you like, and fewer application lags and crashes. Create your next slideshow for TikTok now using this tool.