How to Transform VHS Videos into MP4 Format on Windows and Mac
Although digital videos and online streams are increasingly popular, many people still have a collection of VHS tapes. Years ago, it was an important way to remind your family members that you love them. Physical media is poor quality and takes space to store. If you want to digitize your movies, you can follow this explanation. This guide shows you the steps to convert VHS to MP4 quickly.

Part 1: How to Convert VHS to MP4
It is impossible to convert VHS to MP4 directly. The alternative solution is to convert VHS tape to DVD, and then rip DVD to MP4. In another word, it contains two stages.
Stage 1: How to Convert VHS to DVD
VHS is a standard for customer-level analog video recording on tape cassettes. The VHS tape was a major contributor to the television industry. Now, it has become the history and been replaced by digital media. Here are the steps to convert VHS to DVD below: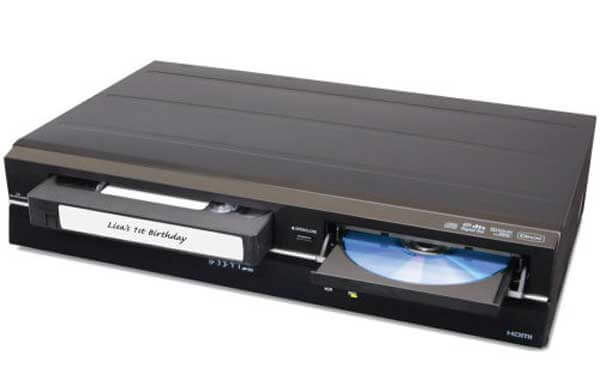 Step 1
Firstly, find a VHS to DVD combo player. You can buy a second-hand device online or borrow one from local store. It usually has two parts, one for VHS tape and the other for DVD.
Step 2
Power on the combo player, insert the VHS tape into it and put in a DVD disc into the DVD player part. You can use blank disc or DVD-RW that has enough storage capacity.
Step 3
Press the play button on the VHS to DVD converter and begin writing VHS to DVD. Generally speaking, it maintains the video quality of the VHS tape. When it is done, take out both VHS tape and DVD.
Stage 2: Convert DVD to MP4
Now, you have transformed the VHS video onto a DVD. The next stage is converting VHS to MP4. Blu-ray Master Video Converter Ultimate is the best option due to the excellent output quality. Plus, the well-designed interface enables you to find what you want easily.
Main Features of the Best VHS to MP4 Converter
* Turn VHS tapes into MP4 video files in one click.
* Optimize video quality using advanced technology.
* Improve the performance with hardware acceleration.
* Preview VHS videos before converting.
How to Convert VHS to MP4 without Quality Loss
Step 1
Load VHS
Install the best VHS to MP4 converter on your PC and launch it. There is another version for Mac. Insert the DVD into your ROM drive. Then go to the Load DVD menu in the converter and choose Load DVD Disc. The software will recognize the VHS video on the disc immediately. Click the Full Title List option and select the titles that you want to save as MP4.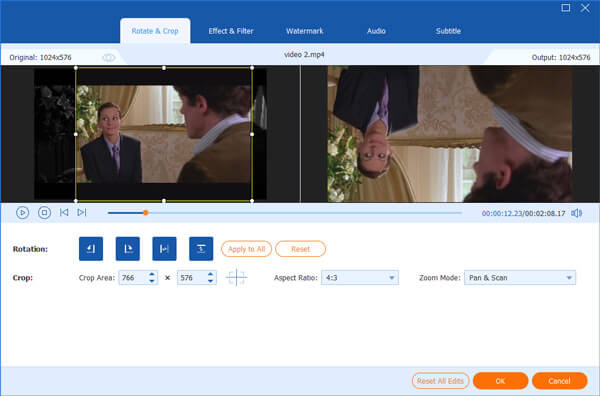 Step 2
Select output format
Hit the Rip All to menu at upper right side to trigger the profile dialog. Go to the Video tab, select MP4 and pick a preset. If you want to change resolution, codecs and other parameters, click the Gear icon.
Step 3
Convert VHS to MP4
Go back to the main interface and click the Folder button to set a destination folder. At last, click on the Rip All button to begin converting VHS to MP4 immediately.
Read More
Recommend: Blu-ray Master Free Online Video Converter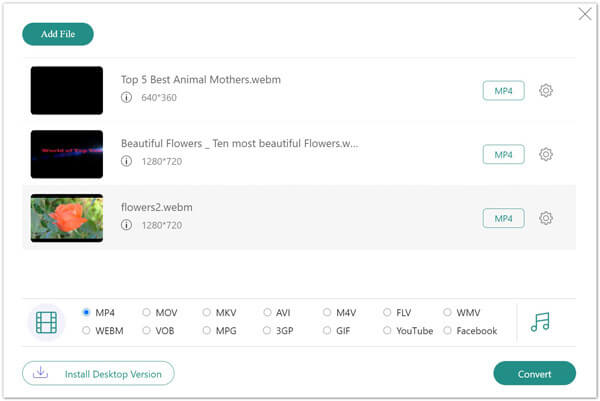 Sometimes, you just need to convert some video files to MP4 occasionally and do not like to install software. Blu-ray Master Free Online Video Converter can meet your need. It enables you to change video and audio file format online. Since it is free of charge, you do not need to pay a penny or sign up with your information at all.
Part 2: FAQs about VHS to MP4
How do I transfer VHS tapes to my computer?
To transfer VHS tapes to your computer, you have to convert VHS to DVD by your own or a professional service. Then transfer the DVD to your computer.
Can I play VHS tapes on my computer?
No, you cannot play VHS tapes on computer since digital device cannot accept or read audio and video signals from AV equipment. A VHS player outputs AV signals through RCA and S-Video ports.
How much does it cost to transfer VHS to DVD at Walmart?
Walmart offers a DVD transfer service, which lets you transfer VHS tapes to DVDs. Walmart places a two-hour limit per DVD. The cost is $24.96 to transfer one VHS tape.
Conclusion
Although it is not very easy to convert VHS to MP4, it is possible to complete it by your own if you have the proper hardware and software. Of course, you can ask help from professional service, such as Walmart DVD transfer service. Blu-ray Master Video Converter Ultimate is indispensable to digitize VHS tapes even if you do not have any technical skill. Other questions involved? Please leave a message below this post.