Top-Notch Video Players with Speed Control for Windows, Mac, Android, and iPhone
Most of the time, when we watch a video, we tend to skip it, especially when it is long. This is also true when we suddenly want to get back into a scene we already skipped by playing it backward. Unfortunately, we want to take this course of action constantly. Still, not all media players will allow that to happen because not all players have speed controls. This is why we came up with this article, to help people like you search for the best video player with playback speed controls. We have gathered three of the best media players on desktop and Mac and four remarkable media players for iPhone and Android. So, without further adieu, let's not delay this any longer and proceed to your much-awaited meetings by reading the contents below.

Part 1: 3 Best Video Player Programs with Speed Control for Windows and Mac
1. Blu-ray Player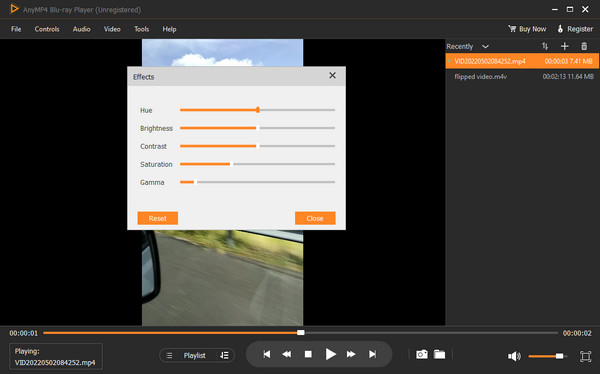 First on the list is this exquisite Blu-ray Player. Even though its name suggests that it's a Blu-ray player, it doesn't limit playing any video files you have on your device. To give you an overview, it plays Blu-ray and DVDs, ISO files, and folders from various regions and places. Furthermore, it is a media player that plays 4K and 1080p HD videos MKV, M4V, MP4, MOV, AVI, MTS, MXF, MXF, WMV, and many more. In light of its playback control, this Blu-ray Player is a video player with playback speed control arrayed along with the rest of its playback control options.
As a matter of fact, while playing the video, you can navigate the backward and forward functions, which gives you the liberty to skip and return to the video scene. Another and most accessible way to let you freely control the video speed is by its drag and slide function. On the other hand, to learn more about this exquisite media player, then see its key features below.
Features
1. Efficiency in playing up to 4K videos smoothly.
2. A snapshot that lets you capture the remarkable scene of the video.
3. Customizable effects include adjusting the video's gamma, saturation, contrast, hue, and brightness.
4. A Windows video player with speed control and hardware-accelerated decoding selections.
5. Support DTS and Dolby Digital, which helps in extremely high-quality playback.
Pros:
1. Support all types of videos.
2. Professional-looking and intuitive user interface.
3. Superb watching experience due to its advanced technology.
4. Support almost all versions of Windows.
Cons:
2. VLC Media Player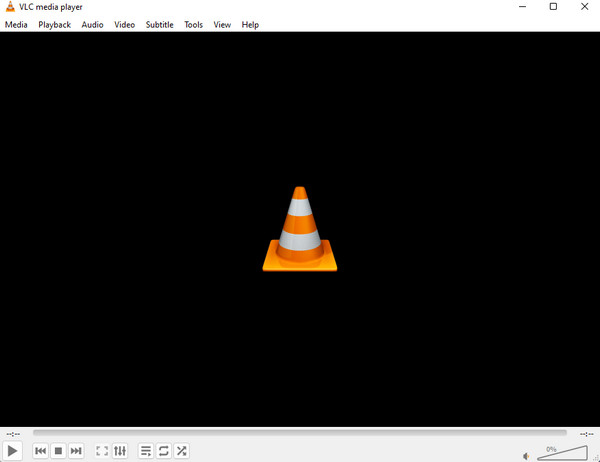 Next on the list is the most popular media player, VLC. VLC Media Player is indeed a one-of-a-kind player, for it is infused with many marvelous attributes and selections. Its fantastic features include its support of almost all video file formats and its ability to produce a zip folder of multiple files. Moreover, you can use the VLC to customize and fix video files in its toolset and adjust the video speed within its playback control. In fact, it offers a setting option where you can also customize the effects, compressor, equalizer, and synchronization of your video while manipulating the speed.
Pros:
1. It can be a video player app with speed control on Android and iPhone.
2. It is free and open-source software.
Cons:
1. It can't playback Blu-ray discs.
2. Ditches occasionally appear.
3. SMPlayer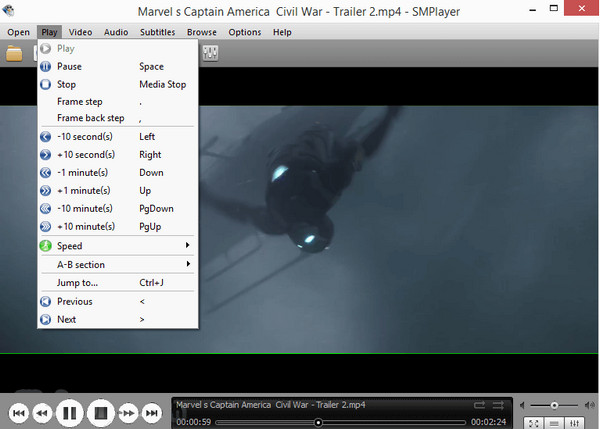 Finally, we have the SMPlayer, a media player that you can acquire on both Mac and Windows. This software supports a speed controller with a straightforward interface and process. With this SMPlayer, you will be able to increase and decrease the playback speed of the video. In fact, you can speed it up to 10% each time.
Pros:
1. A user-friendly media player.
2. It enables you to control the video speed at your desired speed easily.
Cons:
1. Lacks efficiency in creating a playlist.
2. It sometimes shows flaws in its operating system.
Part 2: 4 Superb Video Player Apps with Speed Control for Android and iPhone
1. iMovie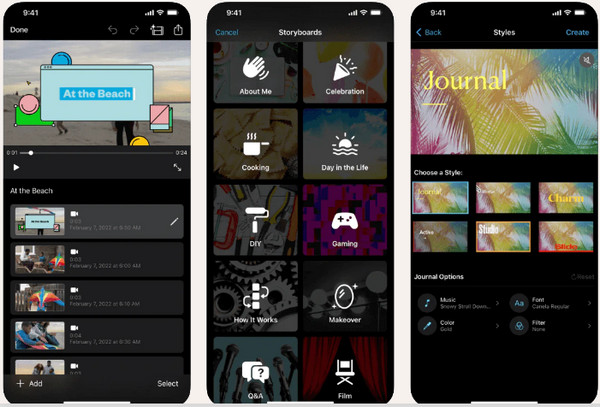 iMovie is the iOS video player with speed control that everyone knows. It is superb video editing software that you can also use as a video player. Aside from that, there are many good features to enjoy while using iMovie, especially the elements where you can optimize the video. Meanwhile, iMovie lets you control the speed of your video in a straightforward way, where you can starightly modify the speed upto 8x faster.
Pros:
1. It optimizes the video speed in various parts.
2. Easy and free to use.
Cons:
1. It is not a pure media player.
2. It is only available on Apple devices.
2. KMPlayer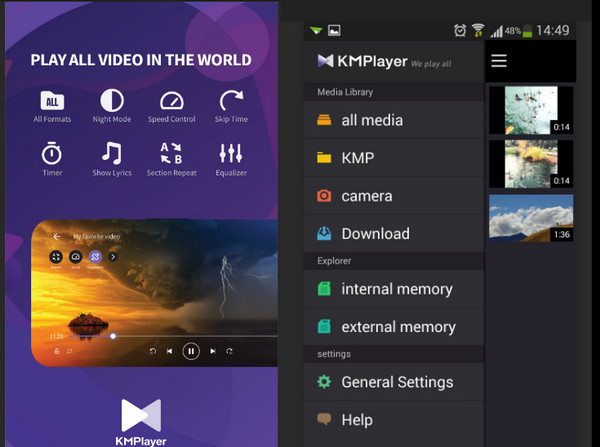 KMPlayer is a media player app that supports up to 4K quality videos. Moreover, it gives you the confidence to have a flawless playback experience on any video format you use. This, too, is a video player app with speed control that allows you to alter the rate of your video.
Pros:
1. It allows playing videos from cloud storage.
2. It is a full-featured app.
3. It is easy to use.
Cons:
1. It is not available on Android.
2. Some users encountered a faulty process in fast-forwarding a video.
3. Splice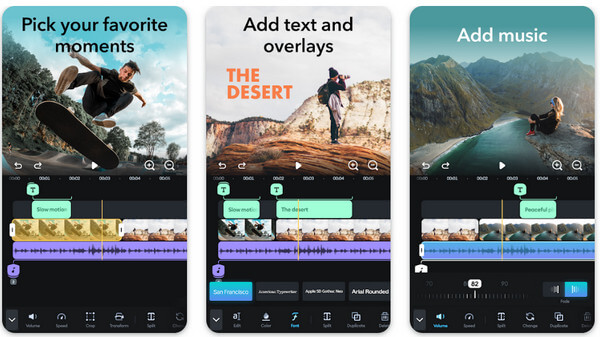 If you are looking for the perfect app for your Android, then this Splice is worth a look. It lets you watch your videos while giving you tons of options to edit them. One of its great functions is manipulating the video speed, providing advanced controls for this option. In fact, this app uses modern control for video speed, and it provides you with many powerful tools such as title maker and overlaying tools.
Pros:
1. Contain a modern speed control for the video.
2. It enables you to add title slides and overlays for your video.
3. It comes with guidelines when using it.
Cons:
1. It eats massive storage for your phone.
2. It is not entirely free.
4. PowerDirector
Another video player speed control app for Android that you deserve to know about is PowerDirector. In addition to the attributes of this app are its extensive features offered to its users. It provides various video editing tools that will allow adding effects, music, templates, and more.
Pros:
1. Create movies from the videos that you modified.
2. It's an all-in-one video player and editor.
Cons:
1. It is not free.
2. High system requirement.
Further Reading:
6 Amazing Apps to Slow Down Video on Desktop and Mobile
6 Astonishing Video Speed Editor Apps for Your PC and Phone
Part 3: FAQs about Video Player with Speed Control
Can I control the speed of my recorded video online?
Yes. Online tools work with your recorded videos and have settings for video speed. You can usually find it in the coggle icon.
Can I restore the original speed of the video?
Restoring the original speed of a video is doable. Since you just have to reverse the rate. However, this process cannot correct the affected quality of the video display and audio.
How can I speed up my video 2x faster using VLC?
Speed up the video using the playback control of VLC. Click the Playback tab, then navigate to the speed selection.
Conclusion
Those are the top-notch video players with speed control. All of them were screened and tested, and all showed impressive processes when it came to speeding videos. Thus, with the Blu-ray Player, you will be able to indulge with the perfect player for different types of files.