6 Must-Try Effective and Easy Video Slideshow Maker Software for Free
Slideshows are very important nowadays. A lot of people are using slideshows when doing business reports, presentations, lectures, and special occasions like birthdays and weddings. You can also put videos when creating slideshows, not just photos, which is impressive. With plenty of video slideshow makers nowadays, you might be wondering which are the best programs to use. That is why we created a list of excellent slideshow software that can create slideshows with high-quality results.
Please continue reading below to see the list of top video slideshow makers that we think are the most reliable, intuitive, and great for beginners and professional users.

Part 1. Best 4 Video Slideshow Makers on Desktop
These desktop-based video slideshow makers that I will introduce to you are free to download on Windows and Mac devices. Feel free to try these proven and tested softwares that can efficiently create beautiful slideshows.
Bluraycopys Video Converter Ultimate
Bluraycopys Video Converter Ultimate is an all-in-one desktop program that many consider one of the top video slideshow makers available. There are plenty of themes to choose from and apply effects and filters to each photo. You can also integrate music of your choice to make your video slideshows better. The audio and video formats this program supports are MP4, WAV, AC3, MP4, MOV, AVI, etc. Aside from the typical features of a file converter and slideshow maker, there are extra features you might want to try. A few features are a DVD ripper and a photo collage maker. There's also a feature called Toolbox where you can find extra tools like GIF and 3D maker, watermark remover, video reverser, etc.
Pros:
1. Supports photo and video slideshow making
2. Compatible on Windows and Mac devices
3. Very intuitive interface
Cons:
You need to avail the premium version to access its other features.
Windows Movie Maker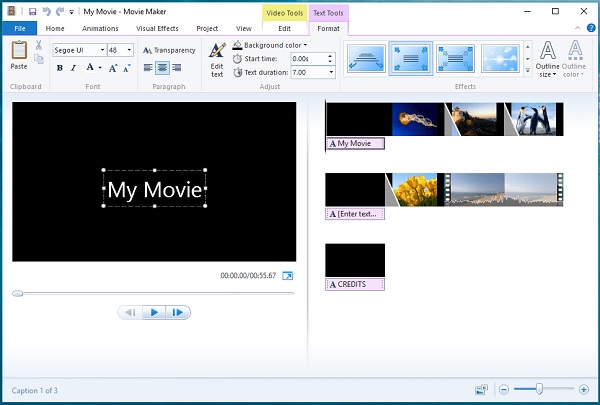 Windows Movie Maker is a halted video editing program by Microsoft that targets novice users searching for a free video slideshow maker. You can directly share your slideshows on Facebook, Youtube, Vimeo, Flickr, etc. This tool can combine images and clips and digital movies and add music, title, and transition effects to create a slideshow. Moreover, this tool is only compatible with Windows.
Pros:
1. Easy to use interface
2. Perfect fit for beginners
3. Plenty of effects and transitions
Cons:
1. It supports a limited file format
2. No contrast and saturation adjustments
3. Discontinued since January 2017
Movavi Slideshow Maker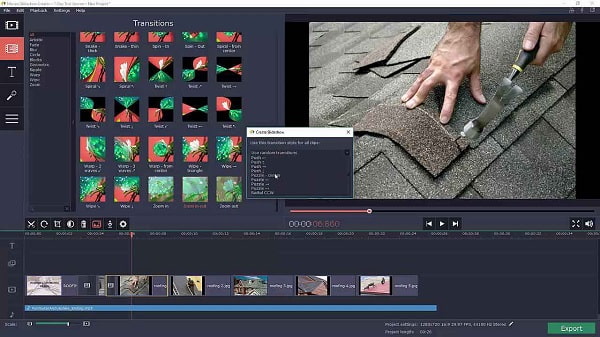 Movavi Slideshow Maker is a video slideshow maker with a very straightforward interface suitable for beginners. Combine images and video clips and choose over 150+ filters and transition effects to create a one-of-a-kind slideshow that will surely amaze your viewers. However, this tool is not entirely free, as you only have a week to use the free version. And after that period, you will be required to pay $60 to access the full version.
Pros:
1. Available on Windows and Mac
2. Auto adjustment of applied effects
3. Directly share your videos on Youtube
Cons:
1. Limited transitions effects
2. Inability to organize imported images and clips
3. There is only a seven-day trial period for the free version.
Icecream Slideshow Maker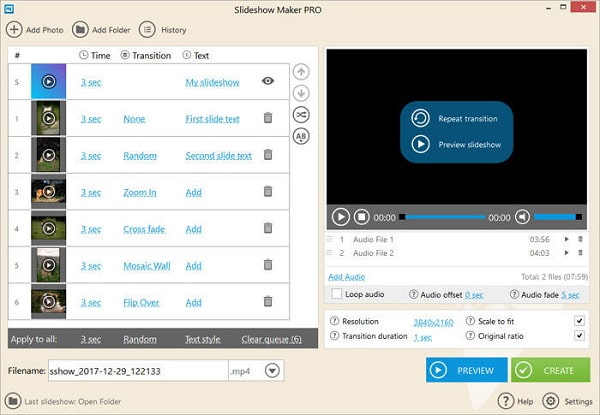 If you are seeking a free video slideshow maker that is easy to use and has many effects, you can try Icecream Slideshow Maker. This software allows you to add several audios to create a playlist per slideshow. Moreover, you can add text and use different transition effects per slideshow panel to create unique and entertaining slideshow presentations.
Pros:
1. It offers technical support service
2. Beginner-friendly program
3. Upload your video files directly to Youtube, Google Drive, and Dropbox
Cons:
1. Some features are not accessible unless you pay
2. No Mac version is available
For the next part, we will introduce free online video slideshow makers that are an excellent alternative for desktop programs.
Part 2. Best 2 Video Slideshow Makers Online
For those who are in haste and cannot download an offline program to create a slideshow, there is an online solution for you. These online video slideshow makers only require two things: the internet and a web browser. These two online programs are highly praised for effectively creating slideshows. What's more, these are free to access for everyone.
Kapwing
Kapwing is a well-known online video slideshow maker that you can access for free on any web browser on your PC. This straightforward online solution is excellent for first-time users and can create GIFS and enhance your images. It is ideal to use for social media content and make promotions for small entrepreneurs. Additionally, it is also great for teachers and students to make school projects and presentations. You can directly upload your slideshows to Facebook and Youtube for easier content sharing.
Pros:
1. Simple and easy to use interface
2. Feature-packed free version
3. Memes and GIF maker
Cons:
1. Slightly high price for the PRO version
2. Lacks advanced features
3. Watermark included in the free version
Kizoa
Kizoa is a popular free video slideshow maker accessible online via a web browser. This powerful online editor lets you create slideshows and add background music and effects to make them more appealing. There's a basic editing feature for your images where you can add frames, filters, and enhancements. Furthermore, it supports high-res videos up to 4K HD and RAW file storage, which professional users always consider in a program.
Pros:
1. Very intuitive interface
2. There is a free iOS version app
3. Plenty of text, transition, animation, and music options
Cons:
1. The cheapest plan is no different from the free version
2. Full HD and 4K HD videos only supported on higher pricing plans
3. The sluggish process when making slideshows
Part 3. How to Make a Video Slideshow
Bluraycopys Video Converter Ultimate, as you know, is one of the best software for creating video slideshows. Other than that, useful features are integrated into the program, such as a file converter, DVD ripper, photo and video collage maker, etc. You can download this program on Windows and Mac devices.
Here's a complete guideline for making a slideshow using the recommended video slideshow maker.
Step 1
Start by clicking the Download button above to start the download process and proceed to install it on your PC. After successfully installing the program, continue to launch the application to see the main interface window. Choose the MV feature so you can start creating a video slideshow.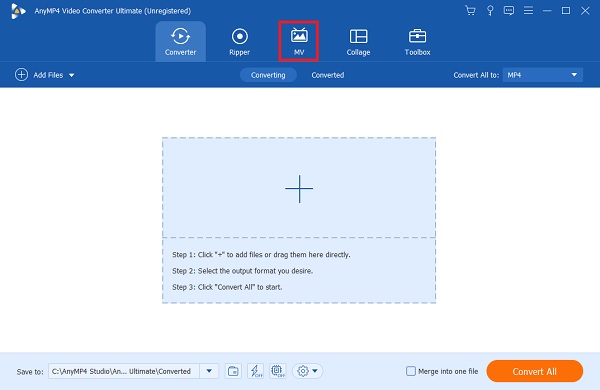 Step 2
On the MV tab feature, you will be greeted with several themes for you to use in enhancing your slideshow. There are pre-downloaded themes, and others need to download first before you can apply them. Under themes, you will see the +Add button. Tap the said button to add video clips from your desktop that you will use for the slideshow. An easy way to add media files is by dragging the clips and dropping them on the space provided below the interface window.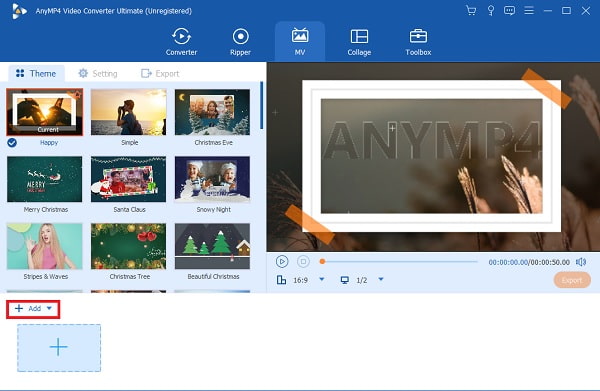 Step 3
Next thing you do is tap the Edit button to apply filters and effects to your video clips. There are other features as well, like rotating and cropping the video, adding a watermark, editing original audio, and adding subtitles. Under the Effect & Filter tab, you can adjust the contrast, saturation, brightness, and hue by adjusting the slide control. Another quick way is to put the specific number beside the slide controls. Once you are done with the adjustments, hit the OK button to apply the changes.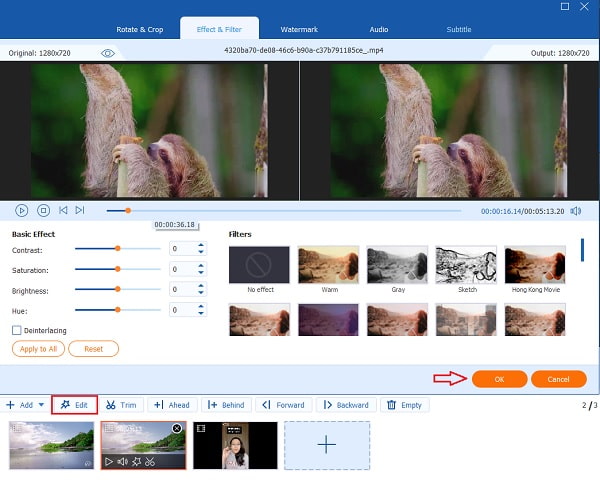 Step 4
After that, head to the Setting tab to change the background music or add your preferred audio for your slideshow. Click the drop-down list or press the + sign button to include audio files from your folder on the Audio Track part. Use the slide control of Volume to increase or decrease the loudness of your background music. Delay's slide control aims to create an echo effect on your audio.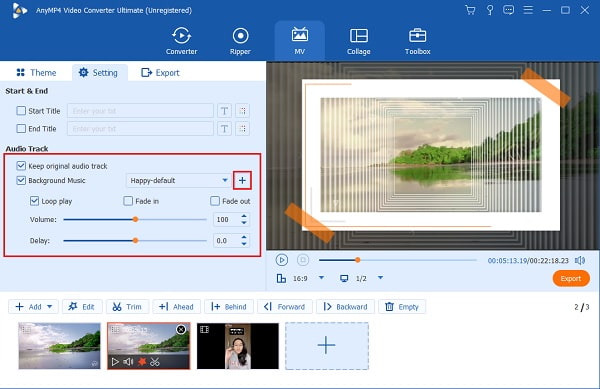 Step 5
For the last step, go to the Export tab. From there, you can change the name of your file before saving it. You can also change the file format, resolution, frame rate, and video quality. Next to Format is a drop-down list tab. Click the said tab to choose between MP4, AVI, MOV, etc., for the final output format. Then for Frame Rate, you can choose between 12fps to 60fps for smoother playback. Adjust the Resolution and Quality for the overall quality of the video. After customizing, tap the Start Export button to begin file exporting. The video will be saved automatically after the process. You can use this tool to make a photo slideshow too.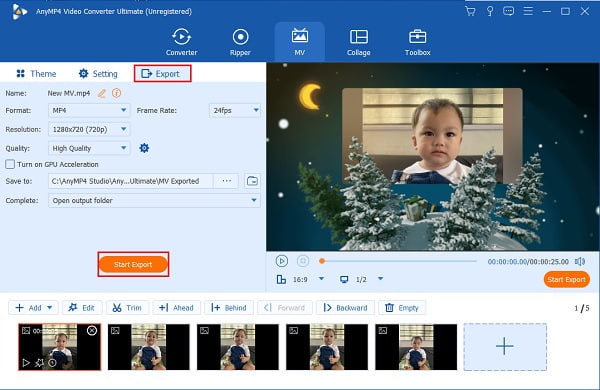 Part 4. FAQs about Video Slideshow Maker
Is there a video slideshow maker for smartphones?
Yes. There are slideshow maker applications dedicated to smartphones that can create photo and video slideshows. You can try using SlideLab or PicPlayPost, which are free to download.
Does Google have their own video slideshow maker?
Yes. Google has its video slideshow maker program called Google Slides, albeit an online tool. The disadvantage of an online tool is that you need to be connected to the internet while using the program.
Does Apple have a dedicated slideshow maker for its macOS and iOS devices?
Yes. Apple has a dedicated video slideshow maker called iMovie. This program is designed to work together on both OS. The Mac version is more powerful and versatile than its smartphone counterpart because of its additional advanced features.
Conclusion
To conclude, the free video slideshow makers above can confidently create slideshows with pleasing results. What's more, these tools are free to use and accessible on any desktop device. But if you want reliable software with lots of features, do not hesitate to use Bluraycopys Video Converter Ultimate.