Discover the Top 5 Remarkable VR Video Converters that Convert Normal Video to VR [2023]
With the advancement of technology, gamers and streamers now spend most of their time in the virtual world. Virtual reality is one of the most prevalent games they use for entertainment. VR is useful in various contexts, including 3D cinema viewing, video gameplay, and more. It's no surprise that gamers are drawn to this type of entertainment because it transports you to another world without requiring you to move an inch. The advantage of VR videos is that they can be freely converted into another format or vice versa. This article will introduce you to five unique VR video converter tools available on and out the web. Simultaneously, we will provide additional guidance on converting VR to a standard video format.
Part 1. Top 3 VR Video Converters Offline
1. Video Converter Ultimate
A complete and accurate VR video converter software, the Video Converter Ultimate allows you to convert your VR video to any format, or vice versa, in a matter of seconds. Before converting your video, you can edit it by cropping it, rotating it, adding filters, and attaching text. Aside from that, it has a straightforward and user-friendly interface. It means that it has excellent editing tools and a simple user interface.
Key Features
1. Transform files into more than +500 video and audio formats
2. Works as video player, video compressor, and animated GIF creator
3. Crops, cuts, rotates, split video and photo easily
4. Adds captions and text on your media files
Pros:
1. Supports state-of-the-art editing tool with the easy-to-use interface
2. Wide compatibility with any operating devices
3. Has a flexible performance that converts swiftly
4. Works without internet access
Cons:
Paid subscription but offers a free trial
2. Imtoo Video Converter
Imtoo Video Converter is a professional desktop tool that helps you convert 3D VR video clips to a normal video. It can copy videos from DVDs and transform media files in versatile format. This software becomes one of the most comprehensive tools available for video lovers, taking advantage of all of these features. The only disadvantage of the tool is that it has a complicated interface, which will be challenging to navigate for those who only have a basic grasp of editing.
Pros:
1. Provides excellent video and audio editing tools
2. Wide range of formats to choose from
Cons:
1. Limited support to some of the operating systems
2. Produces a standard quality file after conversion
3. Wondershare Uniconverter
If you are looking for a quick all-in-one fix, Wondershare Uniconverter is one of the top VR movie converter options for you. Since it is an offline tool, the requirement for an internet connection is no longer a concern. There are numerous beautiful features, such as the ability to transfer media files from one container to another, edit your audio and video files, as well as the ability to use it as a DVD burner tool.
Pros:
1. Contain diverse formats
2. Cater mobile supports for easy uploading
3. Convert high-quality outputs
Cons:
1. Complex interface
2. Paid program
Part 2. Learn the 2 Top-Notch VR Converters Online
1. FileProInfo
FileProInfo is a web-based VR to 3D converter compatible with Mac and Windows operating systems. A basic editing tool is included, which allows you to crop video clips and add captions and effects before converting them into virtual reality videos. Meanwhile, it can convert files into a variety of various formats, depending on your preferences. It contains many unique features, but to take advantage of them to their full potential, you must pay a one-time fee.
Pros:
1. Caters advanced and basic editing tools
2. Equipped with more than 100 video and audio formats
Cons:
2. Convertio
Convertio, in contrast to FileProInfo, is a free web-based 2D to VR converter tool that allows you to convert your VR videos into a more standard format compatible with other operating systems, such as Windows, Mac, and Linux. Because it supports more than 300 different formats, you won't have to worry about whether or not the format you want to convert to VR is supported by the tool. It is admirable because of its versatile functionality, but it is not usable unless you have a fast and stable internet connection to use it. Try this VR converter online now!
Pros:
1. Compatible with any platforms and devices
2. Works without signing any account
Cons:
1. Small file size limit
2. Ad saturated for free account
Part 3. Bonus Tip: Convert VR Video to Other Formats
Step 1
Run the VR converter
To begin, download and launch the VR converter tool on your desktop. Conversely, you can also install the tool using the download buttons above.
Step 2
Unload the VR video
Upon installing the tool, drag-and-drop the file you wish to convert into another format in the middle of the interface.
Tip: There is another way to import the file on the interface; hit the Add Files button on the left pane of the interface and choose the file on the file folder destination on your desktop.
Step 3
Choose the desired format
Next, select the desired format you wish to convert your file. This tutorial will convert the file into MP4 since it is the standard format for video broadcasting. To do so, hit the Format button > Video tab > MP4.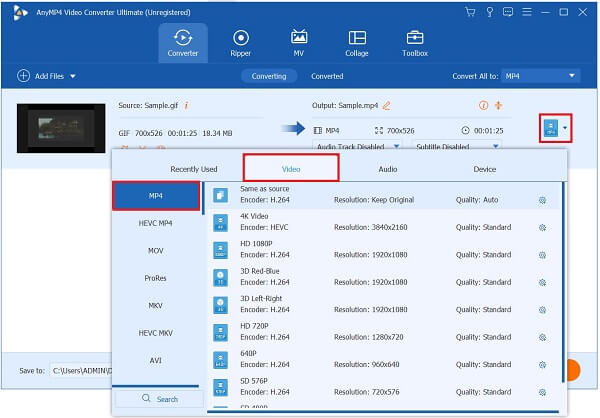 Step 4
Change the output setting
Now, you can also maximize the setting of the output. Select the Custom Profile button and edit the video quality, frame rate, bitrate, resolution, and audio setting of the file. To save the alterations, hit the Create New button.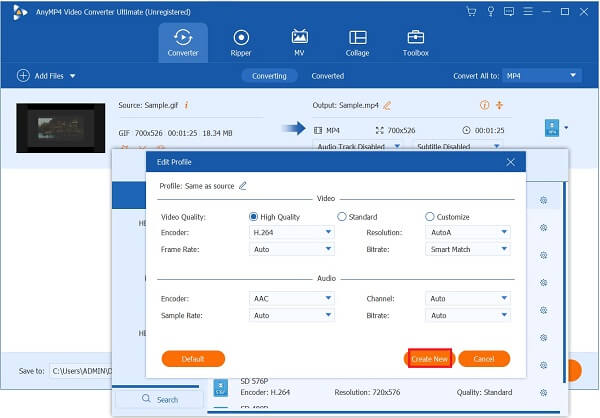 Step 5
Save the file to the output folder
After that, save the MP4 file on the preferred file folder destination on your desktop. Choose the Folder button on the lower part of the interface.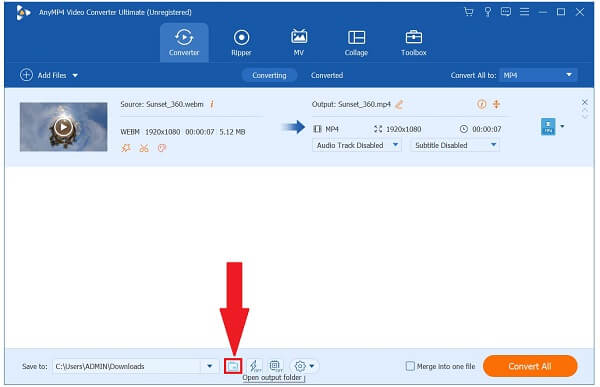 Step 6
Start the conversion
Lastly, to playback the MP4 file, tick the Convert All button. Wait for a second to render, and you are done!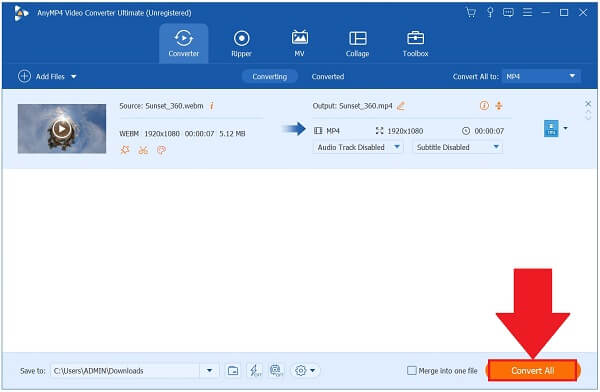 Part 4. FAQs about VR Video
Is a PC required for VR?
A proficient computer VR necessitates using a personal computer and a fully adapted environment in which to engage in virtual reality immersion.
How does virtual reality work?
You need a VR headset to make it work. Virtual reality headsets effectively shut out the surrounding world and give users an entirely new perspective.
Is it possible to watch regular videos in virtual reality?
Watching 2D films using a virtual reality headset is possible without any problems. You can view 2D movies on the internet, which can be found on some of the most popular streaming services. When seen using a virtual reality headset, they will appear as a 3D film.
Conclusion
Now you know the various tools to convert a normal video to VR or the other way around. Choose the VR video converter that does all the work for you. Video Converter Ultimate is one of the ultimate tools that has captured millions of users around the globe because of its compatibility and wise functionality. Download the tool now and be amazed by how it works.