How to Take Screenshots in Snapchat Without Them Knowing
One of the big charms of Snapchat is that it has been designed so that the messages and pictures disappear automatically after the recipients have read.
However, there are some snaps – saucy, sexy, stupid, interesting or otherwise that you want to save. Of course, you can take screenshots of Snapchat to save anything you want, but the other person will be notified. That can be awkward!
Is there any way to take screenshots in Snapchat without them knowing?
We have a straight-up YES for that.
Here are 6 ways you can screenshot Snapchat without sending out a notification.

Part 1. Best 6 Ways to Take Screenshot of Snapchat
Solution 1. Screenshot Snapchat by Using Another Phone Without Them Knowing
The easiest way to screenshot Snapchat story, messages, and pictures without them knowing is using another phone.
Maybe you regard it as the stupid method, but you have to admit it is workable.
You just need to open the Snapchat snap, and open the camera of another phone to take the screenshot.
Surely, you must keep your hands steady enough to capture the footage.
Solution 2. Screenshot in the Airplane Mode Without Being Notified
The second way of taking the snap may be ignored by many of yours.
Yes, taking screenshot of Snapchat in the Airplane Mode, and the other person will not get the notification. The steps are simple to follow.
Step 1Open Snapchat app and load the snap completely that you want to take screenshot.
Step 2Turn off Wi-Fi, cellular data, Bluetooth and everything that can keep your phone connected. After that, turn on Airplane Mode.
Step 3Take the screenshot for the snap in Snapchat on iPhone and Android phone.

Step 4Restart your phone and then the snap will be loaded as if you had never opened it.
The step 4 is crucial. If you do not reboot your phone, and just turn off phone, then the screenshot notification will delay sending to the other person.
After that, you can find and check the location where your screenshots are stored.
Solution 3. Take a Snap in Snapchat on iPhone via Mac QuickTime Mirroring Secretly
Though the screenshot operations on phone will be told by Snapchat and sent to the other person, the actions of taking Snapchat screenshot on Mac computer will not be detected.
QuickTime mirroring feature can record any action from iPhone on Mac computer, and you can take the Snapchat screenshot secretly without being told.
Step 1Get the USB cable to plug your iPhone into Mac computer.
Step 2Launch QuickTime on your Mac. Click File in the upper left corner and choose New Movie Recording option.
Step 3Click the drop-down list of the recording button to find your iPhone name in the camera list.
Step 4Now, open the Snapchat app and open the snap on iPhone. Meanwhile, the whole screen of iPhone will be mirrored and recorded on Mac. Here you can use the hotkeys or screenshot software to take screenshot of Snapchat on Mac to save what you want.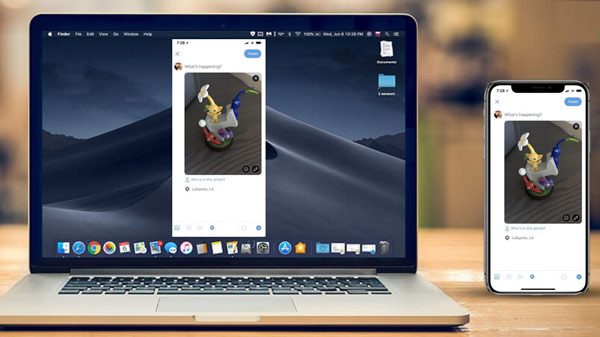 Solution 4. Screenshot Snapchat Without Notification via Screen Recorder on Computer
Though Snapchat will send the alerts while you take the screenshots on phone, it will lose the control while you use Snapchat on desktop.
For taking screenshot of Snapchat without them knowing, you can complete the whole process on computer via the screenshot software.
AnyMP4 Screen Recorder is the free screenshot program for Windows and Mac computer. It enables you to take a screenshot on Snapchat without telling others. You can keep the Snapchat screenshots on your own secretly.
• Take a Snapchat screenshot on Windows and Mac without them knowing.
• Customize the screenshot mode to capture any scene in Snapchat.
• Save screenshots in any image format like JPG, PNG, and more.
• Edit the screenshot before saving like add text, draw a shape, etc.
• Record online videos, gameplay, webcam, audio calls, music and more.
Now, let's streamline the process to take Snapchat screenshots on computer.
Step 1Open Snapchat on your computer and open the snap that you want to capture.
Step 2Free download this software on your computer by clicking the download link above. Run it. In the main interface, you should select SnapShot.

Step 3Then your mouse becomes the crosshair, hover your mouse over the Snapchat window to capture the whole Snapchat window. Alternatively, you are allowed to left-click your mouse to select the exact snap region and release the mouse to confirm the screenshot.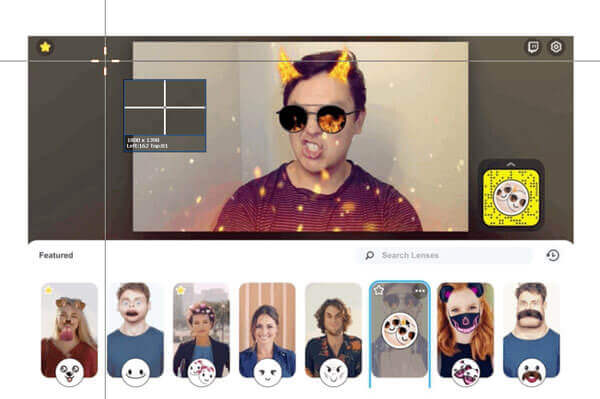 Step 4After taking the screenshot, it will direct you into the edit window. Edit the screenshot optionally and click Save to save the screenshot on your computer.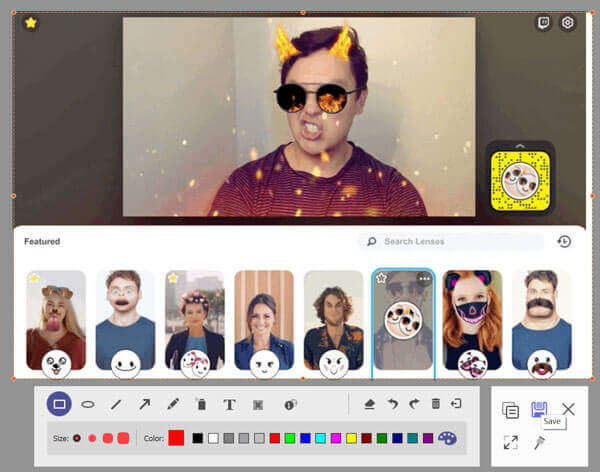 Solution 5. Screenshot Snapchat on iPhone Without Alert by Screen Recording
Another method of taking screenshot of Snapchat without others knowing is using screen recording.
Since iOS 11, Apple has built a screen recording feature on iPhone users. The screen recording feature is invisible to Snapchat and will not generate any alert to the other person while you use to record the whole Snapchat.
Now, let's take the easy way to save the Snapchat screenshot secretly.
Step 1Swipe up from down of iPhone screen to open Control Center. Tap Screen Recording icon (a white circle) and then it will start recording your iPhone screen after the three-second countdown.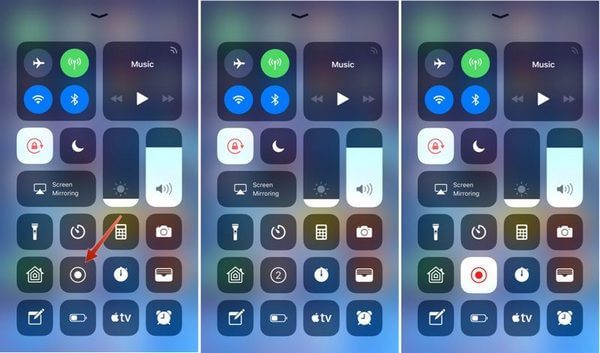 Step 2Open Snapchat snap and it will record the whole screen action. Tap the record button again to stop the recording.
Step 3You can find the Snapchat screen recording in Camera Roll album in the Photos app. While playing the recording, you can take the screenshot of Snapchat recording.
Solution 6. Screenshot Snapchat on Android via Google Assistant Without Being Detected
Though Google Assistant may be annoying usually, it does a great job when you want to secretly screenshot Snapchat on Android. The steps are pretty easy.
Step 1Open Snapchat and navigate the snap that you want to capture.
Step 2Tigger Google Assistant by long-pressing the Home button or saying, "OK, Google."
Step 3Tell Google Assistant to take a screenshot via your voice commands or typing.
Step 4Then you will see the share button. You have to tap it and select the method to share like email, Bluetooth, etc.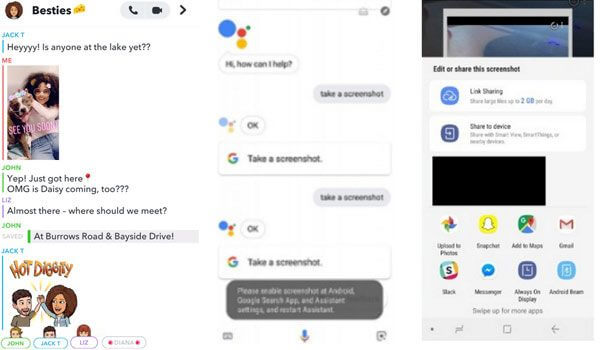 Note: You cannot directly save the screenshot to your gallery, but have to share it or else you will lose the screenshot.
FAQs of Taking Screenshots of Snapchat Without Them Knowing
How do I know if someone screenshot my Snapchat?
Go to the Stories screen in Snapchat, and tap the three-little dot next to your Story to see all the snaps in it. After that, you will see a green triangle, which indicates the snap has been screenshots by others and the number next to it shows how many screenshots have been taken.
How to check who took the screenshots in my Snapchat?
Just tap the snap you want to check, and swipe up to see a list of all those who has viewed your snap, and someone who has taken a screenshot of your snap will be highlighted in green.
What does the double-arrow symbol mean on Snapchat?
The double-arrow symbol means that someone has taken a screenshot of your snap that does not contain an audio, while the purple screenshot icon indicates someone has taken the Snapchat screenshot with audio.
Conclusion
To take a screenshot in Snapchat is very easy by using your phone buttons. However, to screenshot Snapchat with them knowing comes to be a little hard. This post shares top 6 methods of capturing Snapchat secretly without any notification.
Which way your favorite?