How to Record a Video in iMovie
Ever wanted to record yourself on iMovie? Many people don't think of iMovie as a recording application, but a video editing application. Actually, apart from editing videos, iMovie also doubled as a webcam recorder that enables you to create tutorials, make demos, capture a special moment, or for any other purpose using Mac's built-in FaceTime HD Camera. This tutorial will show you how to record a video in iMovie.

Part 1. How to Record a Video Directly in iMovie Using the FaceTime HD Camera
Apple iMovie is commonly regarded as a video editor; however, it has a hidden feature that enables you to record a live video directly on iMovie effortlessly, either by using the FaceTime HD camera built in your Mac or connecting an external one. Here's what you need to do:
Step 1Open iMovie on your Mac.
Step 2Click on the Import button in the toolbar in the Projects browser.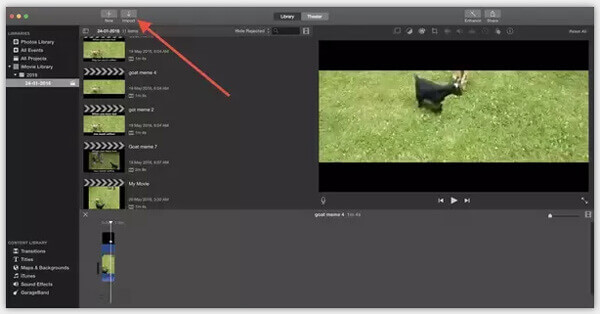 Or you can click the Media button in the toolbar then click the Import button to open the Import window.
Step 3 In the left side bar of the Import window, you will see the Cameras section. Choose the FaceTime HD Camera (Built-in).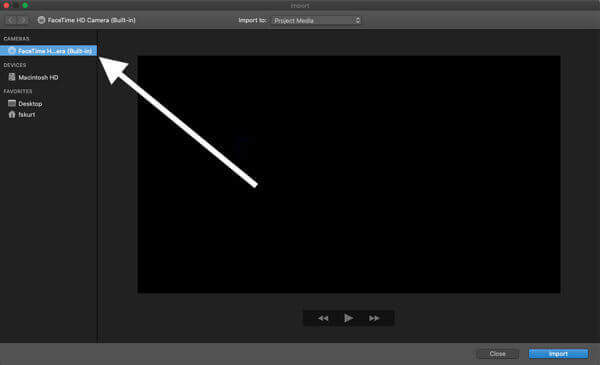 Step 4Then, you can decide where you want to record into by clicking the "Import to" pop-up menu at the top of the Import window to choose an existing event, create a new event, or choose the open project.

Step 5When you are ready, click on the Record button to start recording. Once the recording is over, hit on this button again. Then, a new clip will be created for your recording.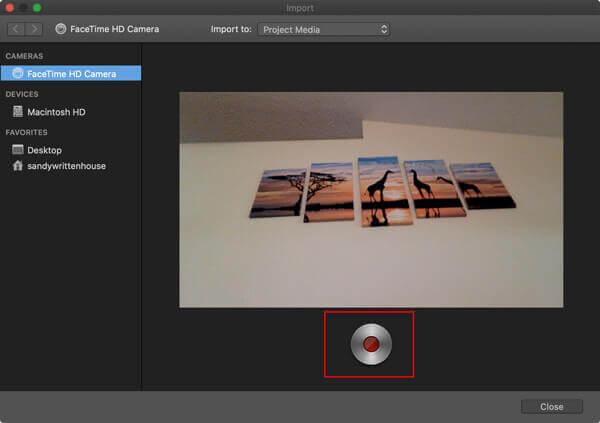 Part 2. iMovie Alternative Way to Record Webcam, Screen, and Audio
Although it is convenient to record video directly into iMovie, iMovie only supports recording your computer's built-in camera as a video and doesn't offer any flexible settings before recording. If you also need to record the screen and audio simultaneously, you can make use of a professional screen recordings tool called Blu-ray Master Screen Recorder to record anything displayed on your screen, webcam video, and audio from system sound or microphone.
Features:
1. Record a video along with audio in iMovie with high quality.
2. Capture the video of the full screen, customized portion, or webcam.
3. Export recorded video to any popular format such as MP4, MOV, AVI, MP3, etc.
4. Provide real-time editing tools while recording.
5. Works on both Mac and Windows PC.
To record with this program, you can follow the steps below.
Step 1Download and install this screen recording tool by clicking the download button below.
Step 2After installing the tool on your computer, you can launch it instantly. On the home screen, just press the Video Recorder feature to screencast a video in iMovie.
Step 3In the current window of Video Recorder, you can configure some essential settings before recording by clicking on the Gear icon. Then, you can set the video format, codec, quality, cursor settings, hotkeys, etc.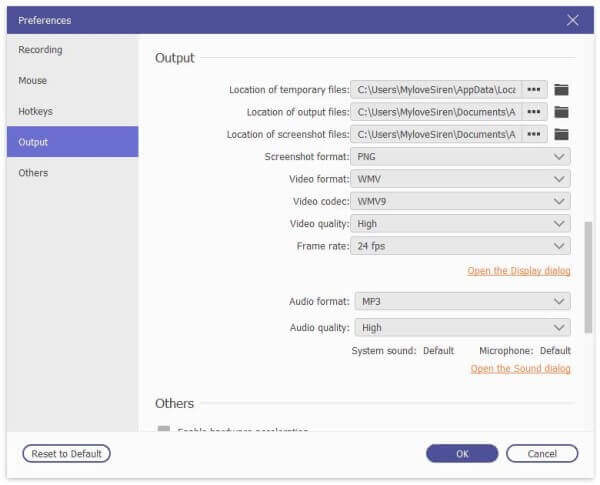 Step 4Now, open the video in iMovie you want to capture and then select the recording area. To record the audio from the video, you need to toggle on the System Sound option. You can also turn on the Microphone option at the same time if you need to grab your voice.
If you would like to capture your camera to create a picture-in-picture recording, just turn on the Webcam button.

Step 5When you're ready to record, hit on the Record button to start recording a video playing in iMovie. While recording, you can add some annotations, callouts, highlights, etc. To stop the recording, simply click on the Stop button.
Then, you will be directed to the preview window automatically. Here you can preview the recorded video and decide whether to re-record it. You can also trim the unnecessary part. When you are satisfied with the final result, click the Save button to export it to your computer.
When you've finished recording, you can import the recorded video to iMovie for further editing.
Part 3. FAQs of Recording a Video in iMovie
Free Online Screen Recorder is an outstanding online tool that enables you to record videos, games, video conferences, webcam and more for free without losing quality. Also, it does a good job of capturing any audio whether it comes from the computer system sound, website, or microphone.
Is it possible to record with an external microphone in iMovie?
Before start recording, you need to choose the external microphone as the input device in the Sound option from System Preferences.
Conclusion
Needless to say, iMovie is a good way to record webcam videos. Due to its limitations, you can use a more professional screen recording tool like Blu-ray Screen Recorder to make screencast video on your Mac and it works quite well.