Adobe Audition Noise Reduction: Ultimate Tutorial to Get Clean Audio Tracks
Making imperfect audio outputs is inevitable. One common problem that audio makers often experience is disturbing background noises. On the other hand, Adobe Audition, one of the aces of Adobe, appears when there is an audio editing need. This is why we have decided to write this article about using Adobe Audition's noise reduction capability. Certainly, at the end of this post, you will be able to familiarize yourself with utilizing the said software when it comes to cleaning your audio. So, without further adieu, let's jump to the chase.

Part 1. Can Adobe Remove Background Noise?
Yes. Adobe has various programs with different purposes. Adobe Premiere Pro, Adobe Photoshop, and Adobe Audition are the programs that can potentially remove the media's background noises. But this Adobe Audition has a special designation for audio post-production and editing tasks. As a matter of fact, this Adobe Audition has AI audio noise reduction feature that removes various noises such as hum, hiss, and many more unwanted sounds.
Part 2. How to Use Adobe Audition to Reduce Background Noise
There are various ways or techniques to reduce the background noise of your file using Audition. The program includes safe and reliable tools like equalization with powerful capabilities for background noise removal. Let's learn how this program will help you with the 3 methods below.
Way 1. Use the Hiss Reduction
First among the Adobe Audition tutorials is this Hiss Reduction feature. Often, the background noise on an audio or video sometimes appears like a hiss. It is the type of noise that is also known as a noise floor and is characterized by a high frequency. Moreover, it is caught due to electrical interference, microphone self-noise, etc. Therefore, let us learn how to use Adobe Audition's Hiss Reduction with the easy steps below.
Step 1
Launch the Audition, and upload your audio file by clicking the File>Open buttons.
Step 2
Then click the Effects menu and find the Noise Reduction/Restoration option to click the Hiss Reduction button.
Step 3
You can sample the hiss when a dialogue box appears using its Capture Noise Floor utility. Then, control the noise removal effect using the slider in the window. Then click the Apply button.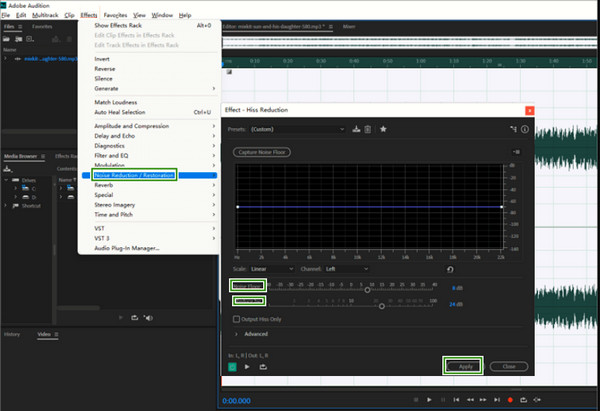 Way 2. Use the Noise Reduction Effect
Another Noise Reduction of Adobe Audition is by going to its Noise Reduction effect. It is an effect with a noise reduction feature that will smoothen the frequency of your noisy audio. It initially targets to remove the rumble, hum, hiss, and ambient noises. Here's how to use it.
Step 1
Open the audio file you need to edit. Then click the Effects menu, the Noise Reduction/Restoration tab, and the Capture Noise Print button.
Step 2
Select and highlight the part in the audio file where you want to apply the noise reduction.
Step 3
Then, re-click the Effects>Noise Reduction/Restoration buttons, then this time, select the Noise Reduction option.
Step 4
In the dialogue box, navigate to the Noise Reduction, Frequency Smoothing, Attack/Decay Time, and Reduced By parameters. Then, hit the Apply button.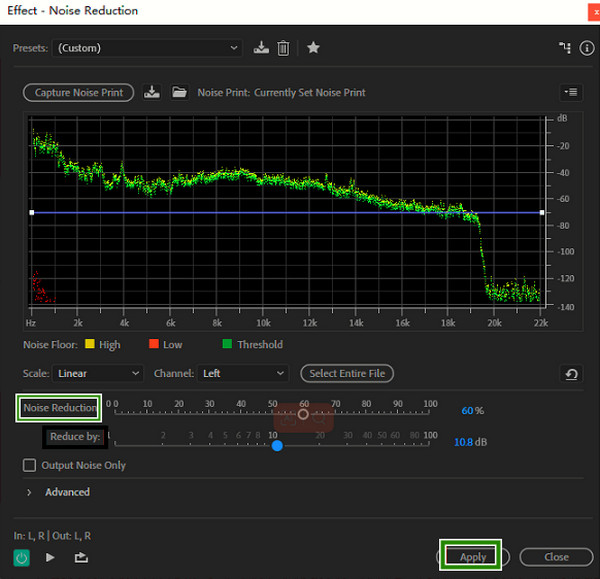 Way 3: Adobe Audition's Equalizer Feature
One of the methods of Audion to reduce background noises is the Equalizer feature. It lets you set it to one octave, a half octave, or a third octave. Suppose you record the audio from the Internet and find the background noise is terrible. In that case, the Equalizer feature in Audition can be extremely effective and easily reduce your recordings' low-frequency background noise.
Step 1
Highlight all of the audio recordings. Then, go to the Effects tab and click the Filter and EQ option.
Step 2
In the next window, choose your preferred equalizer setting. Please note that many users use the Graphic Equalizer (30 Bands).
Step 3
This equalizer is used to remove the frequencies. Please be careful in setting up, and avoid cutting off the vital parts of your audio file. Then, hit the Apply button.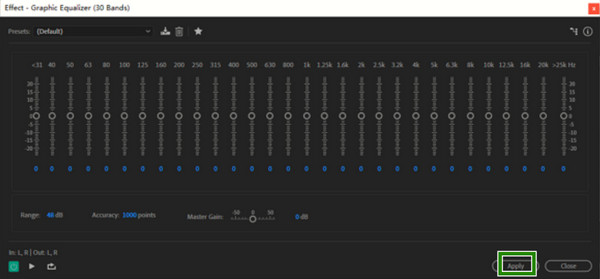 Part 3. Best Alternative to Adobe Audition to Remove Audio Background Noise
If you suddenly change your mind and don't want to use Adobe Audition anymore, then here's the best alternative for you to use. Try this Video Converter Ultimate, an efficient program that caters to video and audio manipulation and enhancement. You will surely love it because, unlike the noise reduction of Adobe Audition, its Noise Remover feature can work to clean any noise all over your audio file. Aside from that, you can remove background noise from a video as well. Furthermore, you won't get worried about the kinds of files you have in your local folder as this editor supports all the popular media formats and other hundreds more.
Key Features
• Advanced AI and hardware acceleration technologies.
• One-click denoising process.
• Numerous video and audio editing tools.
• No watermark on the outputs.
Step 1
First and foremost, click the Download button above to quickly acquire the tool on your computer.
Step 2
Launch the software and click the Toolbox tab on the menu. Upon reaching its page, find the Noise Remover tool and click it. Then, on the prompted window, hit the Add button at the center to upload the audio you need to denoise.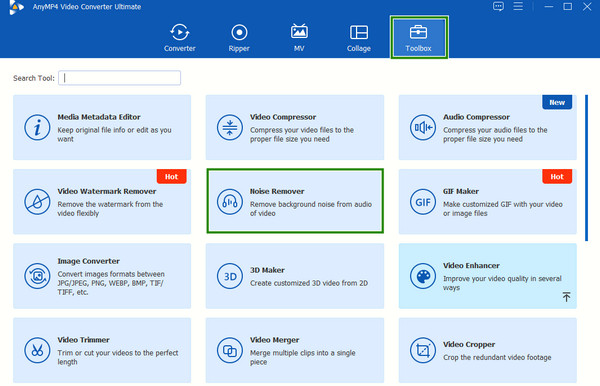 Step 3
Once uploaded, hover over the box under the Audio Track section and check it. By doing so, you will enable audio noise reduction. As simple as that, you can now hit the Export button to save the file in your local folder.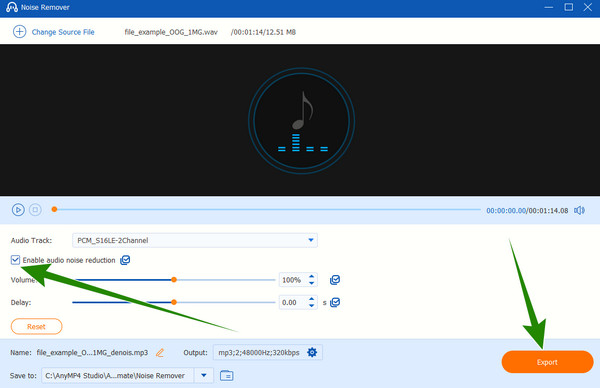 Part 4. FAQs About Removing Audio Background Noise with Adobe Audition
Is it possible to remove background noise from an audio file?
Yes, it is. However, the efficiency of removing the audio's noise depends on the complexity of the noise that it has.
How can I block out background noise?
You can only block out the background noise if your microphone has a noise-canceling feature, but this only works for weak background noises.
What is the free AI tool to remove background noise?
If you are looking for a free AI tool to remove the background noise, then you can rely on online tools such as Kapwing and LALAL.AI.
Is Adobe Audition free to use?
Yes, Adobe Audition offers a free trial lasting for seven days.
What is Adobe Audition good for?
Audition is good for repairing audio files as it is intended to be one.
Conclusion
To conclude, this article gives you a heads-up to using Adobe Audition to remove the background noise of your audio. Indeed it is a professional tool that is worthy of use. But still, if you are looking for a much easier yet with the same features and functions, then you can go to the Video Converter Ultimate.