Adobe Podcast Speech Enhancer: Will it Perfect Your Podcast?
Podcasting is one of the hypes in audio recording nowadays. Aside from the songs, many listeners have turned their interest to some talks about various topics being explained in real-time. However, even with how good you are at delivering speeches, the quality of your voice still matters. This is where the Adobe Voice Enhancer comes in, as many look for a reliable and powerful enhancer to beautify your voice while recording.
However, as this software brags about its features to help many podcasters, the question is, will it also be your great medium? Find out by reading the content information below.

Part 1. What is Adobe Podcast Speech Enhancer
It is an online-based AI audio cleaner of Adobe. This program aims to improve or enhance the audio recording that may be reverberated, erroneously muffled, fix high-pitch sound noise, and solve other issues. It works to convert the said poor recordings to a professional grade of clarity. With this program, you can upload and edit audio files with WAV and MP3 formats from small up to significant sizes. Furthermore, this online audio enhancer has been a medium for users with insufficient mics for restoring old movies, creating professional podcasts, and narration for free.
The fact that it offers a free service, the limitations, and occasional issues are understandable. Nonetheless, it is still noted as effective and remarkably efficient for its purpose. Because not to mention this, Adobe Speech Enhancer uses advanced learning algorithms that reliably distinguish speeches from background sounds and filter the noises out of the audio.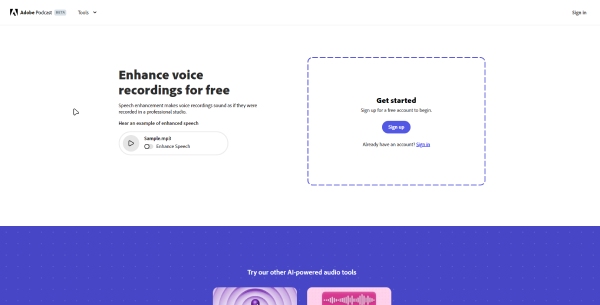 Part 2. How to Use Adobe Speech Enhancer to Improve Audio Quality
As long you have stable internet, you can utilize this program exquisitely. And to help you ease your utilization, here are the steps to follow.
Step 1
Open your browser and go to the official website of the program. Then, click the Sign-in button and register using your Adobe identification or using your email.
Step 2
Next is to click the Tools option on the upper left side of the home interface. Then, choose the Enhance Speech tool from the options of this Adobe audio AI enhancer.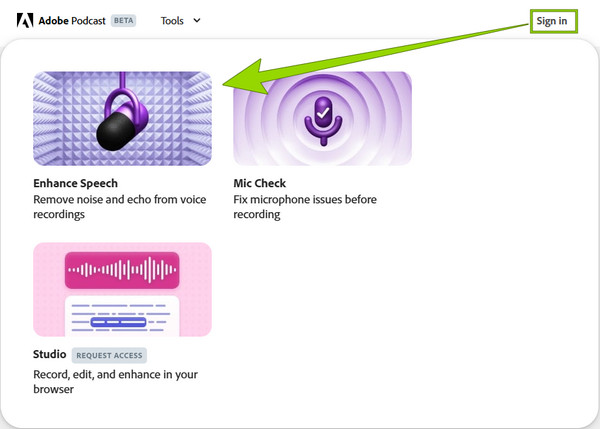 Step 3
On the next page, hit the Upload button and upload the file you want to edit. Alternatively, you can also upload it via a drag-and-drop procedure.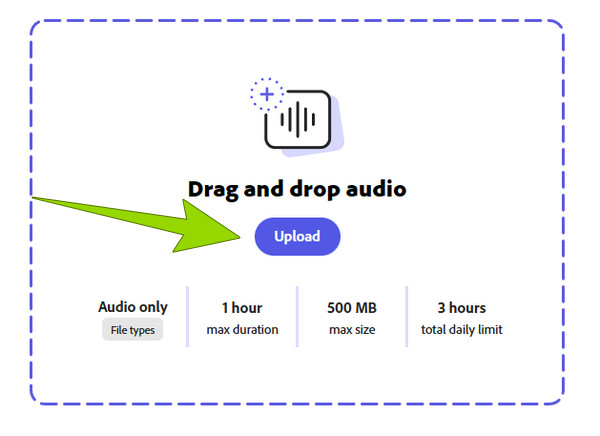 Step 4
Once uploaded, the program will initialize the enhancement. Please wait patiently during the procedure. After the procedure, you can preview it before you download it.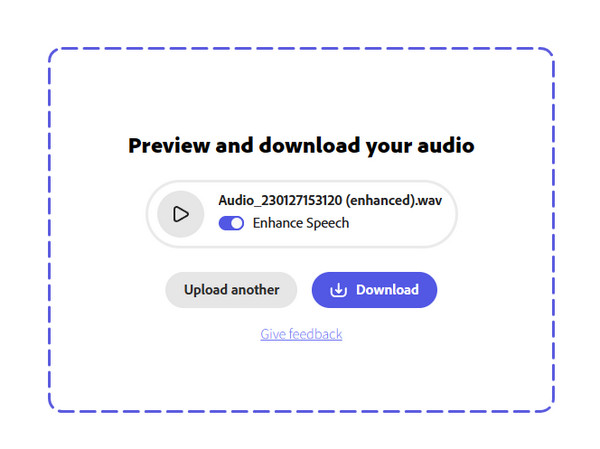 Part 3. Adobe Podcast Speech Enhancer Review
With our personal experience with this subject program, we have come up with the verdict below.
Our Verdict
While the limitation and some disadvantages were noticeable, Adobe's noise reduction is still praisable. We love how this program moves the artifacts and noises from the audio. Plus, its ability to change the volume level and pitch and normalize the audio quality with the advanced algorithm learning machine is quite impressive.
One does not need to be an expert to use this Adobe program, as it provides you with an easy-to-understand interface and procedure. Its learning curve is so low, giving you the confidence to work in a proper way. Meanwhile, the advantages and disadvantages were also noted to give you a brighter idea about the program.
Advantages
• It helps you enhance your speech recordings for free.
• It improves the audio file as a whole.
• It comes with other tool options for your other task concerns.
• It removes the background noises instantly.
Disadvantages
• You cannot upload a file with more than 3 hours of duration.
• It initializes and processes the enhancements longer.
• Its support for audio format is limited to WAV and MP3 only.
Part 4. Difference Between Adobe Podcast and Enhance Speech
Others have this argument whether the Adobe Podcast and the Enhance Speech are two different programs. Thus, allow this article to provide you with clarifications about this issue. Adobe Podcast is the software that offers three amazing tools to operate. These three tools are; the Studio, which is used for recording, editing, and enhancing your audio recording; the Mic Check, which fixes the issues from your microphone before recording; and the Adobe Enhance Speech AI, which is used to clean the voice recording by removing its noises.
That said evidently gives you the affirmation that the Enhance Speech is a tool product or feature of the Adobe Podcast program. And differentiating them is pointless.
Part 5. Adobe Podcast Alternative
After learning that the Adobe Podcast is a web-based program, and wanting an alternative solution to reduce the noise from your audio, then the Video Converter Ultimate is what we got for you. It is an offline version of Adobe's AI audio cleaner since it powerfully yet easily cleans any audio files without quality loss. Furthermore, it is a full-packed video and audio editing program with powerful features, including the Noise Remover tool with Artificial Intelligence algorithms.
Aside from its support for more than 500 formats, this tool eliminates noises such as wind, traffic, hum, etc., from your recorded podcast, speeches, songs, or even your downloaded audio files. What's more? You can modify the volume, delay, format, bitrate, encoder, and channel.
Key Features:
• Advanced hardware acceleration, AI, and Ultrafast technologies.
• 500 plus formats for video and audio.
• Numerous editing tools, such as video enhancer, cropper, volume booster, audio sync, compressor, and more.
• High quality of outputs.
How to Use Adobe Speech Enhancer's Alternative (Quick Steps)
Step 1
Launch the software and head to the Toolbox menu tab. Then, look for the Noise Remover tool.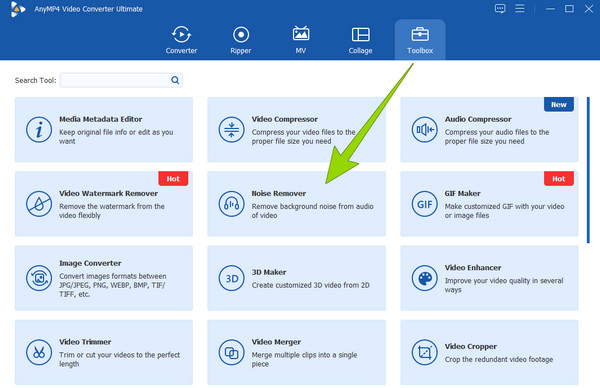 Step 2
Next is to upload the audio file by clicking the Plus button from the new window.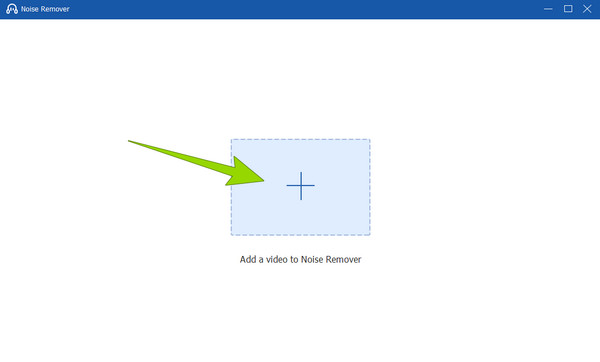 Step 3
Once uploaded, you can already listen to the audio preview as it is already improved noised reduced. Then, you can click the Setting button to modify the format, bitrate, encoder, and channel. Otherwise, click the Export button to save the edited audio.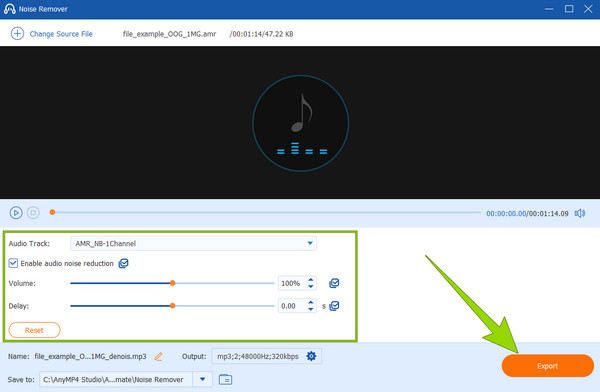 Bottom Line
Apart from enhancing the audio file quality, the software can also remove the noise in your video and extract the audio track from your video. For example, you can utilize this program to convert WAV to MP3.
Part 6. FAQs About Adobe and Speech Enhancement
Is Adobe Audition good for audio?
Yes, Adobe Audition is a professional audio editing program that is capable of improving audio files.
Is Adobe Voice Enhancer free?
Yes. Adobe Voice Enhancer is a free online tool of Adobe Podcast. However, you need to have a strong internet connection for it to work well.
Does Adobe have a voice generator?
Yes. Adobe has a tool that helps you generate voice and improves it.
Is Adobe AI voice enhancer free?
Yes. Adobe's AI voice enhancer lets you enhance your recorded voice or speech for free.
What is the AI that makes your mic sound better?
You can try the Adobe Audition to improve the sound of your mic.
Conclusion
Adobe's Speech Enhancer is a powerful tool that you can rely on online. Its process of audio enhancement is also quite appealing for both professionals and beginners. However, the limitations are sometimes dominant when using it. For this reason, we provided a good alternative, the Video Converter Ultimate, to give you the exact power with a more practical and accessible process.