Top Audio Enhancer Programs to Tweak and Improve Sound Quality
Having a great tool for creating and producing flawless audio is a good investment for people whose work is related to making sound. This is also true for the ones who love generating recorded sounds and podcasts. Hence, if you are one among those people, then it would be necessary for you to read this post about the best audio or sound enhancers gathered for you to choose from.
We know the fact that even with how careful we are in recording sounds, there will still be something to edit and enhance, such as the volume, effects, and cutting parts. That said, may you see the necessity of having a decent editor, which you will see below.

Part 1. What is Audio Enhancer
An enhancer of sound or audio is a technology or equipment that was designed to improve the audio and recordings quality and playback. By utilizing techniques such as spatial enhancement, bass boosting, equalization, dynamic range compression, and noise reduction, audio or voice enhancers can optimize the different elements of the signal audio. Improving clarity, spatial representation, depth, and overall audio balance will give you a more refined and immersive listening experience. Furthermore, this kind of enhancer can be found as a built-in feature, software plugin, or hardware device in the system of audio playback. This will serve its purposes in film post-production, music production, podcasting, and more. Hence, a careful procedure is important to maintain a natural and good sound because excessive one can cause an undesirable outcome.
Part 2. 5 Best Audio Enhancer Programs
Take a look at the 5 excellent programs that provide you with something great when producing neat and highly qualitative audio after recordings.
1. Video Converter Ultimate
Static and annoying noise after recording sound? Video Converter Ultimate is a remarkable go-to program for editing and elevating audio quality. This audio quality enhancer lets you increase or decrease the volume levels up to 200 percent, giving you the liberty to adjust according to your preferences. Furthermore, you can adjust the speed rate of your audio as you can speed it up or slow it down without needing to tweak it in complicated and technical settings. Moreover, if you want, you can split the audio file into manageable segments or pieces in addition to its ability to adjust sound, volume, and speed. Aside from that, you can also transform the audio into your desired audio format, as it supports hundreds of audio types, where you can process multiple audio files in one process. Additionally, "how to enhance the audio in the video" will no longer be a question, for this excellent audio enhancer can perfectly process the audio track in videos of any format.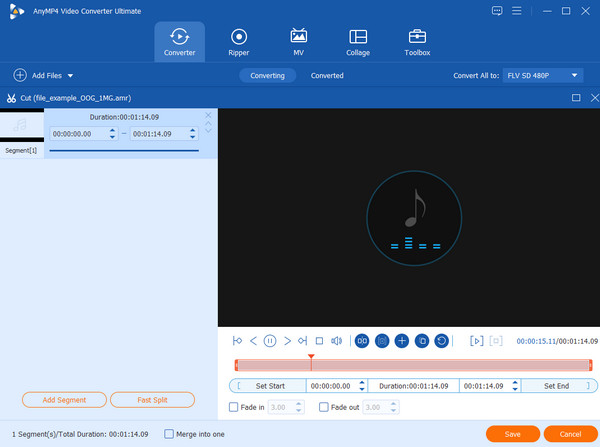 Key Features:
• It removes the noise while you enhance the audio.
• It supports nearly all types of audio for the input and output.
• Advanced editing tools are included in its features.
• Accelerations for the process, hardware, and GPU.
Platform: Mac and Windows.
Price:
1 Month License - $18.75.
Lifetime License - $59.96.
Business License - $89.96.
Pros
• It is an AI audio enhancer.
• It is convenient to acquire and utilize.
• It is an all-in-one solution besides audio editing.
• It produces high-quality outputs.
Cons
It doesn't offer third-party integrations.
2. Audacity
Audacity must be on your list if you want an easy, speedy audio enhancement. This audio editing program is available for Windows, Mac, and even Linux computers. Furthermore, it allows you to view the audio with a spectrogram for you to visualize and select the frequencies easily. In addition, it has a noise profile where you can delete the background noise from your sound file, which is basically helpful when your file has buzzing noise. On the other hand, the treble boost and the bass of this free audio enhancer enable you to produce a deep sound. Nevertheless, you can still use a third-party incorporated tool to enhance the bass of your music file.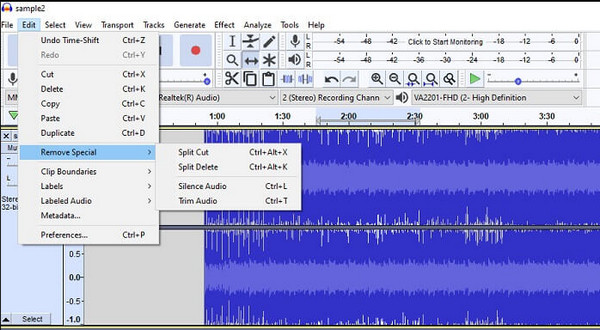 Platform: Mac, Linux, and Windows.
Price: Free
Pros
• It is open-source and free to use.
• It supports multi-track recording.
• You can use third-party plugins and extensions.
Cons
• It has a challenging procedure for advanced features.
• It has some stability issues.
To find more Audacity audio-processing/editing features and troubleshooting solutions, here are a few articles that might help you out.
Further Reading
Audacity Not Recording – Here're Workable Ways to Fix Audacity
Audacity Recording -How to Use Audacity Record Computer Audio
Step by Step Guide to Merge Audio Tracks in Audacity Correctly
3. Adobe Premiere Pro
Here is a professional media editing software from Adobe Inc., Adobe Premiere Pro. It is software generally used in the television, film, and video production industry for editing and elevating the quality of video content. Despite its focus on video editing, this program also offers a wide variety of tools to cater to your audio files, that includes audio enhancement, background noise reduction, etc. Furthermore, when you use the audio enhancer of Adobe Premiere Pro, you must know that it involves many features and functionalities that will allow you to enhance the audio quality separately or even the ones in your videos. However, if you are a newbie to utilizing it and to audio editing, then you may not appreciate this Premiere Pro that much. As a matter of fact, you might be confused about its procedures as it offers a steep learning curve.
Platform: Mac and Windows.
Price:
Monthly Subscription - $20.99.
Annual Plan - $31.49.
Pros
• It has a professional level of capacity and features.
• It can work with integrations within Adobe suits.
• It comes with crucial audio editing tools.
• It is flexible for any type of audio format.
Cons
• It is not ideal for beginners.
• It is not a free audio enhancer.
4. FXSound
To provide you with another software that will enable you to modify and create a personal audio profile, then here is the FXSound. This program allows you to manipulate the files stored in your personal drive and transform them into WAV and MP3. Furthermore, you will be happy to learn that its Pro version was recently announced to be free and unrestricted. This means you can now use it 100% free while you increase the sound quality. However, if you are going to examine it, you will learn that it comes with limitations. Even its pro version attests to that. This audio quality enhancer only accommodates limited audio formats, like what has been mentioned previously, WAV and MP3 only. Aside from that, it only provides a download button for Windows-based computers only. Nevertheless, it is still good-to-go software for your specific audio files that need to be enhanced.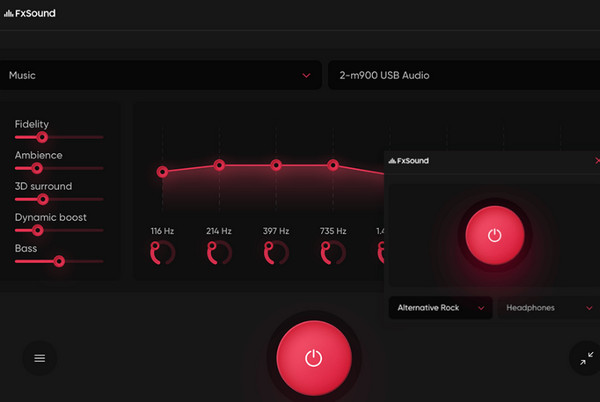 Platform: Windows.
Price: Free
Pros
• Customizable effects in full EQ.
• It produces good output quality.
• It is free to access.
Cons
• The pro version still has restrictions.
• It has a high learning curve.
• Limited platform and format support.
5. Krisp
Moving on is an online audio enhancer called Krisp. It is an app that uses Artificial Intelligence technology with a free service. It is an American audio processing software that provides real-time voice and noise control technology. It is a noise-canceling app for your computer's microphone that offers you an expounded appreciation of your recording apparatus. Aside from that, it works to filter out the noises from the ambiance, like barking dogs, sirens, traffic, etc., using the open device architecture of your Mac or desktop. Furthermore, it enhances your speech quality whenever you have a video call without topping any latency to it. However, this voice enhancer online is a mixed blessing with one of its disadvantages falling on its accessibility and dependency.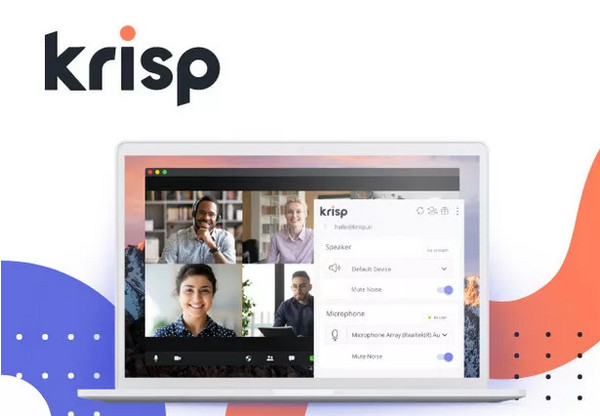 Platform: Windows, Mac, Linux, communication apps like Zoom, Skype, Google Meet, etc.
Price:
Free
Personal Pro - $8 per month.
Team Plan - $8 per user and per month.
Pros
• It is an easy-to-use app.
• It is versatile and compatible with various platforms.
• It has a super effective noise-canceling function.
• It supports different speakers and microphones.
Cons
• It is only acquirable as a computer app and Chrome extension.
• Due to its effectiveness, it tends to change even the original sound to a robotic one.
• The sound enhance extension on Chrome has errors in the process.
Part 3. FAQs About the Audio Enhancers
What does an audio enhancer do?
An audio enhancer is a tool that is designed to enhance all the elements of your audio file.
How can I improve my sound quality?
There are several ways to improve the quality of your sound. You can upgrade the playback equipment, such as the speaker and headset. Also, you can optimize noise reduction and
Is sound enhancer good?
It depends. A sound enhancer has advantages and disadvantages in certain situations. Although most of the time, it is beneficial.
Why is my audio quality so low?
Many factors cause your audio to be low in quality, such as the audio source, settings, environmental conditions, and playback equipment.
What makes bad audio?
Bad audio quality can be acquired when the factors such as distortion, imbalance frequencies, background noise, interferences, and low bitrate and compression contribute.
Is there any sound enhancer app for iOS and Android?
Yes, there is. Excellent apps that can enhance the audio quality on your mobile include Equalizer FX: Sound Enhancer (Android & iOS), Music Volume EQ + Equalizer (Android), AmpMe (Android and iOS), etc.
Conclusion
You can now tweak to improve the quality of your audio file by using the best audio enhancers listed above. Suppose you want software that you can use extensively. In that case, you need the Video Converter Ultimate, among the others.