How to Convert AVCHD Videos to DVD Without Losing Quality on Windows and Mac
"I have a Sony camcorder and I prefer to use it recording important moments, such as Christmas parties or latest journey. However, I cannot watch it on my television with my families, how to convert camcorder AVCHD to DVD with the original quality?"
Whether you need to copy the AVCHD files to DVD as a backup or play the camcorder videos to a DVD player, you should burn the AVCHD files into DVD instead. When you want to convert the files into a standard DVD for your DVD player or TV set, you can find more details about the process from the article now.
Part 1: Why Converting AVCHD to DVD
AVCHD is the video format jointly developed by Panasonic and Sony for their camcorder and camera products to record high definition videos. The AVCHD videos are usually saved in 1080P, 1080I and 720P. If you need to release up the space for SD card of your camcorder, copy a high quality AVCHD files to DVD is always a nice option.
Moreover, when you copy the AVCHD videos into normal DVDs so that you can play on your DVD player in Home Theater. Nothing is better than enjoying DVD with your family during holiday on a large screen. It is the reason that you need to convert Camcorder AVCHD to DVD for a TV set or a DVD player.
Part 2: How to Burn Camcorder AVCHD to DVD
How to preserve the high quality of camcorder AVCHD? What is the best AVCHD to DVD burner on Mac and Windows to customize the DVD menus, templates and more others? AnyMP4 DVD Creator is the desired program to convert AVCHD and other video formats to DVD/Blu-ray folder/ISO files. It is the best method to preserve the high quality video of AVCHD file. Moreover, it also enables you to customize the menu templates, audio tracks, subtitles and more other files for DVDs.
1. Burn DVD/Blu-ray with videos in AVCHD or other formats in one click.
2. Support a wide range of video formats, including MKV, MP4, AVCHD, etc.
3. Optimize video and audio quality automatically during the process.
4. Provide extensive video editing tools and customization options.
5. Build in oceans of the menu template for making DVD like a professional.
How to Convert DVD to MP3 on Windows 7/8/10 for Fre
Step 1
Install the AVCHD to DVD converter
Insert a blank or rewriteable DVD into your DVD drive. Launch the AVCHD to DVD converter after installation. Select the DVD Disc option to open the main interface. Then click the Add Media Files menu at the top left side to add the AVCHD videos.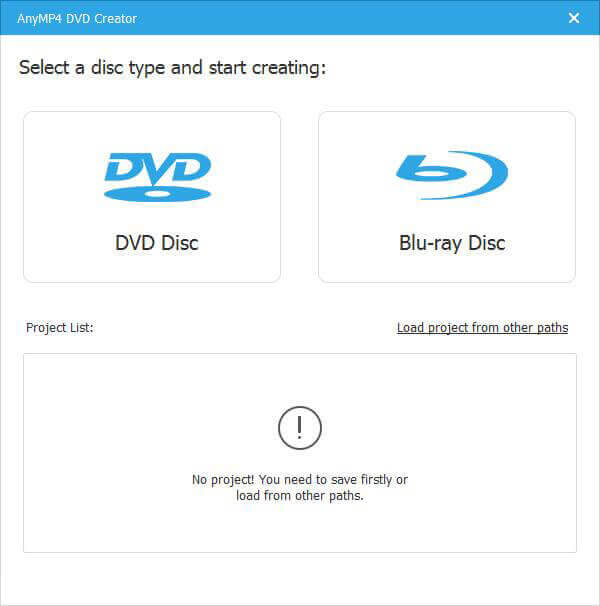 Step 2
Add subtitles and audio tracks
Click the Audio or Subtitle bars to open the audio/subtitle editor window. Go to the Audio tab and you can adjust or add audio track, change the language, volume and delay. You can also create the subtitles for the AVCHD files and sync with the video.
Step 3
Edit AVCHD videos and chapter
Click the Power Tools menu at the upper right side to expand the toolbox. In order to edit an AVCHD video, select Video Edit tool to apply the desired video effects for the video. Moreover, you can also add the chapter, set up the thumbnails and more.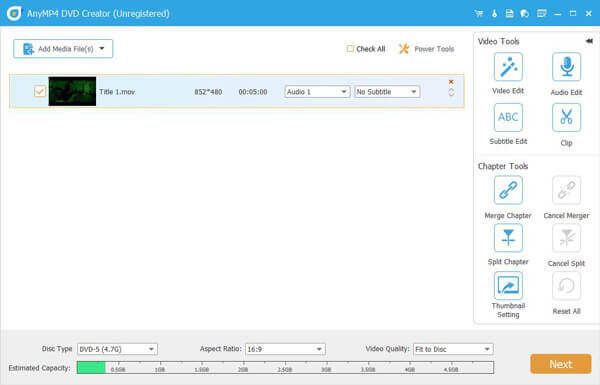 Step 4
Customize DVD menu template
When the DVD menu window pops up, locate the right panel and go to the Menu Template tab. Scroll down and select your favorite template. If you want to make DVD template with your pictures, go to the Custom Template tab to customize one for the DVD.
Step 5
Convert Camcorder AVCHD to DVD
Click the Burn button to open the settings window. Set burn settings based on your need or keep them by default. Once you have clicked the Start button, the AVCHD to DVD conversion process will initiate. After that, you can watch the AVCHD with a DVD player on a large screen.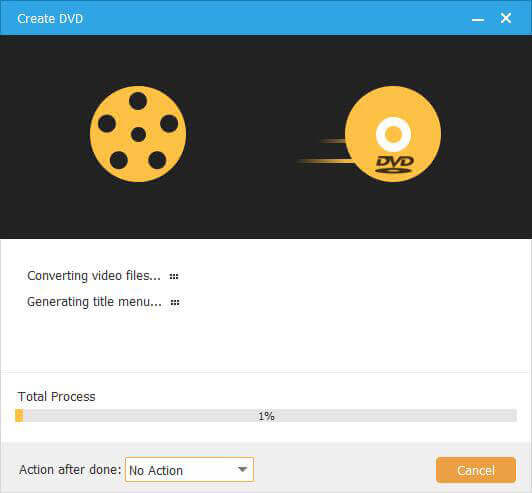 Part 3. FAQs of Copying AVCHD Files to DVD
1. What is AVCHD format?
AVCHD is the abbreviation of Advanced Video Coding High Definition. It is a file-based for digital recording and high-quality video playback. The MPEG-4 AVC/H.264 is adopted to compress video file, and the Dolby Digital or Linear PCM system is used to compress audio data.
2. Can you play AVCHD on a DVD player?
No. You can't play AVCHD discs on a standard DVD player, but can play AVCHD discs on Blu-ray players.
3. What is DVD quality resolution?
A standard DVD resolution is 720*480 pixels. Other DVD resolutions may include 720*576 pixels, 704*576 pixels, 352*576 pixels, 352*288 pixels, 704*480 pixels, 352*480 pixels, 352*240 pixels, 352*288 pixels.
4. Can you burn HD video to standard DVD?
Yes, you can burn HD video to a standard DVD with a DVD Creator. With the professional AnyMP4 DVD Creator, you can burn HD video to DVD disc, folder or ISO files.
Conclusion
The article shares the reasons that you need to convert AVCHD to DVD and how to burn AVCHD to standard DVD for playing in Home Theater. AnyMP4 DVD Creator can help you to burn these HD videos to DVD without damaging the video quality. Moreover, the AVCHD to DVD converter is pretty easy to use. You can leave a message below this article if you have any questions about AVCHD to DVD conversion.