Top 5 Software to Copy DVDs to Computer Efficiently
One of the things that still remains even now is the process of backing up DVDs. Many DVD collectors are looking for the best way to preserve their DVD movie collections and the way our technology today leads them to use a DVD cloner. With the capability of a cloner, you will be able to share your collective movies easily with your friends and loved ones, even if they are far. Therefore, the necessity to invest in copying software is evident. On the other hand, if you do not want to spend for one, then you can follow and use the presented programs in the list below.

Part 1. 5 Best DVD Cloners for Windows and Mac
1. AnyMP4 DVD Copy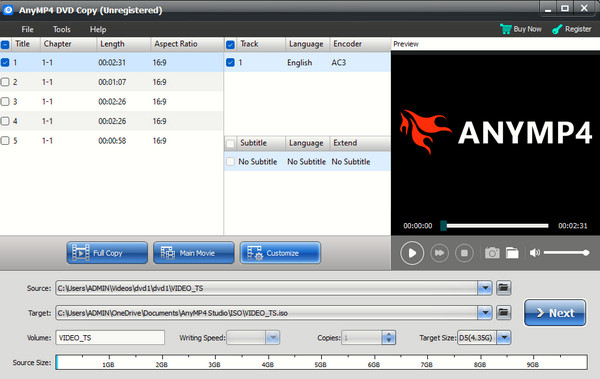 First on the list is this AnyMP4 DVD Copy. It is the best DVD cloner for beginners that brings a professional process and output. As flexible as it is to support Windows and Mac, it is also flexible to provide you with various functions that include burning aside from cloning or copying DVDs. Furthermore, with this software, you can copy your collective DVD movies in three modes, the Main Movie, where you can clone the movie in the absence of superfluous footage. The Full Copy, where you can copy the entire movie, including the advertisements, credits, etc., and the Custom mode will enable you to personally choose a video to copy. Additionally, it allows you to select a legal mode when you reach its interface for the DVD Copy Program.
In addition, you can acquire this DVD copy software for free as it provides a free trial that lasts for 30 days. What's more exciting is that it provides you with multiple editing and settings that function to make the best out of the burning and copying process.
Price:
● 1 Month License- $19.96.
● Lifetime License- $39.96.
● Business License- $69.96.
Pros
● You can use it for free.
● Easy to operate.
● Copy the DVDs in three modes.
● With editing and additional settings available.
● Copy your DVDs to the DVD folder and ISO forms.
Cons
● The trial period is limited to 2-3 DVD cloning processes.
2. DVD-Cloner
DVD-Cloner is a DVD copying software that provides a claimed user-friendly interface that beginners can take advantage of. Aside from the ease of use, you can also enjoy its Express mode, which enables you to copy your DVDs with just a single click. Furthermore, it supports various DVDs and Blu-rays like DVD5, DVD9, BD25, BD50, and UHD. What makes it extra special is that it also offers an option to make your work like an expert in making you set the movie in a 1:1 ratio and copy the DVD in a complete, split, and customized way.
Price:
Pros
● It is easy to use.
● Support various types of DVDs and Blu-rays.
● It comes with optimization settings.
● With advanced options to help you work like an expert.
Cons
● It is available for Windows only.
● It comes with protection limitations.
3. MakeMKV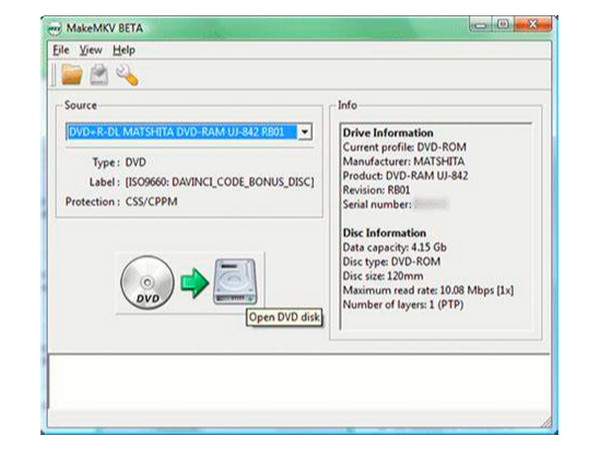 Now if you are looking for a DVD clone software that will allow you to convert your DVDs to MKV videos, then you need this MakeMKV. This comprehensive software enables you to extract the DVD and produce a new transcoded video. However, it doesn't have a copy option, for it produces a copy in the way of extraction. While it works this way, it claims to give you an output with a preserved original quality.
Price:
Pros
● It is free to use.
● It preserves DVD display and audio quality.
● You can use it on Mac, Windows, and Linux.
● It supports multiple tracks.
Cons
● It has limited support for video formats.
● It copies DVDs in terms of conversion.
● It lacks customization tools.
4. HandBrake
Another light solution that you can use to decrypt DVDs is this HandBrake. It is one of the most well-known video editors today. Thai software also uses a different way of copying DVDs: ripping but only the unprotected ones. But what's nice is that you can still use your protected DVDs with this software if you use a third-party plugin. Nevertheless, HandBrake is a good substitute to backup DVDs without spending a dime, for it offers a lifetime free service.
Price:
Pros
● It supports various video formats.
● The process of ripping DVDs is fast.
● You can use it without purchasing it.
Cons
● It needs a plugin to work on discs.
● It has limited features in DVDs.
5. CloneDVD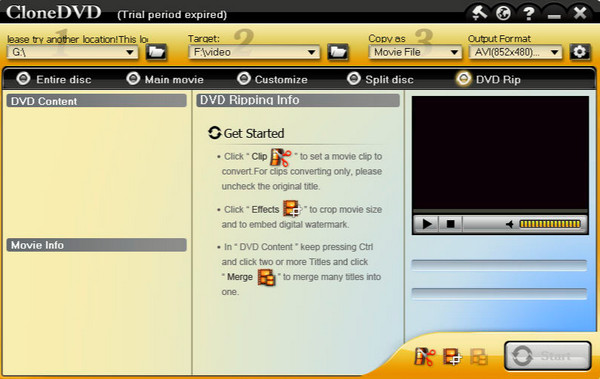 Lastly, here is CloneDVD. As its name suggests, it is a tiny yet powerful software you can use to copy DVDs. With this tool, you can expect an excellent image quality of outputs while easily navigating its interface. It allows you to easily choose to clone, burn, and even copy DVD titles without a hassle. Moreover, it provides you with a preview to see the title number, the number of chapters, and the format of each video you stream with it.
Price:
Pros
● It offers multiple options for copying DVDs.
● It is easy to use.
● It lets you customize and compress your DVDs.
Cons
● It doesn't work on macOS.
● It lacks some updates.
● It has copy protection limitations.
Part 2. Comparison of 5 DVD Cloners
| Software | Supported OS | DVD Support | DVD Compression | Copy Protection |
| --- | --- | --- | --- | --- |
| AnyMP4 DVD Copy | Windows and Mac | DVD9, DVD5 | Yes | Yes |
| DVD-Cloner | Windows | DVD9, DVD5 | Yes | Yes |
| MakeMKV | Windows, Mac, Linux | DVD and Blu-ray | No | No |
| HandBrake | Windows and Mac | DVD9, DVD5 | No | No |
| CloneDVD | Windows | DVD9, DVD5 | Yes | Yes |
Part 3. FAQs about DVD Cloning
Can I use any DVD cloner for Mac?
Yes, but it is not advisable to use any cloner. It is always best to use what is safe, powerful, and reliable, just like the AnyMP4 DVD Copy for Mac.
Is cloning the same as copying a DVD?
Yes. Cloning and copying are the same when it comes to the DVD context. They both mean to create a replica or exact duplicate of DVD content.
Can I clone a DVD that uses a different region?
Yes. Some cloning programs will enable you to work on DVDs with different region formats. However, note that a DVD with different region formats will require you to have a DVD player that caters to the same region.
Conclusion
You just saw the 5 best DVD cloners or copiers for your computer to use. We cannot disregard the downsides, but we can still cling to their positive sides to potentially help us with our DVD copying task. Do not forget to check the comparison table if you cannot decide which one to get. As for my team and me, we recommend you get the AnyMP4 DVD Copy, for it is already a proven software that handles DVDs in an excellent manner.