5 Best Free DVD Cloners to Copy a DVD Disc on Windows and Mac
How to copy or clone a DVD to your computer for free? When you have a large collection of DVDs, you might want to copy the DVDs into a digital format in 1:1, which you can play back the files without the original DVDs or even the DVD drive. You can find more and more computers do not have DVD drive now, DVD cloner is very important if you need to change to a new computer.

The article shares 5 free DVD cloners to copy optical discs to your computer without paying a penny. Whether you need to copy a homemade DVD or a commercial one with DRM protection, you can get a desired one according to your requirement now.
Part 1: Top 5 free DVD Cloners to Copy a DVD
Top 1: BurnAware Free
BurnAware Free is a free DVD cloner to make copies of DVDs, CDs or data discs with ease. It also extracts ISO images from DVDs and Blu-ray discs, which can used to make copies later. Moreover, it also offers extensive functionalities, such as erase disc, verify DVD, span DVD, etc.
Pros
1. Extract video and audio files from multi-session or corrupted discs.
2. Erase or format a rewritable disc and check the disc for read errors.
3. Burn videos or copy optical disc to CD, DVD or Blu-Ray discs.
Cons
1. Cannot copy or clone a DVD to another disc in a direct method.
2. The context menu integration is not available within the DVD cloner.
3. Upgrade to Pro version to burn or copy the Blu-ray files.
Top 2: ISO Workshop
ISO Workshop is featured program to facilitate ISO image management and conversion. Whether you need to copy CD/DVD/Blu-Ray disc, extract files from disc image, or convert/burn disc images, it should be the desired DVD cloner you have to take into consideration.
Pros
1. Copy a DVD to another optical disc in 1:1 ratio including metadata.
2. Support a wide range of optical disc recorder types to get the desired files.
3. Extract video and audio files from DVDs or ISO image files with ease.
Cons
1. Do not work well with the latest Windows 8, 8.1 or Windows 10.
2. Provide limited editing features and custom options to clone DVD discs.
3. The free DVD cloner for Windows is only available for personal use.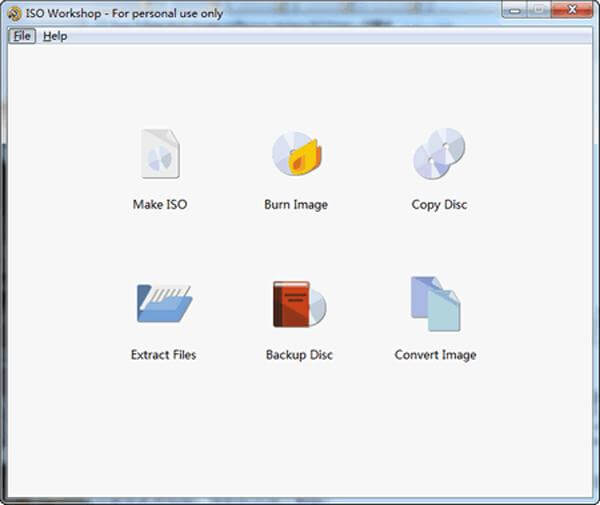 Top 3: AnyBurn
If you just need to copy few DVD discs without extra editing features, AnyBurn is the light-weighted and free DVD cloner with sector method. What is the most important; the program works with both homemade DVDs and commercial DVDs with DRM protection.
Pros
1. Clone a disc to another disc, ISO image or DVD folder within a single click.
2. Write ISO image or DVD folder to bootable disc or USB to make backups.
3. Convert DVD image files to digital video or audio files with ease.
Cons
1. Do not support drag and drop disc folders or other files into the program.
2. When cloning DVDs, it tries to make an image file, despite the setup.
3. Cannot copy multi-session disks.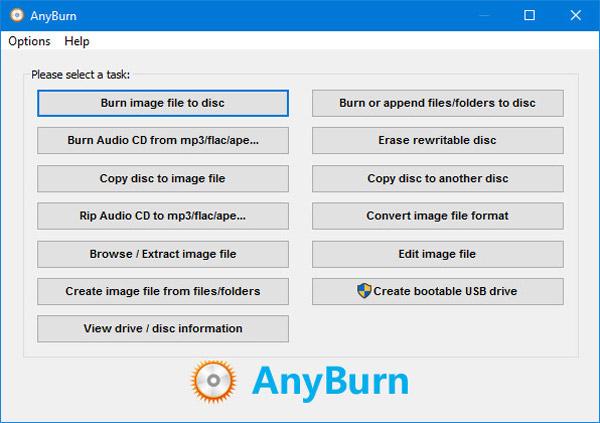 Top 4: AVS Free Disc Creator
In order to clone another DVD, CD or Blu-Ray disc, AVS Free Disc Creator is the free DVD cloner to copy and burn your CD, DVD or Blu-ray discs with ease. If you are a newbie, it is easy to learn user interface with a robust library of video tutorials should be a great help.
Pros
1. Create bootable DVD discs for software and system installation.
2. Add password protected file image formats, such as the DAA and UIF.
3. Burn data in several sessions onto the same disc with high efficiency.
Cons
1. Limited video editing features and only support one video track.
2. Lack of most of high-end, trendy or innovative features of latest disc types.
3. Restricted to limited features, which need to upgrade to the pro version.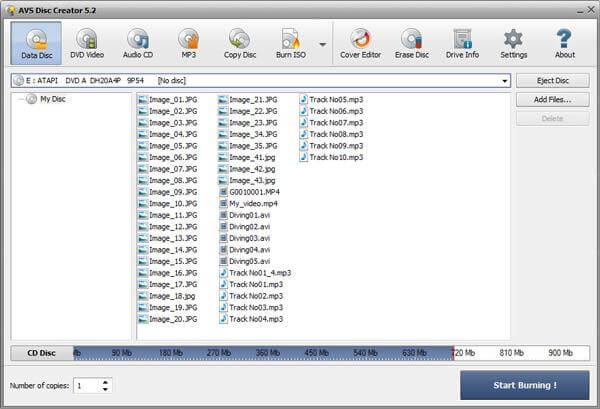 Top 5: ImgBurn
How about DVD cloners for Mac? As the DVD drives are not available for MacBook Pro now, you should use an external DVD drive and Mac DVD cloner to extract ISO and video from DVDs. ImgBurn is the desired tool to make a clone among every modern optical disc.
Pros
1. Create disc image files from file compilations or optical discs.
2. Support more than 10 disc image formats, which includes ISO files.
3. Set restrictions that only let permitted users to access drives.
Cons
1. When installing, it will download extra software called OpenCandy.
2. It should be a DVD cloner for Mac might not suitable for beginners.
3. Will not make a video file into a DVD for you.
Part 2: Professional DVD Cloner: AnyMP4 DVD Copy
Is there a professional DVD cloner that clones a desired part of the DVD, edit the subtitles or audio track, or save 1:1 ratio copy and clone so you can create and save a backup DVD? AnyMP4 DVD Copy is one desired DVD cloner for both Windows and Mac that supports all the DVD image formats.
Pros
1. Three modes to clone DVDs including Full Copy, Main Movie and Custom.
2. Customize option and settings for audio track, subtitles and more others.
3. Backup and copy DVD in the form of ISO image file or DVD folder.
Cons
1. Need to upgrade to the commercial version after trial period.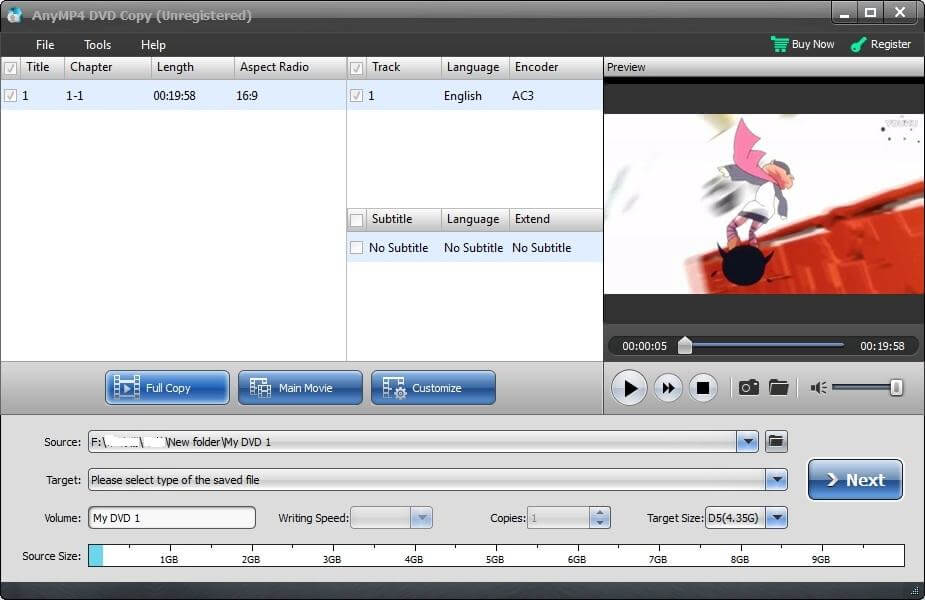 Part 3: Professional DVD Cloner V.S. Free DVD Cloners
What should be the differences between the free DVD cloners and professional DVD cloner? Just find more details from the following chart as below.
| DVD Cloner Features | AnyMP4 DVD Copy | BurnAware Free | ISO Workshop | AnyBurn | AVS Free Disc Creator | ImgBurn |
| --- | --- | --- | --- | --- | --- | --- |
| Protection Removal | Y | N | Y | Y | Y | N |
| Editing Features | Y | N | N | N | N | N |
| Remove Region Code | Y | Y | Y | N | Y | Y |
| Clone Methods | Full Copy, Main Movie and Custom | Full Copy only | Full Copy only | Full Copy only | Full Copy only | Full Copy only |
| Operation Systems | Windows and Mac | Windows only | Windows only | Windows only | Windows only | Windows and Mac |
Conclusion
The article shares 5 free DVD cloners to make copies of your DVD collection on Windows and Mac OS X. If you want to get rid of the downsides of freeware, it is recommended to use a professional DVD cloner, AnyMP4 DVD Copy. It is not only easy to use, but also could meet your need in various situations. Now, you can make the best decision according to our review.