Quick Way to Play Blu-ray Movies on Your Android Phone or Tablet
According to Statcounter, the Android market share in 2019 is 75.85%. It means three fourths mobile users are using Android phones and tablets. Many users prefer to watch movies to kill time or have fun. If you have a large collection of Blu-ray discs, you can watch Blu-ray movies on your Android device too.
Is there any way to extract Blu-ray content from a physical disc to your Android phone or tablet? Well, you can use a Blu-ray player for Android to solve the problem. After extracting movies from the Blu-ray disc, you can use any media player to get Blu-ray playback on Android or other devices.

Part 1: How to Play Blu-ray Movies on Your Android Phone
There are two things you need to do. Firstly, you need to remove copy protection from your Blu-ray disc bought from Amazon, local store or elsewhere. Secondly, you are required to convert Blu-ray to Android compatible formats. During this time, you can use Free Blu-ray Ripper to get the one-stop solution.
Actually, you can rip commercial Blu-ray discs to Android compatible formats with Free Blu-ray Ripper. In spite of the supported Android profiles, you can choose whether to rip Blu-ray to common video or HD video formats. The customizable video and audio settings make the Blu-ray video to be better. With the batch conversion support, you can rip multiple Blu-ray movies together to save time. The ripped Blu-ray videos will be in high quality. Isn't it the best Blu-ray player app for Android?
1. Free rip Blu-ray to Android readable formats, like MP4, MKV, 3GP, WebM, etc. as well as the HD video formats.
2. Rip Blu-ray disc/folder/ISO file to Android profiles directly, such as Black Berry, Nokia and other mobile phones.
3. Fast Blu-ray to Android ripping speed and high output quality.
4. Adjust video encoder, resolution, frame rate, bitrate, aspect ratio and other output settings.
Step 1
Free download and install Free Blu-ray Ripper. Put your Blu-ray disc into the BD drive. Click Load Disc and choose your Blu-ray disc to load Blu-ray movies.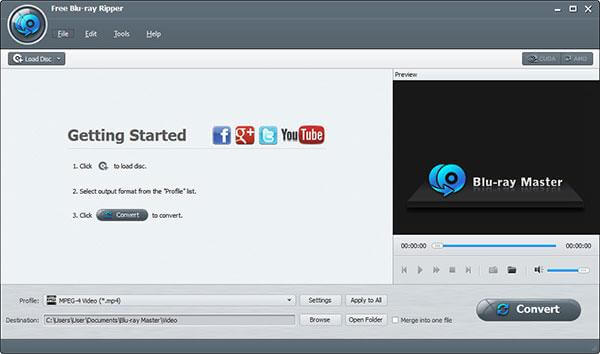 Step 2
Now you need to choose the right format for Blu-ray Android playback. Unfold the Profile list, you can get various video and audio formats. It is recommended to convert Blu-ray to MP4 to play Blu-ray on Android. You can also choose other formats you like to rip Blu-ray movies to Android phone or tablet.
Step 3
You can click Settings to adjust video and audio settings before ripping Blu-ray. Then click Convert to extract Blu-ray content and save as the selected format. The Blu-ray to Android converter app will finish the process quickly.
After that, you can transfer Blu-ray movies to your Android device via USB connection, cloud sharing, Bluetooth and many other file transferring methods.
Part 2: Top 3 Media Player APK to Play Blu-ray on Android
What is the best media player app for Android? If you have no idea which Blu-ray app for Android to choose, you can take a look at the following suggestions.
Top 1: VLC Media Player
VLC for Android is the multimedia player that plays Blu-ray discs, ISO files, devices and other network streaming protocols. Most popular video codecs are downloaded already. The Blu-ray player for Android app also supports subtitles, teletext and closed captions. You can stay away from ads, in-app purchases and spying.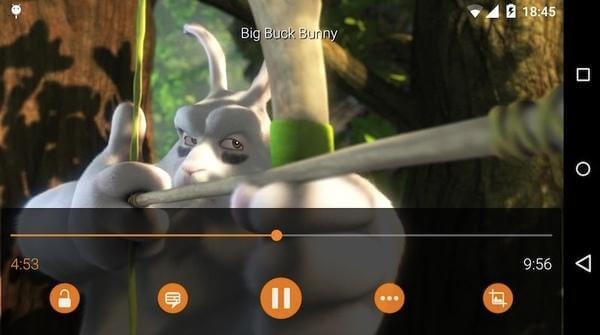 Top 2: MX Player
MX Player is equipped with hardware acceleration and multi-core decoding. The device's performance can be improved. You can zoom in and out the Blu-ray movie by pinching and swiping. There are also many playback features you can get from the Blu-ray player app for Android. Though you need to guarantee many permissions, including location, network, Bluetooth, camera, read/write external storage, etc.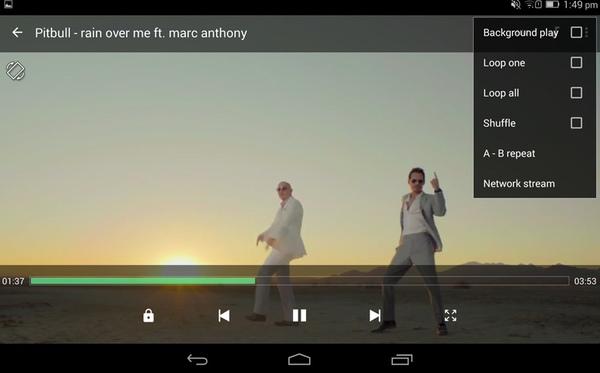 Top 3: KMPlayer
You can get high-quality Blu-ray playback on Android by using KMPlayer. The supported video playback ranges from HD to 4K, UHD and full HD. Moreover, you can adjust the Blu-ray playback speed from 0.1 to 4 based on your need. KMPlayer also supports a wide range of video, audio and subtitle formats. But you don't need to worry about the incompatibility issue after ripping Blu-ray with Free Blu-ray Ripper.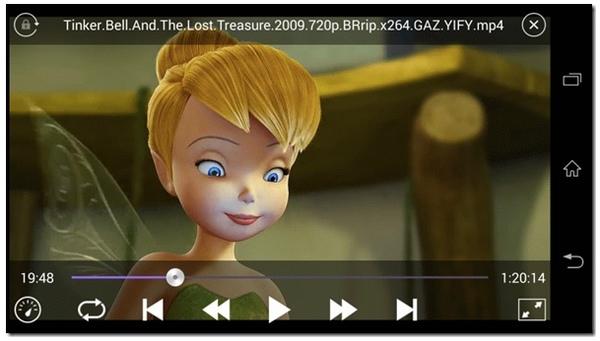 Part 3: Free Blu-ray Player for Windows and Mac
After choosing the best Blu-ray player app for Android tablet and phone, you can also get a Blu-ray player that can play Blu-ray movies on your computer. Thus, you can get Blu-ray playback with a large display screen. Blu-ray Master Free Blu-ray Player is capable to play any Blu-ray and DVD disc with 100% image quality. You can also play common video and audio files within Free Blu-ray Player on Windows and Mac.
1. Play the latest Blu-ray disc and movie on PC and Mac.
2. Choose from full, half, normal and double Blu-ray screen modes.
3. Capture a snapshot while watching the Blu-ray video.
4. Work with any internal or external Blu-ray drive.
5. Compatible with Windows 10/8/7/Vista/XP and Mac OS X 10.5 or above.
Part 4: FAQs of Blu-ray Players for Android
1. Are Blu-ray players obsolete?
No. Though Samsung has ceased the new Blu-ray player for the US market since 2017, engineers continue to work on advancing the technology for the disc size, capacity, and layer. Moreover, some Blu-ray discs still need the Blu-ray players for playback.
2. How to connect Blu-ray player to Android tablet?
It is impossible to connect the Blu-ray player hardware to your Android tablet, because the Android tablet cannot load the Blu-ray drive. For playing the Blu-ray discs on Android tablet, you have to convert the Blu-ray disc into the Android tablet compatible formats.
3. What is the best 4K Blu-ray Player?
VLC, MX Player and KMPlayer can play 4K Blu-ray files, but they may get your device stuck. The best 4K Blu-ray player is Blu-ray Player Upgrade. It cannot play the 4K movies from the various regions, but also play the common 4K ripped Blu-ray video formats.
Conclusion
That's all for the recommendations of free Blu-ray app for Android and desktop. You can watch movies on your portable Android device or desktop computer flexibly. The above Blu-ray player apps are free to use. Thus, you can feel free to convert and transfer Blu-ray movies to your Android phone or tablet for personal use.