Convert Your Blu-ray to FLAC Audio on PC in 3 Ways
There are many videos with great soundtracks and background music. You are lucky to have a Blu-ray disc copy of those videos that allows you to listen to them anytime you want. And to make it more convenient for you to listen to, you can actually convert the audio of your Blu-ray discs to a more compatible format, like FLAC. This guidepost will teach you different ways to convert your favorite Blu-ray to FLAC effortlessly. We will provide all the info you will need, so don't worry. Let's begin!
Part 1. When Can You Convert Blu-ray to FLAC?
Why do you need to convert your Blu-ray audio to FLAC? The answer would be device compatibility. Blu-ray discs only have limited options where you can play them. You can only use DVD/Blu-ray playing devices, computers or laptops with external and built-in optical drives, and the latest gaming consoles. Another concern is that you must always bring your discs anywhere, which is bothersome. Therefore, for you to continue listening to your favorite soundtracks and music on your Blu-ray, you convert it to FLAC. And if you don't know how to do it, we got you. In the following section, there are several ways for you to convert Blu-ray to FLAC that are very easy to execute.
Part 2. How to Convert Blu-ray Audio to FLAC in 3 Ways
Note: You can utilize this product for personal use only.
You must use a capable Blu-ray Converter to turn Blu-ray audio to FLAC. We have a program we can proudly recommend to you, Blu-ray Ripper. This outstanding program is one of the leading Blu-ray ripping programs that allows you to convert the Blu-ray disc to different video formats. And not just video, you can also extract the audio from Blu-ray you have at home. Moreover, if you need to convert it to a high-quality audio file like FLAC, this tool can help you easily do it. Another thing, this tool is 100% safe to use, and expect no quality loss during the process.
Key Features
1. Allows simultaneous file conversion
2. Usable on Windows and macOS platforms
3. Built-in video editing feature and video playback
Step 1
To get Blu-ray Ripper, you can head to its webpage for an official download or simply click the Free Download button above. Install the program on your PC. After installing, proceed to launch the desktop app.
Step 2
Load the Blu-ray disc on your desktop, then tap Load Blu-ray to add the Blu-ray video on the program that needs to be converted.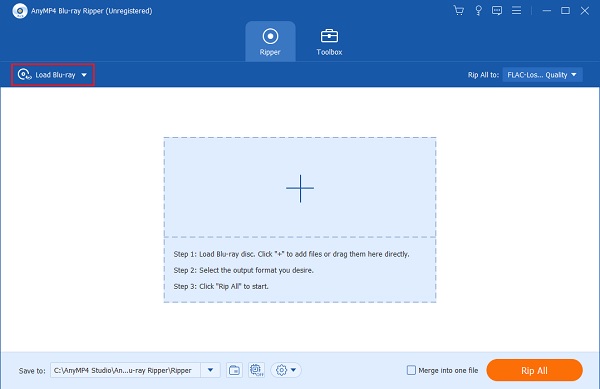 Step 3
Use the drop-down list button of Rip All to for the different video and audio output formats available. Go to the Audio section and select FLAC.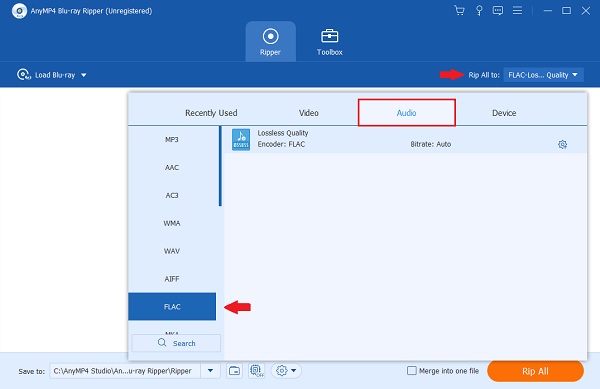 Step 4
After selecting the FLAC format, you can now tap Rip All to begin converting the Blu-ray disc. The procedure may be time-consuming, so please be patient. Once it completes, you can exit the program.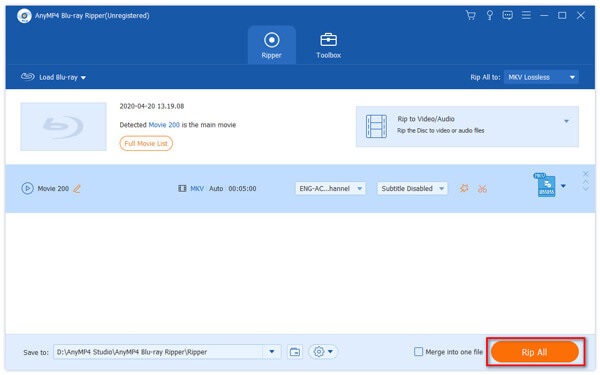 Part 3. Other Ways to Convert Blu-ray Audio to FLAC
Note: You can use these products for your personal use only.
Free Blu-ray Ripper
If you want an alternative program in case the first program is not functional on your device due to specification requirements. You can try Free Blu-ray Ripper. This program is lightweight and completely free, ideal for low-end devices. It has a very easy-to-understand interface suitable for all users. It can also do its purpose efficiently, to rip and convert Blu-ray audio to FLAC and other video and audio formats. This app is available on both Mac and Windows.
Here's a quick and easy guide on how to use this Blu-ray ripping and conversion program.
Step 1
Download Free Blu-ray Ripper software on your computer, then install it. Insert the Blu-ray disc you will extract.
Step 2
Open the desktop app, then click Load Disc to import the Blu-ray file to the program. You can also add a Blu-ray folder or ISO file.
Step 3
Click the Profile drop-down list button to see the list of usable formats for audio and video. Tap Lossless Audio and select FLAC format.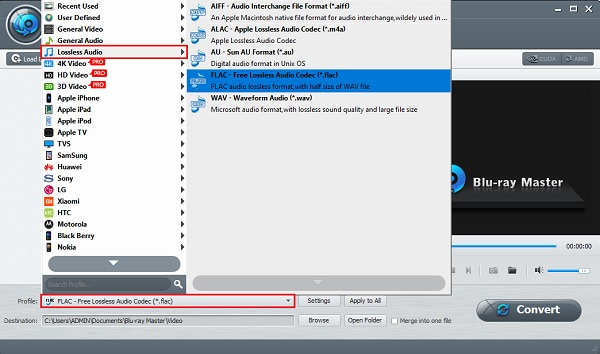 Step 4
After selecting, you may start converting Blu-ray to FLAC by clicking Convert. The process immediately begins after you click the button. Close the program after it finishes. You also can use it as a Blu-ray to AVI converter.
Leawo Blu-ray Ripper
Another alternative program that can effectively rip Blu-ray audio to FLAC is Leawo Blu-ray Ripper. This tool can quickly rip the audio of the Blu-ray disc, Blu-ray Folder, and ISO file and convert it to FLAC and other audio and video formats. It is straightforward and easy to operate. This program is downloadable on Mac and Windows OS.
Here's a super quick tutorial on using this tool for converting Blu-ray to FLAC.
Step 1
Download Leawo Blu-ray Ripper and install it on your chosen device. Immediately open the app after installing it.
Step 2
Insert your chosen Blu-ray disc that you need to convert to FLAC. On the program's interface, select Add Blu-ray/DVD to add the file.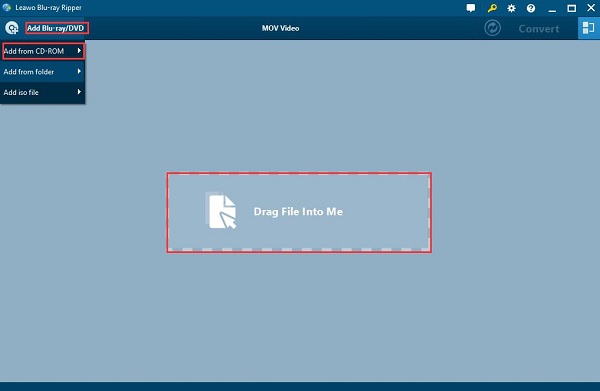 Step 3
To choose the format for audio output, click the Change button located at the top of the interface, then click Format>Common Audio>FLAC Audio.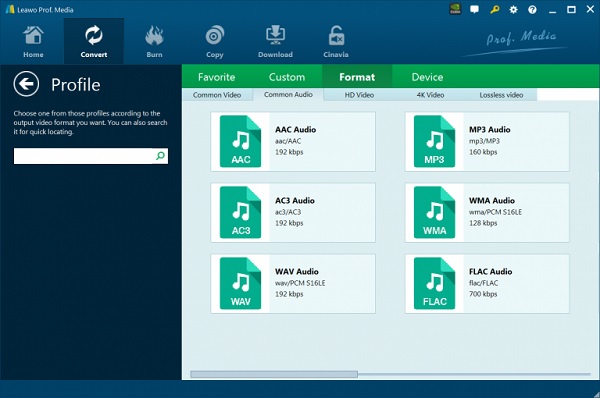 Step 4
After selecting, you can proceed to convert the Blu-ray, just click the green Convert button. The process may take some moments to finish. Once it is done, you can close the Blu-ray to MP4 converter.
Part 4. FAQs on How to Rip Blu-ray Audio to FLAC
What is FLAC audio file format?
FLAC means Free Lossless Audio Codec, and from the title itself, it is a lossless audio format. Lossless means there is no audio data loss during the encoding process. Also, lossless formats are easier to edit.
How much data storage does FLAC consume?
A FLAC file typically consumes 5MB per minute for stereo audio or CD quality music. And if you compare it to MP3, it is 5x larger in data size.
Can you play FLAC on Mac?
No, you cannot play FLAC files on Mac devices using its native applications. However, you can play them if you download and use third-party programs.
Conclusion
Converting your Blu-ray to FLAC is not as tedious as you think. You just need to allot a few minutes of your time in exchange for hassle-free listening to your favorite audio. Don't forget to use Blu-ray Ripper for extracting audio and converting them to FLAC and other high-quality audio formats. Expect no quality loss on your audio when using this program. You also don't need to wait long as it can finish converting simultaneously within minutes. The best part is, it is safe to use and free.