4K Ultra HD VS. Blu-Ray: Compare to See Which is Better
Blu-ray vs. 4K, who won't get confused about these two? At first glance, we may all think these two are the same. But little did we know that they differ from each other, and if we look at their aspects and attributes, we will be convinced that some things show their variances. Therefore, we urge you to do this article to give you enough information about this Blu-ray and 4K. So that, when the time comes when you deal with these two, you will have the confidence to be knowledgeable. So, to cut to the chase, let us begin this exciting Blu-ray vs. 4K UHD exploration by reading the content below.
Part 1. What is Blu-ray
Blu-ray is the upgraded digital disc version of DVD developed by Sony around the year 2000. Furthermore, it was a fruit formed with the help of the Blu-ray Disc Association at that time and formally debuted in 2006. The name Blu-ray was used since this disc uses a blueish laser, and this kind of laser is the most critical component that makes this disc a much higher density, making it quickly and easily store videos or movies with more than 2 hours of duration. To provide you with concrete usage of Blu-ray, as have seen readers want to tackle a DVD vs. Blu-ray vs. 4K UHD topic, this particular disc can be used for films, concerts, TV shows, and even games.
Part 2. What is 4K?
What is 4K, on the other hand? 4K UHD is also known as the Ultra HD Blu-ray if we are referring to the discs, and the 4K resolution is another topic to handle. Meanwhile, released in 2016, 4K UHD is known to have double picture quality than Blu-ray. In fact, it has a pixel resolution of 3840x2160 with an additional offer of up to 60fps and coding of H.265. The 4K UHD disc that uses HDR has an increased color depth of up to 10 bits for all the film or TV shows it contains. And what makes this disc more interesting is that it is region-free.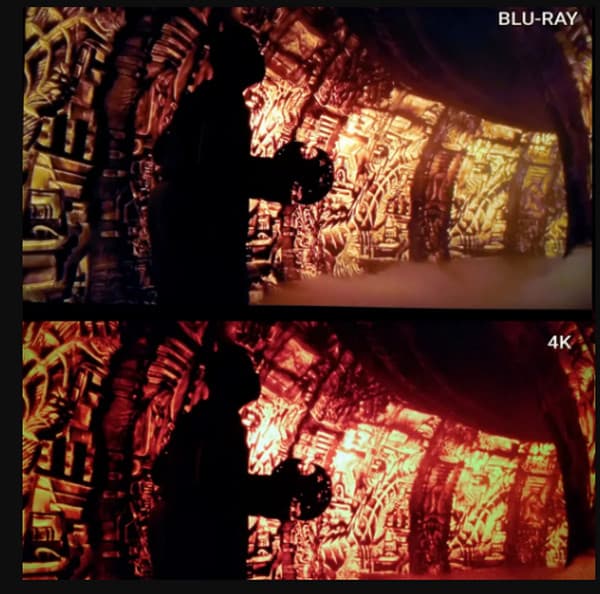 Part 3. Similarities of Blu-ray and 4K
Little by little, we are being enlightened by this Blu-ray vs. 4K UHD topic. It is clear that according to the description above, there is a dominant one, and no similarities can be seen. And therefore, to add to this enlightenment, we have listed the similarities between the two below.
Both Blu-ray and 4K UHD have the following:
1. Employed Laser Type
Both Blu-ray and 4K use the same blue laser type, which contains 405nm.
2. Optical Drive Compatibility
Both are compatible with optical UHD Blu-ray drives.
3. Both Paid
Both have their own average retail price of $25-$30 for 4K UHD and $15-$20 for Blu-ray.
4. Supported Content
They both have excellent display quality for movies and TV shows.
Part 4. Differences Between Blu-ray and 4K
This time, let us clearly perceive the differences between the 4K and Blu-ray. After all, this article about 4K Ultra HD vs. Blu-ray won't be complete without this part.
| | Blu-ray | 4K UHD |
| --- | --- | --- |
| Resolution | Blu-ray comes with a 2K resolution of 1920x1080. | 4K UHD has 4K or 3840x2160 resolution. |
| Storage Size | 25 GB for its single layer and 50 GB for its double layer. | 50 GB for its single layer, 66 GB for the dual layer, and 100 GB for its triple layer. |
| Region Coding | A/1, B/2, C3, and there are some that are region-free for ABC. | Region-free. |
| With Dynamic Range | No | Yes |
| Data Transfer Rates | 82 Mbps - 128 Mbps. | More or less 54 Mbps. |
| Uses DTs-X and Dolby Atmos Sound Support | No | Yes |
Part 5. Bonus: Best Blu-ray Ripper
Employing you for this bonus part to present to you the best Blu-ray Ripper you can use for both your Blu-rays and 4K UHD Blu-ray Ripper, chosen by the Blu-ray Master. As its name suggests, It is a ripper tool that you can download on any computer OS you use, such as Windows and Mac, after you read this Blu-ray VS. 4K post. This ultimate Blu-ray Ripper has great features that will spice up your ripping procedure. Such features you will enjoy are its batch ripping, format conversion, and its numerous support for various ripping outputs and input formats. Furthermore, this amazing tool has a built-in Toolbox where you can find a powerful video compressor, media metadata editor, 3D maker, GIF maker, and an AI-powered video enhancer. Meanwhile, it lets you rip your 2K videos and transform them to 4K easily while using the desired format you want.
One one the reasons why it is exciting to use is that it offers you a trial version allowing you to use it for 30 days. It is more than what you need, where you can enjoy every function and feature it has. And if you want to continue using it but are worried about its price, then think twice because its premium package is so much more affordable. Please do not forget to lavish on its neat and easy-to-use interface. Wherein you and your friends can easily navigate even if it is your first time to rip.
Key Features:
1. Rip and convert Blu-ray movies in batches.
2. Advanced technologies that make it more powerful, such as GPU, AI, and hardware acceleration.
3. Share videos online.
4. Over 200 formats for input and output.
5. Lossless support for 1080p and 4K videos.
Further Reading:
3 Best 4K Blu-ray Burner Software for PC 2023 [100% Safe]
Topmost Technologically Advanced 4k Blu-Ray Rippers
Part 6. FAQs about Blu-ray and 4K
4K vs. Blu-ray, which is better for video games?
Although 4K has a higher resolution and better image display, we cannot deny that the resolution density of Blu-ray is what best fits video games. This is because of the red light that makes the wavelengths longer, which Blu-ray has.
Does Blu-ray support HDR video and Dolby vision?
No. Unfortunately, Blu-ray discs do not support Dolby Vision and HDR. Instead, it is the 4K UHD that has support with these advanced technologies.
Can I rip my Blu-rays using VLC Media Player?
Indeed, VLC Media Player is an app that supports ISO playback. However, this particular media play doesn't support ripping. Therefore, you cannot rip your Blu-ray using VLC.
Why is 4K UHD more expensive than Blu-ray?
The reason why 4K UHD is more expensive than any other discs like Blu-ray and DVDs is that it is the latest video format to use. Aside from that, 4K UHD has a double quality over the others, making it more expensive to acquire.
Conclusion
This post has outlined Blu-ray vs. 4K content. By reaching this conclusion part, we assumed that you already have enough knowledge about these two. That being said, you can rip your 4K UHDs and Blu-rays anytime, as we have introduced you to the best tool to use, the Blu-ray Ripper.