Impressive Methods on How to Convert 3D Blu-ray to MKV 2023
We know that in order for you to watch a 3D Blu-ray, you need a 3D playing device. But with today's technology, you can effortlessly extract a 3D Blu-ray and convert it to a video format compatible with various devices. One example is MKV. You also need powerful software that can quickly convert 3D Blu-ray to MKV for free. You don't have to be professional to use this tool properly, you just need to follow the instructions carefully we will provide for you. Let's take a deeper look at this post on how to rip a 3D Blu-ray to 3D MKV.

Part 1. What is a 3D Blu-ray?
3D or three-dimensional is something that has width, height, and depth compared to 2D, which has width and height. And for 3D Blu-ray, it refers to movies with stereoscopic vision. What makes 3D special is that it seems real, like you are part of the video itself. It creates an illusion that the characters pop out on your screen. But in order to watch a 3D Blu-ray, you need to have a 3D TV, a 3D Blu-ray player and wear 3D glasses. Don't worry, you can play them on a 2D Blu-ray player, but it will only stream in the 2D video.
Part 2. Can You Rip 3D Blu-ray to General Videos
Can you rip a 3D Blu-ray and convert it to general videos? The answer is yes. At first, you might think it is impossible to rip a 3D Blu-ray since it is different from a 2D Blu-ray when it comes to the codec. And when you hear 3D, it also comes to your mind that it is only for professionals. But as we said, plenty of programs can extract 2D and 3D Blu-ray without hassle that also support different output formats. The widely used formats are included, such as MP4, MKV, AVI, MOV, and many more. The following section consists of two programs that can efficiently convert 3D Blu-ray to MKV video format. We remind you that you should follow our guide carefully to avoid encountering any problems.
Part 3. 2 Ways to Rip 3D Blu-ray to MKV
Note: You can use this product for your personal use only.
Blu-ray Ripper
Looking for a program that can effectively rip 3D Blu-ray to SBS and MKV without spending? Yes, there is one such program, and this program we have today is completely free and available to download on Windows and macOS devices, Blu-ray Ripper. This software solution can rip 2D and 3D Blu-ray videos and convert them to video formats compatible with multiple devices. Widely used formats are included, such as MP4, AVI, WMV, MKV, etc., and can be exported with no quality loss. You can do simple editing like cropping, adjusting effects, trimming, and more.
Key Features
1. Can extract video and audio files from a Blu-ray
2. Can make 2D movies into 3D ones
3. It has a built-in video player for movie playback
4. 100% safe and easy to use
Here's a how-to rip 3D Blu-ray movies guide using the highly-recommended program and convert them to MKV and other formats. Please follow the steps carefully.
Step 1
To get the program, you can go to its webpage to download it or just click Free Download above. Load a Blu-ray disc on your computer with the 3D video you need to extract. Wait for the tool to finish installing.
Step 2
Open the app to see the main user interface. Click the Load Blu-ray button to add to the program the 3D video on your Blu-ray disc.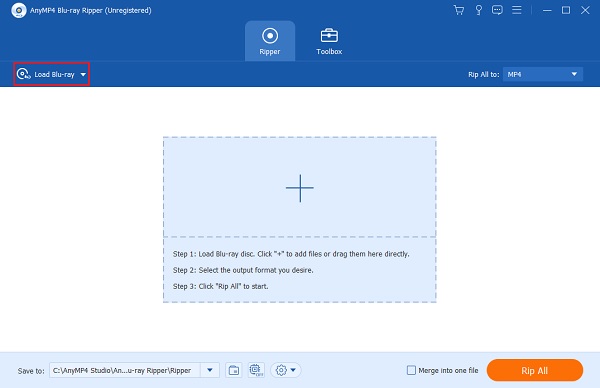 Step 3
Click the drop-down list beside Rip All to for the list of the supported video output format. Search the format you will use, this time, it's MKV. Tap the highest quality available for the best watching experience.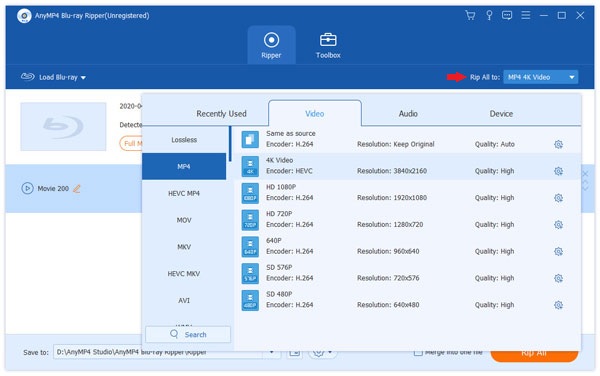 Step 4
Once you are finished with the output format selection, you can start to extract the file by clicking Rip All. The process takes a while to finish, so please be patient. After that, you can close the program.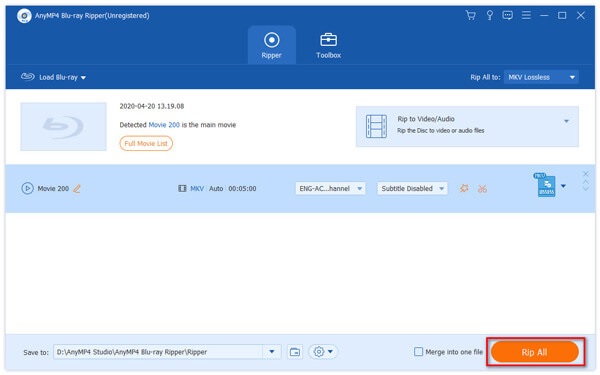 Free Blu-ray Ripper
The other tool you can use to rip 3D Blu-ray on Mac and Windows has the same maker as the first one, Free Blu-ray Ripper. This free software is one of the reliable 3D Blu-ray video ripper tools that can easily extract 1080p to 4K videos. It supports several video formats, including the commonly used ones like MP4, AVI, MKV, MOV, etc. There's a built-in video editor as well for basic video editing.
Here's a very easy guide on how to convert 3D Blu-ray to MKV using Free Blu-ray Ripper
Step 1
Visit Free Blu-ray Ripper's official webpage on your browser to download the program by tapping Free Download. Install it on your desktop, then open the program. Insert the Blu-ray with the 3D video that you will rip.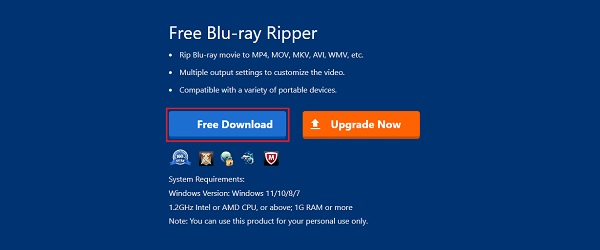 Step 2
Once you are in the user interface, tap Load Disc to import the Blu-ray.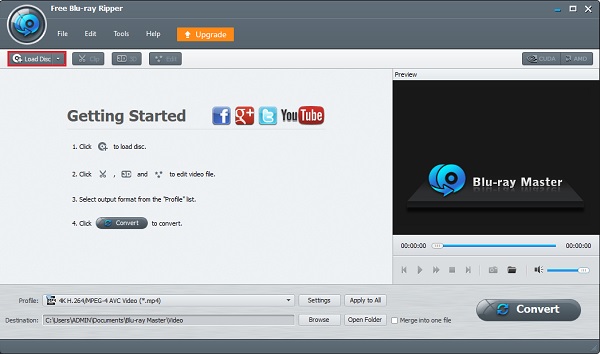 Step 3
On the Profile's drop-down menu, you will see the list of video output formats available. Tap General Video, then select MKV.
Step 4
Choose a file output destination where to save the video on your computer, then click Convert to begin the export. Wait for it to end before closing the program.
Further Reading:
3 Effective Methods to Rip Blu-ray to a Hard Drive 2023
3 Best Blu-ray Converters to MP4 for PC 2023 [100% Safe]
Part 4. FAQs on How to Rip 3D Blu-ray to MKV
What format uses a 3D Blu-ray?
3D Blu-ray uses the MVC or Multiview Video Codec, an extension to H.264 encoding standard for Blu-ray. It is backward compatible with 2D H.264/AVC stream.
What is the resolution they usually use on a 3D Blu-ray?
The standard resolution that 3D Bluray uses is 1080p HD at a 24 frame rate per second, the same as any Blu-ray. But where it differs is the presentation of two different 1080/24 video frames, each representing the photos at a slightly different angle which corresponds to your left and right-eye perception.
What is an MKV video file?
Matroska Video File, also known as MKV, is a video container format similar to MOV and AVI. It supports unlimited images, audio, metadata, and subtitles, a definition of an all-in-one format.
Conclusion
And that's it. You just learned another skill: how to convert 3D Blu-ray to MKV in the comfort of your home. It is indeed straightforward to do, especially when you use the right and capable program like Blu-ray Ripper. This amazing program can easily rip any 3D Blu-ray and safely convert them to MKV and other formats. You can also edit the videos before exporting, everything you need is provided for your convenience. Try it now so you can watch your favorite 3D Blu-ray on various devices.