2 Quick Ways to Convert Blu-ray to H.264 Video Codec on Any PC
Blu-ray discs are becoming a thing of the past now. Many people choose another way to watch movies, which makes you wonder if it is time to throw away your Blu-ray disc collection. But you don't have to since you can watch them on your computer or portable devices by converting them to different formats. Aside from that, you can use the soft copy of the videos as backup in case the disc gets damaged or lost. This article contains two methods to convert Blu-ray to H.264 using our included programs. To know more about the topic, continue reading below. Don't skip anything to avoid making mistakes.

Part 1. What is H.264?
H.264 is referred to as Advanced Video Coding (AVC) or MPEG-4 Part 10. It is a video compression technology, or codec, the standard for video storage, broadcast, and online video streaming. This codec is co-developed by the International Telecommunications Union and International Organization for Standardization/International Electrotechnical Commission Moving Picture Experts Group. H.264 is popular because it consumes less storage by half compared to other codecs with no quality loss on videos. It is also compatible with several popular container formats such as MP4, MOV, F4V, 3GP, and TS. Furthermore, you can capture H.264 videos in 4K up to 8K HD quality using your smartphone and digital cameras.
Part 2. Can You Convert Blu-ray to H.264 and Why?
Let's answer the first question, "can you convert Blu-ray to H.264?". The answer is yes. Nowadays, it is easy for any user to convert their valued Blu-ray collection into any video and audio format. And to do that, you need a Blu-ray ripping program. There are free and paid Blu-ray ripping tools on the internet that anyone can use.
And the reason why you convert them is for convenience and compatibility. Blu-ray format is not compatible with most desktop applications and other devices since you are only meant to play them using a Blu-ray playing device. In this case, the viable option is to convert them into a more widely used format, like H.264. To achieve this, here are some programs you can use with steps included on how to convert Blu-ray to H.264.
Part 3. How to Convert Blu-ray to H.264 in 2 Ways
Note: You may use these two products for personal use only.
Blu-ray Ripper
The tool we proudly recommend for you to convert Blu-ray to H.264 is Blu-ray Ripper. This program is free to download and safe to use for Mac and Windows OS computers. It works perfectly in extracting Blu-ray files and converting them to different formats. And if you are asking if this tool can convert videos to H.264, the answer is yes. Moreover, the process does not reduce the quality of the video, retaining its original quality. This tool includes a video editing feature for basic editing like cropping, trimming, merging, and many more.
Key Features
1. It features a built-in preview playback
2. It supports 2D and 3D video conversion
3. It can convert videos in 1080p up to 4K HD quality.
4. Simultaneous media file conversion.
Here's a short but detailed tutorial on converting your videos to H.264 codec using this reliable program.
Step 1
Download this amazing software by clicking the Free Download we put above. Install it correctly by following the installation process. After installing, the program automatically opens.
Step 2
Insert the Blu-ray disc containing the video you want to convert to H.264. On the interface window of the tool, hit Load Blu-ray to import the media files from the disc.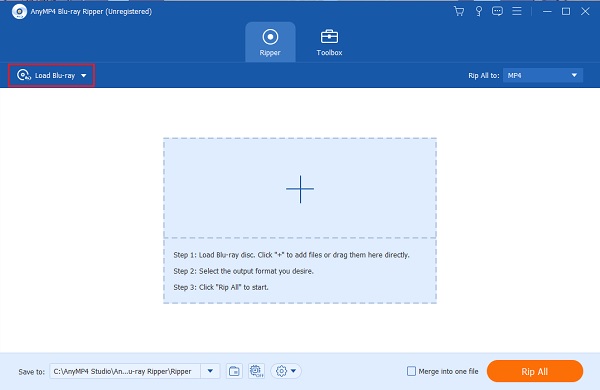 Step 3
The following step is selecting the output format you need, which is H.264. Head over to the drop-down menu button of Rip All to and click it. This will reveal all the output formats available. Under the Video tab is where you will find H.264. Tap and select the best quality possible.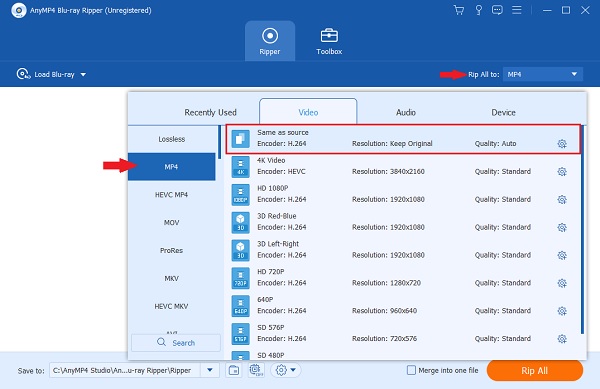 Step 4
After setting the output format, hit the orange Rip All button to start the video conversion. The process completion time depends on the video's file size: the larger, the more prolonged.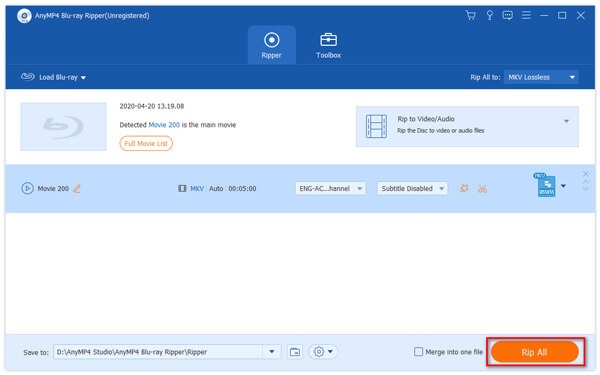 Free Blu-ray Ripper
Another capable tool you can use to convert Blu-ray to H.264 videos that is 100% free and safe is Free Blu-ray Ripper. This simple tool is powerful enough to convert your videos into different video and audio formats so you can watch them on several devices. It is also fast because of hardware acceleration, saving you plenty of time. There is no quality loss on your videos when you use this tool. You can have this program on any Mac and Windows-powered device. Refer to the simple guide we have for you below in using this software for file conversion.
Step 1
Get Free Blu-ray Ripper by clicking the Free Download button on its official page. Install it, then wait for the program to launch automatically.
Step 2
Load the Blu-ray disc you want to convert to H.264 into the disc drive. On the application window, tap Load Disc to add the extracted file from the disc to the program.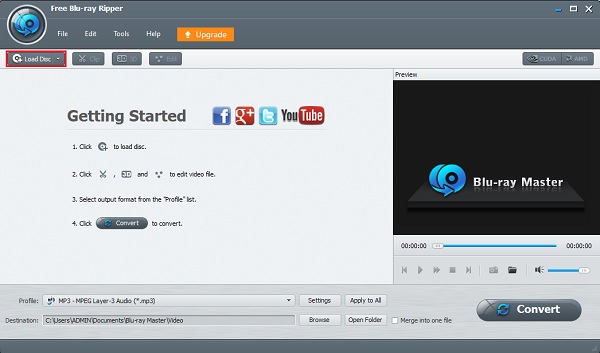 Step 3
Hit the drop-down list button of Profile to see the list of output formats supported by this tool. Choose General Video>H.264/MPEG-4 AVC Video.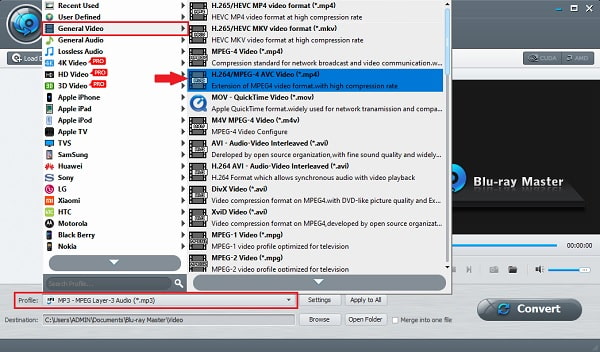 Step 4
Click Convert to start the video conversion for the last step. Wait for the conversion process to finish before closing the program. You also can use this tool to rip Blu-ray to the hard drive.
Part 4. FAQs on How to Convert Blu-ray to H.264
What is the difference between H.264 codec and H.265?
H.265 is the successor of the codec H.264, which is used for high-definition video. The difference between the two codecs is that H.265 delivers the same quality as H.264 but consumes less data storage.
Can you edit videos in H.264?
Yes, but it is not advisable to directly edit your H.264 codec videos as it is primarily used for delivery and not editing. If you really want to, you should transcode it first to edit codecs like PRoRes and DNxHR.
Is H.264 a lossy or lossless compression?
H.264 codec can be both a lossy and lossless compression. But it is typically used as lossy compression to reduce storage consumption. Click here to learn how to convert DVDs to H.264.
Conclusion
There you go. By following the methods mentioned above, you can easily convert your Blu-ray to H.264 on your own. This will enable you to watch your all-time favorite videos anytime on different devices. And as you have seen, Blu-ray Ripper can effortlessly do its purpose without spending money. It is guaranteed safe to use and proven to protect your private information. Don't hesitate to start creating soft copies of your Blu-ray videos using this excellent program.