How to Convert M4A to MP3 or MP3 to M4A with the Best Methods on PC (Online and Offline)
M4A is an audio format that comes from a MPEG-4 file container. This M4A is a condensed and lossy audio format but uses AAC and ALAC codecs, making it high-quality with a reduced size. However, those who own audio files with this kind of format know that media players do not highly support it. Many players fail to play M4A because the file extensions within it are often misread. For this reason, many tend to convert it to MP3. On the other hand, since you also have this task in mind, you should know that it is not as simple as a,b, and c, for you must still use a powerful M4A to MP3 converter. For this reason, we have gathered the best online and offline converters you must pick to maintain the quality of your music files. Also, be excited to learn that most of the tools can transform your MP3 files to M4A as well. Thus, without further dues, let us look at the phenomenal audio converters and start hitting the hay.

Part 1. M4A VS. MP3
Comparatively, M4A and Mp3 have something in common. One of their commonality is their compression, in which both hold the exact compact mechanism making their size smaller than the other audio files. Despite that, we can still see and distinguish their differences. Thus, this M4A vs. MP3 part lets us further learn the similarities and contrast between the two.
| Format | M4A | MP3 |
| --- | --- | --- |
| Quality | Higher-Quality | High-Quality |
| File Size | Small | Bigger than M4A |
| Compatibility | Apple players and devices. | Almost all devices. |
Part 2. Convert M4A to MP3 or MP3 to M4A on PC Offline
Now that you know enough about the two audio formats, it's time to learn the conversion methods. Let's start with the professional offline tools that deserve your full trust.
1. Convert M4A Files to MP3 with Video Converter Ultimate
The first stop is this professional but straightforward converting tool for Windows and Mac, the Video Converter Ultimate. You will be surprised how this dedicated file converter has many powerful editing tools and features besides its converting function. But for today, let us focus on its conversion feature as it is the in-demand tool for converting M4A to MP3 and MP3 to M4A topics. This Video Converter Ultimate is a multi-functional converter that supports more than 500 different video and audio formats, such as AAC, AC3, OGG, AIFF, WAV, MP3, M4A, and many more. Furthermore, it allows you to customize your output's bitrate, channel, encoder, sample rate, volume, and delay. Aside from that, you can easily create your playlist after the conversion by clicking a specific button.
What's more, this Video Converter Ultimate comes with advanced acceleration for the hardware and GPU, resulting in an ultrafast conversion process of up to 70 times faster. Not just that, this ultrafast conversion can accommodate numerous files at once. This means you can convert M4A to MP3 on Mac and Windows in bulk files at a super speed rate! You will love the speedy yet lossless process of this tool. Hence, below are the guidelines you can follow.
Key Features
1. Lossless bulk conversion process.
2. It can convert your M4A files 70x faster.
3. Customize your video and audio files before and after the conversion.
4. Merge your MP3 files quickly to create a playlist.
5. Flexible on Windows and Mac computers.
Step 1
Install the Software
Install this best file converter quickly via free download. You can click the Download button above for a quick installation transaction. Please note that only use the specified button to fit your computer device.
Step 2
Import Your M4A Files
To import your M4A files, you can click the Plus icon at the center of the interface. Alternatively, you can hit the Add File tab at the top left corner or just drop the files after dragging them from your local storage.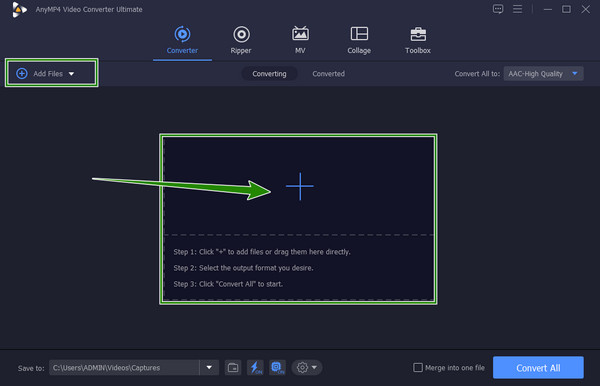 Step 3
Set the M4A to MP3
When the M4A files are loaded, go to the Convert All To section and click its arrow drop-down button. On the popped-up window, look for the MP3 selection and click it. Then, from the right side of the interface, choose a quality you want to use.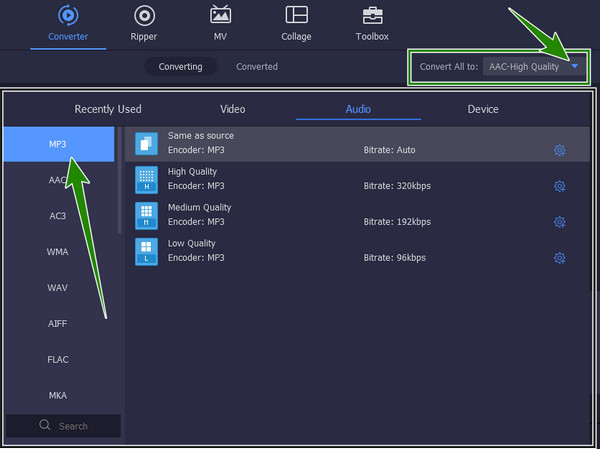 Step 4
Start the Conversion
We can now convert the files by clicking the Convert All button at the interface's bottom-most part. Meanwhile, you can also optimize your files by hitting the Scissors or Star icons before you convert them. Doing so allows you to trim, split, and merge your files according to your preference.
Step 5
Check Out the Converted Files
To see your converted M4A to MP3 files, you can check on the Converted tab at the center top of the interface. Otherwise, you can go directly to the local folder in the Saved To section at the bottom left corner.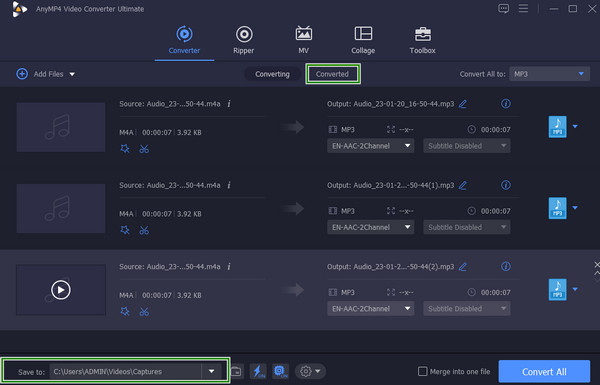 2. Convert M4A Files to MP3 Using VLC Media Player
VLC Media Player is an open-source media player available on Mac and Windows OS. Despite being a media player, this tool is infused with good tools and features that can help you even with your conversion tasks. Furthermore, it also comes with audio presets where you can customize the audio track, stereo mode, visualization, increase, decrease, and mute the audio itself. Meanwhile, it supports numerous audio file types, where MP3 and M4A are included. You also can crop videos in VLC. However, it does not seem to support the M4A output, hindering you from converting MP3 to M4A. Thus, to know how VLC converts audio files, see the guidelines below.
Step 1
Download the VLC Media Player and install it on your computer. Once installed, run it and open your M4A file by clicking the Media on the menu panel and choosing the Convert/Save selection. Then, load your file and hit the +Add button on the popped-up window. Then hit the Convert/Save button again.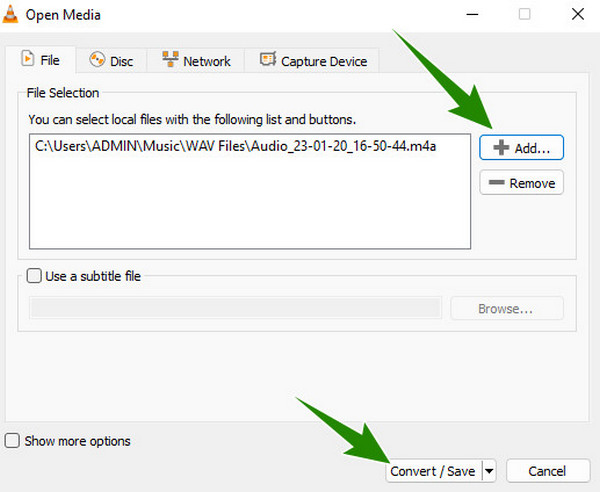 Step 2
On the next window, go to the Profile option, click the drop-down, and look for the Audio-MP3 option.
Step 3
Afterward, go to the Destination File and click the Browse button to choose a destination file for your output. Then, hit the Start button to begin the conversion process. And that's what you need to do to convert M4A to MP3 with VLC.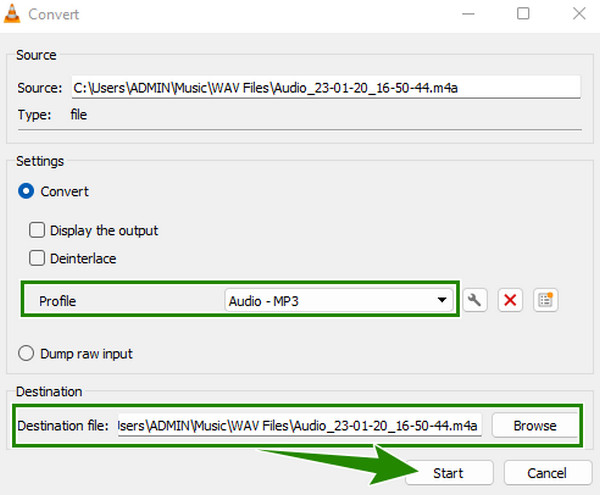 3. Convert M4A Files to MP3 with FFmpeg
Another offline software will provide you with high-quality MP3 and M4A outputs via conversion. It is one of the popular software for professionals that comes with a command line of the process. Yes, it is not the same as the others because it is not as intuitive. This is why many users, especially beginners, cannot handle its complicated process. Nevertheless, this should not stop you from using it if you are after a qualitative output and systematized procedures. Hence, with the simplified guidelines below, you can easily and quickly use FFmpeg to convert M4A to MP3 and MP3 to M4A.
Step 1
Acquire the FFmpeg on your computer immediately and create an independent file folder with an M4A as its name. Now, transfer your M4A files to this folder. Then, create another one and name it an MP3 for your output.
Step 2
Launch the terminal tool, and start typing the command that is shown below. Then, press the ENTER key on your keyboard.
1. ffmpeg –i input.m4a -f mp3 output.mp3
2. ffmpeg -i input.m4a -a codec libmp3lame output.mp3
3. ffmpeg -i input.m4a output.mp3
Step 3
Wait for the conversion princess to finish, and then check the MP3 folder for the output. Click here to learn how to convert M4A to MP4.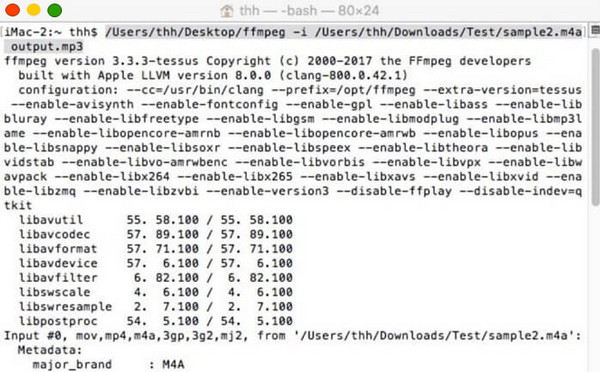 4. Convert M4A to MP3 Using iTunes
If you use a Mac with iTunes, you can convert your M4A and MP3 files. Despite its primary purpose, it also comes with additional functions that help its users with their tasks, such as conversion, sharing, connecting, and others. However, unlike the others, iTunes is unprofessional and doesn't support other popular formats. In fact, it cannot deal with other audio conversions like M4A to AAC, but you can easily convert MP3 to M4A and vice versa. On the other hand, here are the simple steps you must follow for this task.
Step 1
Open iTunes on your device and go to the Edit menu to choose the Preferences option.
Step 2
On the popped-up window, hit the General button followed by the Import Settings. On the next window, go to the Import Using option and choose the MP3 Encoder selection. Then, click the OK tab for this is how to turn M4A into MP3.
Step 3
Now go to the Library of iTunes and look for your M4A file to click. Then, go to the File menu and click the Convert button, then the Create MP3 Version selection. After that, the conversion process will start, and you will see the converted file added to the iTunes media folder.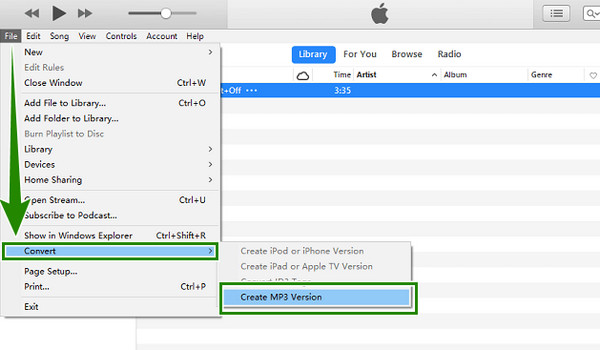 Part 3. Convert M4A to MP3 or MP3 to M4A Online
Suppose you need an online tool for this kind of conversion. In that case, you can rely on this powerful Free Audio Converter Online chosen by Blu-ray Master. Yes, it is a free tool that lets you convert M4A to MP3 or MP3 to M4A online. What makes it special is that it will never allow an ad to disturb you and, at the same time, will enable you to convert multiple files simultaneously. Furthermore, you will love how it supports many audio files, including the ones on this task. Thus, let us see how it works with the steps below.
Step 1
Click the Launch Free Converter button once you reach its main page to upload your M4A files.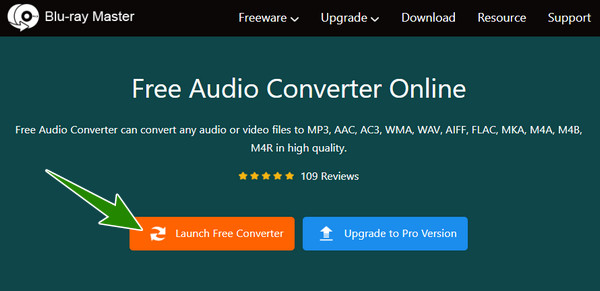 Step 2
On the main interface, click the Note icon to see audio formats. Then, click the MP3 option.
Step 3
As simple as that. You can already click the Convert button to start the process.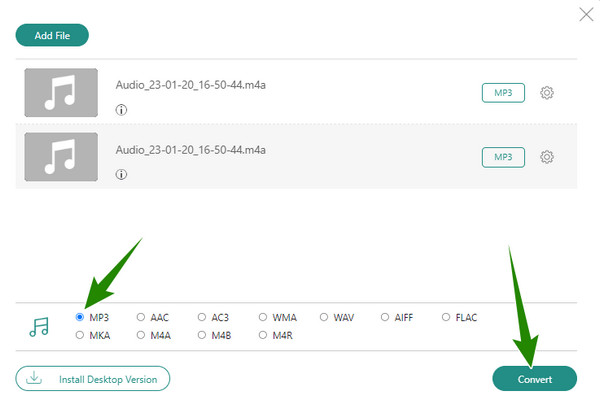 Part 4. FAQs about M4A and MP3 Conversion
Can I use Audacity to convert M4A to MP3?
Yes, you can, however, if this software requires a high installation system. Thus, if you already have it, you just need to import the audio file by hitting file>import and then export it in the format you want.
Which is better for my Mac, M4A or MP3?
For a Mac device, M4A is better than MP3 since it is the standard audio format for Mac.
Can I play M4A in Windows Media Player?
No. Unfortunately, WMP cannot support M4A playback. This is why you need to convert it to MP3.
Conclusion
This article outlines the tools that help you convert M4A to MP3 and MP3 to M4A. You must follow the given methods to have excellent converted files efficiently. Also, you can use whatever tool you prefer, but as for use, we highly recommend the Video Converter Ultimate for offline and the Free Audio Converter Online for web-based.