Grasp the 10 Best GIF Wallpaper Sites Along With The Notable GIF Wallpaper Creator
Are you weary of having to put up with wallpaper that is basic, bland, and dull? We've taken care of everything. As you read this article, we will provide you with a list of prominent websites from where you may easily and quickly get GIF wallpapers for your computer. Additionally, we will provide you with a guide on how to create an HD GIF wallpaper using the finest GIF maker, as well as some helpful hints on how to change the wallpaper on your desktop and phone.
Part 1. 10 Best Sites to Download GIF Wallpaper
1. WallpaperCave
WallpaperCave is an internet service where different producers can publish their GIF wallpapers as desktop backgrounds. It is jam-packed with a diverse collection of wallpaper categories. It also contains albums with images from newly released movie wallpaper. Some movie fans, especially anime lovers, come to this site no surprise because they can find great and cool anime GIF wallpapers of their favorite movies!
2. Gifer
The Gifer is the following known website on our list. It is evident from the name that it has many animated GIFs. The most excellent part about this website is that you can upload your GIF, and other users can utilize your GIF, allowing you to become more popular. Users have many topics to choose from, including animals, anime, sports, transportation, fashion, beauty, and celebrities. This application has a black UI, making the GIFs more apparent and visually appealing.
3. Wallpaper-House
Wallpaper-House is widely regarded as the storehouse for all of the wallpapers available on the internet. List all of your most treasured options for GIF wallpapers, and this website will provide you with all of the wallpapers you need. In addition, because it supports 4K GIF wallpaper, the quality of the image will not diminish after it has been downloaded.
4. Giphy
Giphy is regarded as one of the most well-known GIF makers on the internet. Users can choose from a large variety of GIF backgrounds in various aspect ratios to suit their preferences. At the same time, they have the option of uploading their GIF to the Giphy website. You can also make stickers with filters using the text creation tools.
5. Tenor
Tenor is yet another well-known website that has received a 5-star review. Tenors have an interface that is blueish-white in color. You may quickly and easily download high-quality GIF wallpaper, animated GIFs, and stickers all in one convenient location. The most excellent part about Tenor is that you can get all of your GIF wallpapers absolutely for free.
6. Wallpaper Safari
Wallpaper Safari is an excellent resource for those searching for beautiful GIF wallpapers. Additionally, users can be creators, so you may design your GIF wallpaper and publish it on the site. And even better, when you download a GIF wallpaper, it will automatically adjust to your screen resolution because each wallpaper shared by the designer is mechanically modified to meet your screen resolution.
7. Gfycat
Gfycat is another fantastic tool that allows you to download animated GIF wallpapers for use on virtually any operating system. The exciting part, you can also alter the background of your website if you have one. Some of the animated GIF wallpapers are available for free download. Some of the premium GIF wallpapers, on the other hand, must be purchased to be downloaded.
8. WallpaperAccess
WallpaperAccess is a website that provides free animated GIF wallpapers. You do not need to spend a fixed amount of a penny to download many GIF wallpapers. You have access to all of your favorite wallpapers, which you may download at your leisure. There are GIF wallpapers that are simple, low-key, and cute, and all of these are available on this website.
9. GifAbyss
GifAbyss is second to the last website but never the least. It is a tremendous and comprehensive search engine for stunning wallpapers. This website not only allows users to download wallpaper, but it also allows producers to display their work by creating beautiful wallpapers to be shared with the public.
10. GitHub
GitHub is the final one on our list. It is well-known as the location where all of the wallpapers of various types can be found. Individuals can upload and share their do-it-yourself GIF wallpapers, and they can also collaborate on and support one another's artworks. The advantage of this website is that you can also share photographs, videos, and stickers with the general public.
Part 2. The Professional GIF Wallpaper Creator to Make GIF Wallpaper From Videos and Images
This tool is now available to you to generate your own GIF. A professional animated GIF wallpaper can be created with Video Converter Ultimate, the ideal tool for the job. Captioning, applying filters, and effects are just a few of the many unique capabilities it offers. It also holds various editing tools, including cropping and rotating images and splitting, flipping, and more. Meanwhile, you may convert your GIF into different aspect ratios that will work on whatever operating system you are now using. Look at the ways outlined below on how to make your GIF wallpaper instantly.
Key Features
1. Supports nearly 600+ video and audio formats
2. Empowered with 70x faster conversion technology
3. Works as video player and video compressor
4. Packed with unique filters and effects
5. Loaded with a Toolbox kit that offers a various range of editing tools
Step 1
Run the GIF wallpaper maker on your computer
First, go ahead to the main page of Video Converter Ultimate and download the GIF maker on your desktop. Install and launch it right away.
Tip: You can instantly hit the download buttons above if you want a fast download if you want an immediate download.
Step 2
Import the media file on the interface
Upon launching, import the file you wish to turn into a GIF wallpaper by hitting the Video to GIF button.
Step 3
Change the output size
After that, make sure that the size of the GIF is precisely the size of the wallpaper you desired. You can change the output size by unlocking the Podlock button and inputting the desired value. The output size varies if you will use the wallpaper for your desktop or on your phone.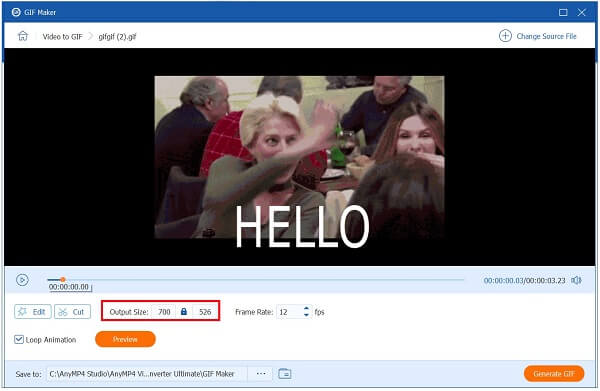 Step 4
Apply filter and effects
Upon changing the output size, you can add filters by hitting the Edit button. Then, navigate the Effects and Filters tab. Choose the wanted filter on the section and adjust it on the Basic Effect section.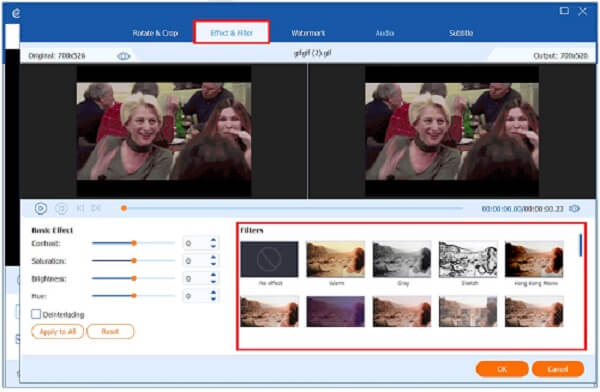 Step 5
Enable the loop animation
To make it an animated GIF wallpaper, you need to enable the Loop Animation checkbox on the right corner of the interface.
Note:To view all the changes before converting, you can hit the Preview button.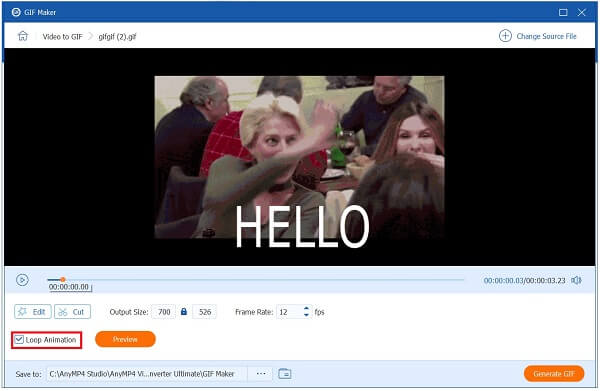 Step 6
Export the GIF wallpaper
Finally, to export the GIF wallpaper hit the Generate GIF. Now, you can change your desktop and phone wallpaper using your customized GIF wallpaper.
Part 3. Learn How to Set a GIF Wallpaper on Windows 10/11
On Windows 10 and 11, you may use a third-party program called Lively Wallpaper to set a GIF wallpaper as your desktop background. This is available for download through the Microsoft Store. Here are the procedures you need to take to perfectly set a cool GIF live wallpaper as your desktop background.
Step 1
Launch the Lively GIF Wallpaper on your Windows 10 desktop.
Step 2
Upon running the tool, hit the Plus (+) icon on the left side corner of the interface. Then, hit the Browse button and navigate the GIF wallpaper you desire. After that, hit the Open button.
Step 3
A prompt in a new window will appear. You can disregard it by selecting the OK button.
Step 4
Finally, the selected GIF you chose will now be displayed as your desktop background. Now, you have learned how to set GIFs as wallpaper.
Part 4. Discover How to Set a GIF Wallpaper on Mobile Phone
Users enjoy changing the background of their phones regularly, making them more visually appealing to their eyes. Some people were looking for cute GIF wallpaper, while others looked for a minimalist style. Was it ever dawned on you that you could transform your wallpaper into an excellent GIF background? The following are the procedures to set GIF wallpaper on an iPhone.
Step 1
First, make sure you have a downloaded GIF wallpaper on your Photos app. Otherwise, you can use Live Photos available on your camera roll. You also can make a GIF on your iPhone from Photos.
Step 2
Next, open the Settings app and locate the Wallpaper section.
Step 3
Upon hitting the Wallpaper button, click the Choose a New Wallpaper button. Then, choose the desired GIF wallpaper from your Live Photos album.
Step 4
Finally, tap the Set button to save the changes, and you are done!
Part 5. FAQs about GIF Wallpaper
How do you save GIF wallpapers?
Pull off a browser and head to the site where you want to get the GIF wallpaper. Then, tap the GIF wallpaper you wish to download. Then, select the three buttons, and a pop-up window will open. After that, hit the Save Image or Download Image from the menu. Now, you can open your Photos App or Gallery App to play the newly downloaded GIF wallpaper.
Is it possible to turn the GIF wallpaper into a video?
Yes, you only have three steps to transform your GIF into a video. First, import the animated GIF on the interface. Then, convert the GIF into MP4. You can manually edit your video before exporting it. Then, export the GIF into MP4 format.
Can I share a live photo from iPhone to Android?
Because Android does not support Live Photo, you will only be able to acquire the photo and the video portion of the image separately.
Conclusion
There will be no more boring, unpleasant, and basic wallpaper. This page has provided you with a list of websites to obtain GIF wallpapers. Video Converter Ultimate can be the most effective tool for creating stunning GIF backgrounds from scratch.