How to Get Rid of Background Noise in Premiere Pro and Its Auxiliary
Adobe Premiere Pro is one of the most powerful multimedia editing programs ever since. And Premiere Pro is still on the upper hand when it comes to background noise reduction. You might know how to do simple editing in Premiere Pro but is still confused about cleaning the background noise of your audio or video files. If that is the case, this post is the perfect solution for you; in which you can find all the steps and information you need to utilize Premiere Pro to remove the noise and solve this minor issue. Therefore, without further adieu, let's get this comprehensive reading started.

Part 1. Why is There Much Noise in a Video
You absolutely need Premiere Pro to remove background noise from your recorded video or audio, but where do the noises come from? Background noises in a video are caused by several factors that mostly impact the video recording process. The main common reason lies in the built-in microphones or external microphones you use on recording devices that lack noise-cancellation capabilities. These kinds of microphones can easily pick up background sounds, such as car horns, crowds, and other disturbances from the environment, resulting in unnecessary background noises.
Part 2. How to Reduce Background Noise in Premiere Pro
You can use two methods in Premiere Pro to denoise your videos. You can either use its Essential Sound Panel or its Denoiser Effect. Find out below how.
Method 1: Via the Essential Sound Panel (Advanced)
Here is a simple yet advanced method that you can initially choose when you want to denoise your file. It is the modern way of Premiere Pro that features various types of noise reducers such as for DeHum, DeEss, Reduce Reverb, and Reduce Rumble. Thus, here are the steps to follow when you use the Premiere Pro audio denoisers.
Step 1
Launch your Premiere Pro and begin by enabling the Essential Sound panel. Go to the Window menu and click the Essential Sound button to do so. This will prompt the said panel that you will need.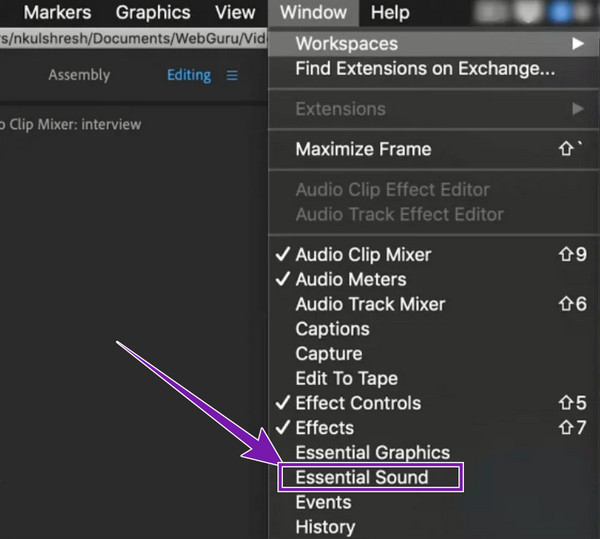 Step 2
Then, you can now select the file you need to denoise and drag it to the timeline. Then, on the Essential Sound panel, click the Dialogue button, and open the Repair tab.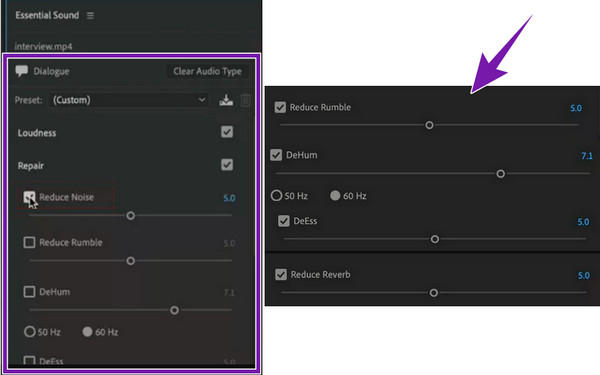 Step 3
Now, tick the Reduce Noiseand slide the slider to meet your desired application amount. You can also adjust the other parameters given as you need them.
Then, you will successfully get a whole new video track without annoying soundtracks. Next, you can export Premiere Pro to MP4 and share the video on YouTube, Instagram, Twitter(X), and other social media platforms.
Method 2. Via the Classic Denoiser Effect (Basic)
And, of course, here comes the classic Premiere Pro Denoiser Effect that originated to eliminate the noise from a video. For your information, even when preparing your film to set with as much background noise as possible, you can still get static feedback that annoys you when you replay your video. Hence, having this basic method of Premiere will help you fix the noise if you only follow the steps below.
Step 1
Upload the video you want to denoise in your timeline. Once done, click the Windows tab menu and select the Effects option.
Step 2
After that, choose the Obsolete Audio Effects option, and click the Denoiser (Obsolete) button. When a permission window prompts, please click the NO button to stick to using the current version.
Step 3
Reach the Individual Parameters and click its drop-down arrow. Then, this is how to reduce background noise in Premiere's denoiser, drag the sliders till you reach the range of -5 to -10.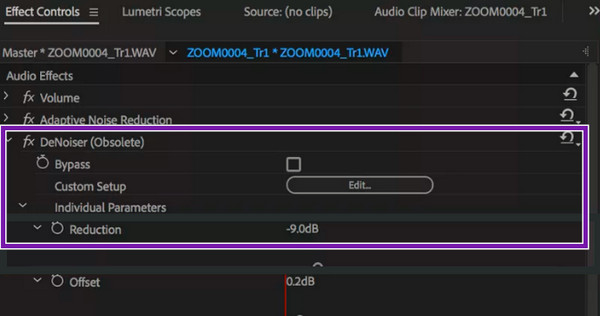 Part 3. Adobe Premiere Pro Alternative to Reduce Background Noise
Video Converter Ultimate
Allow us to present you with the best software that will bring you not only an ultimate conversion but also an ultimate tool that you can utilize to remove the noise from a video. Blu-ray Master's best pick Video Converter Ultimate is suitable for fixing your problems with noisy video and audio files. This powerful software offers you a generous Toolbox that comes with excellent features, including a Noise Remover, Video Enhancer, Volume Booster, rotator, merger, and many more. It is the best alternative to Premiere Pro to remove background noise because it quickly and losslessly removes noise from the video while enhancing it as well. Furthermore, this Video Converter Ultimate is powered by advanced technologies like AI and GPU acceleration that help you swiftly and efficiently produce your outputs. Imagine, with just a few clicks, you will be able to cleanse your files superbly!
Key Features
• Support for nearly all types of video and audio files.
• Easy-to-master procedure, best for beginners.
• Advanced AI and hardware acceleration integration.
• Make MVs, collages, 3Ds, and GIFs with your video files.
Step 1
Quickly install the software on your computer, and launch it. Then, access the Toolbox, find the Noise Remover tool, and click it.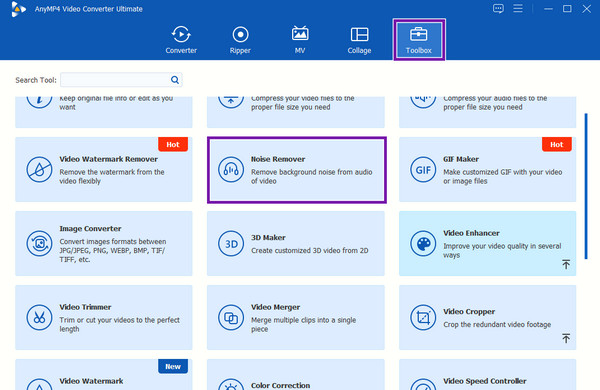 Step 2
Now upload the video or audio you want to edit when you reach the new window by clicking the Plus button.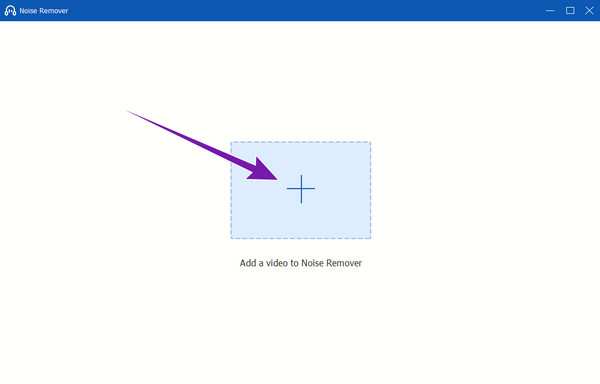 Step 3
After that, tick to check the Enable Audio Noise Reduction box on the next page. Then, you can adjust the volume and delay if needed. Otherwise, proceed to hit the Export button.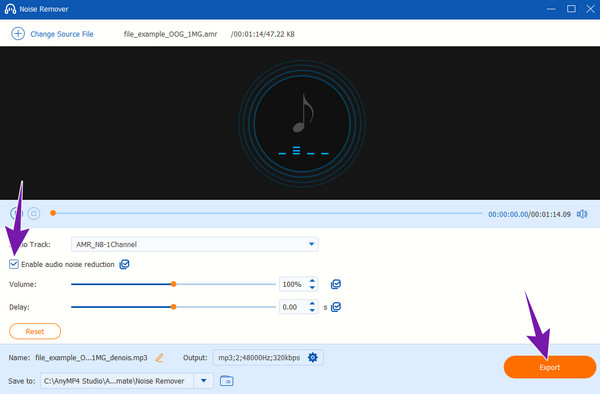 Part 4. FAQs About Premiere Pro and Getting Rid of Background Noise
What is Dehum in Premiere Pro?
Dehum is one of the noise reducer parameters of Premiere Pro, found in its Essential Sound panel. This parameter is used to reduce or remove the low frequency of noise that sneaks into the video or audio.
How do I get rid of echo in audio?
You can use a noise reduction or restoration effect or apply a high-pass filter to attenuate the echo in the audio.
Where is Denoiser in Premiere Pro?
You can find the Denoiser of the Premiere Pro when you go to the Effects menu. Scroll down until you reach the Audio Effects, and under that is the Denoiser.
What is an audio denoiser?
Amn audio denoiser is a type of processing tool that helps you to eliminate the unwanted noises that sneak into your recorded audio.
Which Denoise plugin is best for Premiere Pro?
There are many qualified Denoise plugins to acquire for Premiere Pro. But if you want the best, then you can go for the top ones like FxFactory Pro, Magic Bullet Denoiser, ScaleUp, and RE: Vision Effects - DE: Noise.
Conclusion
We wish you find this article highlighting the background noise reductions of Premiere Pro beneficial. And if you think so, please share the benefits you had with your friends by sending the post link for them to read. If you follow the guidelines above, you will surely not get wrong with Premiere Pro. However, if you want another program that is easier and more affordable than Premiere, then go for Video Converter Ultimate.