How to Remove Background Noise From Audio: Powerful Tools to Use
A common part of the lives of filmmakers, bloggers, and content creators is to remove background noise from audio. It is the kind of editing that is always present every time they edit their output content. Whether it is a podcast, a food blog, or any content where they combine their voiceover, especially when recorded with a non-noise canceling feature, they won't miss a noise reduction tool.
Suppose you are one of those people with the same reason, or may bedifferent reasons, but with the same goal. If that's the case, then you need toread the instructional guidelines we have for you below. The guidelines consist of proper ways to use efficient online and offline programs to remove background noise from audio.

Part 1. Best Way to Remove Audio Background Noise on Windows and Mac
For your audio and even video background noise removal tasks, Video Converter Ultimate is the best confidante. It is a complete video and audio converting and editing program you can depend on since it has nearly everything you need. This audio background noise removal tool has many powerful functionalities and features, including the Noise Remover tool. It is the perfect tool that enables you to remove background noises from your video and audio, like traffic horns, winds, water waves, animal noises, electrical noise, and other sound disturbances that may annoy you.
Another reason to choose it is that it supports nearly all audio formats for inputs and outputs. This means you won't need to worry about the type of audio you will upload to the program. Moreover, it is not only for professional use because it has an easy-to-understand interface, and removing background noise from audio can be done with just a few clicks. Then, you will produce a crystal-clear audio file without any background noises.
Key Features
• Remove the background noise of audio and video while preserving the original quality.
• Remove background noise quickly in one click.
• Edit your audio in any format and convert them to your preferred output.
• Infused with advanced features, tools, and technologies.
Step 1
After downloading this audio noise reduction program, install and launch iton your computer. Prepare your audio file.
Step 2
Once you open this program, bring your cursor to the Toolbox menu and click the Noise Remover feature. Please note this tip; you can search the feature on the search bar to locate it faster.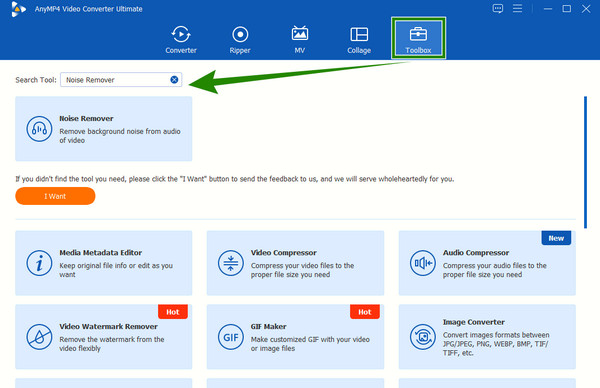 Step 3
On the prompted window, click the Plus button to add the audio file you want to edit from your local drive. And when the audio is added, click to check the box saying Enable audio noise reduction under the Audio Track to remove its background noise.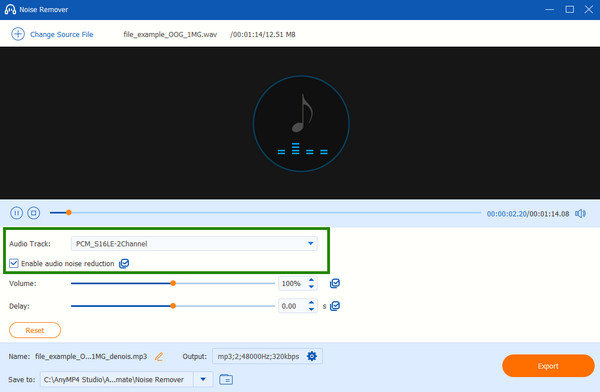 Step 4
After that, you have the option to preview your pre-output to hear the result. Then, save the edited file to your chosen file destination by clicking the Export button.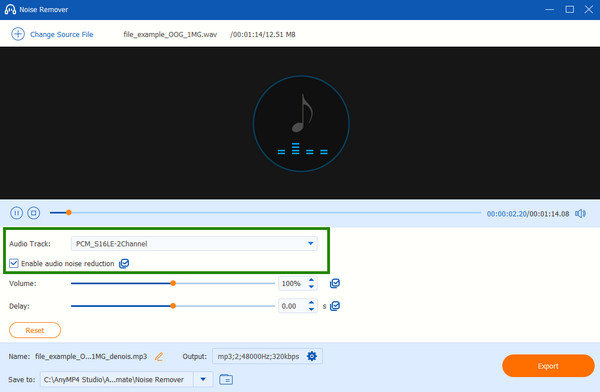 Pros:
1. It is convenient to use with an easy procedure and interface.
2. It can streamline your background removal task with its tons of editing tools.
3. It can edit nearly all types of videos and audio files.
4. AI powers it.
Cons:
1. It has more of a video editor than audio.
Part 2. How to Eliminate Background Noise of Audio With Audacity
Audacity is a powerful software to remove background noise from audio for free. It is a popular open-source audio editing program that you can use offline on Windows, Mac, and Linux computers. It is a dedicated software for recording, editing, and manipulating audio files. And Luckily, it can eliminate background noises from audio files, along with the other tools you can use to enhance their quality, such as the Noise Profile effect. The said effect is intelligent enough to detect the parts of the media to filter out. On the other hand, here are the steps you must follow to attain this task with Audacity. If you also want to remove video noise with Audacity, refer to the following article for more detailed steps.
Step 1
Begin by firing up the software after patiently installing it. Then, upload the audio file you want to edit. Once done, highlight the part of the audio that contains the noise.
Step 2
Then, hit the Effect tab menu and choose the Noise Reduction option. Upon doing so, a pop-up window will prompt. From there, click the Get Noise Profile button.
Step 3
To denoise the audio, navigate to the Noise Reduction(dB), Sensitivity, and Frequency Smoothing(Bands) parameters, then click the OK button.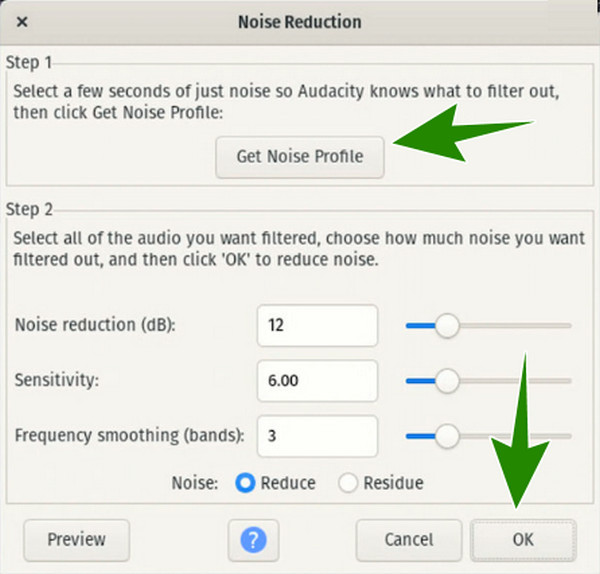 Pros:
1. It is forever free software.
2. Acquirable on almost all popular platforms.
3. You can use it to record audio.
Cons:
1. It comes with limited support for media formats.
2. It lacks professional features.
Further Reading:
Guides to Use Audacity to Remove Background Noise in Audio
Part 3. How to Reduce Audio Background Noise Using LALAl.AI Voice Cleaner
LALAL.AI is an AI-powered online tool that can eliminate the background noises from your video and audio files in just a matter of seconds. Thus, if you want to remove noise from audio for free online, then LALAL.AI is a good choice. As one of the leading platforms, LALAL.AI provides a powerful voice-extracting algorithm that removes noise from audio and enhances it excellently. Surprisingly, this online reduction tool support batch uploading. However, you can only use batch importation if you avail of its paid version. Meanwhile, here are the practical steps for using this tool to remove audio files' background noises.
Step 1
Go to your browser, and visit the main website of LALAL.AI. Once you are on the home page, click the Select Files button. This will enable you to upload the audio file you want to denoise.
Step 2
But before you upload the file, you can choose a processing level located under the said button. Choose among Mild, Normal, or Aggressive options.
Step 3
You will be brought to a new page once the file is uploaded and queued up. From there, scroll down until you reach the cleaned output with the original file. Then, hit the Download Cleaned Recording button to export it to your local folder.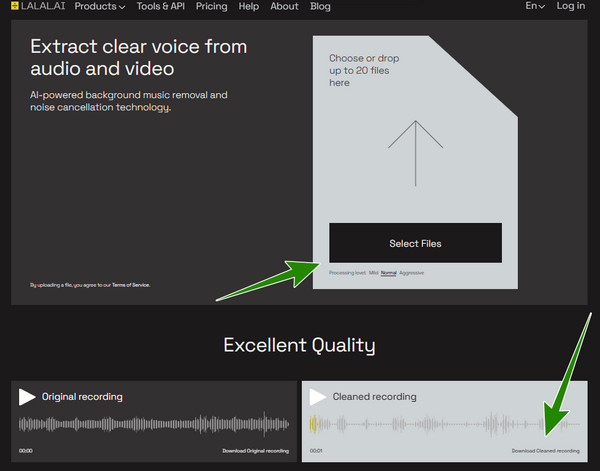 Pros:
1. It is quick and easy to use.
2. Powered by advanced AI technology.
3. With support for various audio formats.
4. It removes noise from audio and video online for free.
Cons:
1. It only previews sound and not image display for the video.
2. Some ads are present on the page.
Part 4. How to Reduce Background Noise from Audio in Kawping
Kapwing is another online media editor that is popularly known by many editors. It comes with numerous functions that bring you many options on your plate, and the noise remover is one among them. Kapwing uniquely cleans the audio by eliminating the buzzing noise, isolating the voice, and reducing other ambient noises. And like the others, it also uses smart technology like audio intelligence that you can use for making podcasts and live streams. Moreover, this web-based audio noise reduction software supports mobile and other device synchronization.
Step 1
Visit Kapwing's webpage, and hit the Upload Video or Audio button to access the main editing page. Once accessed, hit the Add Media button, then click the Upload button to bring in the needed file.
Step 2
Drag the uploaded file on the timeline to activate the editing tools. Once done, click the Clean Audio button, and wait for the process to finish.
Step 3
After that, click the Export Project to download the cleansed audio.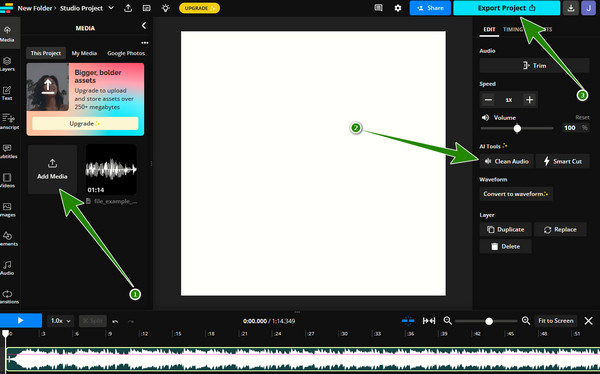 Pros:
1. It freely reduces noise in simple steps.
2. It is rich in useful editing functions.
3. It is accessible.
Cons:
1. You will need to purchase a plan to produce unwatermarked output.
2. The importation process has many steps.
Part 5. FAQs About Removing Background Noise from Audio
What mobile app can remove background noise from audio?
You can remove the background noise using the Krisp and Denoise apps.
What cancels background noise?
A sound and noise-canceling microphone is the only process that can cancel the noise before and during recording.
What is the free AI tool to remove background noise?
ALALAL.AI is an online AI tool that enables you to denoise files for free.
Is Audacity free to use?
Yes, Audacity is free software to use.
How do I separate background noise and voice?
You will need a powerful tool that offers a function to separate the noise and voice, like Kapwing.
Conclusion
There you have it, the 4 fantastic tools to remove background noise from audio. You now have multiple choices for this task. We assure you that they can meet your expectations for an excellent procedure. But, if you want to base your choice according to our best recommendation, we highly recommend the Video Converter Ultimate due to its security, flexibility, and excellence in noise removal.