8 Best Video Player Apps Worth You to Use for Watching Movies on iPad
According to our research, iPad users are more likely to watch long videos, movies, live stream, partly because the large screen and memory. When it comes to watching movies or video on iPad, everyone wants to get the best experience. It is true that iPad has a preinstalled video player. However, it is only compatible with several video formats, no to mentioned the limited features. That may be why so many iPad users search for movie viewer online. Here we list top 8 video players for iPad.

Part 1: Top 8 Video Players for iPad
Top 1: PlayerXtreme Media Player
Platform: iOS 11 and later
PlayerXtreme Media Player is a popular video player among iPad users. When you download it from App Store, you will get a very long list of features including download videos from networked devices.
Pros
1. Support a wide range of video formats.
2. Stream videos from computer or DLNA devices.
3. Work with AirPlay, Google Cast and more.
4. Play HD videos with the original quality.
Cons
1. It requires subscription in app, though free to download.
2. Some features need to upgrade to Pro.
Top 2: VLC Media Player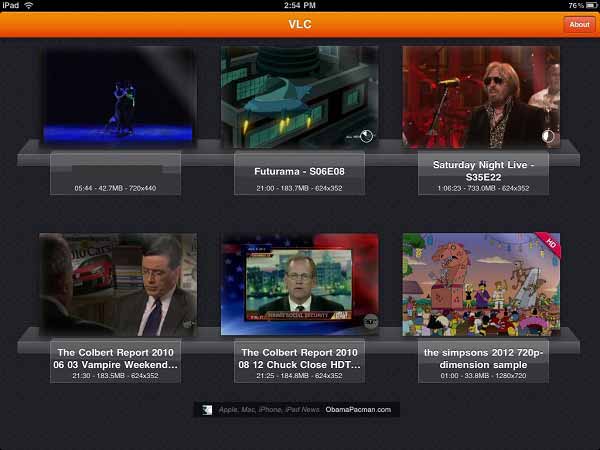 Platform: iOS 9.0 and above
As an open-source media player, VLC has been around for decades. Now, the developer team also released an app for iPad and iPhone respectively. Compared to other media players for iPad, VLC is completely free to use.
Pros
1. Play almost all commonly used video formats.
2. Sync files with iCloud, iTunes, Google Driver, etc.
3. Support most subtitle file formats.
4. Control video playback speed and more.
Cons
1. This video player for iPad is large and may slow down your device.
Top 3: KMPlayer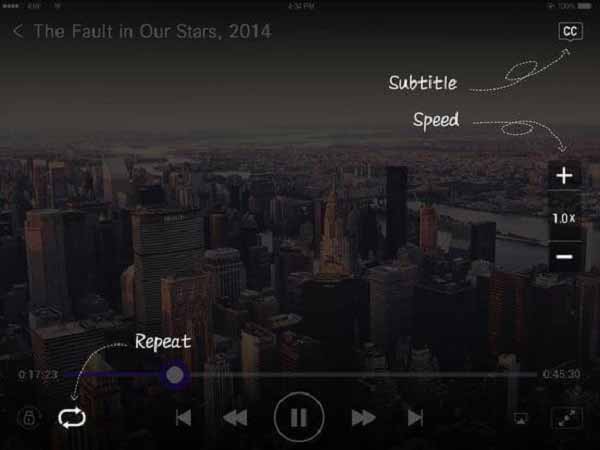 Platform: iOS 9.0 or later
KMPlayer is another great video and audio player for iPad, especially for who wants to watch high quality contents. In addition to regular videos, it also supports 4K, UHD, 8K and other HD movies.
Pros
1. Compatible with over 60 video formats.
2. Free of charge with no payment or in-app purchase.
3. Control images and video playback with gestures.
4. Include an audio equalizer.
Cons
1. It contains annoying ads.
2. This app requires a lot of permissions.
Top 4: Infuse 6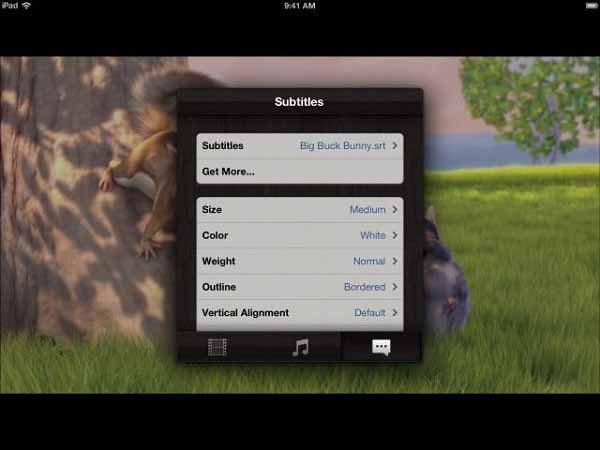 Platform: iOS 12 or above
Infuse is considered as one of the best media player for many iPad users, partly because the beautiful design of the interface. Moreover, it supports most commonly used video and audio formats.
Pros
1. Play high quality videos without lag.
2. Stream videos from computer, NAS and more.
3. Quickly access video info.
4. Support a variety of media servers, like Kodi.
Cons
1. It is only available to the new iPad devices.
2. The video search is not good.
Top 5: nPlayer
Platform: iOS 9.3 or later
For movie enthusiasts, nPlayer is one of the best media players on iPad, as it supports Dolby and DTS officially. Moreover, you can enjoy MP4, and other video file formats on your mobile device without converting.
Pros
1. Include extensive video and audio codecs.
2. Support video cast for smart TV.
3. Stream videos via HDMI.
4. Offer a web browser in app.
Cons
1. It is not free to use and costs $4.99.
2. It lacks advanced features, like split screen.
Top 6: Gplayer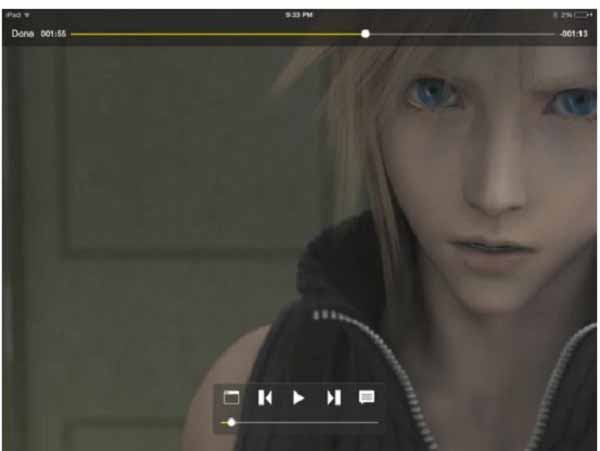 Platform: iOS 9.3 or later
For iPad users who want to play any video formats without converting, Gplayer is a good option. It is compatible with a wide range of multimedia formats including some niche video formats.
Pros
1. Offer different video play modes.
2. Lock screen when watching movies.
3. Control playback with gestures.
4. Manage video files on iPad.
Cons
1. It costs $2.99 and contains in-app purchases.
Top 7: MX Video Player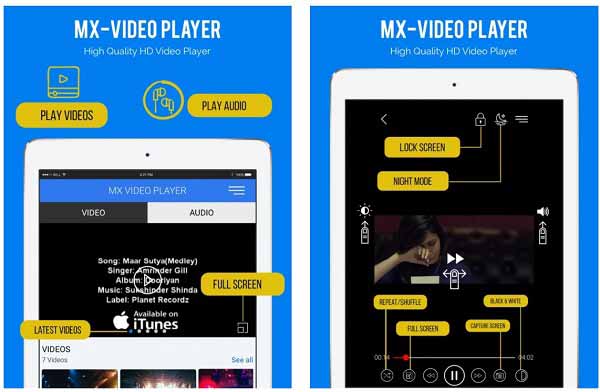 Platform: iOS 9.3 or later
MX Video Player is a flexible media player for iPad Air or other models. It allows you to watch videos and audio files while completely control the playback and color. More importantly, it is pretty lightweight.
Pros
1. Exchange free features with ads.
2. Support HD playback.
3. Adjust brightness, volume, screen size, etc.
Cons
1. The popup ads are annoying.
2. It only supports limited languages.
Top 8: 8Player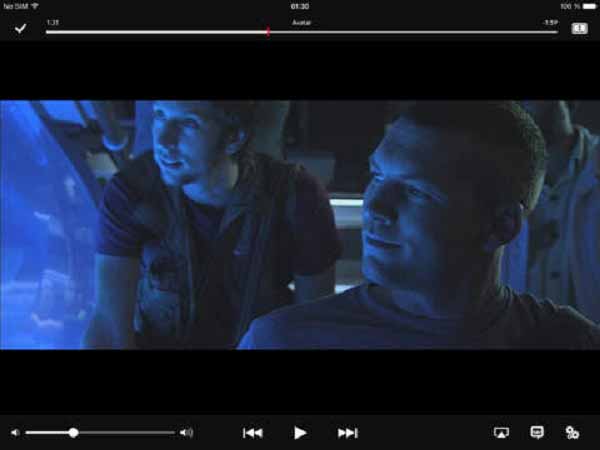 Platform: iOS 11.0 or later
If you have limited budget and still want to watch HD movies on iPad, 8Player is the right video player. All features in the app are free to use by viewing some ads. Plus, it supports most video, audio and image formats.
Pros
1. Play videos from DLNA, Google Drive, etc.
2. Create playlists to manage video files.
3. Support MP4, AVI, MKV, etc.
Cons
1. There is no way to remove ads.
Recommend: Free Blu-ray Player
In addition to mobile device, many people still prefer to watch movies on computer. Blu-ray Master Free Blu-ray Player is the best video player to get the high quality experience for free.
Key Features of the Best Video Player for PCs
1. Compatible with almost all video and audio formats.
2. Play Blu-ray, DVD, and other discs smoothly.
3. Totally free of charge with no limitations.
Part 2: FAQs of iPad Video Player
Why iPad won't play videos after update?
Firstly, you need to check whether your software update is successful. If not, perform it again. Secondly, reinstall your media player or try another app. Sometimes, outdated video player may cause problems. Also, you should try another video file. Chances are that your videos are broken.
How to watch WMV videos on iPad?
iPad does not support WMV playback natively. You can convert WMV to MOV or download a WMV player on your iPad.
Why MP4 does not playing on iPad?
MP4 is a video format, but the video file can be encoded by various codecs. If it contains non-compatible codecs, it won't play on iPad.
Conclusion
Now, you should master at least top 8 best video player apps for iPad. All of them have unique benefits and advantages. VLC, for example, is not only free to use, but also compatible with extensive video formats. You can choose the best app according to your condition. For viewing videos on PC, try Blu-ray Master Free Blu-ray Player directly. More problems? Please leave your message below.