Top 10+ Famous Websites You Must Know in Making Meme GIFs [2023]
The utilization of animated GIFs is a wonderful medium for stimulating the minds of those who see them. At the same time, meme GIFs can convey issues, communicate, and express opinions on various topics these days. But how exactly are meme GIFs created? What are some of the websites where we may find GIFs of memes? Stay tuned as we provide you with a list of websites where you can obtain meme GIFs, as well as the most excellent GIF meme maker available on the internet.
Part 1. Top 10 Websites to Get Meme GIFs
1. Imgflip
Imgflip is a popular online tool that handles image formats and comes with a variety of meme templates that can be customized and shared with others. For instance, you might choose a meme and then customize the description to your liking. You can alter the font size, style, and animations.
2. Kapwing
Kapwing has many features, such as creating meme GIFs. It supports all the standard video and image formats. The good thing about this online tool is that it has a simple text editor to alter and edit the text beautifully.
3. Animaker
If you want to create quirky meme GIFs, Animaker is a good option. You can create GIFs from scratch, customize and share it with your favorite social media platforms! Animaker offers professionally crafted templates that give you a fantastic output.
4. Giphy
If you want to create an awesome meme GIF easily, Giphy is a huge help! It has a colorful interface and offers different categories of meme GIFs. Giphy is one of the most visited sites to get a meme animated GIF. You can also create one using this tool, import your artwork, and make it public!
5. Clideo
Clideo is a meme generator that allows you to create your bespoke memes by selecting any picture, GIF, or video and transforming it into a meme. The best thing about Clideo is that it is empowered to work seamlessly on most operating systems.
6. Ezgif
Ezgif is considered a one-stop-shop because it offers many excellent features, such as basic editing tools. It also generates meme GIFs. You have to choose the video or image you want to turn into a GIF, upload, edit, and export right away.
7. Visme
Visme is a free and easy-to-use animated GIF maker for custom GIFs. You can easily make high-quality GIFs since it only offers a basic editing tool. It supports many cool filters and effects that make your meme GIF exciting and appealing.
8. Veed.io
If you want to try a minimalist GIF editor, Veed.io is a better solution. More so, this is more than a GIF creator; you can also edit, rotate, resize, merge and split video files together.
9. Tenor
Same with Giphy, Tenor is also another popular GIF search engine. It offers a wide range of categories of GIFs. Aside from this, you can also find funny stickers on this site. It has a blue and white interface that makes it simple and pleasing to the eyes.
10. Meme
Finally, the Memecat is an AI-empowered meme generator. It has a simple but powerful interface. Upload the media file you wish to turn into a GIF, and Memecat will choose suitable templates from the database of nearly more than six thousand GIFs.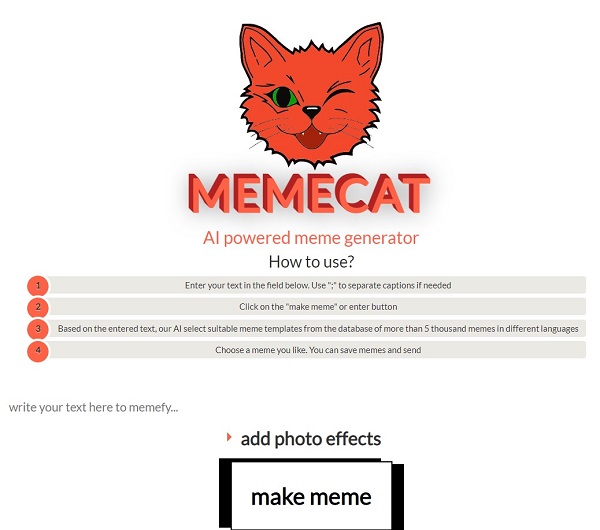 Part 2. The Best Meme GIF Maker and Generator to Make Meme GIFs from Videos and Images
With the help of Video Converter Ultimate, everything you need to create funny meme GIFs in one place! It has a straightforward interface but is packed with many unique features as you navigate along with the tool. You can create your meme GIF using your photo or video. At the same time, you can add captions, remove watermarks, add an image to a GIF, cut the animated GIF, and enable the loop animation. Learn more about how this commendable tool works by following the steps outlined below.
Key Features
1. It has more than 500+ different video and audio formats to convert
2. It is loaded with an excellent toolbox kit that offers a lot of editing features
3. It can be used as a video player and video compressor
4. Converted files can be played to almost operating systems
Step 1
Run the meme maker on your computer
To get started, visit the main website of Video Converter Ultimate download and install the tool. Upon installing, you will see the main interface. Now, hit the Toolbox on the upper part of the menu bar and click the GIF Maker button.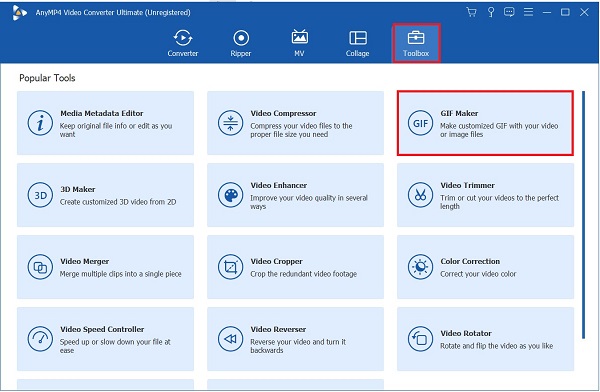 Step 2
Unload the media file on the interface
Next, to make a meme GIF, you must first import the media file. If you want to create a GIF using video, click Video to GIF. Otherwise, if you want to use images to create a meme GIF, hit the Photo to GIF. In this tutorial, we will use video to create a meme GIF.
Step 3
Add a caption to the GIF
In creating a meme GIF, the caption is essential. To apply this, select the Edit button. Then, from the menu bar above, locate Watermark, then hit the Text section. By clicking the Text button, you can add the text to a GIF you like. After that, you can change the font style, size, and color according to your liking. When everything is done, select the OK button.
Tip:You can also rotate and change the opacity of your meme GIF.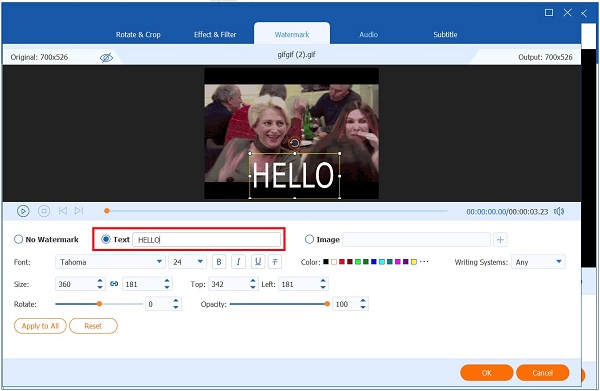 Step 4
Loop the GIF
After adding a caption to your GIF, it is time to loop it. Enabling the Loop Animation will make the GIF repeat infinitely.
Note:To playback the changes made, you can hit the Preview button at the lower part of the interface.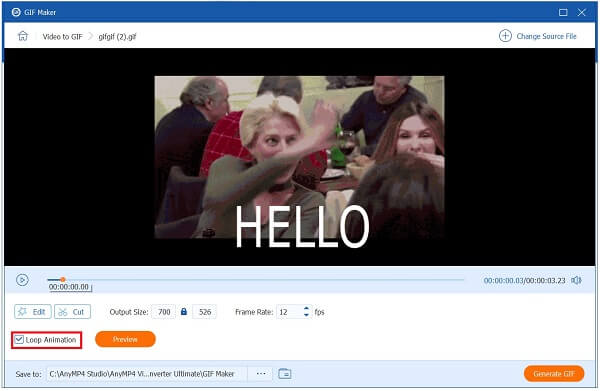 Step 5
Alter the output size
Next, before finally converting the meme GIF, you can change the output size of the GIF according to your preference.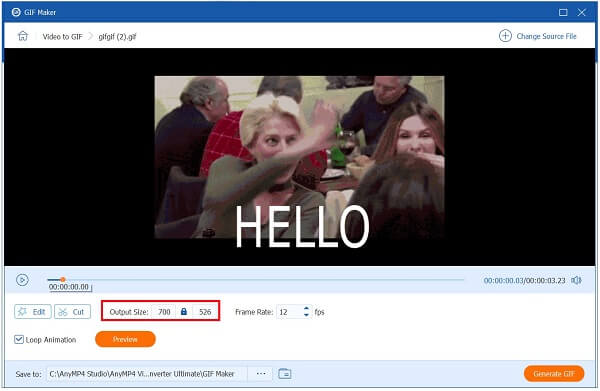 Step 5
Export the meme GIF
At last, export the newly created GIF by hitting the Generate GIF. It will convert quickly in no time. Now, you have your meme GIF, and you can share it on your websites!
Part 3. FAQs about Meme GIFs
Can GIFs be turned into memes?
Definitely, yes! Making a meme is as simple as placing text on a photo or video. There are thousands of sites available to create memes, but not all enable GIFs or videos. You may share your meme with pals via social media and other platforms once you've made it.
Is it possible to turn a clip into a meme GIF using Kapwing?
Visit Kapwing's Meme Maker and select the Get Started option. Submit a GIF to the page that appears by dropping it into the screen or by hitting the button that says Click to upload. Once the image has been submitted, it is time to start creating memes. Subtitles can be added by clicking Text in the top-left corner. Once you are done, select the Export button to generate the meme GIF.
Can I make a meme GIF with a third-party app using my iPhone?
Yes, numerous meme GIF generators can be accessed through an iPhone. If you want to make a GIF quickly and easily, the websites listed above can assist.
Conclusion
These are the best meme GIF websites that you can visit. They are free and straightforward to use. By reading this article, creating and getting a meme GIF will not be an issue anymore. Video Converter Ultimate can make great GIF memes to turn you into a GIF meme master! Download it now and create one today!