iPad MKV – How to Play MKV on iPad/iPhone/iPod with the Desired Subtitles
How to play MKV on iPad, iPhone, or iPod, especially for a foreign movie with subtitles? MKV is a multimedia format that holds an unlimited number of video, audio, picture, and subtitle tracks in a single file.
Can you play the MKV files on an iPad directly? No. MKV is not a supported video format of iOS devices. You can either use a 3rd party iPad MKV player, or convert MKV to iPad/iPhone compatible format. To play MKV on iPad/iPhone with the desired subtitle, convert MKV to iPad should be the initial choice you can take into consideration.
Part 1: 2 Ways to Convert MKV to iPad
Method 1: Convert MKV to iPad with the Desired Subtitle
Why should you convert MKV to iPad? It not only converts and compresses the MKV to iPad with a smaller size, but also choose the desired subtitle and audio track. Blu-ray Master Video Converter Ultimate is an all-in-one MKV to iPad converter that compresses, converts, and selects the desired audio tracks/subtitles.
1. Convert MKV to MP4, MOV and even the optimal iPad presets.
2. Compress the MKV to a much small video for your iOS devices.
3. Select the desired audio track, subtitle, and more other settings.
4. Edit the MKV files, such as crop, trim, merge, enhance, and more.
Step 1
Once you have downloaded the MKV to iPad converter, launch the program and click the Convert menu. You can choose the Add Files button to load the MKV files into the program.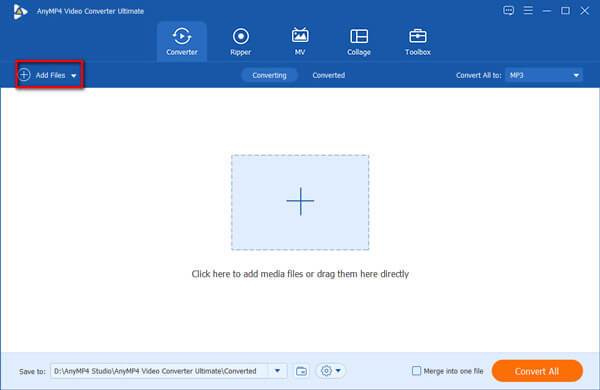 Step 2
Choose the desired audio track and subtitle from the Converting window. You can select iPad Pro/iPad Mini/iPad Air preset from the Device tab to convert MKV to iPad.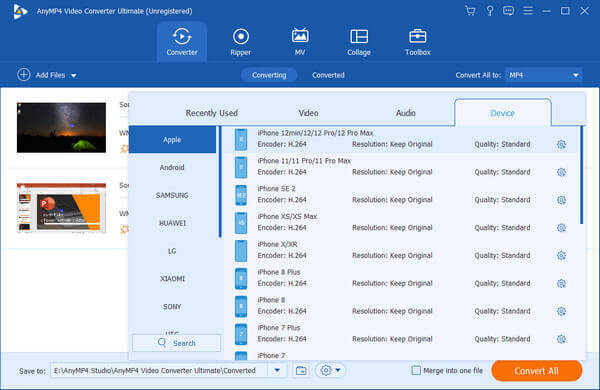 Step 3
You can split a video, or combine different video clips. Just select the destination location of the output file. You can click the Convert All button to start the MKV to iPad conversion.
Method 2: How to Convert MKV for iPad Online
If you just need to convert MKV to an iPad compatible format, you can also use a free online video converter. Free Online Video Converter should be the free and practical video converter, which can convert MP4 videos into MP4, MOV, GIF, YouTube, or Facebook formats.
1. Convert MKV to MP4, MOV, and other iPad compatible formats.
2. Batch conversion process to convert multiple MKV files.
3. Adjust the bit-rate, resolution, and more other parameters.
4. Convert MKV to other file formats free without registration.
Step 1
Go to the free online video converter and click the Launch Free Converter icon to start the online MKV converter for iPad. Then you can load the MKV files into the program.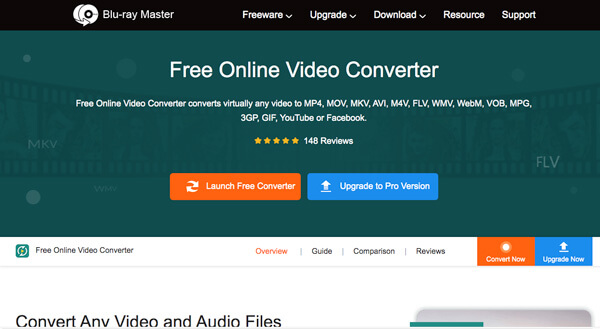 Step 2
Choose the MP4 or MOV file format that is compatible with the iPad from the bottom of the online user interface. Tweak the video and audio settings according to your requirement.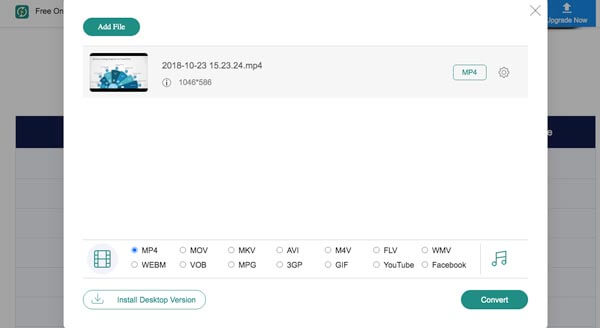 Step 3
After that, you can click the Convert button in the lower right corner of the screen to start the conversion. Once you get the desired file, you can transfer the converted file to the iPad.
Part 2: 5 Best MKV Players for iPad/iPhone
Top 1: OPlayer HD
Oplayer HD is an iPad MKV player that supports most of the video formats. It also provides the flexibility to download files to your device, or browse the file over the network. Moreover, you can also watch the favorite movies directly without waiting, because all this is done in the background.
Pros
1. Provide a stable performance with continuous improvements.
2. Simple and generous user interface to playback the videos.
3. It can use gestures to control playback and volume.
Cons
1. Work with the iOS devices only.
2. It takes up too much storage space.
Top 2: VLC Media Player
VLC Media Player is an excellent application that can play MKV files on iPad, or transfer files from laptops or nearby computers. At the same time, you can also directly use it to view the local video. It has good compatibility and can play video files of various formats.
Pros
1. The function of streaming video files is excellent.
2. It is available in free and paid versions.
3. Gesture control can improve the user experience.
Cons
1. Power consumption is too high when the application is running.
2. The free version of the app supports banner advertising.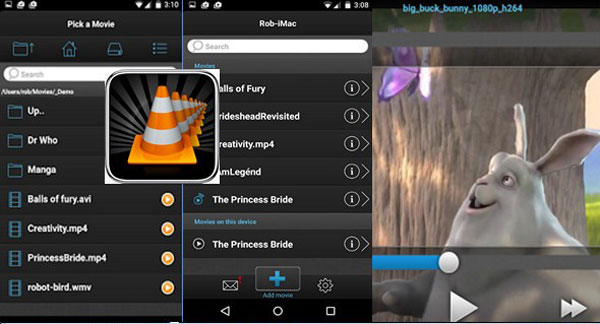 Top 3: PlayerXtreme
PlayerXtreme is another MKV player for iPad that can play movies, videos, music, and more, including the MKV files. Besides, there are countless hours of GoPro footage and photos Pros. It always enables you to play the MKV on an iPad with advanced features.
Pros
1. Support the projection of movies onto a smart TV.
2. Hide the videos with passwords to protect users' privacy.
3. Download multiple language subtitles within the app.
Cons
1. Cause serious heating of the equipment.
2. Provide the limited functions for the free version.
Top 4: Fast Tube
Fast Tube not only plays MKV and other file formats, but also watches the streaming through YouTube. You can always use the iPad MKV player to search and view videos within online streaming sites. Moreover, you can always customize the screen ratio for MKV playback.
Pros
1. Provide stably, react quickly, and has good safety performance.
2. Enable video sharing on social media platforms, like Facebook.
3. Sort the desired from YouTube Videos in chronological order.
Cons
1. Cannot store view records, cookies, history, and cache.
2. It intersperses too many ads on the way of video playing.
Top 5: 8Player Free
8Player Free is an MKV player app for iPad that compatibles with a variety of videos and music format, such as AVI, MKV, MP3, AAC, etc. You can create and manage your own play lists through this application. It is a popular video player that has a clean user interface.
Pros
1. Compatible with many image formats, such as JPEG, PNG, GIF, etc.
2. Light-weighted and consume very little energy at runtime.
3. The design of application screen is simple and suitable for novices.
Cons
1. Only the paid version can unlock more features and ban advertising.
2. Degrade smartphone performance while the application is running.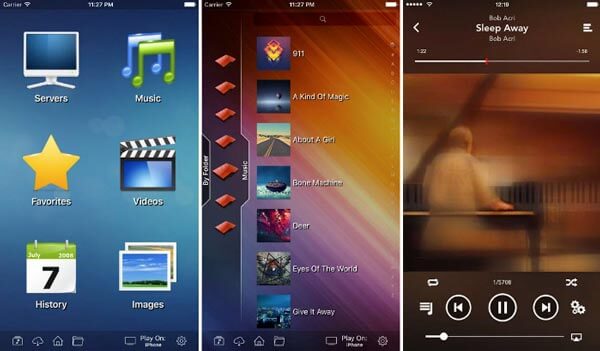 Part 3: FAQs about Play MKV on iPad
What are the Supported Video Formats for iPad?
iOS device supports many video/audio formats, such as H.264, MP4, MOV, M4V, MP3, and AAC. When you have an MKV file encoded with H.264 and AAC, you can still play the MKV on iPad or iPhone directly without conversion or a 3rd party iPad MKV player.
How to Copy the Converted MKV from Computer to iPad Pro?
If you need to transfer MKV from a computer to your iPad Pro, you can connect the devices with the original USB cable. After that, you can download AnyMP4 iPhone Transfer and choose the Videos menu. Choose the Export to Device button to play the MKV files on the iPad.
Can iTunes Convert MKV to iPad Compatible Format?
No. iTunes only read and convert MP3, AIFF, WAV, MPEG-4, AAC, and Apple Lossless M4A files. It also plays any audio files that QuickTime Player can play, including Protected AAC files from the iTunes Store and Audible.com audio books.
Conclusion
The article introduces two frequently used methods to play MKV on an iPad. You can either convert MKV to iPad compatible formats, or use an iPad MKV player. Video Converter Ultimate is one of the best MKV to iPad converter that converts and compresses videos. Moreover, you can also select the desired audio track and subtitle accordingly.