Simple Tricks on How to Remove WeVideo Watermark for Free and with Payment
When using the WeVideo offline and online software, you can create engaging videos you can use based on your purpose. It can be tutorials, instructions, for occasions, and more. However, when using the free version of WeVideo, you can encounter a WeVideo watermark on your edited video. It is understandable since the owner wants to promote its brand to other editors. But we can't avoid thinking that watermarks are sometimes disturbing, right? And getting the paid version of WeVideo is costly. In that case, we are here to provide workable solutions so you can try to eliminate the watermark. So, to begin, let's read the blog and learn how to remove watermarks from WeVideo.

Video Editor
Difficulty
Interface
Price
Platform
Features
WeVideo
Difficulty
Confusing
Power - $9.99 Monthly
Unlimited - $15.99 Monthly
Professional - $39.99 Monthly
Offline and Online
Edit and create a video
Green screen
Video templates
Screen recording
Video Converter Ultimate
Easy
Easy
1 Month License - $18.75
Offline
Remove watermarks, logos, stamps, etc.
Convert video
Create Music Videos/Collages
Merging video
Part 1. How to Remove WeVideo Watermark
Removing the WeVideo watermark from a video requires a lot of process. But before we proceed with the removal process, let us first discuss WeVideo. If you want fantastic video editing software, WeVideo is your tool. It is because the tool is one of the most accessible video editing software for all users. WeVideo offers an online and offline version, making it perfect for all platforms. This way, whether you prefer editing your video on a web-based or program-based platform, you can do so.
However, there are some disadvantages you might encounter when utilizing the video editor. The free version will embed a watermark on it to promote the brand to the users. And using the free trial, it will only be workable for only 12 days. Purchase a subscription plan if you think the video you will edit might be ruined because of the watermark. This way, you can download and save your edited video without any WeVideo watermarks embedded in it. With that, if you want to know more about its registered license and other information, see the details below.
Subscription Plans
Power Plan
• $9.99 Monthly
• Can publish 30-minute footage or video per month
• It has a 20 GB of storage
• It provides 720p HD Resolution
• Templates and motion titles
• Screen Recording
• GIF Creator
• Voiceover
• Green Screen
• Cropping
Unlimited Plan
• $15.99 Monthly
• Unlimited publish time
• Unlimited storage
• 4K Ultra HD Resolution
• Templates and motion titles
• Record screen and webcam together
Professional Plan
$39.99 Monthly
• Unlimited stock usage
• Unlimited publish time
• Unlimited storage
• 4K Ultra HD Resolution
• It offers premium templates
• There is brand management
Let us edit the video while removing the watermark by purchasing a subscription plan. You can follow the process below to learn how to get rid of the WeVideo watermark.
Step 1
You can use the WeVideo software online or offline based on your preferred way. After going to the main website, the program will ask you to create your WeVideo account by signing up and connecting your Google account.
Step 2
If you are already on the editor's main interface, click the Create button to upload the video you want to edit. You can even get a stock video from the program if you want.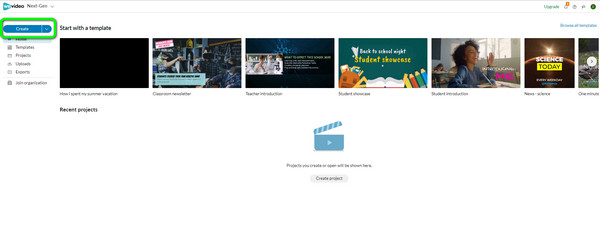 Step 3
Then, you can start editing your video. From the main interface, there are various editing functions you can view. Then, if you are done editing the video, you will see that there is already a WeVideo watermark attached to it. Click the Upgrade button and choose the subscription plan you prefer.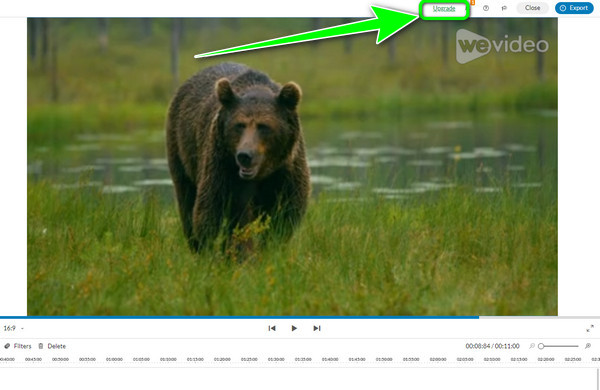 Step 4
After purchasing, there will be no watermark on the video. For your final method, click the Export > Download button to keep your edited video on your computer.
Part 2. How to Remove WeVideo Watermark for Free
Some users find that purchasing a subscription plan from WeVideo software is expensive. So, are you looking for another solution to remove the WeVideo watermark from your video? In that case, we'll give the best easy-to-follow solution you can do. The most effective way is to download the Video Converter Ultimate on your computers. After that, you can eliminate the WeVideo watermark in just a few clicks. In addition, the process is so simple that even a beginner can operate the program. The program's interface is also incomparable with other programs due to its easy-to-get functions and export process. Additionally, the Video Converter Ultimate doesn't require purchasing a plan to eliminate the watermark. With this, you don't need to spend money before achieving your main goal.
Furthermore, besides eliminating WeVideo watermarks, it can offer more features you can't find in other programs. You can edit your video by modifying its color, speed, resolution, quality, size, and more. You can even convert your video to other video file formats. With all these features, we can conclude that Video Converter Ultimate is among the top-notch video editing software you can use as your WeVideo watermark remover.
Step 1
To instantly access the Video Converter Ultimate, pressing the Free Download button below is the easiest way. When done, the installation process will follow and run the program.
Step 2
Go to the top interface and select the Toolbox section. Then, proceed to the Video Watermark Remover function.
Step 3
After that, press the Plus button to add the video with the WeVideo watermark you want to remove.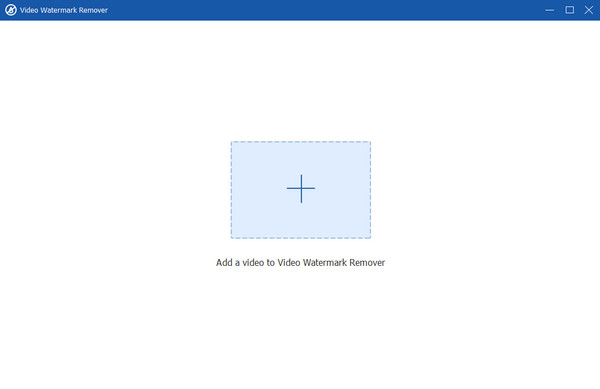 Step 4
Select the Add watermark removing area option, and you will see a box on your video. Use it to cover the WeVideo watermark from the video.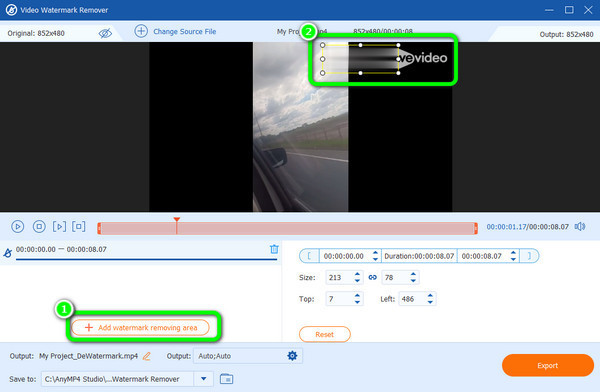 Step 5
Press the Export button from the lower interface after removing the WeVideo watermark from the video.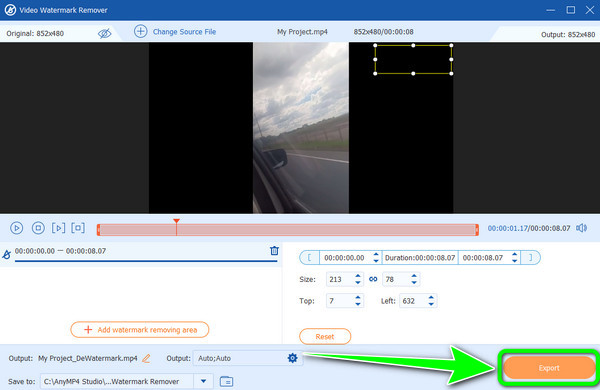 Further Reading
4 Effortless Procedures to Remove Logo From A Video
Exceptional Tricks on How to Remove TikTok Watermarks
Part 3. FAQs about Removing Watermark from WeVideo
Can you remove the watermark on WeVideo?
Yes, of course. Removing the WeVideo watermark is an easy task for Video Converter Ultimate. The program can cover the watermark with its most straightforward method. With this, eliminating the watermark using the program is an excellent choice.
Is WeVideo free without a watermark?
Unfortunately, no. The free version of WeVideo online and offline versions will leave a watermark after you edit a video. If you want to remove the WeVideo watermark using the WeVideo software, the best way is to purchase a subscription plan.
How long can a free WeVideo be?
If you are using the free version of the WeVideo software, it will only be good for 5 minutes per month. You must consider purchasing the software's subscription plan to create a longer video.
Is the watermark removable?
Absolutely, yes. Removing any watermarks from a video is possible if you know what watermark remover to use. And if you don't know what to use, try Video Converter Ultimate. Operating offline is among the best watermark removers to achieve your desired result.
Is WeVideo worth it?
Yes, it is. WeVideo can offer various video editing functions to make your video wonderful. But you must get its paid version to experience its full features and save a video without getting a WeVideo watermark.
Conclusion
If you want to use WeVideo to remove the watermark, the best solution is to avail a subscription plan. This way, you can get rid of the watermark. But if you want a free way to remove the watermark, use the Video Converter Ultimate. With the help of the offline program, you can eliminate the WeVideo watermarks without purchasing an expensive plan.