How to Rip Mulholland Falls Blu-ray in Lossless Quality
Owning physical copies of your favorite movies is amazing. Especially today, where streaming dominates in the digital landscape. Mulholland Falls, a neo-noir classic that captivated audiences for years, is no exception. With its Blu-ray version released, it shows a film in a better high-quality format. Yet, some movie fans are searching for a way to convert their Blu-ray disc into digital files. Unlike Blu-ray, digital files can be watched on different devices and formats. So, the best way to do this is to rip the disc. Whatever reason you may have, rip your Mulholland Falls Blu-ray without losing quality. Learn how as you read this guidepost.

Part 1. What is Mulholland Falls Blu-ray?
Mulholland Falls is a 1996 neo-noir crime thriller movie directed by Lee Tamahori. It is about a four-man squad of the LAPD investigating the murder of a young woman in 1950. As their investigation continued, they became involved in a brutal war against murder. Not only that but on a high-level conspiracy and corruption. Since they would face a terrifying secret that the US government intended to keep hidden.
In 2014, the Bluray version of the Mulholland Falls movie was released. It offers cinephiles and neo-noir movie enthusiasts an enhanced way to enjoy it. Its Blu-ray version also allowed viewers to delve into the gritty world of 1950s Los Angeles. with stunning visuals and superior audio quality. The deep blacks and rich colors amplify characteristic noir shadows and contrasts. At the same time, the upgraded audio quality adds a new layer of immersion to the viewing experience.
Part 2. Mulholland Falls Blu-ray Review
The Mulholland Falls Blu-ray release is a treat for fans of film and noir genre lovers.
The release of Mulholland Falls Blu-ray offered high-quality video and audio presentation. The video uses MPEG-4 AVC encoding at 23.92 Mbps, providing a sharp 1080p resolution. It also has an aspect ratio of 1.85:1, consistent with the original format. The audio options include English DTS-HD Master Audio 5.1. As well as English DTS-HD Master Audio 2.0, both at 48kHz and 16-bit. Subtitles are available in English SDH. This Blu-ray comes on a single disc (1 BD-25). It also works with 2K Blu-ray players set to Region A. But note that the disc restricts playback to Region A.
When it comes to the storyline, it evokes a specific level of suspense and unfolds gradually. While the film addressed some curiosity, it became less engaging and more confusing. As a result, some of the viewers find it disappointing when the movie ends. But, the Blu-ray version often includes features like behind-the-scenes, cast interviews, and commentaries. These extras gave fans an in-depth look into the making of the movie.
Part 3. Mulholland Falls Blu-ray Release Date
The Mulholland Falls movie had varied release dates by region and distributor. As for the Blu-ray version release of Mulholland Falls was on Oct 07, 2014.
Part 4. Rip Mulholland Falls Blu-ray
Do you need to rip Mulholland Falls Blu-ray for convenience or backup purposes? Then, you need a tool that can aid your ripping needs. And so, we recommend you use our Blu-ray Master's Free Blu-ray Ripper. Ripping Blu-ray involves extracting the content from the disc and converting it into digital formats for personal use. Thankfully, our tool has the capability to do it and offers tons of features as well as options. It lets you rip Blu-rays to popular video formats, such as MP4, MOV, AVI, WMV, FLV, and much more. Thus allowing you to watch your movies with any media player you want. Furthermore, it supports batch conversion, saving both your time and effort.
Also, Free Blu-ray Ripper allows you to rip movies to other video formats supported by several portable devices. These devices include iPhone, iPad, Nokia, Samsung, and more. And surely, you can enjoy Blu-ray films even on your mobile phones! To learn how to rip your Mulholland Falls Blu-ray disc, follow the guide below:
Step 1
First, download and install Free Blu-ray Ripper on your personal computer. After installation, the tool will launch immediately.
Step 2
In your computer's disc drive, insert the Mulholland Falls Blu-ray disc. On the tool's main interface, click the Load Disc to load your inserted Blu-ray disc into the program.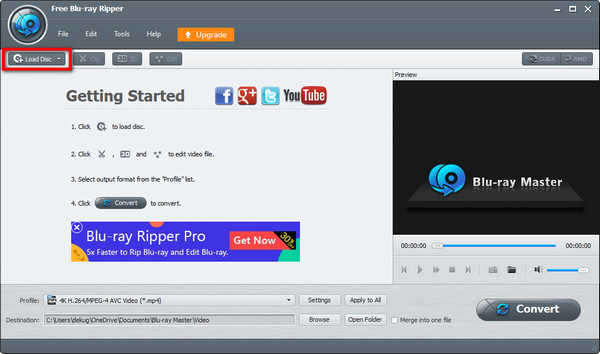 Step 3
After that, you can select your preferred format or device output from the Profile menu. Now, choose where you want to save the converted movie on your computer from the Destination menu.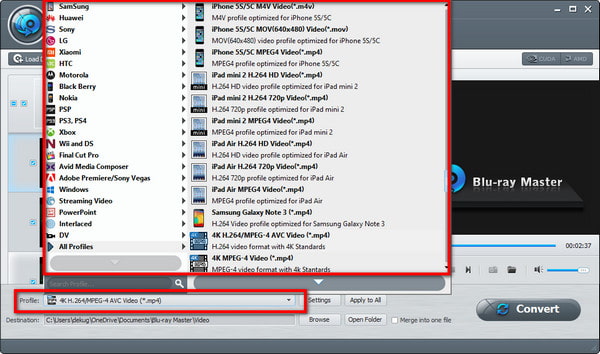 Step 4
When everything is set, click the Convert button to start the Blu-ray ripping process. Wait for a few minutes until it is finished.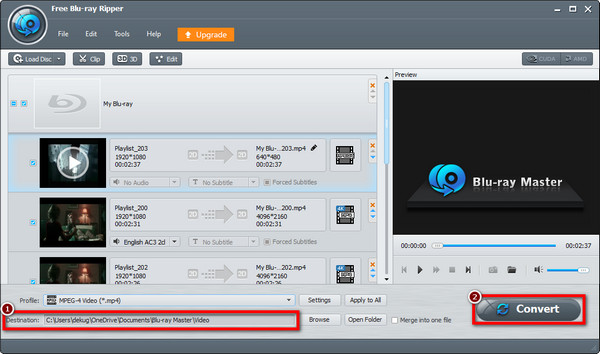 Step 5
Finally, open the folder where the converted file is located. Then, your favorite Mulholland Falls on your desired device. And you're done!
Further Reading
Jurassic World Dominion Blu-ray: Best Way to Rip Blu-ray
Convert 3D Blu-ray to MKV Format Using Offline Programs
Part 5. FAQs About Rip Mulholland Falls Blu-ray
Is Mulholland Falls a good movie?
Mulholland Falls stands as a regarded neo-noir classic. It's still a good movie with its all-star cast, impressive visuals, and storyline. In fact, it captivates fans of crime dramas and mysteries alike.
Is Mulholland Falls based on a true story?
While Mulholland Falls is not a direct adaptation of a true story. I t is inspired by real events and figures from the 1950s. A real LAPD group inspired the movie's four detectives called the Hat Squad.
What is the plot of Mulholland Falls?
Mulholland Falls follows a group of LAPD detectives known for their distinctive methods. Their ultimate mission was to maintain order in the underbelly of 1950s Los Angeles. The discovery of a dead woman leads them to uncover a complex web of corruption.
Where was Mulholland Falls filmed?
The film was taken in and around Los Angeles, Malibu. It indeed captures the city's essence during the postwar era. These various spots include the Airport, Palace Theater, Banks Huntley Building, etc.
Why is Mulholland Drive so famous?
Mulholland Falls' fame is due to its star-studded cast and the timeless appeal of the noir genre. It also became famous because of its captivating plot and memorable characters. The stylish cinematography makes it stand out in crime dramas, too.
Conclusion
To preserve cinematic treasures like Mulholland Falls Blu-ray, technology has a solution. In this post, you learned that it is by converting Blu-ray discs to digital format. One such tool is the Free Blu-ray Ripper, a valuable assistant for movie fans. Its easy-to-use and efficient conversion allows users to enjoy utilizing it. The tool also maintains the original audio and video quality. Furthermore, this safeguards the movie for personal enjoyment. It also ensures its essence stays through the digital age. To learn how it works, try downloading it to use it today!