A Honest Review of the Best Sketch Video Makers [Pros and Cons]
Have you ever encountered or watched a video resembling a sketched one? Then maybe that video is already in a sketched version. Now, if you wonder how it became like that, then you can get the answer from this post. In the first part of the article, we will offer a simple description of the sketch filter. After that, we will show you the best online and offline sketch video maker to use for editing a video and adding a sketch filter to it. So, proceed to this guidepost and learn all the sketch video makers.

Part 1. What is A Sketch Filter
A sketch filter is the same as the common drawing or paintings you see in person. Have you already tried drawing using your pen on blank paper? If so, that's what you see when using the sketch filter on your video. The sketch effect or filter is accessible in almost all editors and photos or gallery applications. Now, you may wonder why people use the effect. It is because we all know that the sketch has more purposes than you imagine. You can turn your video from reality into drawings. Also, you can make the sketch effect as your guide to draw a certain object. Plus, if you prefer watching the video in a drawing version, the sketch filter is the best effect you can use. With that, you know now what the sketch filter is and what its uses are. But the catch here is that do you think you can easily make your video turn into a drawing version? Well, that's what you will learn in the next part. So, don't miss the chance and continue reading the article.
Part 2. Best Sketch Video Maker: Video Converter Ultimate
If you want to add a sketch effect to your video, maybe you were thinking that it is a challenging task. Actually, making your video into a drawing version is challenging. There are various editing tools you need to get your video to look like a drawing. But, since you are here, we can make your task easier. To do that, we suggest you use the Video Converter Ultimate, chosen by Blu-ray Master, for editing your video. When utilizing the tool, it ensures that you won't find it challenging to add the sketch filter to the video. All you have to do is launch the program, add the video, and muse the Sketch effect from the Filters section. With that, you can make a sketch video automatically. Plus, you can even use more filters when using the tool. You can use the warm, gray, purple, and more filters. Additionally, the procedure of editing the video is not complicated at all. It is because its user interface is simple to understand, and the functions are reliable, too. You can say that all professionals and non-professional users can operate the Video Converter Ultimate easily and quickly.
Aside from that, the program is accessible to all platforms since you can download it on your Windows and Mac devices. It is also free to download, making it more convenient for users who want to edit videos without spending a lot. Furthermore, you can enjoy more features from the tool besides adding a sketch effect. The software lets you crop the video, add watermarks, convert the video with other formats, and more. So, after knowing all the capabilities of the program, you may think that it is among the best video editing software you can operate to improve your video. For more additional details, see the information below about this sketch video maker.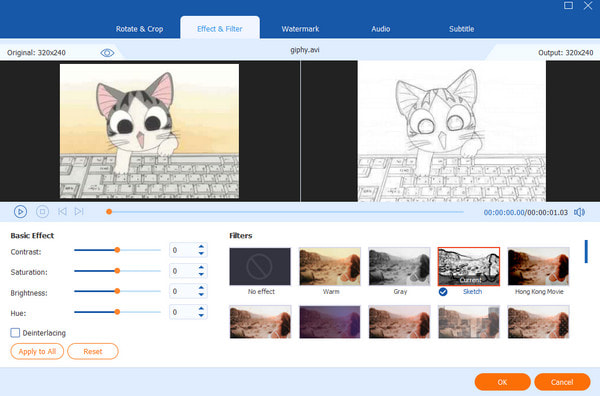 Pros
• It provides the Sketch filter for a video.
• The interface is simple, which is perfect for all users.
• It is available on both Windows and Mac devices.
• The program has a Toolbox feature that offers various editing functions.
• Convert video with other formats.
Cons
• Advanced features are accessible in the paid version.
Part 3. Sketch Video Creator: Photoshop
Do you prefer advanced video editing software for making your video turn into a sketch or drawing version? If so, you can try using the Adobe Photoshop software. With the help of this downloadable tool, you can get the best outcome after the editing procedure. In addition to that, Photoshop lets you choose what kind of sketch filter you want to use, making it more favorable for users. Moreover, the program has more functions you can use while making a sketch video. You can cut part of the video, add watermarks, adjust the video lighting, and more. With these functions, you can finish the final output with an exceptional video appearance.
However, even though Photoshop can offer everything when turning the video into a sketch, it still has disadvantages. When operating the program, you must ensure that you are a skilled user. As we have told you, Adobe Photoshop is among the most advanced video editing software you use. It means that only professional users can use it. It takes time to learn the program if you are a beginner and want to use it for making your video into a sketch. Additionally, Photoshop can only offer a free trial version good for 7 days. After that, the program will ask you to pay for a subscription plan, which is costly. But, if you are determined to use the Photoshop sketch filter function, get the program immediately.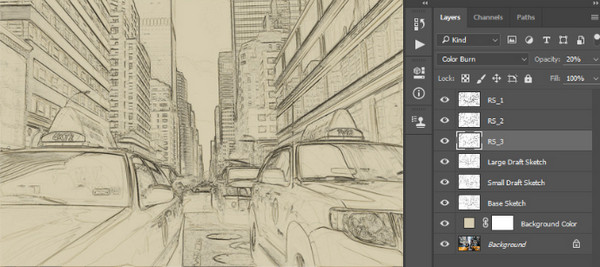 Pros
• Perfect for turning a video into a drawing or sketch version.
• The program is accessible on Mac and Windows.
• It offers various functions that help to improve the video.
Cons
• It is unsuitable for non-professional users.
• The interface is complicated, which is confusing to see and operate.
• The free version only lasts for seven days.
• Purchasing the subscription plan is expensive.
• The installation process is time-consuming.
Part 4. Sketch Video Editor: CapCut Free Online Video Editor
Aside from downloading an offline program to make a sketch video, you can also use an online tool like CapCut Free Online Video Editor. It is one of the most effective video editors online when making your video into a sketch version. Also, the procedure is very simple and quick, making it better and perfect for all users. Plus, The online tool has a simple interface, and the functions are easy to navigate. This way, you don't need to seek assistance from professionals when enhancing the video. After the process, you can also change the video resolution up to 1080p, making it great for users who prefer a nice resolution.
However, Capcut has some drawbacks. Uploading a video is too time-consuming. Also, since you are using it online, you should always consider having a strong internet connection. Apart from that, the tool can only support two video formats. You can only save the video to MP4 and MOV formats, which is too limited. But if you think that you can still operate the tool, then get it and begin using the sketch filter online.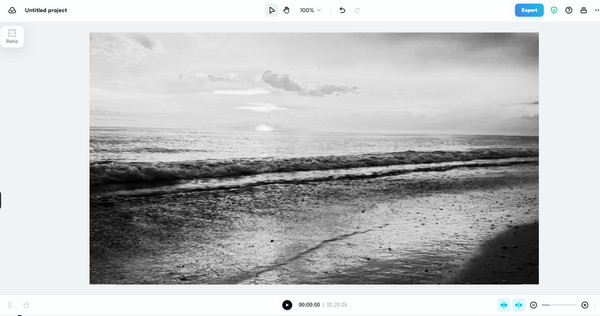 Pros
• It offers a sketch filter for editing a video.
• Available to all website platforms.
• The online tool is free.
Cons
• The uploading process is too slow.
• It requires a strong internet connection to get good performance.
• It only supports two video formats.
Part 5. FAQs about Sketch Video Maker
1. What is the best free sketch video software for Windows 10?
Try the Video Converter Ultimate when using Windows 10. With the guide of the program, you can edit your video and turn it into a sketch version.
2. What software is used to make sketch videos?
There are various sketch video makers you can use. It includes Video Converter Ultimate, CapCut, and Photoshop. These online and offline editors can help you to edit your video.
3. How do I make a sketch video for free?
To make a sketch video for free, access Video Converter Ultimate. You can edit your video without spending a single penny while enjoying the editing process.
4. What is the best sketch video maker for PC?
If you have a PC, there are various video editing software you can download and install. If you are a skilled user and want a complicated way to make a sketch video, use Photoshop. But if you prefer simple software, the best tool is the Video Converter Ultimate.
5. What whiteboard sketch video maker software has no watermark?
Well, it is annoying to have a watermark on a video, right? Then, you can use Video Converter Ultimate. After you edit your video and turn it into a sketch, you can download and save the video without any watermarks on it.
Conclusion
These days, you can add a sketch filter to your video to make your video become a drawing version. So, if you want an excellent and reliable sketch video maker, use the three editors above. But if you prefer editing a video without thinking about the internet connection and subscription plan, Video Converter Ultimate is the best sketch video maker you can use.