Top 5 Free Blu-Ray Burning Software on Windows and Mac You Should Know
If you want to burn some wedding videos to DVD or Blu-Ray disc, what should be the best free Blu-Ray burners on Windows and Mac? Backup video files in Blu-Ray disc is not only a nice method to store precious videos with secure, but also enjoy the movies with a high quality with Blu-Ray players.
The article shares top 5 free Blu-Ray burning software that author Blu-Ray disc with high quality with ease. Even if you want the professional one to make Blu-Ray discs or DVDs, you can also check out the detailed process from the article.

Part 1: Top 5 Free Blu-Ray Burners on Windows and Mac
Besides the frequently used MP4, AVI formats, you can also burn Blu-Ray disc from Blu-Ray ISO files/folder. Here are 5 free Blu-Ray burners on Windows and Mac you should know.
Top 1: Free Blu-ray Copy
When you want to backup some Blu-Ray disc you purchased or rented from Amazon or other channels, Free Blu-ray Copy is an excellent free Blu-Ray authoring software to copy Blu-Ray to Blu-Ray disc, Blu-Ray folder or Blu-Ray ISO files. Moreover, it enables you to copy the full disc or just the main movie only.
Pros:
1. Burn Blu-Ray disc/folder to Blu-Ray disc in 1:1 with the original quality.
2. Copy the Blu-Ray movies with the Main Movie and Full Disc modes.
3. Support Blu-Ray disc/folder in both NTSC and PAL formats.
4. Automatically detect the main movie while you choose the Main Movie.
Cons:
1. Upgrade to Platinum version to get more copy modes and extra features.
Top 2: BurnAware Free
BurnAware Free is a popular and versatile free Blu-Ray burner that make Blu-Ray disc, bootable disc, data disc, custom disc, audio CD, MP3 disc, DVD-video, burn image and ISO files, or even erase/verify disc. Moreover, you can also use the program to work with images and other multimedia files.
Pros:
1. Provide quick access to disc operation and setting customization.
2. All-in-one free DVD and Blu-Ray authoring software to create discs.
3. Automatically calculate the estimated disc size, disc type and category.
Cons:
1. Do not support disc-to-disc copying method to burn Blu-Ray movies.
2. Need to download and install 3rd party components to run the program.
3. The context menu integration is not available for creating Blu-Ray discs.
Top 3: StarBurn
StarBurn is another free Blu-Ray/HD-DVD burner and master for Windows. It enables you to grab, burn and master any audio, video, photo and data files into Blu-Ray disc, HD-DVD, DVD and CD free of charge. It is the free Blu-Ray burner supports all types of optical storage media and a wide range of burning hardware.
Pros:
1. Support track-at-once and disc-at-once recording modes to create Blu-Ray.
2. Compatible with all multimedia command set, such as Blu-Ray and DVD.
3. Process audio stream on-the-fly and store audio tracks as WAV and WMA.
Cons:
1. It only burns videos to Blu-Ray disc instead of authoring the Blu-Ray disc.
2. Cannot copy and burn the Blu-Ray discs with the DRM protection.
3. Difficult to master the advanced features to customize the output files.
Top 4: IMGBurn
IMGBurn is free Blu-Ray authoring software that burn disk images into a Blu-Ray disc to create bootable drive. Compared to the other free Blu-Ray burners, you can also use the program to test the quality of your DVD and Blu-Ray drive and media. You can get 5 different modes to perform different tasks with easy process.
Pros:
1. Support different formats, such as BIN, CUE, IMG, ISO and many more.
2. Full Blu-Ray support that is able to burn BD-R media without any charge.
3. Multiple editing features to adjust the optical disc when burning the copy.
Cons:
1. The directly method to copy Blu-Ray disc to another one is not available.
2. It is not able to author the sub-channel data used for some audio CD.
3. Complicated burn settings that lead to over-burned Blu-Ray discs.
Top 5: Ashampoo Burning Studio
Whether you need to burn or back up data, rip music disc, create audio disc, or even burn Blu-Ray disc, Ashampoo Burning Studio is another free Blu-Ray burner for beginners. Moreover, you can also find multiple customizable burning settings for maximum versatility within the free Blu-Ray authoring software.
Pros:
1. Special profiles for different types of data, plus the ability to make backups.
2. Clear menus and convenient presets to burn Blu-Ray discs and DVDs.
3. Walk through the Blu-Ray disc, DVD and CD burning process step by step.
Cons:
1. Lack of some essential disc compression and customization features.
2. The free Blu-Ray burner only backs up mobile devices only to disc.
3. Installer has some hoops to jump through to launch the program.
Part 2: Free Blu-Ray Burner Alternative to Burn Blu-Ray and DVD
What should be some professional Blu-Ray and DVD Burner to convert videos? It compatible with MTS, TS, MP4, AVI, WMV and most of the video and audio formats. You can also create DVD and Blu-Ray disc with various menu templates, or even edit videos, add audio tracks and subtitles.
Step 1
Download and install the Blu-Ray burner on your computer. Launch the program and click the "Add Media Files" on the top bar to load the videos and audios you want to burn Blu-Ray disc.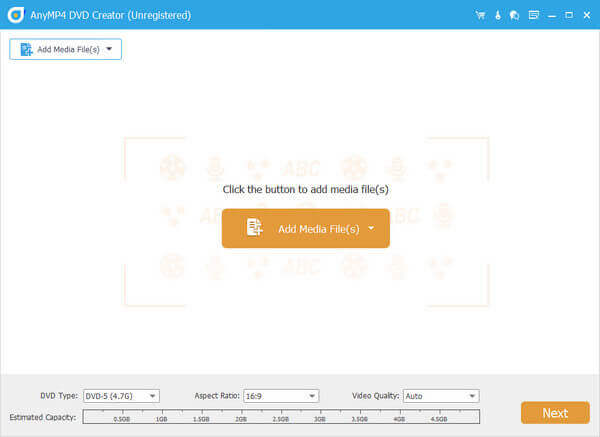 Step 2
After that you can specify the format of the created Blu-Ray disc: PAL standard for Europe, NTSC standard for other areas, and set the aspect ratio 4: 3 or 16: 9 to burn Blu-Ray disc.
Step 3
Check the video file and click the "Audio Track" or "Subtitle", which you can edit the audio files and subtitles with "Edit Audio/Subtitle". Click the "Add" icon to insert an external audio track or subtitle.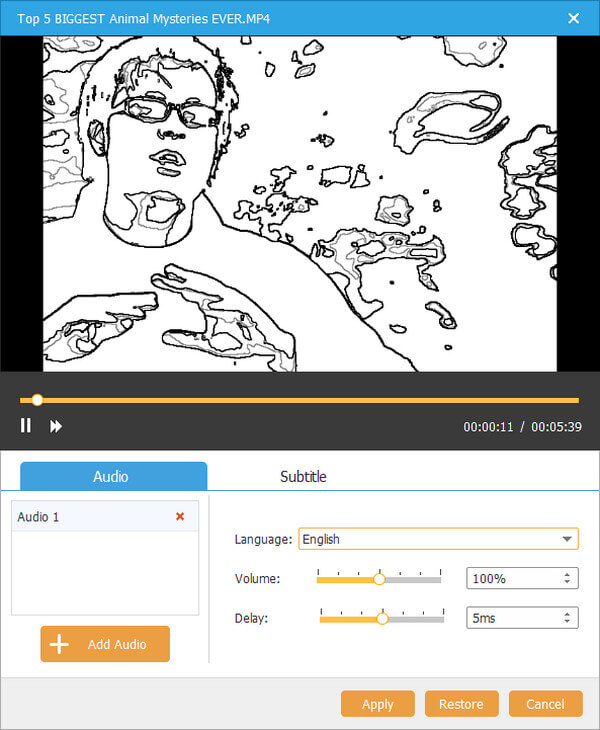 Step 4
Moreover, you can also check the video and click the "Edit" option, which you can find option to edit the videos with "Crop", "Effect", "Watermark" and more editing features before clicking the "Create" button to burn videos into Blu-Ray disc.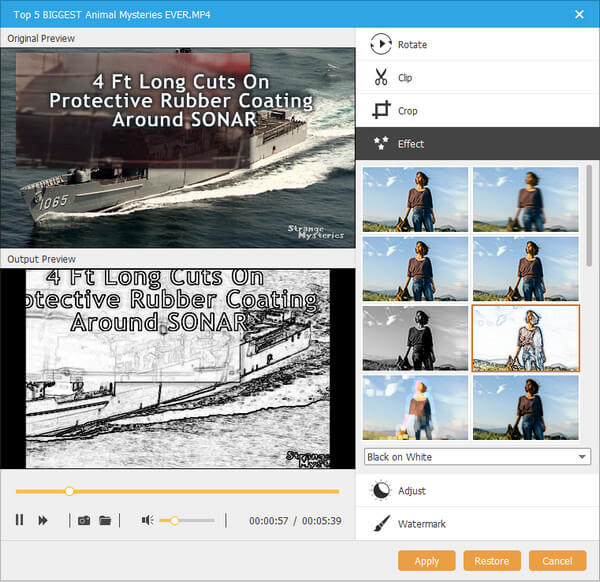 Conclusion
When you want to backup some digital files, such as video, audio, DVD and even Blu-Ray files with a high quality, create the Blu-Ray movies with free Blu-Ray burner should be the right choice. The article shares 5 best free Blu-Ray authoring software as well as the alternative program. You can choose and create the desired Blu-Ray disc accordingly.