3 Best DVD Players With USB for Your TV Screen
A DVD player is an incumbent player with many upgraded features. One of its upgraded updates is the USB port added to it for more versatile and convenient playback. This USB port lets users connect their external storage or flash drives to play their favorite videos and movies with their DVD player. But not all DVD players have this port, and only those USB DVD players technically have it. Furthermore, this kind of player offers high-quality audio and video playback and other amazing features such as surround sound and upscaling tools. Many choose this kind of DVD player over the usual others.
On the other hand, if you like the idea of having this player in your home, allow this article to give you the best choices. This way, you will not need to exert much time in examining the device you are about to acquire when you get to the store. So, let's get started by reading the review below.

Part 1. USB DVD Player VS. HDMI DVD Player
You might have heard about HDMI DVD players as well, but let us see how this HDMI player differs from a DVD player with USB.
| USB DVD Player | HDMI DVD Player |
| --- | --- |
| Can stream DVD movies without inserting a disc. | DVD discs are still needed to play DVD movies. |
| It offers high-quality playback. | It offers a higher quality playback. |
| Multiple cords are connected to the DVD player to the screen. | Single cord connection on DVD to the screen. |
Part 2. Top 3 USB DVD Players
From the point of view of many people, having a USB port on DVD players is really an important thing nowadays. This is because we cannot deny the possibility of a disc-less movie industry in the future. And we can preserve the DVD player for years if it has a USB port that will still cater to movie copies. Thus here are the best choices to pursue.
Top 1. LG DP132H DVD Player
The best portable DVD player with a USB port is the DP132H DVD player of the LG. It has a port that caters to playing all formats of digital videos transformed from DVD movies. In addition, this device comes with a remote control containing batteries that are added on purchase. When it comes to its supported DVD format, LG DP132H supports DVD+R, DVD+RW, DVD-RW, and DVD-ROM. You can purchase it online for $49.05.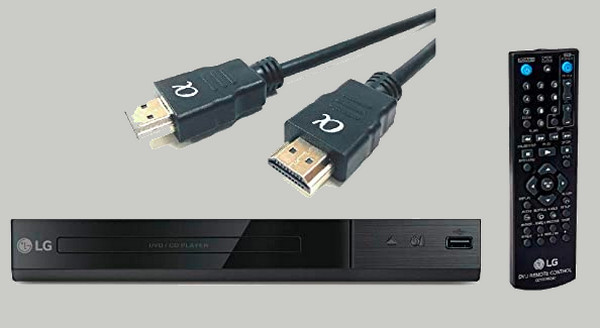 Top 2. Impecca DVHP9117 DVD Player
Another top DVD player on the list is this powerful Impecca DVH9117. This player is infused with anti-shock protection in addition to its playback functions and ability to resume the playback disc where you left it. Meanwhile, this USB port DVD player has adaptable support for distinctive formats, including SVCD, DVD+R, DVD-R, DVD-RW, DVD+RW, and DivX and WMA for digital videos. Amazingly, it provides you with a feature to upscale DVDs to 1080P allowing you to experience pleasurable display and sound playback.
Top 3. Foramor DVD Player
Then, we have this Foramor DVD player. It is a DVD player that works perfectly on Smart TVs, for it has a versatile video display that supports 1080p video resolution, which is good for large screens. Furthermore, it offers a good sound quality due to the powerful technologies it provides, such as error correction and noise cancellation. Surprisingly, these mentioned technologies allow you to play smoothly the discs that have scratches. Additionally, a DVD player with USB for TV comes with an HDMI connector used to connect it to the TV.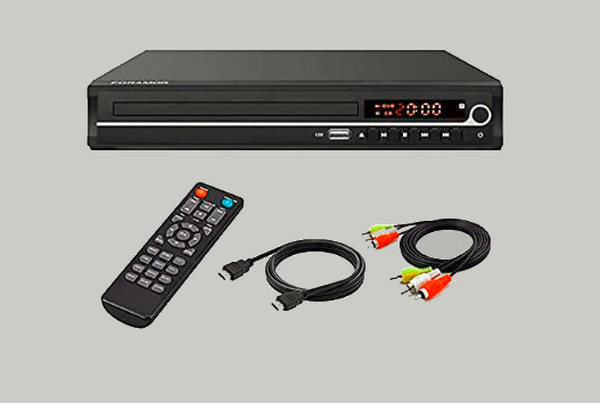 Part 3. How to Play DVDs Without USB Port
Meanwhile, if you are looking for alternative ways to play DVDs, but your player doesn't have a USB port, then you might want to consider the 2 different ways below.
Way 1. Use a Wireless DVD Player
Use a wireless DVD player if you want the classic yet on-trend way to play your DVD movie. A wireless DVD player that works to connect to a TV via a Wi-Fi internet connection allows you to watch movies through links and through its original optical drive. This DVD player without a USB port enables you to use it without requiring you to connect anything to your TV, as long as your TV can run with Wi-Fi or the ones we call Smart TVs. Here are the simple steps to follow.
Step 1
Connect your Smart TV and the wireless DVD player on the same Wi-Fi connection.
Step 2
Once done, insert the DVD disc into the DVD player and begin to play the movie while navigating it on your Smart TV.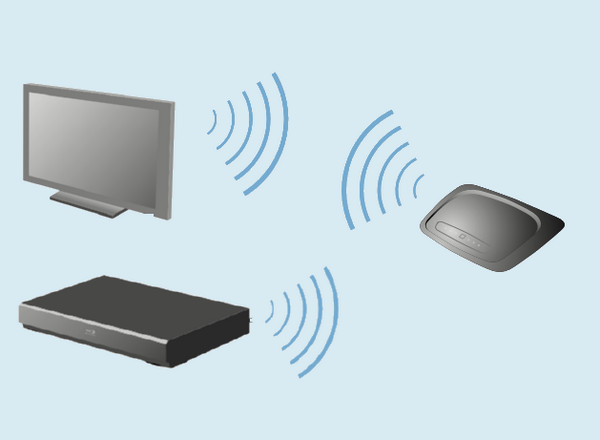 Way 2. Rip DVDs to Digital Videos
If you cannot afford to acquire a DVD player with a USB port, but want everything in software copy, then ripping the DVD will be the best option. And for this best option should come the best tool that will lead you all to work, which is the Video Converter Ultimate. It is an amazing software with every tool you need for your media. It has a converter that can rip your DVD to your desired video format and 500 other more. Furthermore, an MV maker, collage maker, 3D creator, and Toolbox are also present to provide you with many options in media editing. Meanwhile, to give you an insight into how it rips DVDs easily, then follow the steps below.
Key Features:
● Edit your DVD movies before and after the ripping process.
● Hardware acceleration that rips and converts DVDs at a 30 times fast rate.
● A wide range of support for various digital formats.
● Video editing tools that let you work like a pro.
Step 1
Launch the software after installing it on your PC. Then, insert the DVD disc on the same computer to prepare for the ripping process. Once done, hit the Load DVD tab option under the Ripper menu.
Step 2
Then, click the Rip All To option tab to see the various video formats in the new window. From there, choose one among the options.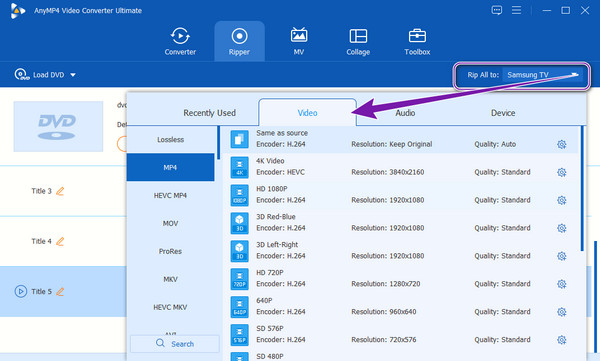 Step 3
As simple as that; you can now hit the Rip All button to begin the ripping process. Then you can save videos on your computer and play DVDs without USB ports.
Part 4. FAQs about USB DVD Players
Is an Apple USB DVD player worthy to use?
Yes. However, there are more DVD players worthy of using than the Apple USB player, especially if you are looking for a higher-end player.
Can I use the USB port to connect a dongle to a DVD player?
It depends. You can connect a dongle to a wireless DVD player. But a DVD player that does not support a Wi-Fi connection.
Does a DVD Player with USB have an HDMI port too?
It depends. Not all USB DVD players are HDMI DVD players. Thus you can have the Foramor DVD Player, MEGATEK Multi-Region DVD player, and Electrocom Pro DVD Player, the top HDMI DVD player today.
Conclusion
To conclude, this article presents the best USB DVD players. These players are a lifesaver to others who love old films within a DVD in the near future. They can be used to help the users to still watch in a disc-less way. Hence, a DVD ripper is also necessary to transcode the DVD movies and transfer them to a USB drive. Therefore, use Video Converter Ultimate and have the liberty of ripping and editing the movie in any way you want.