5 DVD Players With HDMI: Play Your DVDs on HD Screen
Is it not frustrating to know that your HD TV screen cannot connect to your external DVD player? Who would not be frustrated to see a limitation to their nice device, right? For this reason, if you want to watch your favorite video on a DVD using your flat screen, then you will need a HDMI DVD player. Fortunately, you will not need to take time and effort looking for the right one since you will only need to read this article and choose among the top players that everyone believes so. Therefore, without further adieu, let's begin with what needs to be done by reading the entire content below.

Part 1. What is HDMI DVD Player
HDMI DVD players have been a good choice for people who want to upgrade their home movie entertainment experience. This player allows high-definition videos and audio to be played via TV screens using an HDMI cable connected to the DVD player. Using the DVD player with HDMI, you won't need numerous cable cords to connect your player to your television, as a single HDMI cord fills all the needs. In other words, it brings a setup that looks neater and streamlined.
Moreover, this type of DVD Player is expected to provide a range of features, including upscaling. This feature will work to enhance the video quality of non-HD or standard DVDs.
Part 2. Top 5 DVD Players with HDMI
Top 1. Foramor HDMI DVD Player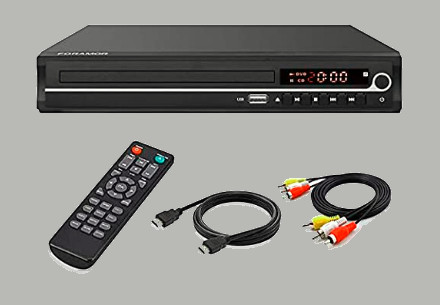 The Foramor DVD player tops this list due to some reasons that prove its place. It is a hardware player perfect fit for Smart TVs since it has a compact and versatile display supporting 1080p video resolution. Aside from that, it brings a solid sound that comes with an error corrector and noise cancellation technologies. These technologies let you play even the DVDs with scratches without a hassle. Surprisingly, this portable DVD player with HDMI also comes with a USB port allowing you to play internal files from other devices.
Top 2. MEGATEK Multi-Region DVD Player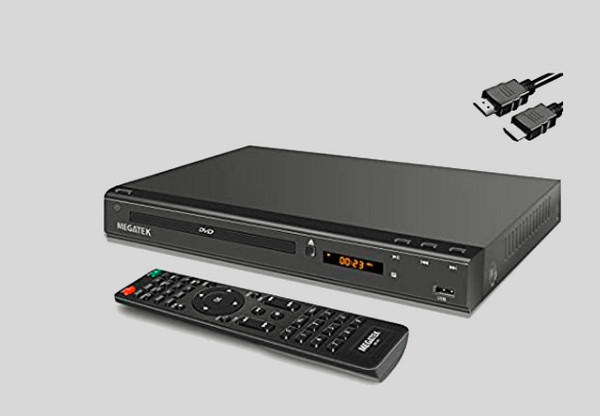 MEGATEK Multi-Region DVD player is a handy hardware that you can set up quickly and easily. It features 1080p upscaling, progressive scan, and picture-enhancing attributes wherein you can enhance the video quality while watching. Additionally, it has compatibility with different formats such as CD, VCD, MP3, WMA, WAV, JPEG, and of course, DVD while giving you the PAL/NTSC Tv standards. Similarly, this player also comes with a USB port, as well as having a slim styling design, and a remote with a full function that adds up to its entertainment system.
Top 3. ELECTCOM PRO DVD Player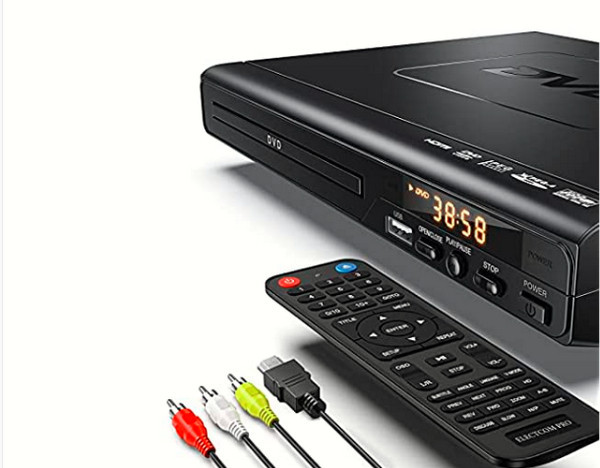 Next in line is this DVD player with an HDMI connection and RCA cable called ELECTCOM PRO. Just like the first players, this player brings you versatility and high-quality playback that supports up to 1080p videos. Besides that, you can also claim the solid audio quality that it produces using the first-class component features that it is infused with. Meanwhile, ELECTCOM PRO also has an advanced drive core and progressive scan technology that makes the reliable and smooth DVD movie experience possible.
Top 4. Ceihoit HDMI DVD Player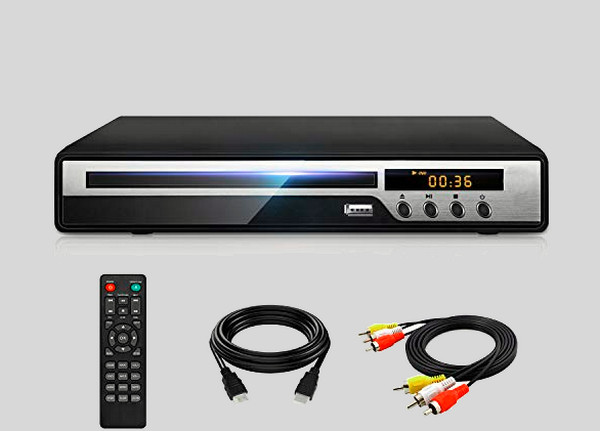 Another compact and reliable DVD player that permits smooth playback for 1080p videos is this Ceihoit HDMI DVD player. This player supports various formats like DVD-R, DVD+R, DVD+RW, DVD-RW, CD, CD-R, CD-RW, SVCD, and VCD. Furthermore, this DVD player allows you to play all the regions of DVDs. In spite of that, you will also love to hear that this simple player also supports USB playback due to the port added to its functional features. Amazingly, this player offers a return and refund warranty within 12 months for all its buyers who stand against robust materials with its top-graded drive core.
Top 5. Sony DVP-SR510 DVD Player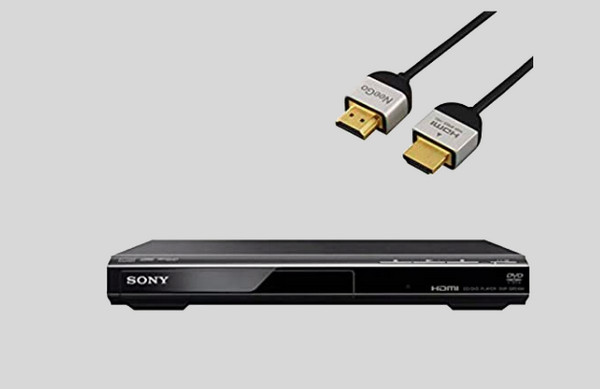 If you are looking for an ultra-slim 5-disc DVD player with HDMI, you probably want to grab this Sony DVP-SR510 DVD player. This also offers support for 1080p output from the various disc formats it supports, such as CD, JPEG, DVDs, and MPEG1. You will also like its feature to resume multi-disc and its multi-band remote control it offers.
Part 3. How to Connect DVD Player to TV With HDMI
This time, let us have the instructions on hooking up the DVD player to the TV. As part of the preparation, you must place your DVD player near the TV where you will connect it. Please note that you don't need to plug in the DVD player until you connect all the connectors. This will keep you safe from possible electric shocks. Hence, if you are ready enough, go and start following the steps to connect the DVD player to a TV with HDMI below.
Step 1
Grab the HDMI connector, and connect its one end at the back or side of your TV where the HDMI port is located.
Step 2
Then, connect the other end of the HDMI connector to your DVD player. Ensure a proper connection to get a good signal. Check if it is too loose and not too tight.
Step 3
After that, you can plug in the power cord of the DVD player and TV and turn them on.
Step 4
Next is to insert the DVD disc into your DVD player. Then, switch it to the proper output on your TV screen to access the player. Please make sure to choose the one with an HDMI connection.
Part 4. How to Play DVDs on Smart TV Without HDMI DVD Player
Do you have a Smart TV but do not have a DVD player with HDMI output and want to play DVD movies already? Do not worry because we've got you covered. If you have your computer, a USB flash drive, and an amazing DVD ripper, consider it done.
Use this Video Converter Ultimate as your DVD ripper to experience a 30 times faster ripping process. Yes, you read it right; this video converter is also a tool that offers a DVD ripper that lets you rip any kind of DVD into more than 500 various video formats, including TV devices. So, if you want to transform your movies into a file your Smart TV supports, you may do so simply and quickly. Furthermore, you will be glad to know that it has great extra features and tools within its Toolbox that will grant you special effects, themes, and functions to enhance your outputs.
Moreover, this Video Converter Ultimate is flexible enough to make you save your ripped DVD movies directly into your flash drive. Want to know more about its flexibility? Then grab it on Windows and Mac, work on all types of video inputs and customize them as much as you like. Meanwhile, see the complete steps on how it rips DVDs and how to play DVD movies on Smart TV.
Step 1
Click the Download button below to install the software on your computer. Then, insert the DVD disc, and connect the USB drive to your computer as well.
Step 2
Once installed, click the Ripper menu and bring the DVD movie by clicking the Load DVD button.
Step 3
Then, hit the Arrow button of the Rip All To option to prompt a new window. On the said Window, go to Device and select TV, then choose the type of Smart TV your option at the right.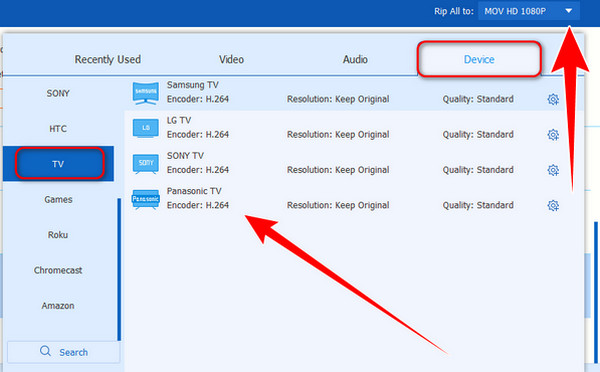 Step 4
After that, go to the Save To option, and set the file destination to your flash drive. Click the Rip All button to start the ripping process, and check your USB drive after.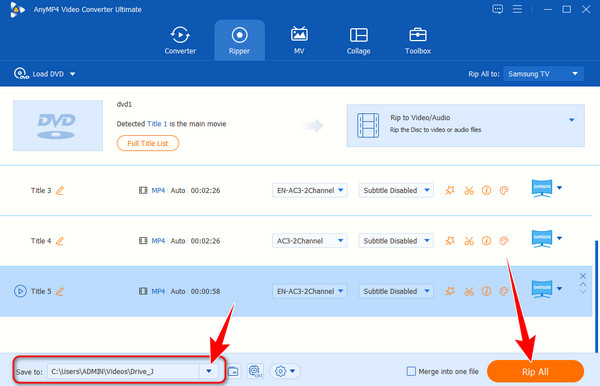 Part 5. FAQs about HDMI DVD Players
Why is my HDMI not working on my DVD player?
You may want to check your HDMI connector to see if it still functions well. Malfunctioned HDMI could be the main reason for the problem.
How to connect a DVD player to a Smart TV without HDMI?
The smart TV not only supports HDMI ports but also supports VGA ports. In that case, you will need a VGA cable, which offers a better-colorized video than what HDMI provides.
Can I connect the phone via HDMI to a DVD Player?
Yes, you can, but you will need a USB to HDMI adaptor if you use an Android device with a type B charging port. But if you are an iOS user, you can purchase and use Lightning Digital AV Adapter to connect your phone to DVD Player via HDMI cable.
Conclusion
There you have it, the must-have 5 outstanding HDMI DVD players. In addition, you can now connect such players to your TV. If you have a problem connecting your DVD player to your TV, we provide a solution: to rip your movie using Video Converter Ultimate.