3 Best Audio Video Mixers for Windows, Mac, Online, Android, and iPhone
An audio video and photo mixing software is something that you need when you want your recordings creative. With the kind of social videos we see online, we would never deny how fun videos with remarkable sounds are to watch. Most videos with remarkable sound leave the viewers in LSS or last song syndrome impact. Therefore, if you also want to make your video content unforgettable to the viewers, then mix a piece of remarkable music with it as well. However, combining audio and video might look easy to perform, but it should be done with extra caution. It is because many videos have reported having a subsided high-quality display after performing the task in their audio video mixer.
For this reason, we are about to introduce you to the best video editing tools you can use on any device. We have gathered the top choices for the online, offline, and mobile platforms. Learn more about them when you continue to read the content below.

Part 1. Best Video and Audio Mixer for Windows and Mac
If you long for the best video and audio mixer you can use on your computer, then this part can fulfill your longing. It is also good to desire a video editing program that you will obtain even offline since it is similar to what professionals usually use. Therefore, by meeting the best software below, prepare yourself to be a professional.
Video Converter Ultimate is the best video editing software on Windows and Mac that helps you make a video with audio content creation. It has this MV maker along with its converter and enhancing features that will provide you with a lossless or even higher quality of outputs. Furthermore, this audio, video, and photo mixing software allows you to mix the files in two magnificent ways, where both can handle your files without affecting their quality. Being a beginner on this task will never be a problem because this tool has a friendly user and neat interface, making you navigate it easily. Moreover, with its intuitive interface, you will see many excellent editing tools, including 3D maker, video enhancer, collage maker, watermark remover, and many more.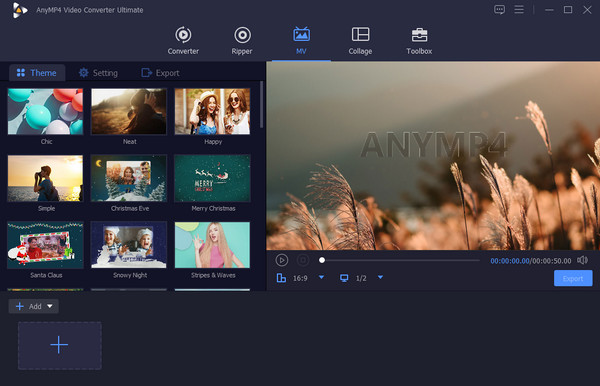 Key Features:
1. An MV maker that creates a cinematic video with audio content.
2. Power by Artificial Intelligence and other advanced technologies.
3. Support 500 different video and audio types.
4. Free optimization of output presets to make your file stunning.
5. A toolbox of numerous powerful editing tools.
Pros:
1. It is a multifunctional audio-video mixer.
2. It is workable on Mac and Windows.
3. You can work on almost all types of video and audio files.
4. It comes with hardware acceleration.
5. Tons of themes collection is ready to be applied to your video.
6. Super easy to navigate.
Cons:
1. Even though you can use its free trial, it is still not an entirely free tool.
Part 2. Top Audio and Video Mixer Online
If you opt to use an online tool and are looking for the best one to combine your video and audio files in one, then try this Kapwing. It is a free web-based video editing tool to help you with your audio-video combination task. Furthermore, this is one of the most well-known music video mixers that beginners rely on due to its straightforward and intuitive interface. In addition, you will also love how this nice editing tool supports various media formats like MP3, and OGG, for the audio and WAV, WMV, and MP4 for the videos. However, you might be discouraged by the cons that Kapwing has, as written below. On the contrary, you should know that it is part of having a video editing tool online.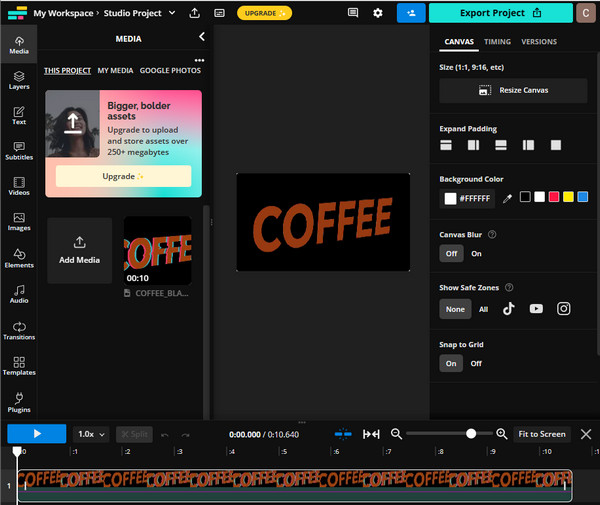 Key Features:
1. All-in-one online tool.
2. Multiple templates, effects, elements, and transitions to tweak.
3. Different plugins to utilize.
Pros:
1. You won't need to install anything.
2. You can use it for free.
3. It comes with many editing tools.
Cons:
1. The outputs are watermarked.
2. The free version will only let you produce MP4 videos.
3. Internet reliant.
Part 3. Top Music Video Mixing App for Android and iPhone
This time, we bring you the top-choice music video mixer app, this Video Maker Music Video Editor. It is a powerful video editor that helps you make stylish video content by mixing your video and audio files together. Furthermore, it comes with many features that you will surely love. You can acquire this app on both iPhone and Android, so there is no need to worry about the kind of mobile device you use.
Key Features:
1. Trendy kinds of music are available to use.
2. A great number of themes apply to videos.
3. Easy sharing.
4. Voice changer.
Pros:
1. You can use it for free.
2. It offers good transitions for your videos.
Cons:
1. It is not free from ads.
2. It occasionally gets slow.
3. The outputs are with watermarks.
Part 4. Bonus: How to Mix Audio and Video Efficiently
Here is a bonus part where you will learn how to mix audio and video files in the most efficient way of Video Converter Ultimate.
Using the MV Feature
Step 1
Open the software on your computer, and click the MV feature. On the MV page, click the Plus icon to upload the video first.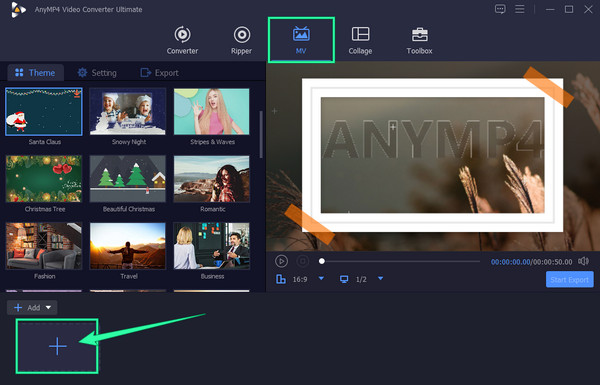 Step 2
After that, click on the Setting menu to upload the audio file. To do so, tick first the Background Music selection. Then, click the Add icon next to it and upload the audio file.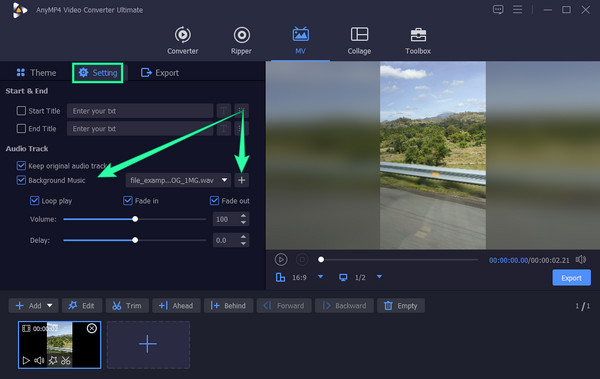 Step 3
Now, go to the Export menu. Tweak the presets you want to modify, then click the Start Export button. And that's it. You have just put music on videos.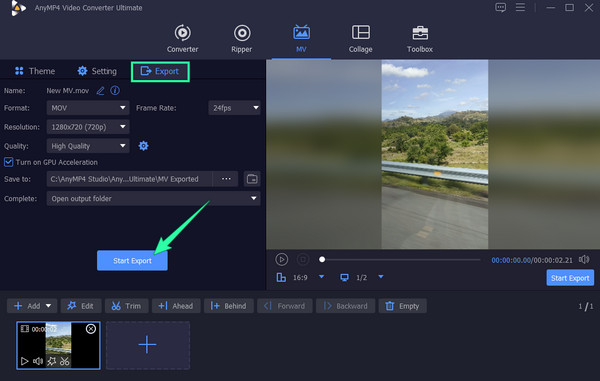 Using the Converter Feature
Step 1
On the main interface, focus on the Converter feature and upload the video file when you hit the Plus icon at the center.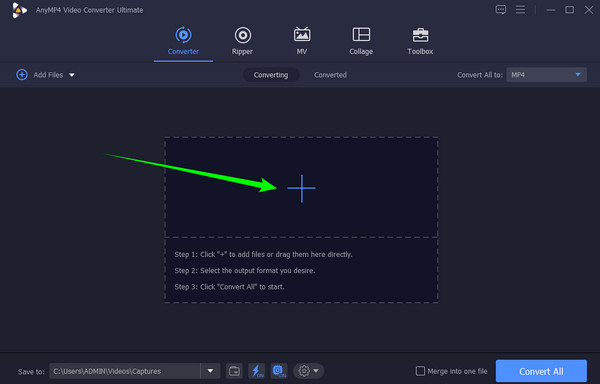 Step 2
Once the video is in, hit the Arrow drop-drop button with the EN-AAC-2Channel dialogue. Then, click the Add Audio Track option to upload the audio you want to mix into the video.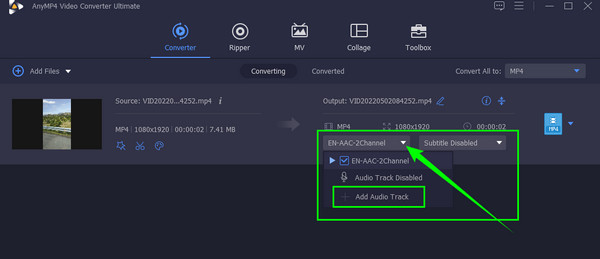 Step 3
You will know that the audio is added when you see the file when you click the arrow. Then, untick the EN-AAC-2Channel and proceed to click the Convert All button to start the conversion process.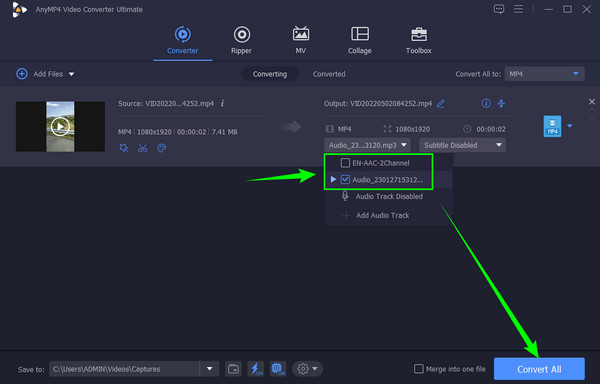 Part 5. FAQs about Mixing Audio and Video
Does a video and audio mixer work to enhance the quality?
Not all. It still depends on the tool that you will use. Some mixers will not improve the quality of the files.
Can I upload the combined video and audio online?
Yes. You can upload the video you have mixed with audio as long as you are the property owner of the files.
Can I mix a short audio with a lengthy video?
Yes. However, the audio will only play until it ends. Or if you stretch the audio, it will play on repeat.
Conclusion
You've just met the best audio video mixers online, offline, and mobile. You have no excuse now not to do the task because you have multiple options. Hence, if you ask us which one excels the most, we won't hesitate to recommend Video Converter Ultimate. It is the best video editing software for all kinds of editing you need. Try it now to believe it!