Review of 8 Video Reversers Online, Windows, Mac, Android, and iPhone
Whatever the reason, you need to reverse your video clips. One thing is for sure. You would want to do something other than settle for a regular video editor. This we agree, for we want to obtain a manageable video editor. Even beginners don't want that, so what more are the professionals? Hence, whatever video editing level you have, we will present what we know to be reliable, powerful, and flexible video reversers this season. See to it that by the end of this article post, you and your friends who also read this will be able to meet your best companion, who will help you with your video reversing assignment. Therefore, let us not delay your opportunity to experience unique video editing, and let's begin this honest review of the top tools.
Part 1. Three Best Video Reversers for Windows and Mac
If you are looking for video editing software with a reverse feature that will provide you with professional outputs, then you must choose from the downloadable tools below.
1. Video Converter Ultimate
Are you longing for simple yet professional software? Prepare yourself for this amazing offline software that offers an easy yet potent procedure for reversing video, the Video Converter Ultimate. It is an all-in-one software that provides full-packed features that are too simple to navigate. As its name suggests, this Video Converter Ultimate has the ultimate capability to handle video and audio files for conversion, for it uses an accelerating technology. In addition, this ultimate capability has also been visible in the outputs it processes on video editing and enhancement. As a matter of fact, it has also been labeled as the supreme reverse video program because of its high quality and lossless mechanism for this task.
Let's also acknowledge the other helpful technologies that this tool comes with, such as artificial intelligence that assists it in working efficiently and GPU acceleration. With these pieces of information given, we are highly convinced of its dominance over its competitor. And to add to that, this Video Converter Ultimate has comprehensive support for more than 500 video formats making its users confident to work on the kinds of video they have in their gallery. Thus, see more about this top tool's features, pros, and cons to know if this video reverser software is the one for you.
Key Features:
1. Hardware acceleration, GPU acceleration, and AI advanced technologies.
2. MV, collage, 3D, and GIF makers.
3. A Full-packed toolbox.
4. Ability to work on various files simultaneously.
5. Tons of effects, filters, and formats to choose from.
6. 2K, 4K, to 8K video support.
Pros:
1. Single-click video editing procedure, including reversing video.
2. A multi-platform software.
3. It allows you to reverse and enhance your videos up to 4K and 8K.
4. It supports over 500 various formats.
5. All the video editing tools and makers are available in this software.
Cons:
1. It only provides a 7-day free trial for all its amazing features.
2. iMovie
Next on our list is iMovie. It is free video reverser software that you can indulge in if you are a Mac or iPhone user, for it is a tool that Apple owns. Furthermore, iMovie makes you reverse your video by just tricking the said function after you upload the video. In other words, it is another good tool that offers simple navigation for this task. In addition, there are also extra features that you can use with iMovie aside from video reversing. You can combine multiple clips, add titles, transitions, and effects, adjust colors, and upload your project video online. Another reason many use iMovie for video editing is its support of universal formats such as MP4, MOV, and MKV.
Key Features:
1. 2K and 4K video support.
2. Multiple transitions and effects.
3. Video and audio editing tools.
4. Stabilization.
Pros:
1. It is a free-to-reverse video tool.
2. It has an easy navigation process.
3. It produces high-quality output.
Cons:
1. It is for Mac only.
2. The video formats that it supports are few.
3. VideoPad Video Editor
Unlike the previous software, you can obtain this VideoPad Video Editor on both Mac and Windows. You can use many features of this software, including its ability to reverse a video in a simple way. Yes, it is so simple that it will only require you to tick on the playing clip in the reverse dialogue. However, this tool will require you to purchase its premium packages for you to access its unique features.
Key Features:
1. 360 and 3D video editing.
2. Visual effects and over 50 transitions.
3. Disc burning.
4. Wide range of video formats.
Pros:
1. This reverse video maker offers robust features and tools for video files.
2. Potent audio editing function.
Cons:
1. The other functions it has been challenging to navigate.
2. The free version has minimal features.
Part 2. Top Three Video Reversers Online
Online tools are in demand these days. This is due to the accessibility and affordability that users get when using one. Therefore, here are the top online reversers you can adopt for your videos anytime, anywhere.
Top 1. EZGIF
Here is an online tool that serves great to reverse a video, the EZGIF. It is a free web-based tool that comes with robust video editing tools. What is impressive about this video reverser online is that it allows you to mute the audio or reverse it along with the video. Despite its full editing features, such as the tools for cropping, rotating, splitting, optimizing, and more, it still can provide you with payment-free service. However, this free privilege doesn't apply to the ads that litter the entire page. Nevertheless, EZGIF is a friendly online tool not only for GIFs but for videos as well.
Key Features:
1. GIF maker.
2. A converter for videos, documents, and photos.
3. Robust various editors.
Pros:
1. It is an entirely free tool
2. It is smooth and easy to use.
3. Many different editing features to choose from.
4. It is an accessible online reverse video editor.
Cons:
1. Annoying ads are present.
2. It lacks a video enhancer.
3. The files it works for free are limited to 100MB.
Top 2. Kapwing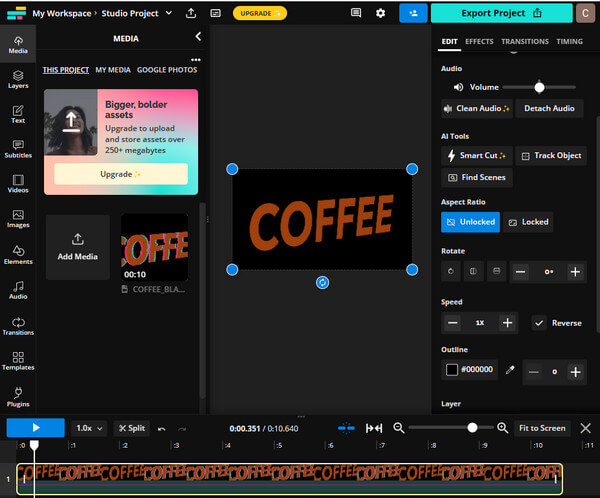 Another free video editor online you shouldn't miss is Kapwing. It is a friendly web tool that is free to use and free from ads. You do not need to be an expert in navigating it, for it has an intuitive interface. It's just that, as a first-time user, you might find it overwhelming since it has many items on its interface. In addition, if you are about to use its free service, please be prepared to acquire a watermarked output in MP4 format. Still, this MP4 video reverser gives a pleasant offer to its users.
Key Features:
1. Great collection of transitions, effects, templates, plugins, and elements.
2. Subtitles, images, text, audio, and video presets.
3. Elegant-looking interface.
Pros:
1. You can use its full features for free.
2. The video reversing process is easy.
3. No ads, even if it is free.
Cons:
1. Watermarked outputs.
2. The free service has limited privileges.
3. Free service produces only MP4 output.
Top 3. VideoReverser.com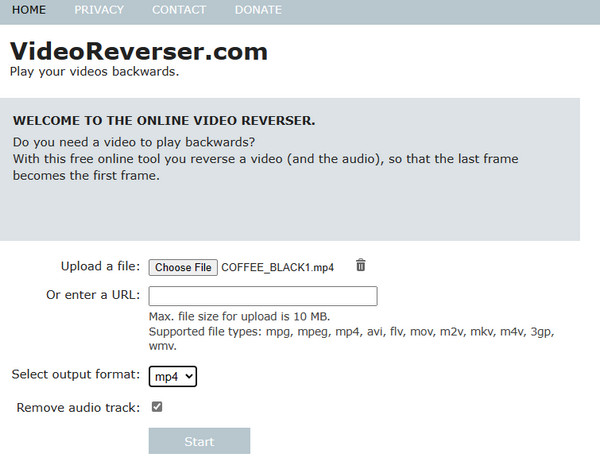 Finally, we have this VideoReverser.com. As its name suggests, it is an online tool that is intently made for reversing a video. Furthermore, it has a simple and neat interface where minimal items can be found. This reverse video tool online is perfect for those who only want to reverse a video in a simple and quick process. As you see in the photo, there is little to list for its features, but its ability to upload and work for online videos. You can also appreciate the wide range of video formats that it supports.
Key Features:
1. URL importation.
2. Multiple output formats.
3. No hidden charges.
Pros:
1. It has a neat and easy-to-understand interface.
2. You can use it for free.
3. It comes with a focused function.
Cons:
1. The maximum file that can be uploaded is 10MB.
2. It lacks editing features.
Part 3. Great Apps to Reverse a Video on Android and iPhone
If you prefer to use a reverse video app for iPhone and Android, here are the great options you can rely on.
1. Reverse Movie FX - magic video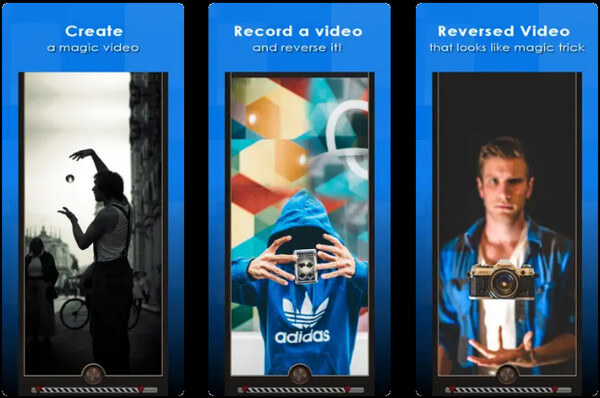 This Reverse Movie FX must be on your mobile device if you want a reliable app to assist you in reversing your videos on iPhone. Furthermore, you can acquire this awesome app on both iPhone and Android. With this app, you will not just be allowed to reverse your video but will also allow you to record a new video and create a magic video while enabling you to accelerate or slacken them. On top of that, it is one of the free video reversers that you can utilize.
Key Features:
1. Video recorder.
2. Magic video creator.
3. Music layering.
Pros:
1. It is free and safe to use.
2. Enjoy awesomely high output quality.
3. It comes with an intuitive interface.
Cons:
1. The free and paid versions contain annoying ads.
2. Minimal editing features.
2. Reverse Video Master - Rewind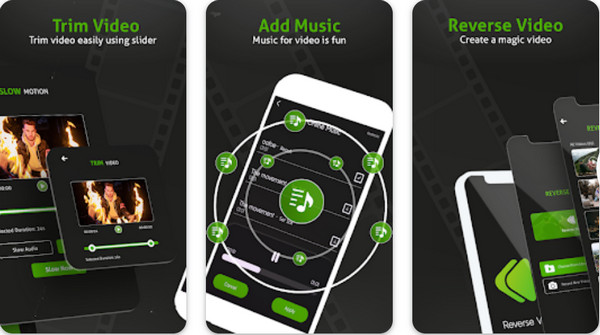 If you want to have a video reversing app that offers multiple reverse filters and effects, Reverse Video Master is one to look out for. It is a free Android app that provides quick and straightforward navigation. Moreover, it lets you share your projects on your favorite social media platform to post.
Key Features:
1. Creative collection of filters and effects.
2. Video slow motion.
3. Music layering.
4. Video converter.
Pros:
1. It is a reverse video app for free.
2. It allows you to add a fade-in and fade-out effect.
3. Enable you to trim, mute, and make boomerang videos.
Cons:
1. The reversing process takes time.
2. It comes with pesky ads.
3. Available only on Android.
Part 4. Comparison Table of the Top Video Reversers
| Tool | With additional video editing features. | Watermarked outputs. | Contain Ads. | Manageable to use. |
| --- | --- | --- | --- | --- |
| Video Converter Ultimate | Yes | No | No | Yes |
| iMovie | Yes | No | No | Yes |
| VideoPad Video Editor | Yes | No | No | Yes |
| EZGIF | Yes | No | Yes | Yes |
| Kapwing | Yes | Yes | Yes | No |
| VideoREverser.com | No | No | Yes | Yes |
| Reverse Movie FX - magic video | Yes | No | Yes | Yes |
| Reverse Video Master - Rewind | Yes | No | Yes | Yes |
Part 5. FAQs about Video Reversers
How to reverse a video on Android without an app?
Android phones don't have a built-in reverse. Therefore, there is no way for you to reverse your video on Android without the help of a third-party app.
Are all video reversers free?
No. There are video reversers that are paid due to their potency.
Does a reverser tool lose the quality of my video?
Some reversers will cause your video to lose its quality. Hence, you can rely on the above tools to give you a lossless video reversing.
Conclusion
You've just met the top video reversers for this season. You should not settle for the substandard tools where you can have the best. Now, you need to decide which can significantly help you. If you can't decide, try the top for each platform, like the Video Converter Ultimate, EZGIF, and Reverse Movie FX.