How to Add A Video Filter on Zoom Skillfully [Simple Tutorials]
Nowadays, there are various platforms you can use if you want to have a meeting with other people. Instead of gathering in one place, another option they can have is to use an excellent and reliable program that can help them achieve the main goal. One of the best tools to use to have a meeting is Zoom. It is one of the communication platforms to use when talking to someone or a group to collaborate. But in this post, we are not just going to discuss the Zoom program. Our main focus is on using the video filter of Zoom to make the meeting more fantastic and entertaining. If you are among those users who want to add a filter on a video using Zoom, come to this post. We will discuss everything about the video filter on Zoom and the ways how to get a video filter on Zoom.

Part 1. What is A Video Filter on Zoom
A video filter on Zoom is among the effects you can use when you have a meeting with other people. This filter can add colors, design, and impact to the video. For example, if you want to make the meeting more exciting and entertaining, the best thing to do is to add the filter from Zoom. In addition, Zoom is not just capable of adding filters to the video. It also allows you to create filters if you want. Well, there you go. If you want the complete details on adding and creating a video filter using Zoom, we would like to encourage you to read all the information from this post.
Part 2. How to Add Video Filter on Zoom
If you want to set up a filter for your video before going to a meeting, you can do so. From the Settings section, you can proceed to the filter option. Also, the Zoom software can offer various filters you can use for your video. This way, you don't have to worry about what filters you want. Zoom will ensure that you can experience all its features without facing any trouble. See the simple process below to learn how to filter Zoom videos.
Step 1
After you have installed the Zoom software, launch it on your computer. Then, go to the Settings option. There will be another mini interface on your screen.
Step 2
From the left interface, choose the Background and Filter section. Then, click the Video Filter option to view all the filters. Then, choose a video filter in Zoom.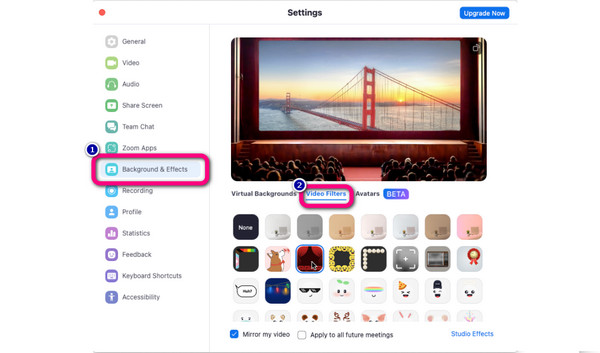 Part 3. How to Create A Video Filter for Zoom
From the previous part, you discovered how helpful Zoom is when adding filters to a video. But that is not the only feature of the program. To give you more ideas, Zoom can also allow you to create a video filter effectively. So, if you want to create and customize your video for your Zoom meeting, you can do so. You can even add an eyebrow filter, mustache, beard, lip color, and more. If you want to start creating a video filter, you can proceed to the process by following the simple methods below.
Step 1
From the main interface of the Zoom program, click the Settings option. After that, a new interface will appear.
Step 2
Click the Background and Filter section and select the Studio Effects function. After that, you can already create your video filter by editing and using the functions from the right interface. You can add colors or customize your face.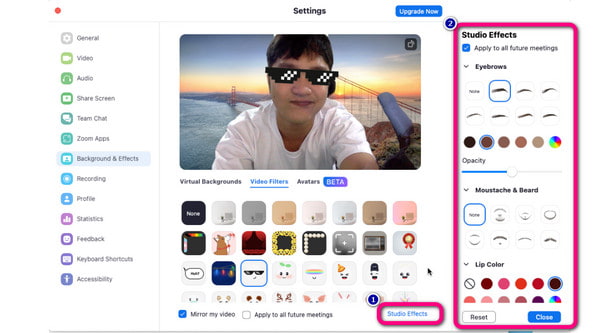 Part 4. Filter Tool to Add Filter to A Video
The Zoom program can be a big help when adding a filter to a video, especially during a meeting. But don't you know that there is another software you can use to add a filter to a video? Well, if you are interested in exploring another downloadable tool you can use, then try the Video Converter Ultimate. In terms of attaching filters to a video, this program can give you an excellent performance that can make you feel satisfied. Also, the editing procedure is incomparable with other video editors. With the help of its easy-to-understand interface, you can operate all of its features and can finish adding filters to a video quickly. Aside from that, there are various filters you can use and add to your video. After going to the Filter section, the program will provide numerous filters you can use to make your video colorful and livelier than before. It includes Gray, Cool, Sketch, Dusk 1, and more filters.
Plus, Video Converter Ultimate is available to both Windows and Mac computers. This way, it will become convenient for all users when trying to add various filters. Furthermore, if you try to get to know more about the program, you will also discover its exceptional features. Besides adding filters, you can crop the video, adjust the video color, create a music video, collages, etc. So, no need to think twice. Proceed to the instructions below and start inserting filters into your video and make it an outstanding video.
Step 1
To proceed to the main process, get the installer of the Video Converter Ultimate. You can also use the clickable Download button below and install it quickly. When done, the next procedure is to launch its main interface.
Step 2
After you open the program, go to the upper interface and choose the Converter menu. Then, hit the Add Files or Plus sign options and select the video you want to edit from the computer folder.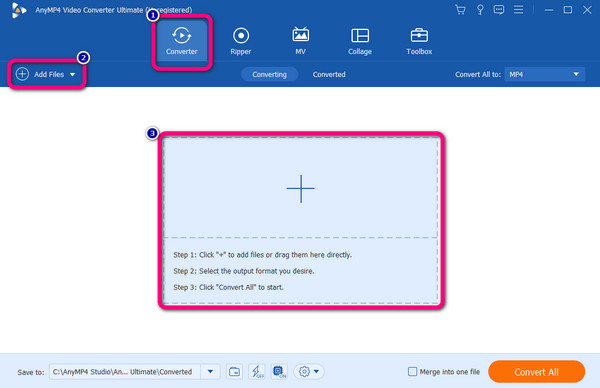 Step 3
The following process is to click the Edit function below the video. Then, when another interface appears, click the Effects and Filters section. After that, you can already pick your desired filter for your video. Click the OK button after adding the chosen filter.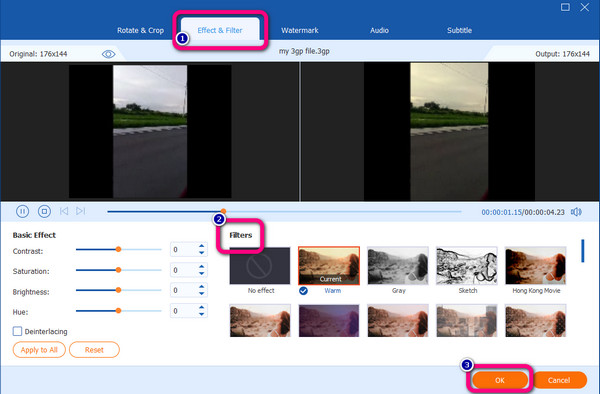 Step 4
For the final process, click the Convert All button below. Wait for a moment until the final procedure ends. Once done, you can open your edited video and start playing the video.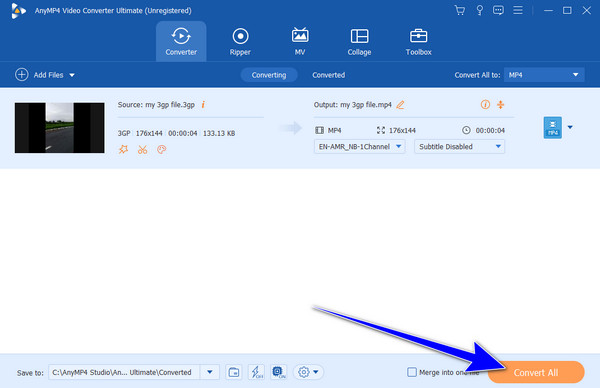 Further Reading
How to Record Zoom Meeting with 2 Meeting Recorders
How to Improve Zoom Video Quality in Exceptional Ways
Part 5. FAQs about Zoom Video Filter
1. Does Zoom have filters for your face?
Yes, there is. If you want to create a filter for your face, you can go to the Studio Effects option. Then, you can add various effects and filters, like changing eyebrows, adding a beard and mustache, coloring tips, and more.
2. Is there a beauty filter for Zoom?
The Zoom software can help you become presentable to look from the Video setting. This way, you can consider that the beauty filter is included in Zoom. To use it, go to the Video tab and go to the video setting. Then, you can turn on and adjust the lighting.
3. Why don't I have video filters on Zoom?
If you are using a computer video or a webcam, then filters won't show up. It is because the zoom must see your face fit or background to generate various filters.
4. Can you add filters to the webcam?
Yes, you can. With the help of the Zoom Video Filter option, you can add a filter to your webcam that helps the video become colorful and well-designed.
5. Is there a lawyer cat filter in the Zoom video?
Definitely, yes. If you are going to the Video filter of Zoom, you can see the lawyer cat filter. You can just click it to use the filter for your video.
Conclusion
You have now learned what the Zoom Video Filter is and how to add and create a video filter using the Zoom program. Also, if you want another program that can assist you in adding exceptional filters for your video, always consider using the Video Converter Ultimate, chosen by Blu-ray Master. The program can offer all the filters you need to enhance your video.