How to Put a Picture on a Video Using the Unique Techniques on Desktop, Mobile, and Web
Adding an image to a video means a lot when you want to show additional information and faces to the video. This is also necessary if you want to make your video funny or dramatic, for you can apply photos that will intensify your video. If this is your first time knowing these helpful facts for making your videos extra unique, then this must also be the first time to understand the unique ways to do the task. Therefore, let's not delay this any longer and start learning the how and what in this content.

Part 1: How to Overlay Images on Videos Properly Online
If you want to properly add images to a video online for free, try FlexClip. FlexClip is a web-based video editor that works with simple and easy procedures. On top of that, it lets you claim your edited video without a watermark embedded in it. Although a free tool, FlexClip offers multiple advanced editing features and options, such as background, filter, speed, and many more adjustments selections. In addition, it also provides a massive library for your files that gives royalty-free resources for media files. However, its free version only lets you enjoy 480p SD downloads with 1 stock video per project. Meanwhile, below are the steps to using FlexClip to overlay your videos with photos.
Step 1
So here's how to add a photo to a video, visit FlexClip's official website and look for its video editor tool. After that, import your video file by clicking the button that tells you to import the video.
Step 2
Now go to the Overlays menu, and choose a design for your video. Then, move to the Photo menu, and select an image you want to add to the video.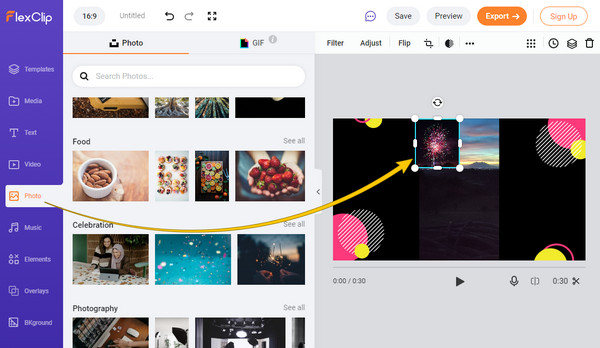 Step 3
After that, hit the Export button to save the edited video.
Part 2: How to Add a Photo in Video on Smartphones
This time, let us look at an excellent way to overlay a picture on a video using the best app for your smartphone. We introduce you to VivaVideo, a video editing and movie-making app that you can find in both Play Store and App Store. Moreover, VivaVideo is an easy-to-use app that you can use to add effects, stylish themes, and transitions to your files. Regarding its friendly tool for adding pictures on clips, VicvaVideo comes with an overlay tool. It is where you can overlap photos from your gallery, GIFs, and themes that come from its library. However, this app cannot provide you with a completely free procedure, and it only gives you seven days for its free trial. Thus, let's all look at the following instructions below on how to use this fantastic app to add pictures to a video.
Step 1
Get your smartphone, and install this app. After that, launch it, tap the NEW PROJECT tab, and look for the video you want to edit from your photo gallery.
Step 2
Once your video is loaded, swipe the editing tools at the bottom from right to left. Then, look for the Overlay selection and tap it.
Step 3
Then, choose the photo you wish to add to the video and tap the DONE option afterward. After that, you can tap the Export tab to save the video in your gallery.
Part 3: Best Technique to Put Picture on a Video on a Desktop
Here is the Video Converter Ultimate for the best technique for learning how to insert a picture into a video. Video Converter Ultimate is an all-in-one video editing software that provides a unique technique for overlaying a photo into a video. For this task, this tool lets you add your image via its watermark maker, where you can personalize the picture by adding text at the same time. On top of that, it enables you to enhance and edit your video awesomely. Because while working on the overlays, it gives you the click style of the procedure. It also lets you modify the video export by customizing the format, frame rate, quality, resolution, encoder, channel, bitrate, and zoom mode.
So yes, it allows you to add an image to MP4 and convert it to a format you wish to have, for it supports more than 300 different video formats. Speaking of conversion, you shouldn't miss how this tool processes its conversion, for you will be amazed at how swift it is due to its ultrafast and hardware acceleration technologies. Given these points, below are the guidelines to follow for using it.
Reasons to Pick Video Converter Ultimate
1. It's a one-stop software that caters to all video editing you need.
2. It has extensive support for more than 300 various formats and devices.
3. Flexible in supporting various platforms, including Linux, Mac, and Windows.
4. Numerous advanced technologies empower the software and your computer.
How to Put a Picture on a Video with Video Converter Ultimate
Step 1
Launch this newly installed software on your desktop. Then, immediately go to the Toolbox menu and click the Video Watermark selection among the numerous tools there.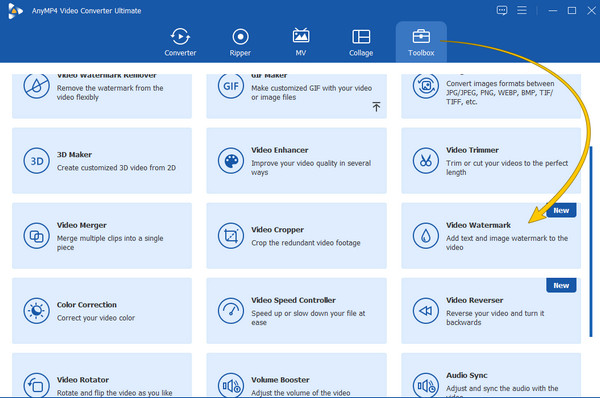 Step 2
Next, load your video by hitting the Plus icon from the new Window. Then, click the Image Watermark option, and upload one or many photos you wish to add. Yes, this technique overlaps many photos and text on your video. Now you can place the photos on the video properly.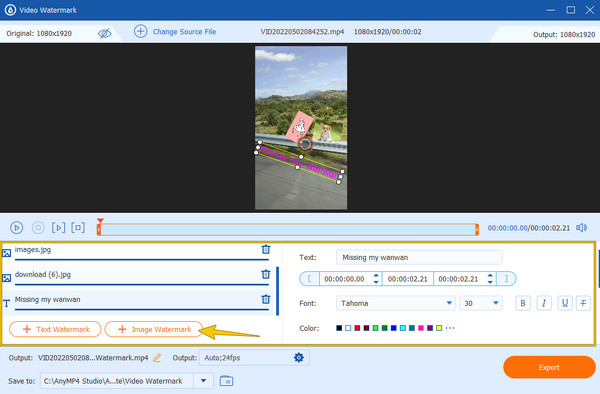 Step 3
After placing, you may click the Output setting to customize your file. Adjust based on your preference, then hit the OK tab.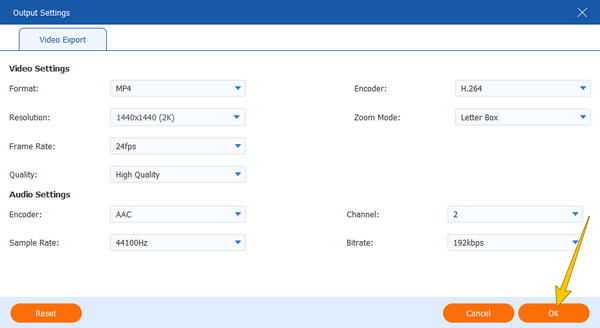 Step 4
Lastly, hit the Export tab to apply all the changes that you made to your video. Then, you can now watch your edited video and enjoy it.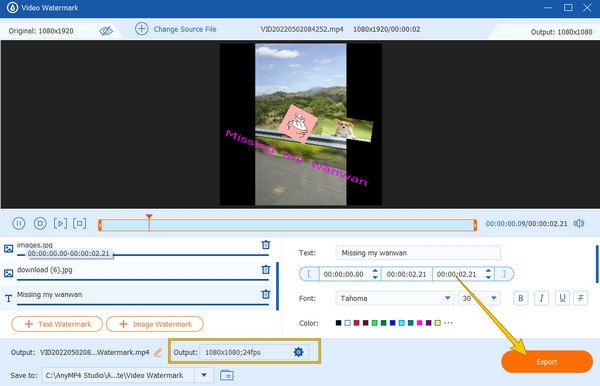 Further Reading:
How to Put Picture in Video on iMovie: iPhone/iPad/Mac Steps
How to Add Watermark to Video in iMovie [Step-by-Step Guide]
Part 4: FAQs on Putting an Image on a Video
How to edit pictures into a video?
Editing pictures into a video will only be possible if you intend to edit the entire video as well. Now to edit, upload your video in Video Converter Ultimate, and click the star icon under the file. Then, you may start working using the various editing tools there.
Does the photo format also overlay on the video?
No. The format of your photo will not overlay on the video, only the display. Hence, your video format will also be the format for your output.
Does Android have a built-in photo overlaying tool?
Unfortunately, there is no pre-installed photo overlaying tool on Android or iPhone. Thus, a third-party app is always needed to execute your task of overlaying images.
Conclusion
This article provides the best techniques to overlay images online, on desktop, and on mobile. May you treat the methods worthy of trying, and you don't only read them then forget. Thus, if you still ask us which one has the highest star to add images to videos during our tryouts, it is none other than Video Converter Ultimate. This is because of its broader assistance of any kind of video editing that it offers due to its extensive features coverage.