How to Add Watermark to Video on Windows, Mac, Online, and Mobile Easily
If you are looking for the easiest yet highly efficient ways to add a watermark to your video, then you must see what we got for you in this post. Indeed, not all video editors come with a powerful watermark-making tool, and you don't have a choice but to look for a separate tool for this. Thus, if you will continue to read the content below, you will be able to recognize and master the best video editing tools with their complete guidelines for putting watermarks on videos. So without further adieu, let's start the learning process right away.

Part 1: How to Add Watermarks to Videos on Windows and Mac Ultimately
To insert a watermark in your video efficiently, you can use the Video Converter Ultimate. It is the best video editing tool for Mac and Windows computers. In addition, you will be amazed at its capacity to put a watermark, enabling you to set the logo on video via text or image form! Furthermore, it has the extraordinary ability to edit and enhance the video like no other, for it produces a modified video in impressively high quality. What is more impressive about it is that it holds all the video editing tools together in its toolbox, which the watermark maker belongs to. Speaking of the watermark, Video Converter Ultimate gives you different options to add and remove a watermark to the video.
This video editing software is really something that everyone shouldn't miss. Imagine, despite being a complete package software, it supports almost all video formats you can think of! No wonder it always gets the top rank for being the most reliable and powerful video editor.
Other Features of Video Converter Ultimate
1. Add and remove the watermark in the video in the quickest way.
2. Offer many powerful setting tools for video, audio, and photo files.
3. It comes with hardware acceleration that secures your computer device.
4. With advanced technology, that results in a fast and smooth process.
5. The converter transforms poor to high-quality videos in more than 300 different formats.
How to Put a Watermark on a Video with Video Converter Ultimate
Step 1
After installing this ultimate video editor on your Windows or Mac computer, you can launch it. Then, go to its Toolbox menu and look for its Video Watermark option.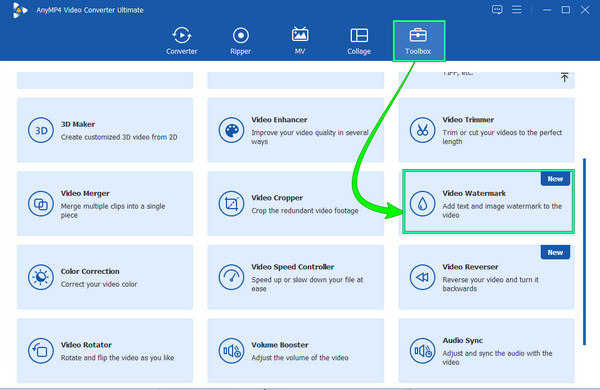 Step 2
After clicking the watermark adding tool, it will redirect you to a new window. From there, you must click the Plus icon and choose the video file from your local folder to upload.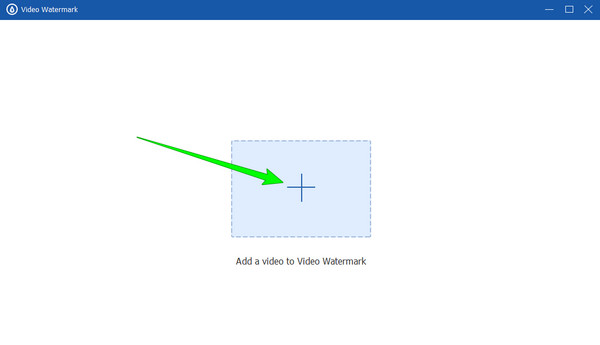 Step 3
Then once your video is uploaded, you can now begin making the watermark. Please choose between the Text Watermark or Image Watermark and click it. Suppose you select the Text, type the word or watermark in the Text section, and start editing it according to your preferences.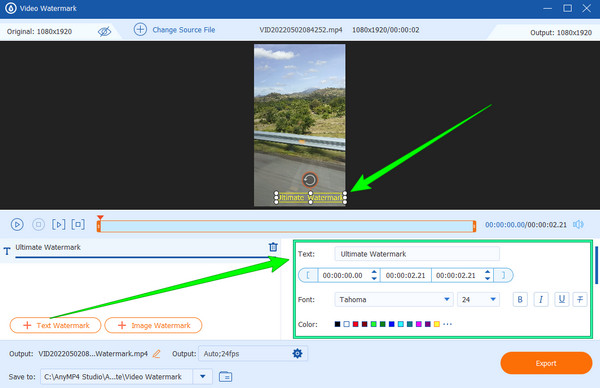 Step 4
After editing the inserted watermark, you can now hit the Export button. After a few seconds, you can already enjoy the watermarked video by clicking the OK tab. Otherwise, hit the Edit Again option to re-edit the video.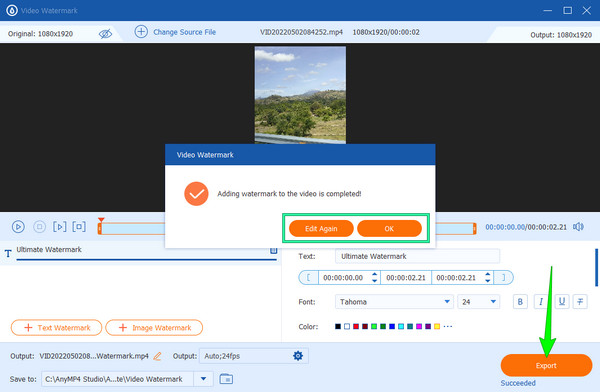 Part 2: How to Put a Logo on a Video Online
Adding a watermark using the previous best software is way enough. But what if you want to use an online tool? Which, then, should you use? If this is the case, you must know the best online program for this task, the Fastreel. It is a handy online app for adding logos to your videos of any format, like MOV, AVI, WMV, MP4, and MKV. In addition, it lets you add an image logo in JPEG and PNG formats by simply clicking the add file button, which will lead you to add a watermark in a video online for free. Yes, you read it right. This online tool lets you use it for free. However, as it is a free tool, you have to expect some ads that will come your way while using it. Thus, here are the guidelines for using Fastreel in putting a logo on your video as a watermark.
Step 1
Go to your web and browse the official website of the Fastreel watermark tool. Then click the Add Your File tab to start working by initially uploading your video file.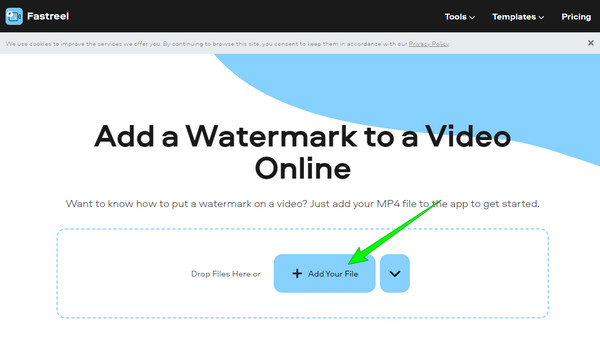 Step 2
When the video is uploaded, it is now time to upload the logo image you will use. To do so, click the Add a Watermark tab, then hit OK. Then, edit the size and position of the logo in the video.
Step 3
After that, hit the Export Result button. Then, export it for free. And that is how to overlay the logo on a video online.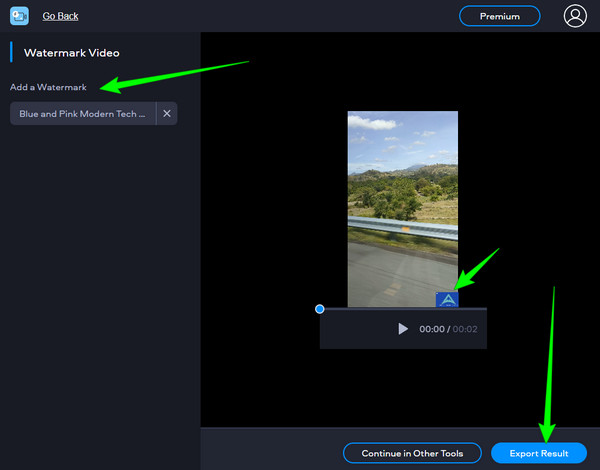 Part 3: Guidelines on How to Watermark Videos on iPhone and Android
Now let's see how you can apply a watermark on your video from Android and iPhone using the most anticipated app for this task, Shot On. Shot On is an app that lets your mobile phone record videos with a watermark. What's interesting about this app is that it enables you to choose a mobile logo brand as your watermark. This means that even if you use an Android phone, you can make the watermark the same as the iPhone's. Yes, it imitates the logo of other mobile brands and makes it your logo. However, you must be extra careful in using this method since it counterfeits logo brands. Despite that, here are the steps on how to add a watermark on video in Android, which you can also use on iPhone using Shot On.
Step 1
Install the app on your mobile device, then open it.
Step 2
After opening, go to Logo selection, and choose the one you like. Then, put the mobile details you want to use and your name.
Step 3
After that, you can start taking video shots as usual. Then you will see the imprinted watermark on the recorded video after.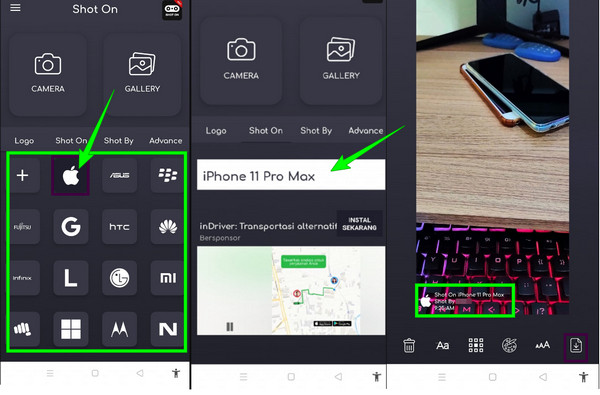 Further Reading:
Complete Tutorial on How to Make a Slideshow in Photoshop
Complete Guide on How to Add Watermark in Photoshop
Part 4: FAQs of Adding Watermarks to Videos
What does watermarking precisely mean?
Watermarking a video means to embed a text or logo that will indicate your ownership of the file. This is being done for a copyright disclaimer issue.
Can watermarks be removed?
Yes. There are amazing apps that can eradicate the watermark of a video or a photo. One powerful software for this is the Video Converter Ultimate.
Does adding a watermark maintain the quality of the video?
Yes, as long as you use a good video editor like Video Converter Ultimate. Because this software maintains and enhances the video output.
Conclusion
There you have it, the three efficient and easy ways to add a watermark to a video. Each of them excels on their used platforms, so there's nothing to be confused about which one you choose. Choose according to the platform you are using. However, choose Video Converter Ultimate if you are looking for a tool to help you empower your video editing skills.