How to Convert AVCHD Video Files to MP4 Format without Quality Loss
It is said that a picture is worth a thousand words. Then a video must be worth thousands of words. However, there are too many video file formats on the market and not all of them are supported by digital media players. AVCHD, for example, is a video format developed for digital cameras but not playing on computer or mobile devices. Therefore, we will talk about how to convert AVCHD to MP4 in order to play or share easily.

Part 1: What Is AVCHD?
As mentioned previously, AVCHD is a video format to store high-definition digital video recorded by cameras using high-efficiency compression coding technology. Similar to MP4, AVCHD relies on MPEG-4 AVC/H.264 to compress visual data. That makes AVCHD compressing images at higher efficiency. When it comes to audio codec, it usually uses the Dolby Digital or Linear PCM system.
A lot of HD movies are recorded in AVCHD format including 3D and 1080/60p videos. If you have a digital camera, such as Sony device, you will find your recorded videos saved in AVCHD files.
AVCHD provides several benefits. Firstly, it is able to record videos in high quality on a variety of devices. Moreover, you can record long videos without losing quality with AVCHD.
Now, this video format has been updated to version 2.0 to support additional specifications.
Part 2: Easiest Way to Convert AVCHD to MP4
Although AVCHD has several benefits, the compatibility is a big problem. To be honest, most computer and mobile devices cannot open AVCHD. That is why you need a AVCHD to MP4 converter, such as Blu-ray Master Video Converter Ultimate. It lets you do the job in a single click. Moreover, advanced users can find a lot of bonus tools in the software, like video editing.
Main Features of the Best AVCHD to MP4 Converter
* Convert AVCHD to MP4 without losing quality.
* Process multiple AVCHD video files at the same time.
* Protect the video quality while converting.
Briefly speaking, it is the best way to convert your AVCHD video files to MP4 format for playing on computer or mobile devices.
How to Convert AVCHD to MP4 in Batch
Step 1
Add AVCHD files
The AVCHD to MP4 converter offers two versions, one for PC and the other for Mac. Install the right one on your computer and launch it. Then click and unfold the Add Files menu at the upper left side and select Add Files or Add Folder to import the AVCHD video files.
Tip: You'd better move your AVCHD files to your computer if they are still on your digital camera.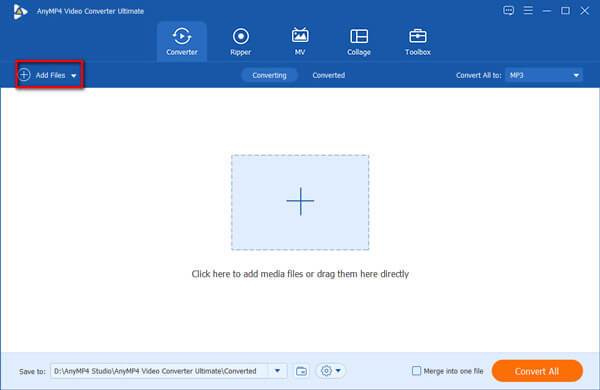 Step 2
Set MP4 as output format
You can see a lot of useful functionalities in the main interface after video loading. Click the thumbnail and you will view the video with the built-in media player in the AVCHD to MP4 converter. Also, you can select or change audio track or subtitle in Audio Track and Subtitle boxes. To edit your AVCHD video, click the Edit button under the title.
When editing is done, click the Convert All to menu at the top right corner to trigger the format dialog. Go to the Video tab, choose MP4 from the left side, and pick a preset. If you plan to watch the results on your mobile phone, go to the Device tab and choose the proper device.
Step 3
Convert AVCHD to MP4
Go back to the main interface. Locate the bottom area, click the Folder icon and set a location folder. Finally, click on the Convert All button to begin converting AVCHD to MP4 immediately.
Part 3: How to Convert AVCHD to MP4 Online
Sometimes, it is not convenient to install video converter to your computer. A web app will be a good substitute, such as Blu-ray Master Free Online Video Converter. It is free to use with no payment or registration requirement. Plus, there is no limit on file number or size. We share the basic steps below.
Step 1
When you need to convert AVCHD to MP4 online, open a browser and visit https://www.bluraycopys.com/free-online-video-converter/. Click the Launch Free Converter button to download the free AVCHD to MP4 converter.
Step 2
Wait for it to pop up and click the Add File button to upload several AVCHD files from your computer. If you want to change the custom options, like resolution, click the Gear icon.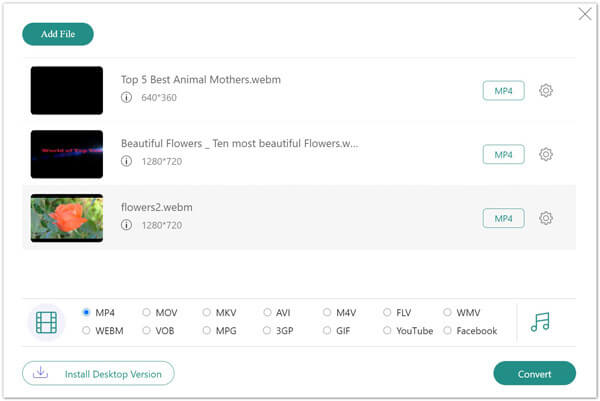 Step 3
After video uploading, go to the bottom area and select MP4. Click the Convert button to initiate AVCHD to MP4 converting online. It may take a while to finish the process depending on your internet condition. When prompted, download the MP4 files to your hard drive.
Extended Reading
• How to Convert AVCHD Videos to DVD Without Losing Quality on Windows and Mac
Part 4: FAQs about AVCHD to MP4
What is the difference between MP4 and AVCHD?
The biggest difference between MP4 and AVCHD is the file extension. The format will be saved as .mp4 file extension, while the latter is saved as .m2ts extension. Moreover, AVCHD is produced by digital cameras.
How do I open AVCHD?
Both Windows Media Player and QuickTime cannot open AVCHD since they lack the corresponding codec. However, there are two kinds of software able to open AVCHD. Some video editors, like Adobe Premiere, Illustrator, and After Effect, can open it. Plus, VLC Media Player is able to play AVCHD. Read on AVCHD Media Player – 4 Best Programs to Play AVCHD MTS Videos on Windows and Mac to learn more.
Is AVCHD good for editing?
No, it is difficult to edit AVCHD. Firstly, AVCHD files are very large, so it requires large space and high-end hardware. Old computers cannot even open AVCHD in video editor. Plus, it is highly compressed by h.264. You have to decompress the file and then edit it.
Conclusion
This guide has shared you two easy ways to convert AVCHD to MP4 on your computer. Although AVCHD offers awesome quality, it is not a good format for playing, distributing or editing. Blu-ray Master Video Converter Ultimate is a one-stop solution to do the job on both PC and Mac. Plus, the converter is pretty easy to learn for beginners. More questions? Please write them down below the post.